This week we talk about Zach LaVine's growth in Chicago. Next, a loud Joel Embiid introduction to the Defensive Player Of The Year conversation. Finally, how Ochai Agbaji is lifting his draft stock at Kansas.
BILLY DONOVAN SHARPENING THE ZACH LAVINE DIAMOND IN CHICAGO
For Zach LaVine much of his career has been about the balance between scoring and playmaking. In Chicago's big comeback win against Portland, those two roads converged in a big way. Known for his hero ball mentality, LaVine parlayed early shooting struggles into a renowned calmness rarely seen from the 25-year-old. guard. Just take a look at the tale of the two halves.
LaVine spent much of the first half connecting his teammates to scoring opportunities. The Bulls guard navigated the half-court with ease, leveraging his quick dribble to pinpoint open shooters. He was also decisive passing out of the pick and roll, picking apart Portland's slow rotations with sharp precision.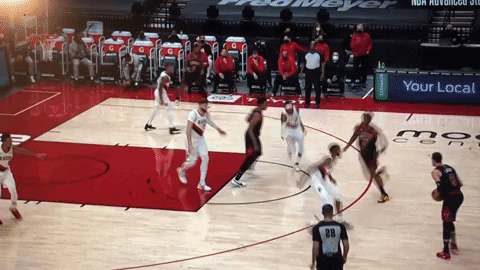 So far this year LaVine has seen his pick and roll responsibilities spike by over 15%. The UCLA product has responded as stars do. Thru January 8th, LaVine joined Steph Curry and Damian Lillard as the only players to post 40+ assists, 40+ made free throws, and 25+ made threes. A welcoming sign that LaVine is ready to shoulder a heavier ball-handling load. 
It was in that second-half comeback where LaVine put the proverbial piano on his back. The Bulls guard is a tenacious downhill attacker, but he also flashed the polish to finish around bigger defenders. Watch how he sells Jusuf Nurkic with the right hand only to put it back up with the left.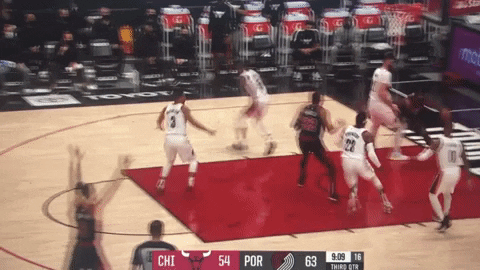 It was LaVine's game-sealing three-pointer that grabbed national headlines. But it is the awareness to navigate poor shooting nights that will elevate LaVine into consistent stardom. The tools are there for a huge season and a reminder that the next big name may be residing in Chicago. 
'I AM THE BEST DEFENSIVE PLAYER IN THE LEAGUE' – JOEL EMBIID
It has been over three years since Joel Embiid echoed these words to the basketball world. After two top-five finishes, Embiid's time may finally be arriving. We often search for an array of different metrics to determine defensive dominance. But in Embiid's case, the buck stops with how dominant the Sixers have looked defensively in crunch time.
Embiid's interior presence has been a massive catalyst to critical late-game wins against Toronto and Washington. Against the Wizards, Joel displayed the unworldly recovery skills we often saw from the big man early in his career.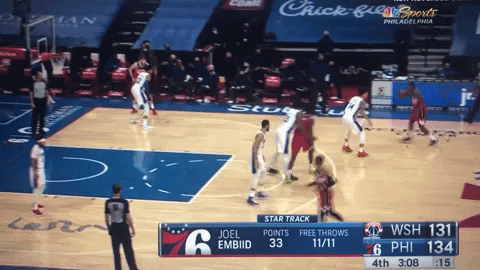 Embiid has looked substantially quicker than last season, and the results have been emphatic. Thru the Sixers first nine games, opponents shot a league-low 55.5% within five feet of the basket. Whether he is facing his defender, or not, it simply has not mattered. Follow how he sniffs the backdoor cut and closes the gap in an instant.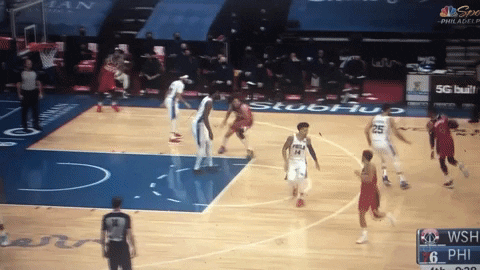 Embiid's athleticism is a chess piece that not many teams have. The Sixers big man is a weapon defending some of the league's most lethal pick and roll combinations, such as what we see between LeBron James and Anthony Davis. Joel is one of the few bigs that can not only defend Davis but also survive against James on a switch. This type of versatility is what distinguishes him from other centers, including previous award recipient in Rudy Gobert. Pairing these tools in the crux of close games may be the recipe for Embiid's first defensive player of the year award this year. 
YOUR COLLEGE BASKETBALL PROSPECT: WING – OCHAI AGBAJI
THE RESUME 
14.8 points per game (12 games)
42% shooting on 6.1 three attempts per game (career 35% on 4.4 attempts)
#1 in the Big 12 in three-point field goals
8.4% turnover rate with a 20.9% usage (career 14.2% turnover rate)
WHAT I LIKE
Nice juice off the bounce to create shooting space. Attacks close-outs with confidence.
Comfortable coming off screens with the athleticism to separate from the defender. Fluid and balanced shooting motion.
Great transition outlet. Leverages his size and speed for easy looks in the open court.
Well attached defensively hounding shooters off screens. Good lateral quickness to stay connected as a point of attack defender.
Good size and athleticism profile. Stands at 6'5″ and 210 lbs. with a plus wingspan. Above the rim athlete with the ability to match-up against bigger (or quicker) players.
WHAT I DO NOT LIKE 
Limited as a live dribble shot creator. Lacks the dynamic play-making to unlock opportunities beyond what is in front of him. Does not get to the rim.
Narrow passing vision. Misses easy cutting opportunities and open shooters off the drive.
Will get lost communicating and executing switches defensively. Late to react to backdoor cuts. Will get caught ball watching in space. 
Passive within the offense. Will defer in critical moments of the game on a team with limited experience. 
Draft age and a limited developmental ceiling as an offensive prospect. 
PROJECTION 
This has been a big year for Ochai Agbaji. Once considered a fringe NBA prospect, Agbaji has shown considerable shooting improvements that raise the conversation around the Kansas star. There is no doubt about Agbaji's ability to impact the game as an athlete. The size and length profile is very intriguing, and Agbaji has the athleticism to become a plus defender across multiple positions. There will be obvious scrutiny around his ability to impact the game on the ball. But this season Agbaji has also shown a knack to develop beyond a stationary scorer. I currently view Agbaji as a low-end first-round prospect and a player that can develop into a 3&D role at the next level.