This week we take a look at the next steps in Malik Beasley's developmental journey. Next, how Ben Simmons is driving wins on and off the box score. Finally, what makes Michigan's Franz Wagner worthy of a potential first round (and maybe low lottery) draft pick. 
BEASLEY THE PLAYER VS THE POSSIBILITY
Raise your hand if you have yet to hear the name Malik Beasley? If you did, I do not blame you. The Minnesota Timberwolves are a tumbling mess, and Beasley is one of the many shuffling pieces amidst a franchise without a clear sense of direction. But lost in D'Angelo Russell's recent injury is the rise of one of the team's most intriguing pieces. Beasley has embraced the increased load to the tune of an impressive 21 points per game since the injury. While on the surface things are looking up, Beasley has ways to go from a wild shot maker to a polished shot creator. 
THE PIECES ARE WELL IN PLACE, AND IT STARTS WITH UNDERSTANDING THE GRAVITY HE BRINGS AS A BALL HANDLER (AND SHOOTER). 
Two things immediately stand out when you watch Beasley play. One, the Timberwolves guard is an incredible athlete, and displays the explosion to attack downhill and get to the rim. The second is found in his ability to extend defenses off the catch. His quick trigger is a major source of three point offense, specifically in the two separate corners of the perimeter. All this leads to a player who once on the court, demands high attention. And that is where things can go south, in hurry. The main problem? Shot selection.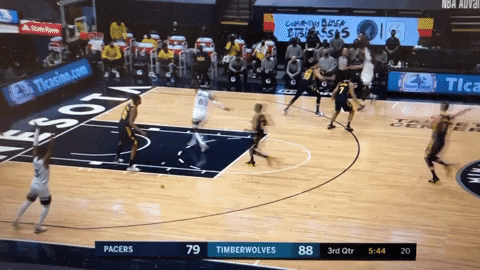 Again, pay attention to how quickly Indiana closes out on Beasley here. But most importantly, pay even closer attention to his decision-making (and shot selection). What is a clear driving lane turns into a contested off balanced shot (and missed opportunity) at the rim. These wild decisions are what makes Beasley part exciting and part maddening. He most certainly has the ability to make those, but often makes the decision that diminishes your win probability. Per NBA.com, he is currently ranked 90th among all guards in assist points created with 6.4. And it is very easy to see why here against the Lakers.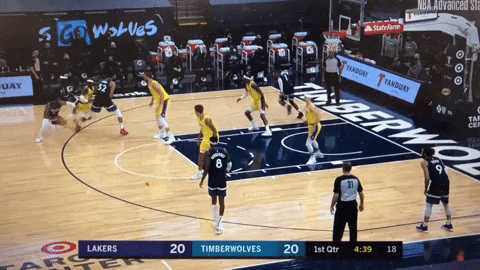 Beasley does a good job pulling out the dribble to expose the switch on a slower Marc Gasol. But again, this is where he needs to recognize how his ability to get to the rim can drive offense for others. Instead, Beasley settles for another mildly contested look without exploring better possibilities. 
It is going to take time and patience to explore this diamond in the rough in Minnesota. The Timberwolves guard has shown considerable improvements with an uptick in usage. But to transition into a well rounded player Beasley must show the willingness to identify and sometimes defer to his teammates. Doing so may just unlock a future star in a franchise thirsty for another 'Big Ticket'.
SIMMONS (AND THE DIRTY WORK) ON THE WAY TO A CAREER NIGHT.
It is easy to understand the excitement around Ben Simmons' career night against Utah. The Sixers' star is not known for his scoring outbursts, so when there is one, the hype (and takes) follow. But lost in Simmons' masterful performance was his devotion to team basketball. Ben was EVERYWHERE, often running around to free up teammates and enable others to score. 
TO UNDERSTAND HIS IMPACT, JUST TAKE A LOOK AT HOW SIMMONS DROVE SCORING BEYOND THE BASIC BOX SCORE
Much of Ben's off-ball usage this season has come as a screener. Philadelphia is a heavier pick and roll offense under Doc, and Simmons has embraced the dirty work with tremendous detail. Ben's versatility as an anchor is impressive, and the Sixers taped on a lot of that against Utah. Everything starts with setting a strong and legal screen, which frees up an easy Seth Curry look.
But Doc Rivers is not just content on turning Simmons into a glorified Rudy Gobert. And that is where things get very exciting. Known for his passing prowess, Philadelphia loves to tag a Ben screen with Tobias Harris. A 2 on 2 game, turns into a 2 on 1 matchup, and Simmons delivers a timely one-touch pass off the roll.
The final piece of the puzzle ties into Simmons ability to score off the roll. Looking as healthy as he has in months, Ben's speed and explosion pops off the film. Again, it is the partnership between Harris and Simmons that stands out. But this time, the Sixers star is not looking to pass. Harris' eyes leads Derrick Favors to hesitate for a split second. A bounce pass later and Philadelphia is back on the score board.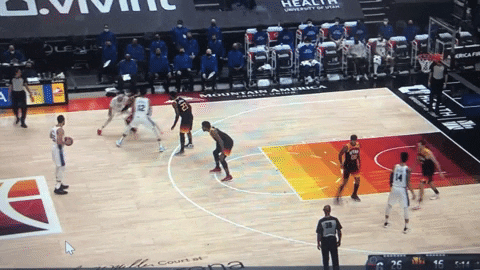 It has been an impressive run of games since Simmons was rumored to be involved in the James Harden trade. Most eyes immediately turn to his increased impact as a scorer. While that deservingly merits the headlines, it is Ben's under-appreciated work that often goes unoticed. On a career scoring night against the Jazz Simmons still found a way to remind us that the dirty work is also part of his DNA. 
YOUR COLLEGE BASKETBALL PROSPECT: WING – FRANZ WAGNER 
THE RESUME
12.4 points per game (17 games)
61% true shooting (56% last season)
17.4% assist rate (5.9% last season)
6.3 defensive box plus/minus (#1 in Big Ten)
WHAT I LIKE
Smooth handle. Creative attacking in space. Crafty hesitation dribble to create an edge. Under control operating the pick and roll. Good passing vision.
Fluid release. Mildly consistent from deep. Soft touch around the basket and off a live dribble. A career 60% shooter inside the three point arc (top 5 in the Big 12 for both seasons).
Deceptively agile moving laterally. Brings enough wiggle to cut off driving lanes against quicker competition. Potentially untapped defensive versatility.
Good combination of size and strength. Added bulk in the offseason. Interesting ball handling chess pieces as a stretch forward that can create on the ball.
Highly competitive and communicative on the court. Embraces defensive challenges. Does not shy away from competition. A leader on a team exceeding expectations. 
WHAT I DO NOT LIKE
Clearly limited athletically. Lacks explosion coming downhill and attacking the rim. Low ceiling as a three level scorer.
Elonganted release. Brings the ball up to the release point. Must speed up mechanics, which is a source of lower three point attempts. Struggles to create shooting lanes off hard perimeter pressure.
Will struggle to defend quick perimeter players in the NBA. Limited foot speed and mobility to defend down to point guards. May be maxed out from a body development perspective, which will limit impact to defend stronger NBA players.
Struggles with collegiate physicality. Fouls at a high rate. Provides a limited presence on the glass. 
Ceiling may be defined as a mid-rotational piece due to lack of pronounced offensive (and defensive skills). Must meet an environment that will prioritize coaching finer technical points.
PROJECTION
There is a lot of draft buzz centered on the names Corey Kispert and Greg Brown. Kispert brings a tremendous sharpshooting element, while Brown's physical attributes warrant a hard lottery look. Lost in the shuffle of these skilled combo forward types is Franz Wagner. Listen, Wagner is not going to impress you physically. But, if you believe that the play-making IQ can translate in some capacity, there is a strong argument to be made around his upside. 
Where I fall on Wagner is simple. I love Kispert, but he is not at the same level as Wagner from a ball handling (and play-making) standpoint. While Brown is clearly a notch above both, Wagner's value in the pick and roll puts him ahead of many combo forwards. I am intrigued by his limited, but valuable defensive versatility. That is, a combo forward that can possibly defend down to some shooting guards. Most importantly, a team that unlocks a quicker shot from Wagner may eventually find a plus shooter at the next level. And that can provide all new set of problems for defenses who match-up on him with size (but not speed).