This week we highlight how Golden State is flipping the script. Next, a dive into Joel Embiid's dance with the point guard position. Finally, can Jared Butler duplicate his collegiate success at the next level?
A WARRIOR SHIFT TO DEFENSE
Not many people gave Golden State much thought after some horrific early seasons losses. But the return of Draymond Green has shifted how the Warriors navigate the treacherous Western Conference. OUT are the 'Splash Brothers'. IN is 'Team Defense'. Steve Kerr's team has fed off Green's high energy and even higher IQ. Since the flip of the calendar year, the results have been quite impressive.
Everything starts (and ends) with Golden State's starting lineup, which includes talented rookie James Wiseman alongside a rejuvenated Andrew Wiggins. Wiseman is far from polished, but his athleticism defending the pick and roll has been impressive. The #2 pick in the draft has also shown tremendous potential matched up against some of the league's most lethal interior scorers. This includes an All-Star trio of Nikola Jokic, Giannis Antetokounpo, Domantas Sabonis, who have combined to shoot 5 for 16 against the Warriors young defensive anchor.
On the flip side is Wiggins' defensive versatility. This year Kerr has deployed him at power forward a career-high 50% of the time. Wiggins has responded in a big way. Since the New Year, the Warriors swiss army knife ranks 6th in the NBA in total blocks with 16. Alongside Green's mentorship, Wiggins has owned his defensive assignments and played with increased defensive urgency, showing some of the traits many expected out of the Kansas star years ago. 
From this new blend of talent is a lineup with four highly switchable players who flow seamlessly between defensive assignments. Led by Draymond's intense communication, the Warriors have a quarterback who screams responsibilities and holds players accountable. Golden State is now feisty, energetic, and no longer the pushover many saw after the first week of the season.
NECESSITY IS THE MOTHER OF INVENTION
With several Sixers stuck in COVID protocol last Tuesday night, Doc Rivers called on a unique plot twist. Call it 'Point Guard Joel Embiid'. Rivers provided Embiid with a blank canvass to play from. The idea was quite simple. Surround the Sixers big man with floor spacers, and let him dissect the defense. This is how it looked.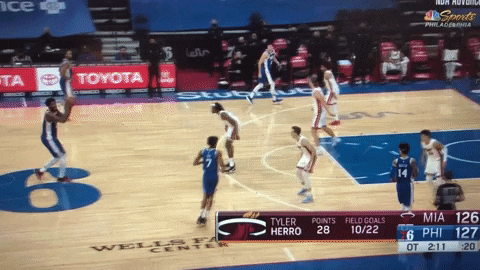 Much of Rivers' confidence hinges on Embiid's tremendous improvements as a ball handler. Look at that 7-footer calmly direct traffic and orchestrate the offense off a live dribble! Joel's arsenal was on full display against Miami. As the lead 'guard', Embiid often used a power dribble to get to his shooting spots and rise with ease. Just as impressive was his polish driving downhill. Look at how Embiid leverages a low dribble to avoid the turnover and finishes the play with a classic Euro step.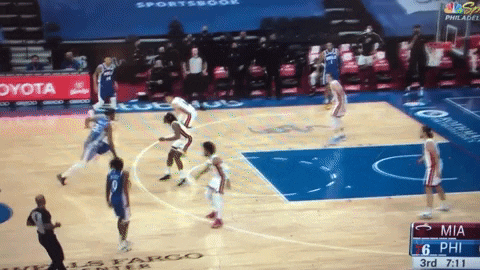 Giving Embiid a clean vision field is interesting for a number of reasons. Joel can detach himself from the post and face-up defenders off the dribble. 56% of Embiid's shots came off either one or two dribbles last Tuesday night, and the results were eye-opening. 
The Sixers center finished the game shooting an impressive 83% off one dribble (and 71% off two dribbles). It will be interesting to see if Rivers doubles down on 'point Embiid' as the year lingers on. Joel is at a point in his career where he has a lot of answers for what defenses throw at him. Enabling him with the ball is another way to showcase his MVP traits, and keep defenders guessing as to what is next!
YOUR COLLEGE BASKETBALL PROSPECT: GUARD – JARED BUTLER
THE RESUME
16.4 points per game (11 games)
43% shooting on 5.3 three-point attempts per game (career 37%)
32.1% assist rate (career 23.1%)
1st in the Big 12 in steals and Defensive Box Plus/Minus
WHAT I LIKE
Elite reactionary skills and reflexes. Eats up poor passes and loose balls on defense. Ignites transition opportunities off turnovers.
Confident shooting from deep NBA range. Fluid motion. 
Quick dribble coming downhill. Difficult to slow down in transition. Above-average linear athlete. Uses speed to get to the sweet spot on the court.  
Decisive passer. Aggressive. Creates an edge by attacking downhill and pressuring the defense to tighten passing lanes. 
Highly competitive. Plays with confidence and is not discouraged by poor shooting nights. Welcomes the big moments.
WHAT I DO NOT LIKE
Elongated release at 6'3″ limits impact to get shot off at the next level. Low shot diversity. Does most of the damage as a stationary shooter.
Lacks and extra vertical gear. Struggles to finish at the rim due to size and athletic profile. Does not draw contact with the intent to get fouled.
Brings a ball stopping element to the offense. Orchestrates empty possessions by sitting on the ball and creating little motion. 
Does not have dynamic playmaking traits. Ceiling is likely capped at a secondary ball handler. Floor is substantially lower if the shot does not translate at the next level.
Aggressiveness can lead to a high number of turnovers. Sloppy handle coming downhill. Will force passes into very tight windows. 
PROJECTION
Jared Butler is part of a star-studded Baylor backcourt that also includes Davion Mitchell and MaCio Teague. Butler has taken clear leaps as a shooter this season, often settling for shots well beyond NBA range. While his shooting improvements have been encouraging, there are signs that it may not sustain at the next level. Butler has a long release, and at 6'3″ he will be challenged by much bigger defenders. The Bears guard leaves a bit to be desired as a playmaker. As an average athlete, he often struggles to create for himself (and others). There are not many elements that point to Butler being a first-round pick. But he is highly competitive, and that will catch the eyes of many scouts. Look for his name to stand out as Baylor makes a deep postseason run this year. But do not expect another leap in the NBA.