Sometimes, he can't control his own habits; other times, it just happens as competitors collide. It happened again last night. With 9 minutes and 36 seconds remaining in the second quarter, Joel Embiid swung an elbow on a face-up move. The bone connected with Jakob Poeltl's face, and Embiid was called for an offensive foul. It was his third foul of the game. So, as any coach would, Brett Brown brought Embiid back to the barracks and inserted Al Horford into the fight.
With the Sixers only up five against a highly-capable Spurs team desperate to snap a seven-game losing streak, it looked as though the momentum was shifting in the Spurs' favor. At age 33, Al Horford has looked a step slower and has been trying to stay afloat despite the rip-currents of a recent shooting slump (converted 17 of his last 47 field goal attempts coming into the game) and a generally inconsistent eight-game stretch following his 32-point night in Phoenix on November 4th.
The Second Quarter
As I mentioned in this week's column, the second period is critical to getting the better of the Spurs when they're the guests. Home teams are outrunning them by over half a mile in that frame and, as a result, the Spurs are allowing opponents to shoot a league-best 54.3% from beyond the arc in the second quarter. Without Embiid on the floor to anchor the defense in that period, it looked as though that opportunity to weather the Spurs had been revoked. In seasons past, that certainly would've been the case, with Brett Brown having to resort to Amir Johnson, Boban Marjanovic, or Greg Monroe. But, that's why Elton Brand inked Al Horford to a four-year deal in the first hour of free agency this past summer.
Horford scored eight points in the quarter. He even provided the Sixers with some of the lite shot-creation that Embiid provides in the face-up: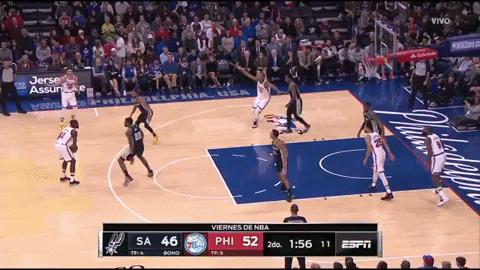 His impact on the second quarter extended far past the number of points he scored. Horford also collected four rebounds (three offensive), dished four assists, and trailed only Ben Simmons (+3) for the team lead in plus/minus at +2.
What the box score doesn't show is that Al played a significant role in keeping the Spurs' main sources of offense at bay while Embiid sat with foul trouble.
Beyond the Stat Sheet
Following one of the more comforting victories of the season thus far, Brett Brown praised Horford's impact beyond the box score when The Painted Lines' Jason Blevins asked the coach about Al's role as a leader in the untimely absence of Joel Embiid. Brown answered:
"It's hard to do that and he did do that. Al was our bell ringer tonight. I thought he bounced back from some games. Like, he probably doesn't feel like he had some of his best games, and to me he's always kind of had an amazing presence despite what the stat sheet says, and tonight he maintained that leadership and toughness and veteran and produced on the stat sheet. You know, we win, so for him it's a really good night. And yes, that's what you hope for when you sign Al Horford."
The seven-year head coach was referring to Horford's impact on the defensive end. Per NBA.com's Advanced Stats, DeMar DeRozan contributed 4 points (2/4 shooting), LaMarcus Aldridge scored 2 (1/2), and Rudy Gay poured in 6 (2/2) when guarded by Al Horford in the second frame. To provide context, DeRozan scored 29 in the game, Aldridge added 17, and Gay dropped 11 points in the quarter and 22 for the game.
A Stabilizing Mechanism
Joel Embiid was quick to point out the impact that Horford has on the team when "The Process" has to come out of the game. Jason Blevins asked Embiid about whether Horford alleviates the pressure on Embiid's shoulders. Joel answered, "Yeah, he's great. Last couple years we kind of struggled in that aspect, so it's great that we got Al coming in and, you know, just playing his game and to keep the same rhythm. It's going to help us come playoffs."
Regardless of whether you think the veteran big man is old, overpaid, or not the star he used to be, Al Horford is this team's stabilizer–and that's why he's here.