Sixers fans gasped. NBA Twitter blew up. Matisse Thybulle, perceived as a "quiet guy", had his Kodak moment.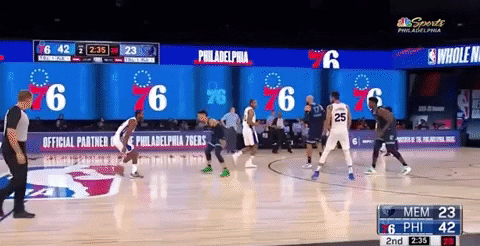 The Sixer rookie produced a poster out of a split dribble handoff play. The "quiet guy", sensing a clear runway, burst towards the middle of the lane and took flight over Jaren Jackson, Jr. Lights, camera, action. 
Following Philly's 90-83 victory over the Grizzlies in their opening scrimmage in Orlando, Jason Blevins, of The Painted Lines and 97.3 ESPN, asked Ben Simmons about the progression he's seen from Thybulle, as both an aggressor and a ball-handler, and whether that was, in a sense, a byproduct of being teammates.
Simmons offered some insight into an encouraging development with Thybulle: "He's getting better, he actually was talking shit to me the other day when we were practicing," Simmons said. "I love to see that side of him. Now usually people think Matisse is very calm and nice-mannered, but when he was on the court the other day he was definitely talking a lot to me, which I love to see. Guy is getting confident and the way he's attacking the rim, he's only getting stronger, better. So, to see him come down the lane like that and dunk on somebody like that, very athletic and strong, was a good sign."
But, a play like that isn't out of the normal for the Sixers. It's something with which Simmons, himself, racks up points quite often.
This is a very similar concept, just initiated a bit closer to the basket. Simmons puts on the burners from the right side of the court and gets to the middle of the lane. Clear the deck.
This play type isn't quite the same, as Simmons is the ball-handler in transition. But, he changes paces on a dime and rockets to the rim, similar to Thybulle's rim-rattler yesterday. Watch your head.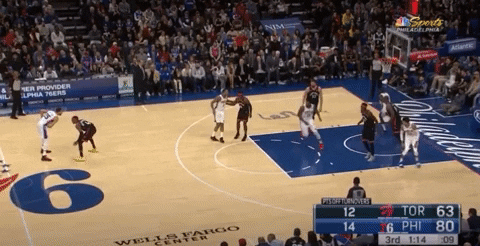 One more for good measure. Simmons is initiating a pick-and-roll with Embiid to get himself towards the middle of the lane. Once he clears the screen and sees that the slower Gasol is the only man in his way and is already backing up to protect the rim, he changes directions and pace before rising. *Camera click*
Sure, they're just dunks. Two athletic professional basketball players taller than 6'4″ should be able to dunk. What is interesting is the pattern. Both start from one side of the court and actively pursue the middle of the lane. While it took Simmons some time to do so with consistent aggression, the "quiet guy" is developing that part of his game with a less pronounced learning curve. 
Check out our reactions to the Sixers first scrimmage victory over the Memphis Grizzlies