As the United States passes the 150,000 mark for COVID related deaths, the sports world is struggling to find a consistent workable model with regards to a return to play amidst the Covid-19 pandemic. The NBA has been living inside a bubble for the past few weeks. The basketball world has taken the Covid-19 pandemic exceptionally seriously. The first major sport to shut down, the NBA returns to regular season play this weekend.  In Orlando, the protocols are extreme, minimal staff, media, and support personnel are allowed in the bubble. Wednesday morning, the league commissioner spoke about the pandemic and the protocols that are in place. 
Major League Baseball
Meanwhile, Major League Baseball returned to play last weekend and spectacularly failed to prevent an outbreak to at least 17 members of the Miami Marlins, who opened their season in Philadelphia. That outbreak has caused baseball to pause again and reassess. 
Initially, it was left to players to decide if they wanted to play. The Marlins learned before game 3 that three players had tested positive for COVID-19—Marlins player's decision to go forward and play against the Phillies Sunday. Sources in the Miami organization said they could not find guidance within the 101-page league manual for this situation. That makes one wonder, what IS in the MLB Handbook? Is it just 33 pages of MLB ballpark photos, 66 pages of Minor league park photos, 1 page of contact information, 1 Page Table of Contents? 
Dr. Arthur Caplan 
Dr. Caplan was the founding head of the Division of Medical Ethics at NYU School of Medicine in New York City. When asked about sports returning, he had the following to say. 
"I'm really watching to see what's gonna be the trigger to say we're gonna shut down according to the Marlins 17 players and a couple of staff." Began Caplan. "They're postponing up till Sunday I don't think that safe enough. It's been said that the Marlins decided, knowing that they had positive results to continue to play that's not acceptable." 
Caplan continued "So you can have policies in place to suspend or temporarily suspend play." The NYU head of medical ethics spoke to the "lessons here for two other things, college sports we're still talking about trying to bring them back" Caplan warned that "the Marlins experience shows that's hopeless,  kids in dorms, they're not going to be able to isolate." He then widened the scope to schools, saying "There's a message here for schools, right, if you can't  keep millionaires safe with the quarantine type operation and giving them instruction what chance do you have to handle high school kids?"
The NBA
In stark contrast, the NBA has done everything reasonable to create a membrane between themselves and the outside world. Players are quarantined and punished for breaking the rules, including Lou Williams and Richaun Holmes. When asked about their precautions, Adam Silver said, "We have confidence in this protocol that we design that you refer to it as a bubble." He admitted to the risks even with this approach but added, "It's not a sealed bubble, but everyone who's on that campus gets tested daily." Silver continued, saying, "They're taking extraordinary precautions and maybe the only time they're not wearing masks when they're actually playing basketball. Silver said that mitigation strategies exist for players who test positive "somebody tests positive, we will track them closely. We quarantine people who first come down. So we think we have a plan in place."
Philadelphia 76ers Head Coach said Monday "I think that what the NBA has done in the environment that we are all in is spectacularly brilliant. It's easy. I personally have zero complaints about anything that might like prohibit us from doing our job. We have the resources. I think that we have the environment."
National Hockey League
The Hockey World has moved to Canada. The Eastern Conference teams will play a round-robin tournament in Toronto, Ontario. The Western Conference Teams will play a similar format in Edmonton, Alberta. Toronto is quite close to a closed US border near upstate New York. Edmonton however is quite remote being hours north of Calgary. The league is banking on Canada being a non-hotspot as a safety measure. 
National Football League
And finally, the NFL seems to be lagging in regard to its plan. The NFL is the least progressive league among the 4 major sports and there is a continued disconnect on exactly what their plan might be. Lane Johnson the Philadelphia Eagles Right Tackle confirmed that he had contracted the virus during an offensive lineman camp on July 11th. Johnson intends to play this season despite this positive test. The NFLPA has released the following statement. 
Per Fox Sports: 
"If a player wishes to sit out the season, he must notify his club by Aug. 3, and the decision is final – he won't be allowed to join the team at all in 2020. Athletes who voluntarily opt-out must be under contract or subject to a tender. The contract will toll to the 2021 season, and the player will be eligible for a stipend of $150,000, treated as a salary advance against the tolled contract."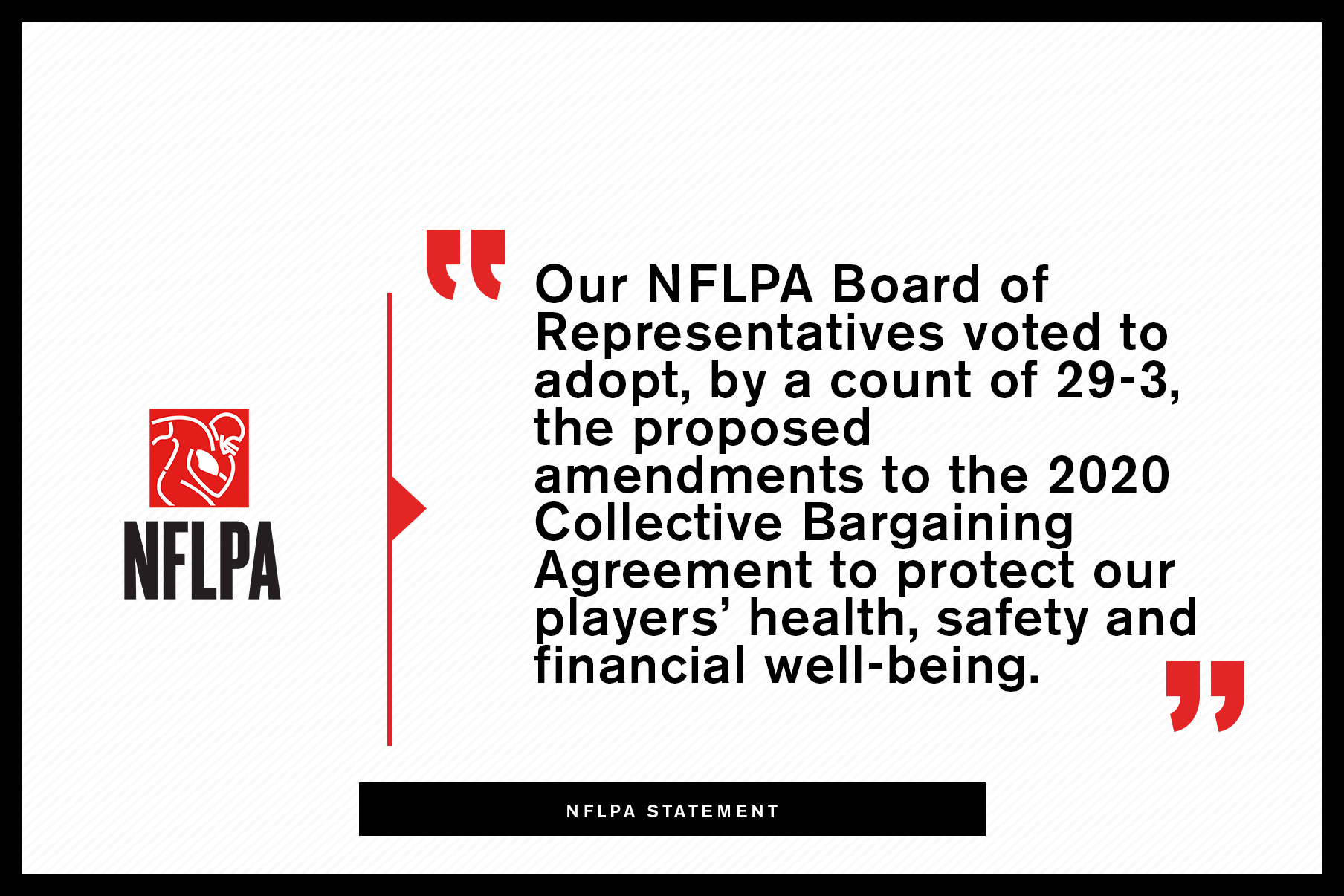 So as the nation struggles to deal with these issues, the sporting world has shown an inconsistency from league to the league as well. If sports are compelling for there ability to be an analog for life, then perhaps no better example is the approach to handling Covid-19. Many large corporations are watching this play out. These grand experiments will ultimately provide real-world data to inform society about what works and what risks are worth taking.