A THUNDER STAR THRIVING POST-CHRIS PAUL
Life after Chris Paul has been quite a breeze for Shai Gilgeous Alexander this season. SGA has been dynamite offensively. Enabled with full point guard duties, the young protege is thriving in Oklahoma City's newly spaced offense. A different world has opened up for SGA at the benefit of his improved shooting. Most of the damage has come off the drive.
With defenses paying extra attention in the perimeter SGA has attacked matchups with a zen-like mindset. Always calm and under control, he often uses his long strides to get by defenders and identify the rim. Thru 18 games the Thunder star is shooting a much improved 51% from the field. But where SGA REALLY stands out is as a passer.
and …
Nifty! There are elements of Chris Paul's calmness sprinkled all over SGA's game. With shooters in every corner, he is able to dissect where and how to attack defenses. It is by no coincidence that 27% of Oklahoma City's three-pointers are considered wide-open looks (most in the NBA). SGA floats with an unselfish approach to the game, and his 32% assist rate is over double last season's numbers.
It has been an impressive start of the season for Oklahoma City's main foundational piece. The Thunder have a young and exciting player. One who can now attack defenses and pick them apart in a variety of ways.
ANOTHER PIECE IN PHILADELPHIA'S DEFENSIVE ARSENAL 
Much has been said about Tobias Harris' improved offense this year. Doc Rivers has unlocked a more decisive Harris, and the results have been impressive. Against the Lakers giant frontcourt, the Sixers combo forward shouldered an even bigger defensive challenge. From Lebron James to Anthony Davis Los Angeles' plan is simple. Isolate the defender and bully him in the paint. But last Wednesday night Harris had none of it.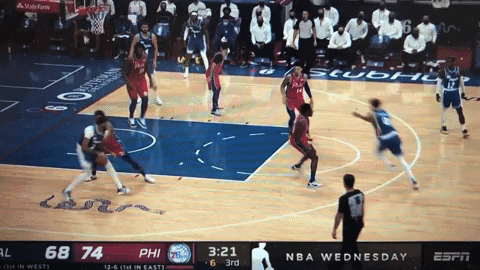 At 6'8″ and 226 pounds Harris is vulnerable to some of the league's bigger forwards. But Tobias brings the speed advantage, and he uses it here to match Anthony Davis stride for stride. Davis loves to turn the corner on defenders, but the Sixers forward has the quickness to cut off the path to the basket. With the shot clock near zero, all left for Davis is a highly contested look. A big win for the Sixers power forward.
Philadelphia occasionally leans on Harris' defensive upside to defend even bigger matchups. This is where Tobias flips from speed to power. Marc Gasol carries a 30-pound advantage, but Harris absorbs the contact without losing much ground.
In Harris' defensive versatility the Sixers can deploy Joel Embiid across multiple matchups. Embiid is having a phenomenal defensive season, and against Los Angeles, he defended Davis on over 24 possessions! But playing the Lakers means you will eventually see Lebron James. In this possession, Harris mixes a bit of everything, remaining balanced and clean throughout James' bully approach.
Harris has been one of the bigger beneficiaries from a re-shaped roster this season. Last year he was often tasked with guarding quicker 
(and smaller) guards. But under Doc Rivers, his role is now much more defined. Play big. Play strong, and be another chess piece in Philadelphia's growing defensive chessboard. 
YOUR COLLEGE BASKETBALL PROSPECT: WING – CAMERON THOMAS
THE RESUME
22.3 points per game (16 games)
122 free throw attempts (#1 in SEC)
34% usage rate (#1 in SEC and 5th in NCAA)
7.9 three-point attempts per game (28% three-point percentage) 
WHAT I LIKE
Shot-making potential on the ball. High release. Uses a quick first step to separate and rise over defenders. Confident and aggressive. Has a mind to score in critical moments of the game. 
Quick decision-maker as a scorer. Processes the game fast coming downhill. Attacks advantageous matchups off the dribble and off screens.
Tight handle. Maneuvers ball pressure well. Leverages attention in the perimeter to get into the heart of the defense. Keeps defenders off balance.
Attacks to get fouled. Advanced feel to sell contact and get to the free-throw line.
6'4″ and long. Wide frame. High potential to develop into an NBA body. Only 19 years old.
WHAT I DO NOT LIKE
Low feel as a point guard. A questionable situational decision-maker. Takes a hero-ball approach often, including in critical moments of the game.
Narrow passing vision. Drives without a Plan B. Misses free cutters and open corner threes often. Struggles to impact the game beyond a high-volume shooter.
Inconsistent defensive energy. Does not use his length to impact possessions. Attacks close-outs with a low sense of urgency. A bystander on the glass. 
Poor shot selection. Settles for contested looks early in the possession. Shooting 39% from the field with a sub 1.0 assist-to-turnover ratio. 
Average speed. Does not have the extra gear to play off his quick first step. Struggles to separate from defenders coming downhill. Limited three-level scoring potential. 
PROJECTION 
Cameron Thomas is going to shoot. And shoot. And shoot some more. The question around the LSU star is the following. How does the shooting impact winning? Thomas is quickly rising up the charts as a bonafide shot maker. Confidence is obviously not an issue, and Thomas has the green light to let it fly. But there are many moments that leave you wanting more. Thomas' situational awareness is subpar, and as a result, LSU pays the price on the win column. Understanding when and how to attack defenses is a big part of his developmental trajectory moving forward. 
Inconsistent production aside there is an obvious NBA player in that body. But today, his ceiling is likely capped as a microwave scorer off the bench. Thomas will be an interesting project for NBA teams. The right coaching could unlock a potential starter at the next level. That alone warrants a look at the back end of the first and early part of the second.