This week we take a look at Philadelphia's unique approach to Giannis in the post. Next, how Doc Rivers can unlock more space around Ben Simmons. Before you leave, take a peek into Aaron Henry's defensive versatility and NBA projection. 
PHILADELPHIA'S IMPRESSIVE ANSWER TO THE BUCKS BULLY-BALL APPROACH
Defending Giannis in the post is no easy task. The Bucks MVP often punishes defenders with little regard for physical resistance. So when the Sixers entered the matchup without its best post defender, many expected a similar outcome. Turns out, Philadelphia had VERY different plans. 
TO UNDERSTAND THE IMPACT, TAKE A LOOK AT GIANNIS' POST-UP PRODUCTION VS THE SIXERS
Much of the defensive burden fell squarely on Ben Simmons. The Sixers' defensive stopper accounted for over 8 matchup minutes on Giannis. The results were impressive, as Simmons held 'The Freak' to a meager 2 for 8 from the field (on 4 turnovers). But Philadelphia's post defense extended far beyond one player. Doc Rivers' team poked and prodded at the basketball with relentless pursuit.
Want to spin left? Think again Giannis!
 and again …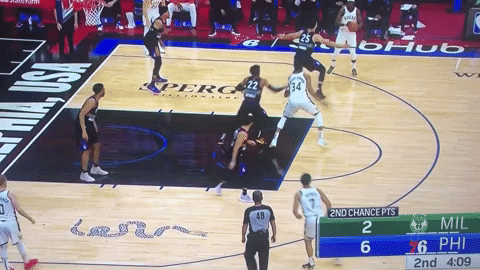 The Sixers approach of throwing multiple bodies (and hands) paid massive dividends. Philadelphia finished the night with 22 total reflections, often catching Giannis by surprise with timely help defense. Alongside Simmons, the wing duo of Tobias Harris and Matisse Thybull was instrumental. Both players hedged hard towards Giannis' blind side, providing the necessary disruption to create turnovers and stifle possessions. What should have been an easy night turned into an absolute nightmare as Philadelphia's team defense wreaked havoc for most of the game.
It will be interesting to see how the Sixers approach Giannis in their next matchups. Timing help defense does leave Philadephia vulnerable to the three-point shot. With Joel Embiid back in the lineup, the expectation is that he will require less help in the post. This is not to say that Doc Rivers should abandon the same successful tactics that flustered the league's MVP. Yes, Giannis eventually willed the Bucks to a narrow overtime win. But as the Sixers showed, scrambling precise weakside help went a long way to slowing down Milwaukee's main guy.
OPTIMIZING BEN SIMMONS DURING JOEL EMBIID'S EXTENDED ABSENCE 
With the Sixers amidst another extended stretch without its MVP center, questions remain as to how the team plans to extract offense. At the core of those questions lies Ben Simmons. It has been a bumpy week offensively for Simmons, with the Sixers star struggling with turnovers and scoring consistency. Doc Rivers' intent on playing Ben alongside a non-shooting big man has not helped. Since the start of the season, Simmons has been paired primarily alongside Dwight Howard (in non-Embiid lineups). But is that good? 
THIS IS HOW THE SIMMONS – HOWARD PARTNERSHIP FARED OFFENSIVELY PRIOR TO EMBIID'S INJURY
The clunky fit between Simmons and Howard is grounded on the obstacle Dwight provides as another body in the paint. Simmons has been at his best attacking the rim this year, and those opportunities are lessened with Howard (and Tony Bradley) clogging driving lanes. But all these complicated variables do not have to be a deterrent to a new offense. To get there, it will require some creativity, risk, and a bit of Doc Rivers' wild side.
ALLOW ME TO INTRODUCE PHILADELPHIA'S HIDDEN WEAPON
Yes, the sample size is rather minuscule, and Mike Scott has done nothing to warrant playing time alongside the starters. But the concept of this lineup lies on two critical factors. One, Tobias Harris, and the other, Matisse Thybulle. Earlier in the season, we dove into how Tobias Harris is defending up a position. The Sixers' power forward has been a pleasant surprise and has spent significant time defending bigger guys. This is not to say Harris can anchor against every center in the NBA, but the data suggests potential. In over 42 matchup minutes this season, Harris held Paskal Siakam, Julius Randle, and Myles Turner to an impressive 15 for 41 from the field. And with teams flexing smaller lineups Harris could be an interesting floor spacing option at center.
On the flip side lies what to do with Mike Scott's minutes. In a lineup without a traditional rim protector, it is critical for the Sixers to fortify its perimeter defense. For that, Doc Rivers has the ideal weapon in Matisse Thybulle. Thybulle's STELLAR defense has been well documented this year. However, it is on the offensive end where Thybulle's recent run indicates potential alongside Simmons. Entering the West coast trip, Matisse is shooting an impressive 39% from deep over his last 15 games. While that is far from a sharp-shooter, the shooting mechanics have looked solid, and Thybulle is leaving a mark over the last month of the season.
While the Sixers have enjoyed modest production from Dwight Howard and Tony Bradley, spacing around Ben Simmons continues to be a hard puzzle to solve. Philadelphia does not have a traditional stretch big on the roster, but as we see here, getting a bit creative with the current personnel could unlock a more potent offensive group. 
YOUR COLLEGE BASKETBALL PROSPECT: WING – AARON HENRY
THE RESUME
15.4 points per game (28 games)
25.2 assist rate (17.8 last season)
2.4 steal rate (1.7 last season)
29% from three-point range (career 33% on 2.2 attempts per game)
WHAT I LIKE
6'6″ with a 6'10" wingspan. Bouncy. Fluid footwork in the perimeter. Highly switchable across multiple positions. Stays in phase defensively while moving laterally.  
Strong upper body. Can absorb impact and push thru contact. Potential to defend up a position in the NBA. 
Secondary pick-and-roll ball handler. Good passing instincts. Quick decision-maker. 
High potential as a cutter from the wing. Strong and can finish thru contact. 
Exposes matchup advantages off the dribble. Great balance. Significant shooting range off stationary looks. Soft touch near the rim. 
WHAT I DO NOT LIKE
Raw ball handler attacking defenses. Lack of court awareness and feel for weakside help. Vulnerable to turnovers on the ball.
Low release point. Inconsistent. Poor shot selection (sub 50% shooter from 2-point range).
Stationary on the wing. Misses open cutting opportunities from the baseline. Should benefit from better coaching.
Not a dynamic playmaker. Misses Hi-Lo passing reads. Does not entice enough contact as a ball handler. 
Narrow shoulders. Frame and capacity to build strength could be maxed out.
PROJECTION
Aaron Henry enters the NBA conversation as a high-level defensive projection. In an up and down season, Henry showed the ability to disrupt offenses defending off screens and shutting down driving lanes. Switchability is the name of the game and Henry can flex across multiple positions on the perimeter with ease. Smart and savvy, he understands not to get baited into cheap fouls and plays passing lanes with great precision.  
Offensively the story is a bit different. Henry's shooting never truly developed after three seasons under Tom Izzo. This year, Henry shouldered a bit more of the playmaking role, and that played out well in some pick-and-roll possessions. It is hard to envision much of a shot creator at the next level. But Henry is the type of prospect that could thrive under better coaching conditions. This is a guy to keep your eye on entering round 2. The NBA salivates over skilled and versatile wings. Aaron Henry is yet another name that fits that exact mold.