The format of play in the NBA's bubble enabled viewers to make observations and then build upon them with ease. Perhaps the most blatant observation that one could come across was that the small-ball style of play is phasing the modern big man out of the NBA. Even the best bigs in the league were struggling to stay in front of speedy guards and wings on the defensive side of the basketball. The small, wing-and-guard-laden play forces the bigs to step out to the perimeter to challenge offensive players. Those smaller, more agile players use that as an advantage, and dance their ways to the rim and get easy layups or force contact for fouls. There was, however, one big who was able to have success in the heart of the NBA playoffs, and that was Swiss Army Knife Bam Adebayo.
Adebayo, as you probably know, is undersized for a center, but is athletic enough and strong enough to play up a position. He is agile and mobile enough to step out and guard the perimeter. Adebayo is intelligent enough to rotate over in due time to deter opponents at the rim. He is skilled enough on the offensive side of the floor, despite seldom using his jump shot, to be deployed in a variety of ways without costing his team. Bam Adebayo changed the 2020 playoffs, and front offices around the league are looking desperately for the next Adebayo. They need not look too far, as the next Adebayo could be in this class–and his name is Onyeka Okongwu.
Strengths
Can switch onto smaller ball-handlers and force them to pass out of mismatches
Adept at making high-low passes, allows him to play outside even if the jump shot isn't falling
Uses strength well in the post; draws contact and finishes through fouls
Utilizes disciplined footwork facing up in the post
Jump-shooting range extends out to about fifteen feet
Instinctual shot-blocker; rotates over in time to alter shots
Can track smaller matchups to the basket and block shots
High IQ pick-and-roll defender
Capable passer out of the post
Presence often perturbs dribble penetration, even if not imminent; forces kick-outs
Doesn't bite the first fake at the rim, times jumps well to make good contests without fouling
Maintains verticality when contesting at the rim; hands stay up, doesn't commit undisciplined fouls
Hands have improved significantly since high school; visible improvement in being strong with the ball
Makes timely rotations in help; defensive anticipation is improving
Weaknesses
Occasionally does not go up strong at the rim
Often falls when trying to box out; struggles to maintain positioning when shot goes up
Touch is inconsistent around the rim
Does not set solid screens, shows tendency to slip them
Sometimes bites fakes on the perimeter
Occasionally closes out flat, allows opposition to attack close-outs from perimeter
What Excites Me
Okongwu's offensive game is very raw, but his understanding of his own size and strength is already quite polished. Now, it's about developing that raw potential into a tangible product. While he has a long way to go, his footwork, post game, and capacity to pass from both the perimeter and the post are all encouraging signs for what he can bring immediately. His developmental arc is also promising, as he has made noticeable improvements in strengthening his hands from high school to his lone season at the University of Southern California. If his ability to dramatically tighten his control of the basketball in such a short period of time is any indicator, the rest of his offensive game could develop quite rapidly, as well. His defensive impact will be felt immediately, so if he can grow his offensive game, the league is in trouble. 
What Concerns Me
For as powerful and as dominant as he can be, he is nowhere nearly as assertive as he should be. Sure, he played with the Ball brothers at Chino Hills, so touches were few and far between. However, there was no question as to who the best player was on USC's roster. Yet, he appeared more than happy to take on a secondary spotlight. I don't have a reason to believe that he has the personality to be a dominant player.
Film Room
Onyeka Okongwu's offensive game, at this juncture of his career, is largely based upon post-up mismatches and strong pick-and-roll dives to the basket. He is, at the very least, willing to square up for jumpers outside of fifteen feet. It would, of course, behoove him and whomever drafts him to grow comfortable within that fifteen-foot radius so that his offensive package becomes less predictable. Okongwu has a natural intuition for making passes within an offense, and that somewhat offsets his lack of perimeter threat. His capacity to read and make high-low passes from above the break, at the very least, gives him a purpose from the perimeter. However, much of his offensive game comes from dissecting mismatches in the post.
Okongwu's Post Work Is Polished
Watch Okongwu read this mismatch and use his size to obliterate the 7'0″, 240-pound Jayce Johnson on this possession: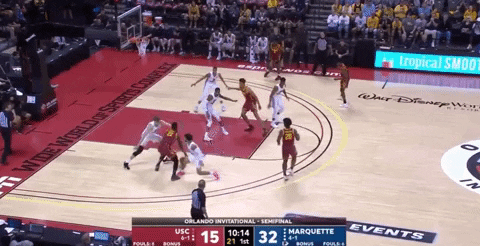 Footwork in the post is one of the most important skills for big men to possess. Okongwu's is on full display as he reverses his pivot to get back to his left shoulder to get this shot off. He also shows his impressive strength by finishing through contact with his off hand.
Okongwu Is Exceptional At Tracking The Ball-Handler
In the NBA, pick-and-roll defense is paramount. Okongwu is exceptional at two principles of pick-and-roll defense. First, he stops the ball very well. A basic principle of defense, surely, but it often is lost upon NBA players making defensive decisions in the heat of the moment. Second, he tracks the ball-handler and maintains an advantage on the inner part of the lane so as to defend the rim without fouling from behind. 
On this play, he doesn't fall for the lift used to shift his positioning in the paint. Instead, Okongwu reacts to what the ball-handler does, tracks his drive to the rim, and times the block perfectly.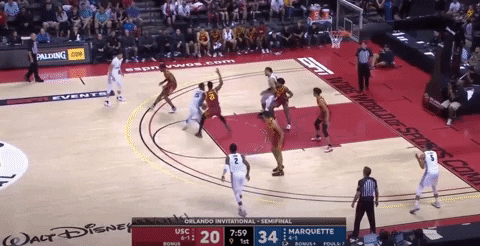 Similar play here. Notice that Okongwu subtly rotates under his teammate to meet the ball-handler at the rim for the block. Whether having the luck of a tight space behind him or not, Okongwu remains engaged on this drive and is able to defend the basket without fouling.
Best Fits
I strongly believe that Adebayo's play during both the normal season and the bubble season has helped Okongwu's stock significantly. Teams are looking for the next Adebayo, and Okongwu fits that mold quite well. Any team in the top 10, save for the Timberwolves, makes sense for the big man.
Detroit Pistons
The Pistons need everything, and they traded away their center at the deadline last season. Okongwu's capacity to pass from the post and work the dribble hand-off fits well next to Luke Kennard. If Blake Griffin is healthy (and doesn't get traded, which…), that high-low game could be fierce. 
Cleveland Cavaliers
The Cavs are looking to add foundational pieces at every non-point guard position. Cleveland was at the very bottom of the league in defensive rating in 2019-20, and the pick-and-roll games with Collin Sexton and Darius Garland could make the Cavaliers at least somewhat interesting in the near future.
Washington Wizards
The Wizards' entire game plan seemed to hinge on scoring at least as many points as their opponents, not preventing their opponents from scoring. Now, it's time to add some sort of defensive structure to their core, particularly in the middle of the lane. Okongwu would be the best big to land in DC in quite some time.
Stats To Know
Okongwu had a negative assist-to-turnover ratio (.55:1) in his lone season at USC
Led the Pac-12 in field goal percentage (61.6%)
Finished second in the Pac-12 in blocks per game (2.7)
Draft
Highest I'd take him: 6th pick
Lowest I think he'll be available: 9th pick
Ceiling: Bam Adebayo
Floor: Andrew Nicholson or a much better Brice Johnson
You can find the rest of our draft evaluations below!