"Nope" is a science fiction horror film written, directed, and co-produced by Jordan Peele. It stars Daniel Kaluuya, Keke Palmer, and Steven Yeun as residents of an isolated town who witness a mysterious and abnormal event and attempt to capture video evidence of an unidentified flying object.
The Pros
This film is Peele's most ambitious film yet while also being the simplest at the same time. It's a science fiction horror that digs into the nature of spectacle and the human desire to document it. There also is a sub-theme of how frequently Black film history has been pushed out of memory. As a whole, it is bigger in scope but doesn't impact as much as his prior two films. There are multiple times in the film where film posters are shown that were groundbreaking for casting Black actors as main characters.
Peele takes his time putting the puzzle pieces together. As the film progresses, Peele drops little breadcrumbs. Kaluuya and Palmer play brother and sister in a family horse wrangling business for film productions. Their California ranch is visited by seemingly a strange ship in the clouds that they capture on film. They want to get the "Oprah shot" that will give them fame and fortune and save their business. They get electronic cameras and Angel Torres (Brandon Perea), a store tech, helps them get set up. 
Honestly, the best way to go into this film is not really knowing much outside of a general summary. It gives one a completely open mind when thinking about the film. The best part of the film is the film cinematography by Hoyte van Hoytema. The film is absolutely stunning to see. Peele also used some very good shots of a horror aspect from older iconic horror films and tied it into his interesting story so well. The acting by Kaluuya and Palmer is amazing. They both knock their roles out of the park, but Palmer is one person to reckon with. Their opposing character qualities work very well off of one another and they develop as the story progresses. 
4DX Experience
This film was a lot of fun for practical effects reasoning. It did not have a lot of movement, but the production of smoke, smells, wind, and rain was a fun to experience. While not the best ever, it was still a great time. When it's done right though, 4DX is the only way to really, truly feel immersed in the film. When it's raining on screen, it's raining in the cinema. If it's misty on-screen during a battle scene, fog is filling the auditorium. From that perspective, this film nailed it. 
The Cons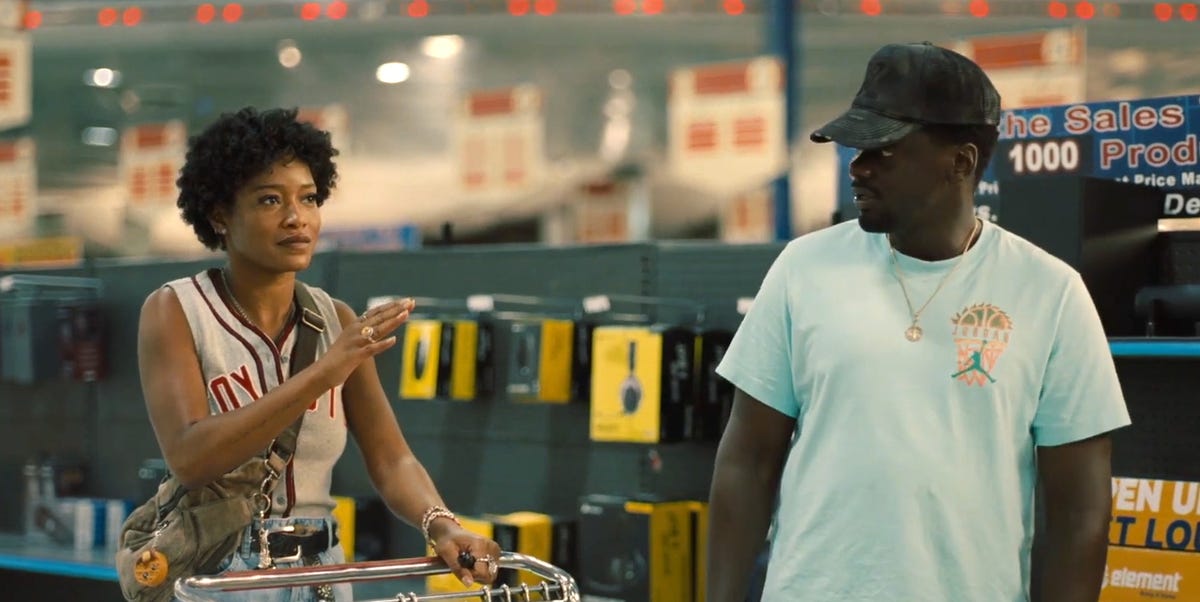 The biggest flaw with the film, which isn't really that big, is that the theme of the film is pretty obvious. There are a lot of layers to it, however. Yet unlike Peele's prior films, this one's ideas aren't as complicated to notice on first viewing. The opening of the film is a bible verse that tells the audience pretty much everything they need to know about the plot.
Overall
The film is fantastically made and the irony of what it is trying to say should not be lost on the viewer. However, that and its overall too many meta-applications take away from the impact that the overall film has. It is a thrill ride but unlike the other two films in Peele's filmography, namely "Get Out" and "Us", it shouldn't take multiple viewings to appreciate the depth of the film. While that's not a big deal, it does lower itself below those two in that order. The film succeeds with its direction, characters, story, details, and some of its themes. By that, it's only an easy theme to follow and as such, it only does not have the same level as "Get Out" and "Us."
If you want the full spoiler analysis of the film, check out the video below.
Rating: 4.5/5
What did you all think of the film? Let me know!
Please also follow me, @TheFormalReview, on social media for more reviews and up-to-date movie news!