The NBA off-season is a period of self-reflection. Teams on the cusp of contention scheme up the next chess move up the board. Others take stock of their inventory and often pivot a different direction. But the one constant is, front offices LOVE the next shiny thing. Put a Mercedes in front of a customer with money and they'll say yes with little hesitation.
Malik Monk is not the polished sports car sitting in the display room. On the contrary, this highly touted prospect spent much of his three seasons in Charlotte on the bench. Monk's career has been a balance between inconsistent contributor to a full-blown distraction off the court. But it is within the confines of the gym where he has started to show progress. The type of leap that should have Charlotte salivating for what is next!
MORPHING INTO A MODERN SHOT MAKER
Much of Monk's progress starts with his improvements as a decision-maker. Charlotte has undertaken a significant philosophical transformation. At the heart of that change is second-year head coach James Borrego. The Spurs disciple comes from a culture connected to modern NBA principles. That means a faster tempo offense that optimizes shot value. Under Borrego, the Hornets moved from a heavy mid-range offense into the second-fewest attempts last season. For Malik Monk that change was significant. Why? Here is how his shot chart has progressed over the last two seasons.
Last year, Malik Monk cut his mid-range attempts from 12% of his total shots to just under 6%. As a result, Monk attacked the rim at a much higher capacity. The outcome was eye-opening. Monk finished the season ranked 20th among all guards in shooting efficiency from the restricted area. His 63% field goal percentage topped a group of prolific scorers, including Russell Westbrook, Donovan Mitchell, Zach LaVine, and Jayson Tatum.
From this improvement, James Borrego's vision for Monk started to crystalize. Blessed with a 42-inch vertical, he has the supreme ability to explode and finish near the basket. It is the type of combination that has Borrego looking at Monk to run his pick and roll offense. Last season, Monk operated from this offensive set a career-high 18.8% of his possessions. It is very easy to see his scoring ability on display. Take a look at how he leverages his athleticism to finish off contact.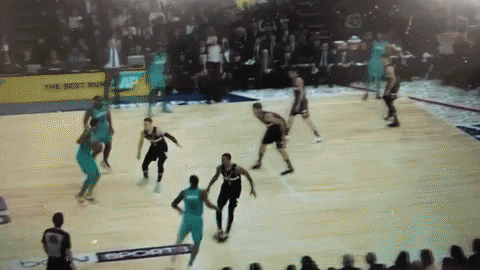 Monk's athletic profile gives Charlotte an extra dimension at point guard. But he must establish more consistency. His 23% turnover rate as a pick and roll ball handler ranked 2nd among all players with over 100 possessions. Valuing the basketball is the key to more playing time this season. 
IMPROVED FEEL AS A COMBO GUARD
Malik Monk improved feel for the game extends beyond his shot selection. Sometimes the best shot is the one that you do not take. While Monk still has ways to go as a passer, he is establishing himself as a tough assignment coming off screens. A big reason is his ability to entice contact. Approximately 10% of his possessions are off screens. To understand his impact, here is a list of players who get to the free-throw line at a similar frequency.
That is quite the company. Players like Luka Doncic and Kawhi Leonard have a game-changing feel when it comes to drawing contact. Last year Monk got to the free-throw line six or more times on five separate occasions. In those games, Malik Monk averaged 21.6 points, including a 31 point outburst against the Milwaukee Bucks. 
While Monk is one a positive trajectory, it is still too soon to group him among the game's best off-screen weapons. His 34% field goal percentage ranked well below efficient scorers such as Devon Booker, Jamal Murray, and Paul George. But as his shot comes around, the building blocks are now in place for a top tier scorer. That is a player who can contribute offense in a variety of different ways. 
POSITIONAL VERSATILITY AND (INCREMENTAL) DEFENSIVE IMPROVEMENTS
One of Malik Monk's greatest appeal is his versatility. After a rookie year that saw Monk log 59% of his minutes at point guard, Borrego now toggles him between multiple positions. Last season Monk recorded 12% of his minutes at small forward. Some of Charlotte's most lethal offensive lineups included Monk and two other guards. His flexibility allows Borrego to infuse sharpshooters Terry Rozier and Devonte' Graham into the lineup. Those lineups are a source of immediate offense, especially when paired with rookie PJ Washington. 
On the flip side of going small lies some defensive vulnerabilities. But Monk has shown progress in that area as well. One part is defending the pick and roll. After a disastrous rookie campaign, he has progressed into a semi-competent pick and roll defender. Here is how this has looked since Borrego's arrival.
A big reason for the improvements lies in Monk cutting down on his fouls. This has allowed for his natural athleticism to take over and impact possessions. Some of his best work has come in the perimeter, where Monk held his primary defender to an impressive 33% shooting from deep last season.
The next step forward is to become a more active defender. Monk has made little impact as a rebounder and a player who can create transition opportunities. But with increased playing time the elements are now in place for another leap next season.
SO WHAT IS NEXT?
The big elephant in the room continues to be Malik Monk's jump shot. Many knew him for his epic scoring displays at Kentucky. But in his first three seasons, the jump shot is yet to translate in a considerable way. Over 20% of his three-point attempts come with the closest defender 4 to 6 feet away. But these open shots have been unproductive, as Monk's 20% three-point efficiency ranks second to last behind Rusell Westbrook (among players with over 70 attempts).
Most of Monk's three-point attempts come in spot-up opportunities. Charlotte loves the play fast, and he has taken that mantra to the extreme. Just watch how quick he is on the trigger with Jaylen Brown closing in.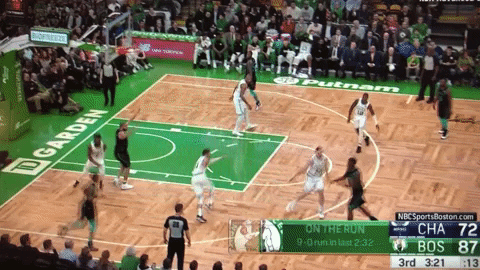 Monk finished the season shooting a subpar 31% on 125 catch and shoot threes. This ranked him among a group that included non-shooters in Josh Okogie and Jarrett Culver. But Monk's shooting mechanics are advanced, and he could benefit from processing the game at a slower speed.
One way is to expand his court vision. A simple bounce pass (or dribble out of pressure) can go a long way to improving his efficiency and driving wins. Nevertheless, we should expect a natural uptick in efficiency this season. His production off open looks is well below league average for a guy with a shooting pedigree. A return to the mean coupled with a few coaching tweaks can be the path to a more productive shooting year in 2021.
With Charlotte eyeing a surprising upcoming season, Malik Monk is the name on everyone's mind. The third-year guard has endured a roller-coaster career. But with a positive infrastructure now in place, this is the time for Monk to showcase his potential. There are signs all over that point to 'The Leap'. Leading Hornets fans to dream of a future star waiting in the wings.