Very few mathematicians can do the requisite calculus to accurately portray prospects' ceilings. The very best organizations are excellent at calculating the bust risk against a prospect's ceiling to determine if he is worth expensing their picks. Jaden McDaniels has the physical tools to project as high a ceiling as any prospect in the 2020 draft. His draft stock has fallen in the eyes of some scouts, who are unimpressed by his physical strength and his freshman year performance. But, by my calculus, his ceiling is worth the risk of expensing a lottery pick. 
Strengths
Excellent NBA frame
Body is wiry, but he is sneakily strong; can power through contact for finishes
Extremely fluid for his size
Actively seeks opportunities to shoot off-the-dribble
Handle in space is impressive given his size; strong dribbles under control, can use both hands
Active off-ball mover; flashes, cuts, rotates well
Able to stay in front of ball-handlers, forces them to turn around and reset instead of attacking
Weaknesses
Needs to add muscle mass or will get punished by power forwards and bigger small forwards in NBA
Needs a lot of space to be comfortable shooting off the catch
Consistently misses passing opportunities that aren't the first pass right in front of him
Sometimes dribbles aimlessly
Lazy passer, makes shooters work to catch the ball or throws the ball away
Struggles with finishing around the rim, lacks touch inside free throw line
Needs to tighten up his handle when crowded
Tendency to be over-zealous when offensive players use shot fakes, lacks discipline in that regard
Hard to judge his ability to hold ground in man defense because Washington played almost exclusively zone; that could hold him back in the NBA
What Excites Me About Jaden McDaniels
I don't know that there are five other non-guard prospects in this draft that have McDaniels' combination of size (6'9″, 6'11.5″ wingspan), handle, and perimeter shooting touch. If McDaniels can add some muscle to his frame and improve his touch within the free throw line, he will be one of the five best players to come out of this draft class. 
What Concerns Me About Jaden McDaniels
His defensive credibility is unknown because Washington often spent entire games in zone defenses. Given their size and athleticism as a team, it made more sense to go zone than to complicate things with man concepts. Given that, it's difficult to gauge how his defense will play at the NBA level. It could take him years to figure out man defenses in the NBA, and he might not receive consistent minutes until he does. By that time, he could be severely behind his development curve. If he's taken in the middle or end of the first round, McDaniels might not be afforded the opportunity to grow in games. That could severely stunt his development and career trajectory. 
Jaden McDaniels Film Room
This film session is going to focus on the awe factor of McDaniels' game: his ability to score off the dribble at his size.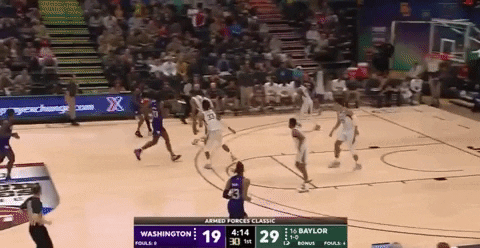 Again, this is 6'9″ with a 6'11.5″ wing going behind the back with his dribble, pulling up, faking, and shooting. There are only a handful of players that can do that in the NBA, and they're consensus top-10 players.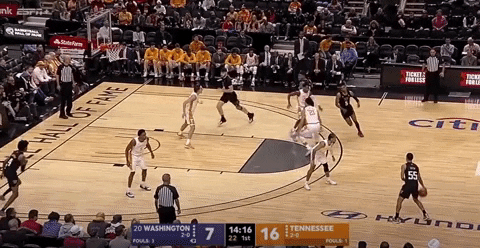 McDaniels displays excellent footwork in creating space on this jumper. Notice how he gets to his shooting spot with his right foot landing first, followed by his left foot. Also impressive is his controlled dribbling. He doesn't mishandle the ball at any point, and crosses swiftly to create space. Again: the ability to create space for a shot off-the-dribble from the perimeter like this is rare for players of McDaniels' size.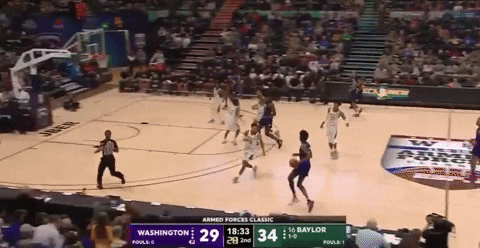 There is one word to describe the events of the clip above: sick. McDaniels attacks to his left, crosses behind the back, gets to the rim (yes, he traveled), and finishes through contact in the middle of the lane. I don't take away points for the travel because he can eliminate that with bigger strides. In the NBA, he will have to get into the habit of taking two big steps from the point of the crossover to the rim. But, given his length, that shouldn't be an issue.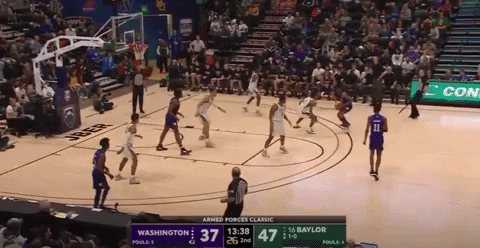 This finish is a testament of McDaniels' handle and sneaky strength. He attacks left and spins back to his right, sneakily switching hands as he spins. He then remains aggressive in attacking the rim, finishing through an uncalled foul. Despite McDaniels' wiry frame, he displays impressive strength, first knocking over Jared Butler to create a path to the rim. Then, he fights through the contact from Tristan Clark to power the ball into the basket. McDaniels absolutely must add strength to stick in the NBA, but his lanky frame discounts the true strength he possesses heading into the next level.
Best Fits For Jaden McDaniels
McDaniels is a high-ceiling prospect with NBA-ready perimeter shooting skills that he can rely upon as he grows the rest of his game. He is a 3-and-D wing incapable of defending anything above a small forward right now. But, in time, he can become a three-level scorer capable of defending across four positions, if not more. That's a star. 
San Antonio Spurs
The Spurs appear to have faith in their core of guards in Dejounte Murray and Lonnie Walker IV. The Spurs, who have cultivated a rich history of developing stars, could take a swing on McDaniels as they look towards a rebuild. McDaniels would be a core wing upon which San Antonio could build its future.
Portland Trail Blazers
The Blazers desperately lack wing depth and would be wise to look to get younger. McDaniels fills both of those needs and, if the Blazers are patient with him, could be ready to boom just as McCollum and Lillard approach the end of their primes. Maybe McDaniels doesn't extend or reinforce Portland's window, but he gives them a bridge to their next era, while fortifying what they have if the Blazers muster enough power to make one final run.
Dallas Mavericks
The Mavericks have their big. The Mavericks have their franchise guard. Now, it's time for the Mavericks to grab a cost-effective third piece. Oh, and if they can get Antetokounmpo, Dallas could have four star-level players in their twenties, and one would be on a rookie contract.
Stats To Know
Averaged 1.18 points per catch and shoot jump shot in half-court setting
McDaniels scored .86 points per possession in the pick-and-roll
McDaniels recorded a negative assist-to-turnover ratio of .656:1
Draft
Highest I'd take him: 8th pick
Lowest I think he'll be available: 20th pick
Ceiling: Pascal Siakam
Floor: Rudy Gay
You can find the rest of our draft evaluations below!