"Jackass Fore❤️er" is a stunt comedy film directed by Jeff Tremaine and it is the fourth main and fifth overall installment in the Jackass film series based on the 2000 tv show. The film stars original Jackass members, Johnny Knoxville, Danger Ehren, Steve-O, Dave England, Chris Pontius, Wee Man, Preston Lacy, a few newcomers to the Jackass crew, and a few celebrity guests.
New Crew
The new members include Jasper Dolphin, Zach Holmes, Eric Manaka, and Rachel Wolfson. Interestingly, Wolfson is Jackass's first female member since Stephanie Hodge from the television series. The best newcomer is Sean "Poopies" McInerney mostly because of the name alone.
Some missing
There are two notable absences from the film, Ryan Dunn, who sadly died in a car accident in 2011, and to whom the film is dedicated. The second is Bam Margera, who had an ugly falling out with everyone after Paramount deemed him too much of a liability because of his substance abuse and public breakdowns. However, he is still in one segment as it was filmed before he was officially fired from the film.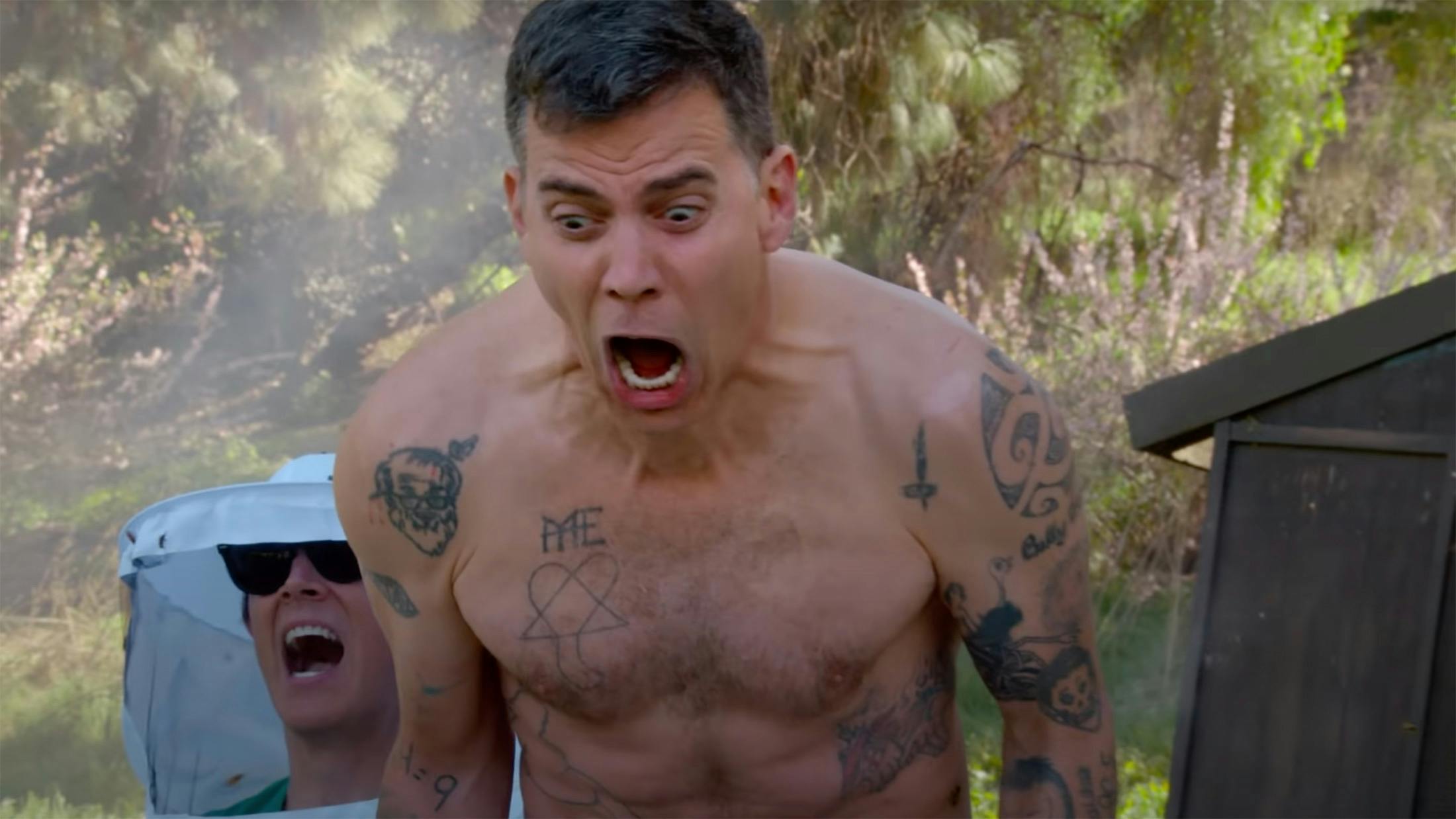 Highlights
This film marks the continued tradition of an hour and a half or so of bodily fluids and kicks between the casts' legs, most of whom are in their 50s. There's a human ramp gag and a sequence involving a pitch-dark room and a snake in a bucket that are particularly funny. There are also painful sequences such as the one involving MMA heavyweight, Francis Ngannu, and another one involving bees. The film has an expected fairly low stakes outside of the personal lives of the cast. It honestly feels the same as any other prank show running for the same time either via YouTube or TikTok. Even so, there is this friendship between a lot of the cast that is oddly heartwarming as the film looks back at the past 20 years of Jackass. No matter how much the world changes, Jackass does not. And that's not a bad thing. 
Review
Anyone watching or wanting to watch this film knows exactly what they're getting into. This film is incredibly stupid and obviously juvenile. But if one was expecting anything more, they are seriously misinformed by what Jackass is. There is no story or message, but the film does well with its cast, the details of something like this, and the direction. However, these items are fairly easy to do well given what happens in the film. 
The humor is simple: punish your friends and laugh. If one is looking for a laugh and find abusive yet friendly pranks hilarious, this film will provide exactly that. It still delivers the exact same thing from 2000 and maybe it's because of nostalgia for this time or maybe it's an escape from the awful things going on in the world, the film is not a waste of time but not really worth watching again. 
If you want the full analysis of the film, check out the video below. 
Rating: 3.0/5.0
What did you all think of the film? Let me know!
Please also follow me, @TheFormalReview, on social media for more reviews and up-to-date movie news!