This week find out how Brooklyn enables its non-shooting wing on offense. Dive into how Philadelphia can sample some of those ideas to squeeze more offense out of Matisse Thybulle. Finally, make sure to check into Arkansas star scorer in Moses Moody!
MORE THAN JUST A STAR-CENTRIC ISOLATION SYSTEM 
It is hard not to glance at a 29 point outburst from Bruce Brown and wonder, what is going on here? Brown's calling card has always been defense, but in Brooklyn's win over Sacramento, it was his impact alongside James Harden and Kyrie Irving that piqued my interest.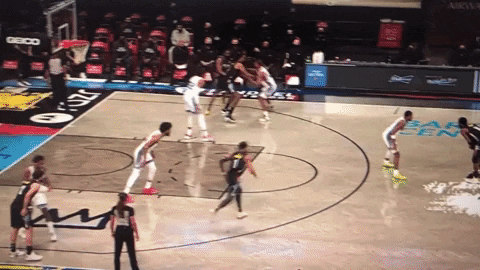 What to do with a player that cannot shoot? That is the question that many NBA teams struggle to answer. In Brooklyn's case, creativity, space, and talent have led to the right solutions. From the first clip head coach Steven Nash pulls an interesting twist. The Nets anchor their traditional screener DeAndre Jordan in the dunker spot. This activates Bruce Brown in the pick and roll. Kyrie's attention pulls Sacramento's defense away from the basket. A well-timed bounce pass is enough for Brown to cut downhill with ample momentum (and space) to get to the rim. 
While much of Brooklyn's offense is grounded in isolating its three stars, this has not limited Nash from exploring other offensive options. The Nets are currently ranked 8th in pace, and draw a near quarter of its offense from two non-isolation scenarios.
HERE IS HOW BROOKLYN STACKS IN OUTCOMES DERIVED FROM TRANSITION AND A PLAYER CUT
It is under this structure where a non-shooter in Brown thrives. Defensive-minded players bring a different juice on offense, and that usually translates into high-energy hustle plays. Want to stop Harden in transition? Watch how Brown fills the void left by Sacramento's double team.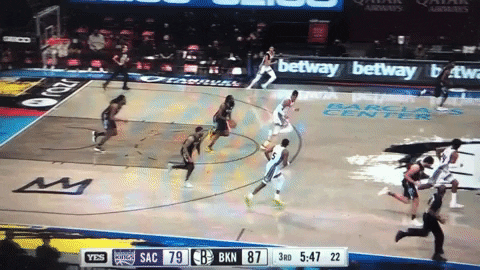 Brooklyn's cohesion around Harden and Irving is very impressive. Complimentary players understand their roles and often act with surgical intent. Again, follow the precision in which Brown times his cut from the moment Tyler Johnson receives the Harden pass.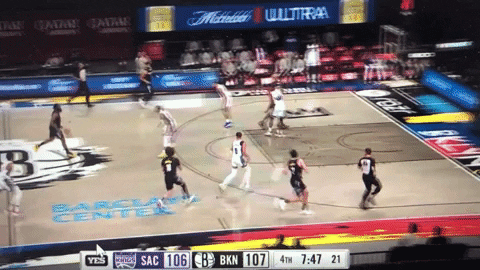 With all five players synchronized around a constantly moving basketball life becomes much easier for a non-shooter like Brown. His role becomes crystal clear as soon as the ball departs Harden's hands. That is, step into the open space vacated by Sacramento's help defense and attack the rim. This simple outcome highlights what is unique about Brooklyn's offense. The Nets understand Brown does not have to be a negative on offense and create the ideal scenario for him to thrive.
… WHICH LEADS US TO PHILADELPHIA'S OWN NON-SHOOTER
100 miles down I-95 South there is another player who fits a similar mold. Thybulle's historic defensive impact this season has been well documented. But it is on the offensive end where things get VERY clunky. Matisse's early career arc has followed that of a traditional 3&D prospect. In other words, drive wins on defense and harness your offensive limitations at the three-point line. Thru most of the season Thybulle has obliged to that doctrine, but should he?
THIS IS HOW THE SIXERS UTILIZE THYBULLE IN COMPARISON TO BRUCE BROWN
The Sixers are clearly asking Matisse to fill a specific floor-spacing role alongside Embiid and Simmons. But it is hard not to look at his usage and wonder if Philadelphia is optimizing his impact offensively. When we dive into the tape, this question becomes even more pressing.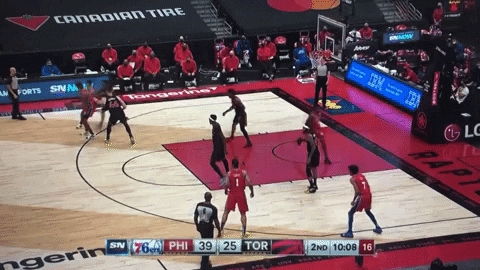 Thybulle's speed coming downhill is very impressive and his lengthy frame ideal for finishing at the rim. Just last season, Matisse finished in the 90th percentile with an impressive 1.53 points per cut possession. But with the recent roster changes, Philadelphia has doubled down on Thybulle as a long-distance threat. Yes, three-point shooting brings immense value, but have you see Thybulle take off in transition?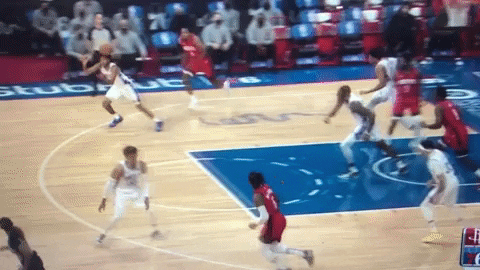 Reminds you a bit of Bruce Brown, doesn't it? With Matisse struggling to find his footing as a shooter, it may be time to re-envision his role offensively. This is not to say that Philadelphia should abandon the hopes of Thybulle developing into a top-tier 3&D prospect. However, it is clear that part of his value lies in slashing defenses in space. We saw how Brooklyn deploys Brown as a screener and someone who can time cuts from the wing. Using Thybulle in a similar fashion may just unlock a more potent offensive contributor (and a new wrinkle to Philadelphia's system). 
YOUR COLLEGE BASKETBALL PROSPECT: WING – MOSES MOODY
THE RESUME
16.6 points per game (15 games)
36% three-point efficiency (4.8 attempts per game)
82% free throw percentage (5th in SEC)
5.7 rebounds per game
WHAT I LIKE
Quick trigger off the catch. Comfortable rising up in tightly contested scenarios. Moderate to deep NBA range. Naturally smooth release.
Diverse shooting profile. Will spot-up coming off motion and off screens. Does not need much space to let it fly from deep.
Adequate to decent passer. Can identify easy passing reads off a live dribble. 
Attacks closeouts off the dribble. Will turn the corner on slower defenders and get into the heart of the defense. Draws contact at a high frequency.
Long. Good feel as an off-ball defender and weakside rim protector. 
WHAT I DO NOT LIKE
Deliberate on the ball. Speed and athleticism do not stand out. Plays slow. Moves with little intent attacking off the ball.
Lacks the dynamic playmaking to create on the ball. Loose handle. Narrow passing vision. Settles for wild and unbalanced shots at the rim.
Raw defender at the point of attack. Allows easy dribble penetration without much resistance. Plays upright. Stiff hips.
Thin frame. Struggles to free from contact. May struggle with the physical element of the NBA game.
Low ceiling if the shot does not translate. Lack of pop and multi-positional impact may significantly limit playing time. 
PROJECTION
Moses Moody is the mold of a player whose impressive stats do not tell the complete story. On the surface, Moody screams of a bonified shot maker. The Arkansas product plays with a high degree of confidence, and attacks tightly contested defenses both off the dribble and as a shooter. His diverse shot-making profile is also intriguing, and a key offensive element that NBA teams love to project at the next level. 
But I am not entirely sold on Moody as a slam dunk lottery prospect. While most project him in the top 15, Moody's athleticism simply does not stand out when you dive into his game. I am particularly concerned about his ability to get open and fight thru contact. That is a big deal, as I do not project Moody to be much of an on-ball creator in the NBA. Going into March Madness I have him tiered in the 20-25 range. That may be a departure from most mock drafts, but I am looking for more consistency that will make the projection easier at the professional level.