Basketball intelligence has gotten lost in the sea that has become filled with rogue waves of athleticism, skill, and potential. Players can survive for a number of years on some fanciful combination of those elements. Yet, players who lack those attractive facets survive, as well–sometimes, even longer. Some guys find themselves surviving injuries, age, and super talent on the open market because of their minds for the game. Tyrese Haliburton is not the most athletic prospect in the upcoming NBA draft class. He isn't the most skilled, either. Hell, he definitely doesn't have the highest potential.
What he does have, however, is one of the best basketball minds in the class–by far.
Strengths
Basketball IQ off the charts
6'5″, 175-pound frame affords the potential to be effective at both point guard and shooting guard
Length lends itself to being multi-positional and versatile on defense
Adept at drawing out multiple defenders with manipulative change of pace and then finding open teammate
Tremendous court vision for spotting the open play as well as the play that has not yet unfolded
Very aware and active moving off-ball when the ball is on the perimeter; always looking for a new spot
Remains active and engaged in help defense; defends at angles that allow him to track his man as well as the basketball
Strong-side help positioning is advanced; keeps head active, never turns away from the basketball
Active hands and awareness in on-ball defense
Weaknesses
Will turn 21 during his rookie year; will be older than numerous rookies and his ceiling isn't as high as theirs, some are already farther along in their development
Lacks speed to create offense in space on perimeter, needs screen to be effective
Jumper lacks fluidity and release point varies
Tendency to leave the floor when closing out and gets beat because he bites on pump fakes
Off-ball movement when the ball is in the low post is non-existent
Doesn't pressure defenses when he's pushing in transition
Weak-side help positioning needs work, does a lot of watching
Needs to work on rotating in help as the ball swings from side to side; doesn't move far enough over to be available in help when the ball moves deeper into the weak-side
What Excites Me
I don't know that Haliburton will ever be an all-star, but I do think he will be able to sustain excellent play well into his thirties. With his combination of passing (6.5 assists per game as a sophomore on a putrid Iowa State team) and shooting (42.65% from three-point range in two collegiate seasons), Haliburton possesses the offensive skills necessary to co-exist in any back-court. With his basketball intelligence, Haliburton can be trusted to make the right play in any lineup. He's not a human highlight reel, but he is conducive to an efficient, well-run offense.
What Concerns Me
Haliburton does not have a tight, multi-dimensional handle. He does not have burst. He does not exhibit a consistent ability to beat matchups off-the-dribble when given space on the perimeter. So, in a world where the vast majority of NBA offenses begin with an athletic shot-creator or speed demon participating in a dance-off on the perimeter, I'm not convinced that Haliburton has the ability to outduel a matchup. If he cannot, he won't be able to utilize his passing game as well as possible.
So, do you move him off of the basketball? That could detract from his passing game, which is the most admirable facet of his offensive skill set. Further, his shooting motion varies depending on the type of shot he's taking. If it's a spot-up opportunity from a pass, which is often what off-guards get, his motion could make it difficult for him to capitalize on decreasing windows of space.
Additionally, with the prerequisite teammates that would maximize Haliburton's game and the draft positioning he projects to have, he might not be surrounded with skilled enough teammates to make his transition to the NBA as seamless as possible. 
Film Room
I'm going to begin with what captured my attention when I first started watching film on Tyrese Haliburton.
Haliburton's Court Vision–Both in Real Time and in the Future
Haliburton's vision is aided by his discipline and patience in the half-court.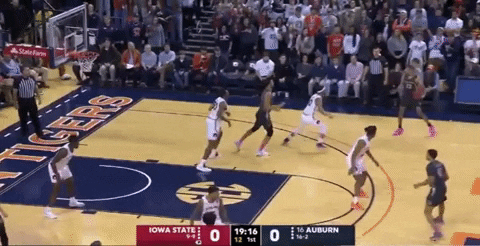 Young ball-handlers will often walk their screening bigs into offensive fouls on illegal screens by their inability to wait for the screener to arrive and set up. Here, Haliburton waits for George Conditt IV to establish himself as the screener and then begins his attack. Haliburton then patiently waits for Austin Wiley to commit himself to stopping the basketball so that he knows his teammate can dive freely to the rim. When Wiley leaves Conditt's line to the basket wide open, Haliburton strikes with a beautiful pass placed right in front of him. Easy bunny.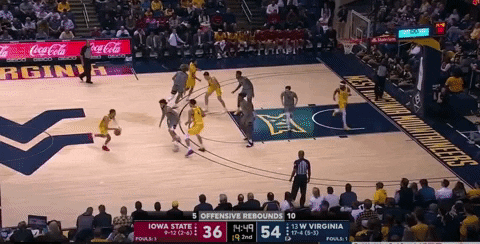 The first pass out of a pick-and-roll isn't always the best pass. In fact, it may not even be the preferred look in some playbooks. Here, Haliburton teases the interior by declining a downhill invitation out of the pick-and-roll. Instead, he waits until he has the attention of weak-side help defenders before firing back to an open shooter. The shot is deferred to another teammate, but Haliburton's patience resulted in a play that developed itself in real time.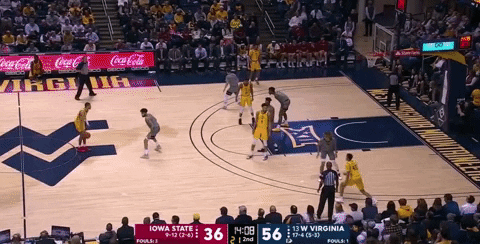 Haliburton sees this play unfold three seconds before he even lobs the ball to the rim. With West Virginia taking away the right-handed lane out of the first screen, Conditt IV sets another one to get his ball-handler back towards the middle of the floor. Haliburton uses the snake screen ("snake" refers to the screener setting one and then turning around and setting another as the ball-handler winds around him) to get to an angle that is more conducive to making an easy play for a teammate. With Haliburton commanding the attention of both the on-ball defender and the help after the second screen, Conditt IV is able to slide to the rim unaccounted for. Another easy one.
Haliburton's Shooting–Varying Fluidity and Release Point
This is where Haliburton's offensive package gets a bit…odd.
Set Shot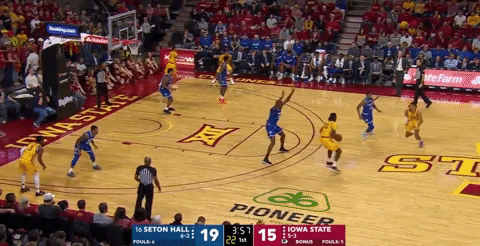 When his jumper isn't coming off of an aggressive dribble, it's almost robotic. The release point is by his shoulder, the motion isn't fluid, and it's not quick. That's a potent recipe for falling victim to blocks in the NBA. To his credit, Haliburton has developed touch from deep. However, the variance to his motion by shot type is a cause for significant concern.
Let's take a look at a different type of jump shot.
Catch-and-Shoot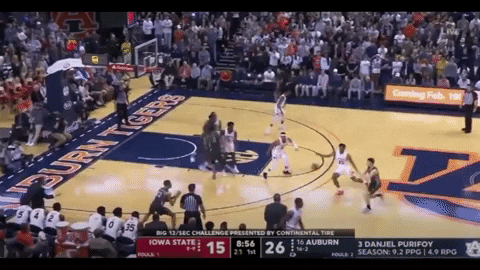 Haliburton's motion is much more fluid off of the catch. But the release point is around his chin, here. Further, there is a bit of an extended load from the catch to the release, so the motion, itself, still isn't fast. Again, with better defenders at the next level, Haliburton has to bring that ball higher and cut down on the time it's in his possession or his shots will land in the rows behind him. 
Now, it gets weird.
Off-the-Dribble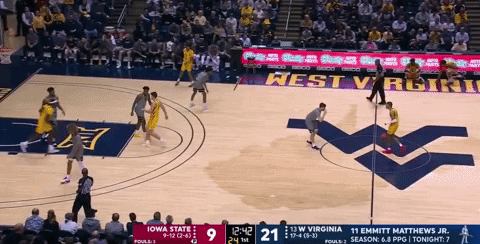 Haliburton's jumper is far less mechanically flawed off-the-dribble than when he is set. This motion is quick and the release point is above his head. The follow-through is also held pointing towards the rim, not off to the side as it had been on previous jumpers.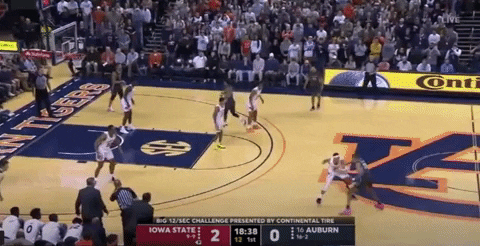 Same thing here. Haliburton's motion is fluid and quick, the release point is high (higher than the previous shot, I might add), and the follow-through tracks the rim. It's worth wondering if there's some element of added comfort for Haliburton going left off the dribble.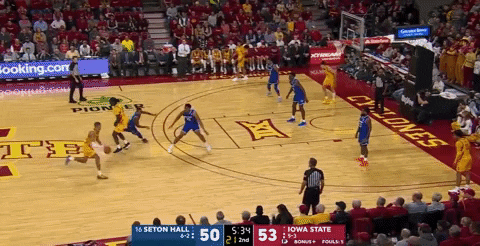 Again, Haliburton is (sort of) getting downhill to his left before reversing his pivot to create space. The motion is fluid and quick, the release point is above his ear, and the follow-through tracks the rim. 
There are two concerns that need to be discussed. First, the inconsistency of the motion needs to be addressed. That his mechanics vary makes one believe that Haliburton might make unnecessary adjustments to his motion if he is slumping, and that could be more damaging than any prolonged dry spell.
Second, his lack of speed is going to make it difficult for him to create space at the NBA level. If so, he'll struggle to get his jumper off anyway. With his set-shooting mechanics needing a lot of work, it's hard to be confident he'll be able to get those off, either. So, even with his touch, there is cause for uncertainty surrounding Haliburton's jumper. 
Defense–Active on the ball and in strong-side help
Haliburton's length and intelligence lend themselves to him being an aware, active disruptor on the defensive side of the basketball.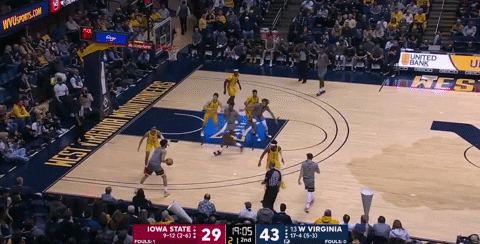 While Haliburton is somewhat upright in his defensive stance on this half-court set, he is engaged on the basketball. That awareness keeps him prepared for whatever decision the ball-handler makes. In this instance, Haliburton uses his length to disrupt the pass and it creates a transition opportunity for Iowa State.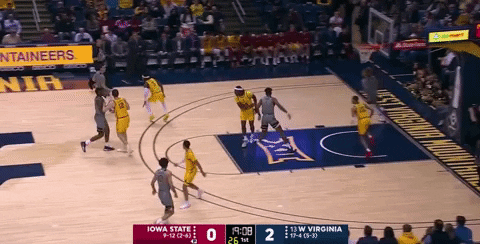 Haliburton's principles in help defense are, for the most part, tremendous, as well. Watch how he keeps his head active, so as to track the basketball and his man, simultaneously. He also roams an appropriate distance from his assignment when the ball is on the strong side of the court. Haliburton keeps an aggressive stance, enabling him to pursue the passing lane should the ball-handler be foolish enough to pass towards his man.
Utilizing Pace to Capitalize in Transition
While Haliburton's offensive decision-making in the half-court is tremendous, his unwillingness to push the pace in transition is concerning, especially in today's NBA.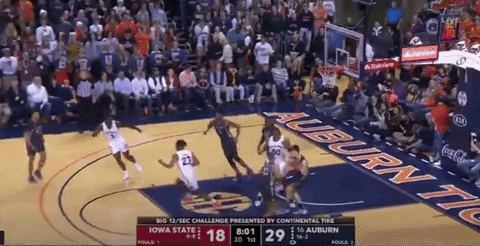 On this possession, Haliburton had just one defender in his path in transition. If he had changed his pace, he likely would've been able to turn the corner on him and get to the rim. Instead, he doesn't push the pace and elects to go with an in-and-out dribble to get back towards the middle of the floor. Once Auburn's defense converges on his lane attacking right, he is forced to pass the ball off and squander the transition opportunity.
Best Fits
As odd and, if you want, sell-out-ish as this might sound, I don't believe there is a distinct best fit for Tyrese Haliburton. That is not an indictment on his game. In fact, quite the contrary–it is a massive endorsement of what he brings. Haliburton's size, IQ, and skillset afford the luxury of sliding him into a variety of lineups and different positions.
Golden State Warriors
I am very intrigued by the idea of developing Haliburton as the back-up point guard for the Warriors. He could provide the basketball intelligence needed to conduct a half-court offense behind Stephen Curry. Steve Kerr could also use him in the off-ball role with Curry. If the Warriors wanted to get extremely, well, Warriors-y, they could throw out a lineup of Curry, Thompson, Haliburton, Wiggins, and Green. Haliburton would fit their brand of small-ball revolutionary play in the form of prolific playmakers. 
New York Knicks
Haliburton would make for a very interesting back-court tandem with R.J. Barrett, a high-IQ guard going into his sophomore season. Trade in George Conditt IV for Mitchell Robinson, and the Knicks suddenly have a fatal pick-and-roll partnership. Haliburton could torture defenses by patiently prodding the interior before feeding Mitchell for endless dunks.
San Antonio Spurs
The Spurs maximize the majority of young players they acquire. Tyrese Haliburton, an efficient, pass-first playmaker with defensive potential, fits the San Antonio mold to a tee.
Stats To Know
Assist-to-turnover ratio of 2.8:1 in two seasons at Iowa State
Increased free throw percentage by 13% in his sophomore season
At least 10 points and 5 assists in 14 of 22 games played as a sophomore
Draft 
Highest I'd take him: 5th pick
Lowest I think he'll be available: 12th pick
Ceiling: pre-injury Shaun Livingston
Floor: better Michael Carter-Williams
You can find the rest of our draft evaluations below!
Make sure to follow @BlueRouteTPL, @mrcrockpot, @tscabbia, and @KrellTPL on Twitter for more Sixers and NBA draft coverage! Be on the lookout for our Cole Anthony video breakdown coming in the near future!