Our NBA draft coverage continues with two combo guard prospects. The highly competitive SEC is a pipeline of NBA talent. This season proved to be no different. With Skylar Mays and Saben Lee as two names to keep an eye on in the second round.
SKYLAR MAYS
As a four year starter at LSU, Mays amassed over 3,900 career minutes in Baton Rouge (9th all time in the SEC). The Tigers guard is part of a group that led LSU to their second highest win total in school history in 2018. Alongside the duo of Tremont Waters and Naz Reid, Mays led the team in both three point and free throw attempts. With heavy NBA departures in the off-season, Mays took on a much larger offensive role this past season. LSU's continued success was in large part to Mays' improvements. Both outside the arc and as a ball handler.
STRENGTHS
Sound defensive fundamentals on the ball. Shuffles feet and does not give away cheap reach fouls. Competitive point of attack defender.
Balanced static shooter with a great base. Productive spot up shooter (89th percentile in spot up possessions – per Synergy).
Strong and can absorb contact. Aggressive cutter who adds value finishing near the rim.
Smart off the ball defender. Great feel for switches. Anticipates passing lanes. 213 career steals (17th all time in the SEC).
Advanced pick and roll ball handler. Searches for high value shots. Comfortable pulling up off the dribble. 
WEAKNESSES 
Limited wingspan hinders ability to alter shots in the perimeter. Can get to shooter but cannot match the release point with length.
Does not possess an explosive first step and the ability to break defenders off the dribble.
Stiff and upright handle is susceptible to ball pressure. Uses hesitation dribble to create space but struggles with length and size on the perimeter.
Lacks the dynamic to shoot off motion. Primarily a static spot up shooter that requires space to get shot off.
Low ceiling as a multi-positional defender due to lack of burst and length.
FILM HIGHLIGHT
Where Skylar Mays lacks in athleticism, he vastly makes it up in basketball IQ. Offensively, a big part of his game requires operating in space. Mays has an advanced feel as an off ball weapon and understands when to flash into open spaces. Doing so provides the framework for him to thrive. Watch how he rotates into a vacuum left by the driving ball handler.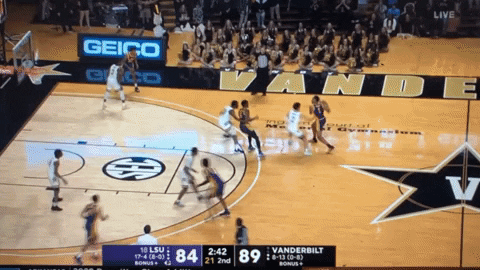 Mays has a fluid shooting motion and scored 1.21 points per catch and shoot possession (89th percentile – per Synergy). Mays is also a well coached perimeter defender. Largely aware of the importance of not fouling, he recorded 17 games of one foul (or less) last season. Doing so allows help defense to arrive, as seen here against Vanderbilt.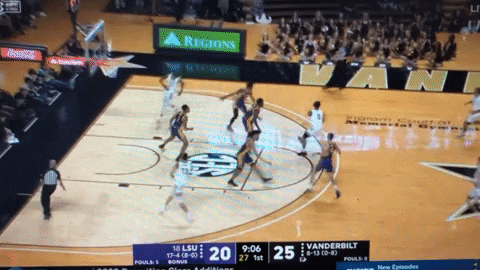 Mays will have to rely on these type of defensive possessions to thrive as a perimeter defender at the next level. Without elite quickness, help becomes crucial. Moving his feet without reaching or poking goes a long way to generating this transition opportunity.
FIT AND FINAL VERDICT 
Skylar Mays' physical limitations is a conversation stopper in the first round discussion. But that should not rule him out of the draft entirely. Mays' basketball IQ will be highly valued by teams in the back end of the second round. His three point shooting is intriguing for anyone looking at a complimentary shot maker off the bench.
The possible fit in Houston is an interesting one. The Rockets are a team that is entirely built on the play-making of James Harden and Russell Westbrook. Positioning Skylar Mays on the wing is the ideal environment for him to thrive as a catch and shoot guard in the NBA. Defensively, Houston is a team anchored on strong help defense fundamentals. Even without a rim protector, Mays would have the pieces in place to support his shortcomings.
SABEN LEE 
Saben Lee entered the draft conversation in a season that saw him take over the reigns at Vanderbilt. After losing Darius Garland to the draft and Aaron Nesmith to injury, Lee's usage rate sky rocketed this season. The lightly recruited prospect put together a phenomenal scoring season. One that saw him register four 30+ point games, all in the highly competitive SEC. But it is not just in the points column where he stood out. With the massive spike in usage, Lee also cut down his turnover rate to 16.2%. A strong indicator of his improvements as a ball handler and decision maker. 
STRENGTHS
Supreme first step explosion on the ball. Quick change of direction and can go either left or right with ease.
Explosive athlete. High potential working off the ball as a slasher. Good balance near the rim.
High gravity player on the ball. Attacks hard close-outs with an explosive first dribble. Good vision to make the simple easy read to an open shooter.
Thrives in transition. Can get from point A to B in the blink of an eye. Puts significant pressure on defenses to recover. 
Long and agile. Potential to become a disruptive point of attack defender under optimal coaching conditions.
WEAKNESSES 
Inconsistent from distance. Long release. Must speed up mechanics at the next level.
Raw footwork defensively. Takes bad angles and allows easy penetration at the point of attack.
Not comfortable shooting off movement. Hesitates to fire with increased ball pressure and dribbles into traffic instead.
Lacks dynamic passing ability. Rarely makes 'back-breaking passes', particularly in the pick-and-roll.
Thin frame. Will be vulnerable to punishing physical ball handlers built in the mold of Luka Doncic. 
FILM HIGHLIGHT
It is very easy to fall enamored with Saben Lee's athletic ability. But how he pieced his physical gift within the framework of the offense is what I like to focus here. Lee consistently plays above the rim. The pressure he instills on defenses is significant. Follow how quickly he extends to the basket in transition.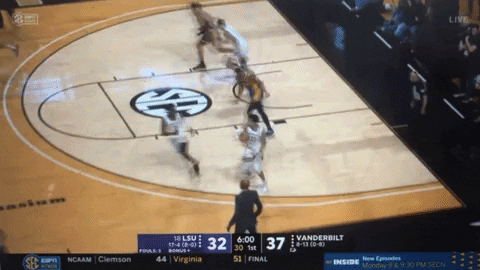 A quick fake to the left is enough for Lee to find a driving lane. Per Synergy, Lee ranked in the 92nd percentile among non post up finishes around the basket. His balance and length are two distinct traits that help him in that area. 
We also see the same element play out on the wing. Saben Lee is a decisive slasher with an enticing potential off the ball. Similarly to the first clip, his ability to extend and finish leaves a lasting imprint on this baseline action.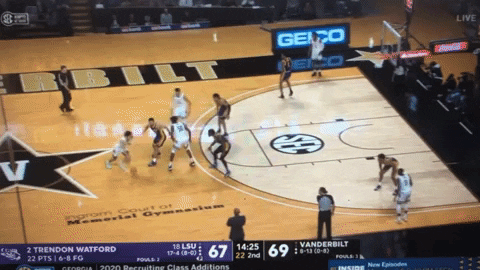 On the ball, he is also able to diagnose and break down set defenses. A key element here is his strong handle. Lee possesses shifty footwork, and can often navigate traffic with relative ease.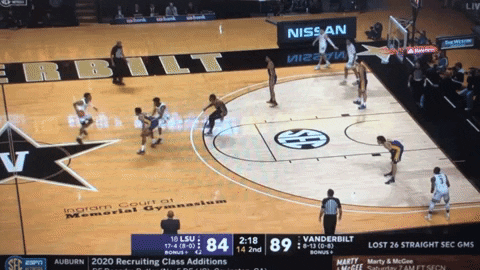 Generating offense in the half court will be Saben Lee's make or break watermark at the next level. While there are strong signs, Lee must piece together those elements with more consistent and dynamic shot making. Both as a guard and a complimentary wing player.
FIT AND FINAL VERDICT
Saben Lee is going to draw many eyes as an athletic ball handler with a potentially untapped shooting ceiling. His elite first step should be more than enough to place him in the early to middle of the 2nd round. Shot creation will be his calling card from the start. Least season, Lee attempted over 200 free throws (2nd in the SEC). Lee also found his footing as a play-maker, averaging 4.2 assists per game over the same span. 
The fit in Indiana is an interesting one. The Pacers ranked dead last in free throw attempts this season. Head coach Nate McMillan loves to deploy a four out concept around his star guard Victor Oladipo. But with Oladipo returning from a serious injury, Indiana's shot making evaporated this year. Saben Lee can most certainly help in that department. Adding more organizational depth in case we do not see Oladipo return to his star-making form of two seasons ago.
You can find the rest of our draft evaluations below!