With the postseason in full swing, the list of sneaky good subplots continues to mount. Three in particular have stood out as key story-lines of the first round. So here they are.
1. UTAH'S SUPREME BALL MOVEMENT LEADING TO A HISTORIC OFFENSIVE OUTPUT
Who saw this coming? The Jazz entered the postseason without two key offensive contributors in Mike Conley Jr and Bojan Bogdanovic. The results? After four games Utah's 131.1 offensive rating tops all postseason teams … by a MASSIVE margin. Yes, Denver's defense leaves a lot to be desired. But don't sell short what Quin Snyder's squad has been able to accomplish in this series so far.
A big reason for the output goes to Donovan Mitchell, obviously. Mitchell's 39.5 points per game leads all players in postseason scoring. Denver's counter has been in the form of aggressive hedges and traps. But Mitchell's growth as a passer has unlocked a new world for Utah. The Jazz are one of only four teams to have four (or more) players with double digit assists so far.
Mitchell, Joe Ingles, Jordan Clarkson and Royce O'Neale all love to get in on the fun. Ball movement 101: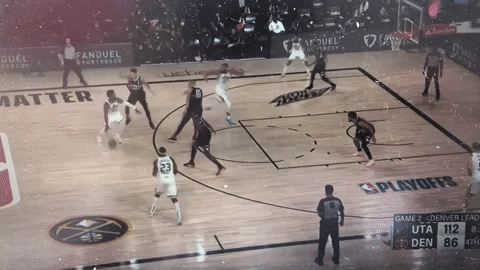 With the return of Mike Conley for Game 3, Utah now has the perfect shooter to compliment their ball movement. The lineup of Mitchell-Conley-Ingles-O'Neale-Gobert has compiled a unworldly 132.8 offensive rating in 31 minutes. Take out Conley? No problem. With Juwan Morgan, the group's 21.7 assist ratio is third among all NBA lineups with over 20 minutes! It is not just the first pass. It's the pass after the pass. And the one after. All in search for the ideal look. For Utah, this has been their ticket to early postseason success.
2. ALEX CARUSO AND LUGUENTZ DORT SILENCING TWO ALL-STARS
One quarter into Game 1 of Lakers-Blazers I put down on my notes: "Caruso on Dame. This is not going to work". Boy was I wrong. Absolutely nothing has come easy for Damian Lillard in this series. After exploding early in the bubble, Lillard's postseason numbers are down across the board. In particular touches. Why? Alex Caruso has been an absolute hound denying Lillard the ball! Let's take a moment and appreciate the impact Caruso's defense is having on the MVP candidate.
In 55 match-up possessions, Caruso is holding Lillard to exactly 41.2% from the field. On top of that, only 17 total attempts in over 14 match-up minutes. Portland came into the series hoping to ride Dame's hot hand into a series upset. But Caruso has completely extinguished that fire so far. So tip of the cap to you, Alex.
Luguentz Dort does his damage bit differently. Dort is much less interested if you have the ball. He's going to stare you straight in the eye and rip off your soul. Just ask James Harden: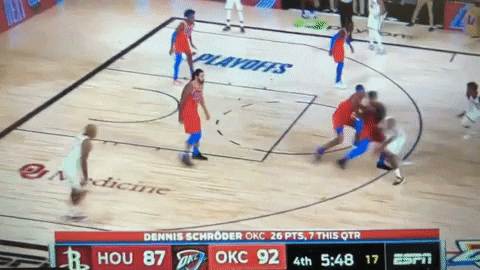 Thru three games, Harden is 3 for 21 when matched against Dort. The undrafted rookie is relentless. Dort is the closest thing to a Marcus Smart type defender we have in the West. The problem for OKC is that Dort is a complete zero offensively. Playing him in crunch time is still a juggling act. But a bit of shooting consistency can turn Dort into a guy capable of driving massive playoff outcomes. So don't forget the name just yet!
3. BOSTON'S 'OUTSIDE – IN' HELP DEFENSE
Throw all conventional wisdom out the window when we talk about Boston. Specially its defense. The Celtics swept the NBA's biggest team by starting four guys under 6'9″. It was not supposed to be this easy. Not against Joel Embiid. Boston's wings were ALL OVER THE PLACE defensively. How so? 
Boston's pressure felt like watching a polar bear navigate a sea of bee hives. Philadelphia registered 18 turnovers in Game 1. Mostly by attempting to feed Embiid thru a maze of Celtics arms. The Sixers center was also swarmed by defenders on the block. When the ball kicked back out to the perimeter, Boston had enough length (and speed) to recover back to the three point line.
Philadelphia shot an abysmal 26% on 30 attempts per game from long distance. All dead last.
It is going to take the same type of effort to slay the defending NBA Champions. Jaylen Brown, Jayson Tatum and Marcus Smart are three guys I have circled for the second round. Keep particular attention on Toronto's processing speed. Slow decision making and little ball movement will give that trio plenty of time to wreck the Raptors' offensive game-plan. 
EXTRA THOUGHT: PLAYING CRUNCH TIME HOUSTON 
Man! This Rockets 4th quarter group is going to be something if they end up playing against the Lakers. Houston continues to abandon all traditional basketball norms. It's James Harden and my four hottest shooters. So far that has meant PJ Tucker, Jeff Green, Danuel House and Eric Gordon (all apologies to Robert Covington). This lineup has an explosive 125.8 offensive rating in the 4th quarter. Most often it has come at the expense of a plodding Steven Adams. The Thunder big man is completely out of his element defending the perimeter.
Is Los Angeles going to deploy their traditional two bigs against that group? Yikes! Or does Anthony Davis finally swallow the pill of playing center alongside Lebron? Should be an easy decision in my opinion. But we have seen much crazier things in the past …
Check out Thiago's (@TScabbia on Twitter) other posts on the NBA Playoffs below