There is a world difference between a starting point guard and a secondary point guard. The starting point guard is the coach on the floor and, ideally, one of the most talented players on the roster. The secondary point guard needs to have some redeeming skill to warrant playing time, of course. But, those minutes are won by answering a simple question: Can the coach trust you on both sides of the floor? If the answer is 'yes', you have a good chance of carving out a long-term role in the NBA. Theo Maledon, who will turn twenty years old at the end of his rookie season, was trusted with crunch time minutes in the Finale Coupe de France in 2019. That math says that Maledon, a teenager, was trusted to be a lead ball-handler in the closing minutes of an elimination game at the professional level. Maledon has to bulk up to thwart offenses targeting him in the NBA. But, his offensive game makes it easy for coaches to trust him with the ball at the next level.
Strengths
Can create space and shoot off of movement
Shoots off the catch, as well; doesn't have to always control the ball flexibility to fit into different lineups
Crafty pick-and-roll finisher
Adept at probing in pick-and-roll, getting defender on his back, and baiting contact in the midrange
Propensity for disrupting finishes with well-timed blocks
Very fluid in transition; East-West speed is excellent
Changes directions quickly and bursts; able to keep defenders off balance and get into the lane
Shifty ball-handler, patient in the pick-and-roll
Surprising vertical athleticism at the rim, can legitimately contest shots from bigger players
Crafty downhill passer
Trusted to be lead ball-handler in crunch time of Finale Coupe de France in 2019; says a lot about his IQ and developmental arc for his age
Weaknesses
Release point on jumper is a bit low, might struggle to get his shot off at his size
Only moves off-ball when he knows the play will be for him or includes him
Struggles to get over screens; often goes under, allowing ball-handler to pull up unguarded behind the screen
Downhill pick-and-roll defense is problematic because he gets stuck on screens and ball-handler can walk into rhythm jumpers
Often gets stuck mid-possession and is forced to give up the ball because stronger defenders force him to pick up dribble
At 176 pounds, way too small to not get abused defensively, needs to bulk up; might be able to hide him on offense's weak link, for now
What Excites Me About Theo Maledon
Maledon's proficiency in flying through pick-and-rolls and reading defenses to a tee will serve him well in the NBA. The best part about his game is his shiftiness and ability to change speeds at any moment, especially out of the pick-and-roll. If he can raise the release point on his jumper, he will torture teams in high pick-and-rolls. His downhill speed in both transition and the half-court, combined with his IQ, should translate to weaponry for whichever team is cutting his paychecks.
What Concerns Me About Theo Maledon
Maledon has the luxury of controlling his physicality. He will have to make a conscious effort to add muscle weight to his body. With his current build, he will not be able to keep up with NBA physicality. If he doesn't get stronger, he will hold himself back.
Theo Maledon Film Breakdown
We will begin with some footage of Maledon's downhill play. Not only is his speed exciting, but his ability to mentally process defenses and make the right play as he speeds up is special. 
Downhill Reads
Maledon is unpredictable in the pick-and-roll, especially when putting pressure on the basket. His passing vision is impressive, his finishing ability is crafty, and his jumper is smooth. His fluidity is on full display when he commits to getting to the rim: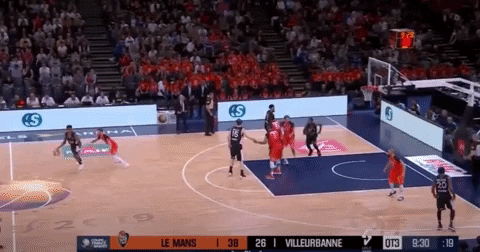 Once Maledon recognizes the big is overplaying him to his left, he shifts back to his right and knifes back to the middle of the floor. He avoids the helper sliding over into the lane as he glides to the rim for the crafty finish.
Very similar play, except the finish is a pull-up jumper at the elbow. If interior defenses play off of him, as they do here, Maledon is more than comfortable rising into jumpers. If they overplay, he can get to the rim as he did in the previous clip. His unpredictability makes him a weapon that will force defenses to pick their proverbial poisons. It is worth noticing that Maledon throws a slight shot fake before rising up for this jumper. Typically, when players fake, don't relocate, and have to recreate that shooting rhythm quickly, they miss. That Maledon is able to hesitate, think about the shot, and still knock it down after the rhythm goes off track is a sign of how polished his shooting touch is.
Transition Reads
Just as Maledon can slow plays down in the half-court, he can speed the game up in transition. He is adept at putting downhill pressure on the rim, forcing defenses to collapse in protection.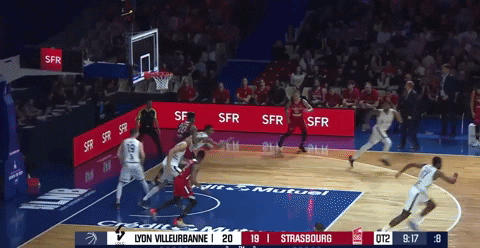 Maledon senses the straight line he has down the middle of the floor, so he turns on the jets to take advantage. His downhill attack puts pressure on the rim, forcing the Strasbourg defender to stop ball. Naturally, the help defender is pulled away from the weak-side wing, leaving a shooter open. Maledon reads the play beautifully, seeing that passing to the strong-side shooter will give the defense a chance of contesting the shot. He opts for the shot that will be more open, but elects to give his shooter just a bit more time by selling the fake before turning the transition defenders completely around with a pass to the weak side.
Maledon's electric downhill play and sneaky passing instincts are on full display in this clip. Maledon secures the offensive rebound and then does his best Road Runner impression. Sensing his line to the rim is getting cut off, Maledon kicks to the weak-side corner to facilitate a swing play. His downhill pressure in transition results in an open triple from the right wing.
Theo Maledon Consistently Struggles To Get Over Screens
There is no perfect prospect, and Theo Maledon is no exception to that. As stated previously, Maledon's lack of strength breeds his struggle to get over screens. Not only does that make him a defensive liability, but it also inherently takes away from his offense. If he as to fight to get over screens, he will inevitably tire himself out and his offensive production will suffer.
Maledon's inability to get over the screen in time forces his big to account for the ball-handler as his assignment. Because he wants to keep the ball-handler in front, he plays off of him. That space encourages the Le Mans ball-handler to pull up.
The argument cannot even be made that Villeurbanne was scheming to switch or show any sort of a hedge. The big is not aggressive enough with the ball-handler for it to be a hard hedge, and he doesn't dive back to the rim after showing the hedge, either. It's not a soft hedge because the big actually comes out to defend the ball-handler instead of showing and diving immediately. It's not a switch because Maledon rushes back to contest the shot as soon as he clears the screen. This is simply a case of a guard putting his teammate in a compromised position because he isn't strong enough to break a screen. Maledon will need to hit the weight room, or he won't be able to play. 
Best Fits For Theo Maledon
Theo Maledon is a Halloween bag on offense, just a mix of unpredictable goods that will make organizations' mouths water. Any team in need of a secondary ball-handler capable of making smart decisions will benefit from his services.
Philadelphia 76ers
The Sixers have not had a diversified backup point guard since, well, Ben Franklin was alive? Doc Rivers, although not one to trust rookies, can trust Theo Maledon to dictate pace and create open looks in the second unit. Maledon also affords the Sixers the ability to run Ben Simmons at center in small-ball lineups with Maledon at point guard. That 1-5 pick-and-roll is beyond fascinating. 
Toronto Raptors
If Fred VanVleet walks, the Raptors will need to replace a spot in their bench unit (VanVleet started this year, but him leaving could also force someone from the bench to step up into a starting role). Theo Maledon would have the opportunity to learn under Kyle Lowry while also managing one of the most athletic second units in the NBA.
Boston Celtics
The Celtics could opt to let Brad Wanamaker walk after a very impressive performance in the bubble. Opting to let Wanamaker go in favor of the more cost-controlled Theo Maledon would make a lot of sense. With the Celtics conducting workshops on feasting the high pick-and-roll on a game-to-game basis, Maledon would thrive in Beantown.
Stats To Know
Theo Maledon had an assist-to-turnover ratio of 1.4:1 over three professional seasons overseas
Averaged 15 points and 5.4 assists per 36 minutes in 2019-20
Converted 57% of his attempts at the rim in 2019-20
Draft
Highest I'd take him: 27th pick
Lowest I think he'll be available: 35th pick
Ceiling: poor man's Shai Gilgeous-Alexander
Floor: more dynamic DJ Augustin
You can find the rest of our draft evaluations below!