Brett Brown took Tobias Harris, Boban Marjanovic, and Mike Scott for dinner at Del Frisco's on Wednesday night. It was his one chance to get to know his newest players who were acquired in a blockbuster deal with the Clippers early that morning. Brown met James Ennis III for the first time at 5 PM this evening. He has yet to meet Jonathan Simmons. Two hours after meeting Ennis, Brett was coaching a big-5 core and a renovated bench in an important game against the second best team in the Western Conference, the Denver Nuggets (37-17).
For the first sixteen minutes of play, things were looking great. Ennis (6 points in 15 minutes) buried the first of 2 threes on the night to give the Sixers a 50-34 lead. It looked like the team was about to blow things open in a game against one of the best teams in the league. Then, things got ugly fast. Following a 17-2 Denver run, it was a punch-for-punch affair until the 5 minute mark of the fourth quarter. The Sixers, who seemingly forgot how to play defense for the first 3-and-a-half quarters, figured it out. They got defensive stops in a series of consecutive possessions and responded with baskets of their own on each possession to put the game away. They walked away victorious in the big-5's debut, 117-110. Let's take a look at how the new guys fared.
Tobias Harris
Seeing as Tobi was the focal point in the blockbuster trade, I was looking for him to get involved early. Not so much forcing shots, but rather his teammates looking to get him involved. My suspicion was correct, as Ben Simmons fed him a look on the first possession of the game. While Harris missed a well-contested layup, it was clear that the gameplan was to get him going early. Later in the first, Tobias introduced himself the best way a 43% three-point shooter knows how:
https://www.nbcsports.com/philadelphia/video/tobias-harris-hits-3-his-1st-basket-sixer
Just a few possessions later, Harris displayed his versatility and IQ, using his strong frame to back a defender down and get an easy short jumper to go.
Late in the contest, Harris buried a critical long-ball from the right wing to give the Sixers a four-point lead.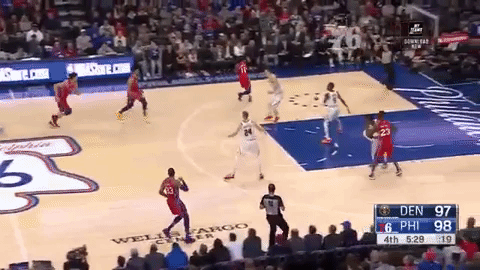 Harris finished with 14 points on 6/12 shooting (2/4 from three-point range) and 8 rebounds.
One thing that became very clear early in this game was that the addition of Tobias Harris gives the Sixers the unique ability to create a match-up problem for every opponent they face. With a starting lineup that features 4 players in their 20's above 6'8″, they can find the mismatch for any defense and look to exploit it.
Boban Marjanovic
Of course, Harris isn't even the most recognizable name acquired at the deadline. That would be Boban Marjanovic, whose antics and personality have made him an internet sensation. Marjanovic had a fine debut, although his impact cannot be detected in the box score. I was watching for Bobi's play as a pick-and-roll screener and rim protector. I also wanted to see how much of a problem his body will be. As a pick-and-roll screener, he fared well. He completed a pair of field goals at the rim off of a pick-and-roll dump-off, even showcasing his patented no-jump dunk. Under the rim, he played fairly clean defense. He stood his ground and kept his gargantuan arms extended, foiling a few Nugget layups.
As for Boban's body, I do have some concerns. It isn't a health issue. He's healthy, at least to my knowledge. But you must understand, he's 7'3″ with size 20 feet and is 30-years-old. This all makes it very hard for him to keep up with a transition game. He's extremely slow, and his reaction time is poor, which makes for issues with screens near the paint or switching around the basket. But, I think he can do more good than bad for 15 minutes per night while Joel Embiid takes short breaks.
Mike Scott
I'll admit it, I'm not sure that I've ever seen Mike Scott play before tonight. I was looking for his ability to stretch the defense as a 39% three-point shooting forward and his capacity to switch onto perimeter players and hold his own. Scott missed both of his three-point attempts. I am confident that he will find success with his shot once he's more comfortable with the playbook and plays heavier minutes on a game-to-game basis.
I was encouraged by his willingness to put the ball on the floor and find opportunities for floaters and short jumpers. While I think he will predominantly serve as a stretch-4, I do think he has some go-to shots that he can pull out of his sleeve if defenses deny him the three. Speaking of defense, Scott displayed competence in switching onto perimeter players. He did not have to do it much, but he was not getting blown by or abused by the Nuggets' offensive scheme. With more minutes, we will see just how capable of a defender Mike Scott is.
James Ennis III
I have a feeling that Ennis might be one of the most significant acquisitions that Elton Brand pulled off this week. In just 15 minutes of play, Ennis made a pair of critical threes–the first to build momentum as the lead ballooned to 16 points in the first half, and the second from the far corner to put the Sixers up by 2 points late in the game. Defensively, Ennis was very impressive. He swarmed his man every time he touched the ball, and showed excellent communication around the pick-and-roll and ability to fight through a screen. Ennis remained energetic and active when his man tried to make a move on him, perturbing the attack and holding his own. With more minutes, James Ennis III could be a pivotal 3-and-D wing that Brand picked up for next-to-nothing.
Next Game: Sunday, vs Lakers (28-27)
The penultimate game of this brutal 12-game stretch features the Lakers. With LeBron visiting Philadelphia for the only time this season, it goes without saying that this a huge game for the Sixers. I'm looking to see how much progress they all can make towards establishing chemistry and (the new guys) learning the playbook, as well as how they plan to create mismatches against the purple-and-gold.
One thing is for certain, all of Philadelphia saw the potential of this team tonight. With a nearly complete bench and a machine of a starting five, the Sixers (35-20) are coming. Tonight, they put the whole league on notice, and the best is yet to come.
Austin Krell (AustinKrellNBA)