I went to sleep at around 1:50 this morning after finishing up my podcast recapping the Sixers' road trip, last night's loss to the Raptors, and a prologue to the NBA trade deadline in which I stressed the desperate need for Elton Brand to make a few more minor moves to bolster the team's bench.
I woke up at around 4:30 and looked at my phone as I always do when I wake up randomly. Three-quarters unconscious, I scrolled through my notifications–at around 2:30 in the morning, Elton Brand executed a trade that sent rookie guard Landry Shamet, forward Wilson Chandler, forward/center Mike Muscala, their protected 2020 first round pick, an unprotected 2021 first round pick via the Miami Heat, and 2021 and 2023 second round picks courtesy of the Detroit Pistons to the Los Angeles Clippers for forward Tobias Harris, forward Mike Scott, and center Boban Marjanovic. Mike Scott, who is shooting the long ball at a 39% clip, will serve as a stretch-4 off the bench. You can bet on seeing him utilized as a pick-and-pop screener. At 39%, he is a clear upgrade over Mike Muscala (34% three-point shooter). At 6'8″ and a bit younger, he likely can give you more than oft-injured Wilson Chandler can. At 7'3″ with comically-large feet, Boban Marjanovic is not going to be on the floor for 20 minutes per game. He can give you 10-15 minutes per game and hold down the fort while Embiid re-charges. But we're not here for Mike Scott or Boban Marjanovic, as lovable as Boban is. So, let me familiarize you with the centerpiece of this trade–Tobias Harris.
The Perfect Fit
In what is clearly a "Finals or bust" move, the Sixers acquired one of the biggest all-star snubs in recent memory in Tobias Harris. On the season, the forward is averaging 21 points, 8 rebounds, and 3 assists per game. What I believe makes Harris an all-star is the efficiency with which he is shooting the basketball. He's shooting close to 50% from the field, over 43% from three-point range, and just under 88% from the free throw line. If you look deeper, his usage rate makes his scoring output even more impressive. He only has the ball in his hands 23% of the time, meaning that 77% of his production comes off the ball. Ben and Jimmy can still dominate the ball, Tobias Harris doesn't need it to be a difference-maker.
While he struggled shooting the ball early in his career, he is shooting over 40% from long-range over the last two seasons. Let's push it a step further. He shoots 41% on catch-and-shoot threes, which, while not at the top for qualified players, is elite. He shoots an incomprehensible 49% on pull-up attempts, which is best among players shooting at least one three-ball off-the-dribble per game. Put simply, Tobias Harris is a sniper of the highest degree. He probably should've earned an all-star nod over LaMarcus Aldridge or Russell Westbrook, but the Clippers are the 8-seed in the West as of right now, and are the secondary team in their own city. The odds were stacked against him.
Help Is On The Way
Quite frankly, all-star selections are the most superficial honor in the NBA. It looks fancy on a resume, but it really does not measure the value that players add to their squads. So rather than discuss why Tobias Harris is an all-star snub, I'm going to discuss how Harris can help the Sixers become the team to beat in the Eastern conference.
Size Compliments Shooting
At 6'9″, Tobias Harris offers something that no one else on the roster does–greater than 40% three-point shooting at a size bigger than 6'6″. Although the shot you're about to see is fairly simple in that it's a catch-and-shoot three-pointer from the corner, Harris has very little space to operate due to the help defense being played by Will Barton. The ball is out of his hands less than a second after he catches it, and as long as Will Barton is, he cannot hinder the look that Harris has at the basket because of his 6'9″ frame. A player like JJ Redick (6'4″) either misses this shot, pump fakes and steps in for a deep two, or pump fakes and attacks the rim. It's a much more difficult situation for Redick than for Harris.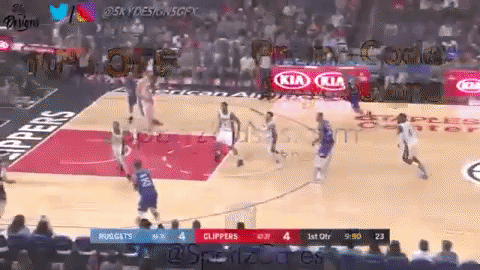 Off-the-Dribble Perimeter Scoring and Play-Making
I might be beating a dead horse with this one, but did I mention that Tobias Harris is really adept at creating three-point looks in isolation? We saw earlier this season that that skill can make the difference between your team winning or losing games in crunch time (see Jimmy Butler against the Hornets and the Nets). Adding another player with that skill not only takes the defensive focus off of Jimmy Butler, but it adds a whole new offensive weapon who can create his own shot late in games. This will change how Brett Brown runs the offense in the final minutes of a close game dramatically.
Before you watch the next video, allow me to point out some things to take note of. Harris is being guarded by Wilson Chandler on this shot. A younger, healthier Chandler probably guards Harris a bit tighter instead of backing off to avoid getting beaten off-the-dribble. But notice that Will Barton is glued to Lou Williams. Jamal Murray, who is focused on stepping in to help Chandler should Harris blow by him, has his back completely turned away from his man. This set-up gives Harris the ability to go left and attack a wide-open lane to the basket, go right and kick to a shooter if Murray comes to help, or hit the cutter if Murray gets back-cut. Instead, Tobias Harris is confident enough in his jumper, so he opts for the long jumper–and sticks it in Chandler's eye.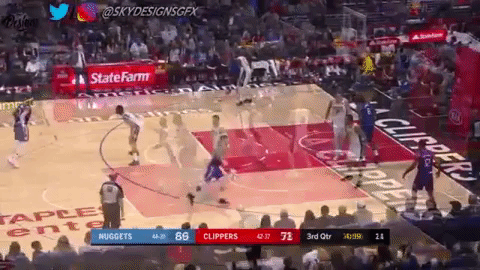 How about one more for good measure?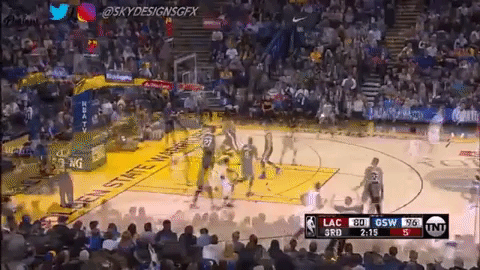 Yes, he did bank it in. Maybe the direct accuracy wasn't there, but the principle remains. Tobias Harris is able to create a look off-the-dribble and connect over the outstretched arms of all-NBA defender Draymond Green.
High IQ
Part of what allows Tobias to be so efficient in his scoring is that he processes the situation, the match-up, and his options before making a decision. In the clip below, Harris recognizes that he has a size advantage over the smaller Laker defender when he faces up to the basket. Harris quickly goes to work, backing him down to the block to create the proper angle for executing the shot and getting within a comfortable distance to attempt it. He utilizes a shoulder fake to the left and then swings his body right to open up an inch of space to squeeze off a short fade-away jumper. It's like throwing a golf ball into the ocean.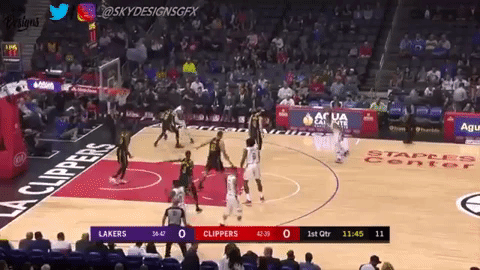 As the clip shows, Tobias has a very good understanding of his body and how to use his size, strength, and skill to create the best shot for himself.
Ambidextrous
This is perhaps one of the quirkier characteristics that I've noticed in watching film. Even though Tobias Harris is a right-handed shooter, he shows heavy preference for finishing with his left hand. He even goes left more often than not when he attacks the basket so as to set up a lefty finish. The implication here is that he is very capable and competent with either hand. Defenders cannot simply just play him to one side, he's comfortable either way.
Here, Harris recognizes that his defender is Carmelo Anthony and that he does not have to settle for a jumper. Tobias forces Melo to hold his ground, which Melo doesn't, as he backs him down to the paint. He then gives Anthony a slight shimmy left and swings back over to finish the flip with his left and draws the foul.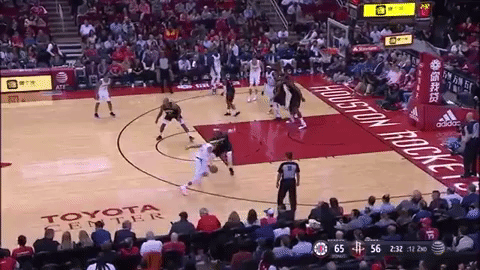 The right hand? Not a problem, either. 
The Result
Around Christmas, I wrote a story about whether I was buying or selling the Sixers. I said that as currently constructed, I had to sell them. But if they made one or two more moves, I was buying. Well, it's time to buy.
Elton Brand's aggressive pursuit of one more piece landed him an all-star caliber player for, quite frankly, very little. I don't care what you say, I'm telling you that you're wrong — they did not give up too much to get Tobias Harris. Not only did Brand make that move, he surpassed my wildest expectations by a mile by getting a FOURTH all-star caliber player. 
There is no more process. There is no more hoping for the future. We have waited and waited for this time to come, and now it's here. The process is complete, and now it's time to get ready for the result. Effective immediately, it is Finals or bust in the City of Brotherly Love.