All it takes is a look at the landscape of the NBA. What was once a league that had a balance between the inside game and the outside game is now one that flings up more jumpers than layups. I'll admit it, I've spent hours of my life watching videos that break down the art of jump-shooting. I've never once typed "The art of the layup" in the search bar. Yet, I, and too few other respectable minds, have not fallen under the ludicrous spell that has infected big-name NBA analysts, media, and fans when Ben Simmons is the topic of discussion. The almost-24-year-old Australian point forward has become the most under-valued player in the NBA, and it's because our basketball society has over-glorified the jump shot. That fact is proven in the game's recent history and in arguments had daily.
Kyle Korver was named an all-star
Need I say more? Korver was selected as a reserve in the 2014-15 game–with a line of 12.1 points, 4.1 rebounds, 2.6 assists, .7 steals, and .6 blocks. The attribute that stands out the most about his age-33 campaign was that he converted 49.2% of his 6 three-point attempts per game and had a true-shooting percentage just below 70%. While the Atlanta Hawks sported the Eastern Conference's best record by a large margin, there were a pair of Hawk teammates (Horford and Millsap) next to Korver who were far more qualified to represent Atlanta in the world's greatest pick-up game (and did, deservingly so). While Korver has been an elite role player throughout the course of his career, his lone all-star nod was a profound depiction of a league that had grown to over-glorify the jump shot.
Steph Curry won MVP despite regressing
This is not an effort to downplay the value and stardom of Stephen Curry. In fact, he is one of the players that basketball pundits neglect most in the league. However, whether you contend that he was the most worthy candidate to earn the MVP award in 2014-15 or not (he arguably was not), the simple fact of the matter is that he saw a decline in points and assists per game. The only metrics that indicated individual growth were his .19% increase in three-point conversion, his .28% increase in true-shooting percentage, and his slight reduction in turnovers per game.
Before you ask, James Harden's output was more qualified for the award, although a discussion against his efficiency would be worth consideration. Don't try the "the best player on the best team wins it" line either, as Russell Westbrook won MVP just two seasons later while the Thunder finished with the sixth seed in the West. The Baby-Faced Assassin is extremely deserving of the success he has achieved in his career, but his first MVP award was yet another symptom that those around the game had placed too much value on shooting.
Ben Simmons does not need to waste possessions with jumpers
I'm not going to compare Ben Simmons to Giannis Antetokounmpo because an argument that they're on the same level would more easily damage my credibility than it would be to actually try to formulate. They're not anywhere close to the same level, but they're very similar archetypes of the NBA's "unicorn" concept. Giannis Antetokounmpo, despite lacking an inefficient jumper, deserves a pass because he's obviously a much more dominant player than Simmons is. That doesn't mean that his taking jumpers is good or even necessary in Milwaukee's offense. Here's why:

Even though Antetokounmpo has shown a capacity to make jumpers, he will always be more dangerous to a defense when he penetrates. He utilizes his athleticism, size, and speed incredibly well to power past any defender in his way. It has not and will never be about defenses respecting his jumper, it will always be about choosing whether to allow him to play to his dominant strengths or live with him improving upon his weaknesses. The jumper will always be an inefficient, unnecessary shot for a player who has the tools and mindset to dominate the paint like Giannis Antetokounmpo does.
Ben Simmons is not comfortable, and that's okay
The same has applied to Ben Simmons this season. Yes, he finally canned a pair of corner triples and answered the question of whether he'd ever make a three in his career. But, if he is not confident in his ability to make them, he should not be attempting them–especially in a sport that features four other teammates on the court with him. The truth of the matter is that if Ben Simmons doesn't feel comfortable attempting jumpers, the public should know better than to fault him for not doing so. Reluctantly attempting jumpers is an inefficient usage of possessions for a team that has struggled to score as is. 
Why do I think that, you ask? Well, let's look at film.
Bully Ball
Let's start with an area where Simmons has exhibited much improvement this season–using strength and sheer force in the half-court to overwhelm defenders and get to the rim.
To be fair, the Celtics do not have a legitimate big to anchor their interior defense. But, we see three of Boston's bigger wing defenders surround Simmons once he knocks Hayward down to the restricted area. He uses full-body strength to overwhelm Hayward and get to a point of advantage before finishing.
Pick-and-Roll Ball-Handler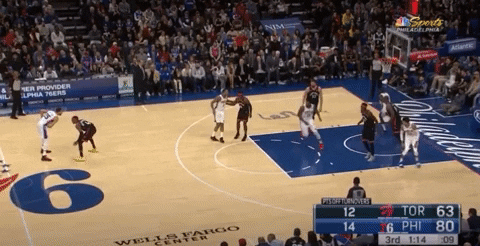 This season, we've seen Ben Simmons attack bigs at the rim with far more aggression than he had in his first two NBA seasons. Audiences will contend that he must leverage some sort of jump shot in order to act as the ball-handler in an effective pick-and-roll attack with Embiid. However, Simmons has shown an ability to change speeds, utilize proper footwork, and leverage athleticism to score over rim-protectors as the ball-handler in the pick-and-roll. Here, Simmons is able to beat a former defensive maestro in Marc Gasol by changing directions and speeds to turn the corner and throw down on Gasol. Watch your head.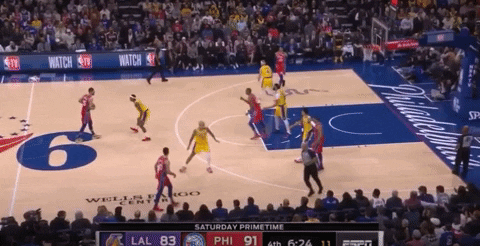 The screener is Horford on this play. Simmons utilizes strong footwork and his ability to get downhill to get to a spot of comfort in the lane, and then converts a tough layup over perennial Defensive Player of the Year candidate, Anthony Davis.
Isolation
With that increased level of aggression and better understanding of how to utilize his physical gifts, Simmons has also shown an ability to beat defenders to the rim in isolation this season.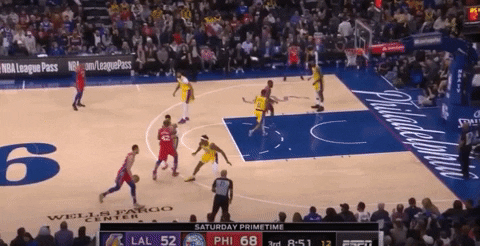 Again, Simmons uses that change of speed and direction to turn the corner on Dwight Howard. Howard, a former Defensive Player of the Year, has obviously lost the level of dominance he once had. He has not, however, lost any of the upper body strength that he once utilized to perturb offensive players attacking the rim. Simmons uses that brute strength to fight off Howard and finish a tough layup.
Pick-and-Roll Screener
This is a new wrinkle that had been toyed with last season but really implemented in Philadelphia this season. Last season, Simmons was utilized as the pick-and-roller at a frequency of just 1.2%. Brown often utilized Simmons in the dunker's spot when he was off the basketball. It allowed for easy dump-offs and finishes whenever the likes of Butler, Embiid, or Harris collapsed the interior defense. This season, Simmons has been far more effective as the pick-and-roll screener in small-ball lineups. Brown has noticed, as his usage as the pick-and-roller has risen to 3.5%. Here's an example: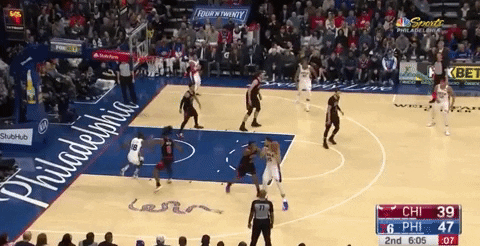 Nothing to really break down here, it's a simple side pick-and-roll. The options as to who the ball-handler could be are intriguing, as Milton, Richardson, and Harris offer different things and could play this possession in various ways. The one thing that could fully weaponize Simmons is the weak-side off-ball wing staying in that corner. Here, Thybulle floats up towards the wing. It is an alley-oop, so there's not really an extra pass for Simmons to make. But if he has time to make a decision, a shooter in the corner could open up Simmons' game as a half-court playmaker. 
But why believe that Ben Simmons' aggression will carry forward?
Fair conversation to ponder. Simmons has shown a propensity for folding like a beach chair in the Second Round of the playoffs. But, he showed something this season that is sustainable and can be built upon.
2020 has seen the best of Ben Simmons
Simmons shot above 65% from the free throw line in three of the five months he played this season. He had only registered one month of shooting above 65% from the line in his first two seasons. He recorded two consecutive months of attempting at least 6 free throws per game this season. There was only one month in which he attempted at least 6 free throws per game in the first two seasons of his career. In the two months Simmons has played in the 2020 calendar year, he has seen a rise in both free throws attempted and free throw percentage. While neither month matched the 70.3% high Simmons achieved in March 2019, the volume of free throws attempted in both months of 2020 was much higher.
Not afraid
Further, Simmons broke the 20-points-per-game plateau for the first time in his career during January 2020 and then registered the second highest scoring month of his 2019-20 season in February. In each of his first two seasons, his scoring numbers tailed off in the late months of the respective campaigns. The correlation and conclusion is that Simmons has become more aggressive because he is more confident in his ability to convert from the free throw line. The fear of getting fouled is no longer holding Ben Simmons back, and it has translated into the best basketball of the Australian's young career. 
While the jump shot is an important and necessary component of most NBA players' games, the same does not apply to "unicorns" like Giannis Antetokounmpo and Ben Simmons. Their physical gifts give them advantages against average players that render the need to shoot jumpers non-existent. The influx of three-point shooting in the last decade has bred a basketball society that has completely over-glorified jump-shooting. While Simmons would be a better player by adding one, he doesn't need to fling up shots that are inefficient for him in order to be a great player.