Kudos to those front offices that have mastered the internal battle of whether prospects marked by awe-inspiring flashes are worthy of expensing a valuable draft pick. When scouts say, "he shows flashes…", it means "he has moments, but he's not consistent". That's not a sentiment that anyone wants surrounding their names. RJ Hampton shows tremendous flashes with his impressive first step and exciting burst. But, his lack of progress towards mastering any particular skillset on the offensive end and his concerning unreliability as a defender leave little question as to why my verdict is that he shows flashes, but not much more than that.
Strengths
6'5″ frame with dynamic ball-handling skills enable him to play across both guard positions
Trustworthy decision-maker out of the pick-and-roll
Adept at dribble penetration and hitting pocket passes when interior collapses
Possesses countermoves he can use to get out of tight spaces
Very quick first step, very bouncy out of acceleration
Mechanics give me hope that he can become a respectable shooter
Doesn't shy away from bigs at the rim, gets downhill and uses his athleticism to explode into contact; impressive and commendable aggression attacking the basket
Can finish with his left hand
Weaknesses
6'7″ wingspan leaves his ability to defend across multiple positions questionable
Jump shot is inconsistent
Doesn't get to the free throw line nearly enough for someone who is so aggressive attacking the rim
Tends to be overly crafty when he gets downhill, sometimes hinders his own ability to make shots
Loses control of the ball on strong attacks at the rim
Not always strong with the ball
Doesn't keep his back upright in one-on-one defense
Shows little fight to get over screens, rides the hip going over and forces his big to switch
Decision-making as a help defender is poor
Does not communicate well in the pick-and-roll, culpable if offensive player gets an easy score
Positioning as help-side defender leaves him susceptible to backdoor cuts
Sometimes disengaged as help-side defender, can lack effort in help
Can struggle to recover in the other direction if he overplays ball-handler to one side
Tendency to be disengaged off defensive rebounds
What Excites Me
Hampton's ability to navigate the pick-and-roll with fluidity at 6'5″ makes me believe that he has the foundational skills needed to be a combo guard at the NBA level. If he can master any particular facet of offense, his athleticism from the perimeter and his fearlessness in attacking bigger defenders at the rim would make him an interesting piece for all thirty NBA teams.
What Concerns Me
It is very difficult to project a niche role for Hampton in the NBA because he has a basis for various facets of the game, but isn't particularly great at any specific thing. He cannot be trusted on the defensive end of the floor right now, so it is difficult for me to believe that he'll be the beneficiary of significant minutes as a rookie. If such is the case, Hampton may find himself getting his first real taste of NBA basketball at a time when he is already behind his developmental curve.
Film Room
As I usually do, I will begin with the main positives that I observed from Hampton's game.
Hampton Is Uniquely Aggressive Attacking The Rim
It is unusual for a player 1) his age and 2) his size to be as willingly aggressive as he is. It's not even necessarily coming against the competition in the NBL. Hampton is confident and fearless against NBA-level players: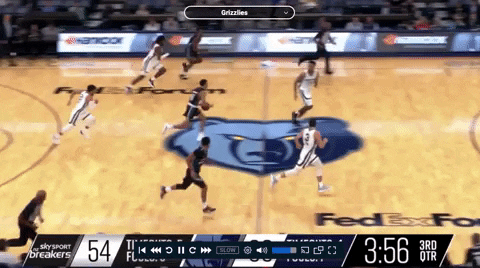 RJ Hampton's eyes light up when he sees an opportunity to get downhill on the defense, and he forces Memphis to make a play to get a stop in transition. 
Hampton's Shooting Fundamentals Are Strong
Hampton's ability to make shots has a long way to go (40.7% FG/29.5% 3FG/67.9% FT, 1.9 FTA in 20.6 minutes per game in New Zealand). But, his mechanics are fundamentally sound enough to make me believe that he can become a serviceable shooter with repetition.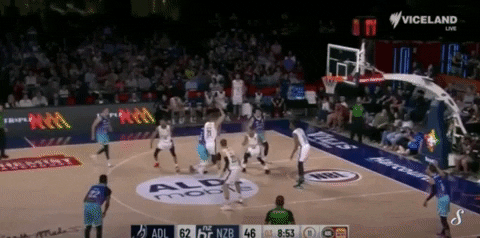 Let's start with the good. Hampton's body maintains verticality as he elevates and falls. His release is high (although, it occurs as he rises, not at the height of his jump), and he holds his follow-through. There are two mechanical component to work on, however. First, Hampton could reduce the dip after catching the ball. It just adds useless motion to his jump shot. However, some of the league's better shooters have exaggerated dips leading into their shots (refer to Marcus Morris, Sr.). Further, I suspect that, seeing as Hampton is especially comfortable pulling up for jumpers off the dribble in the pick-and-roll, that dip might naturally fade out of his motion as he creates rhythm off the dribble.
Second, although it is hard to see in the clip above, his knees buckle inwards as he dips into his rise. This has the effect of reducing balance in the lower body, and that can disrupt the shot. Widening his stance and bending his knees outward will help reinforce that balance, and it should improve him as a shooter.
As I said before, Hampton isn't noticeably great at any particular aspect of the game. It is my job to portray the bad, too.
Hampton Has To Tighten His Defensive Stance
One of the most important principles of one-on-one defense is maintaining an upright core whilst staying low. That means defenders have to keep their knees bent, but not lean forward. That upright core concept helps maintain balance and stability on the feet, allowing defenders to stay in front of their matchups. Hampton violates that principle regularly: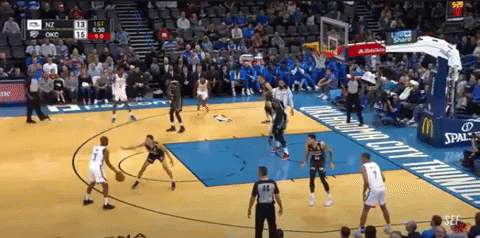 His leaning forward will give guards like Chris Paul advantages. They will be able to get him off balance with quick moves and fakes. As a result, Hampton's stance will make him susceptible to undisciplined fouls and vulnerable to getting beat by quicker offensive players.
Hampton Needs To Make Strides As A Help Defender
RJ Hampton is going to really struggle as a help-side defender in the NBA. His decision-making as a help defender will make it hard for his coach to trust him enough to give him playing time.
There was no reason for Hampton to help on Muscala on the catch at the top of the arc. His decision to swarm the big man allows a far better player in Dennis Schroder to break free.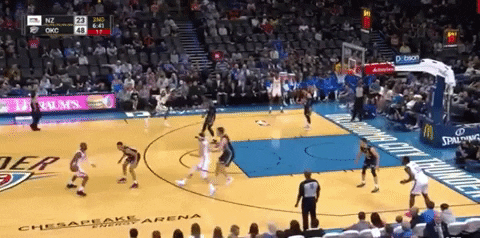 Basketball minds become so used to breaking down pick-and-rolls that it is easy to forget that help defense is very applicable within pick-and-roll coverages. On this Chris Paul-Mike Muscala pick-and-roll, Hampton's poor decision-making as the on-ball defender is on full display. He fails to communicate that he will be staying with Paul through the slip-screen, allowing his teammate to switch onto Paul, as well. This miscommunication allows Muscala to slip into an open triple.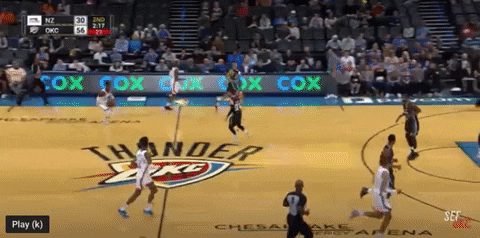 This play is an indictment on Hampton's understanding, engagement, and effort as a help defender. Watch his positioning on this play. He is guarding Chris Paul, one of the savviest and most intelligent point guards in the NBA. He allows Paul to get behind him in the corner, and completely turns his back to the veteran guard. If Paul wanted to, he could've easily cut backdoor and Hampton would've completely missed it. Hampton could've put himself in a far less vulnerable position simply by taking a few steps back towards the baseline, keeping Paul in his line of sight. As small as it seems, Hampton's lack of awareness on this defensive possession is a microcosm of what he needs to work on as a defender.
Best Fits
RJ Hampton's candidacy becomes very interesting when looking through the lens of best fits. Teams that have margins for error (in other words, are not living and dying on their first round picks in this draft) and believe in their developmental systems could be interested in Hampton's upside. From a tactical standpoint, teams looking for a versatile pick-and-roll ball-handler to ignite offense in their second units should be intrigued.
Denver Nuggets
The Nuggets have churned out Nikola Jokic, Jamal Murray, and Michael Porter, Jr. They've also grown Monte Morris into one of the best secondary point guards in the league. If any team can grow talent, it is the Nuggets. Further, they could turn to fresh blood and let PJ Dozier or Morris walk in favor of a cost-controlled, long-term option. Denver could also choose to go the free agency route to bolster their roster and make a Finals push. If so, looking into more economical depth might be the best way to add value whilst maintaining position in free agency.
Utah Jazz
The Jazz will be looking to offer max extensions to Donovan Mitchell and (likely) Rudy Gobert. For a small market franchise, that means working the margins for depth in other areas, especially in the financial aftermath of the pandemic. Hampton would make sense in Utah's second unit as an athletic ball-handler and creator.
Toronto Raptors
The Raptors are another team that has been a champion for developing guard and wing prospects, most notably Pascal Siakam and Fred VanVleet. RJ Hampton could serve as another grooming project, and certainly a prospect they can add to their core to build for the future. Relying on youth to provide depth will also position them better for free agent chases.
Stats To Know
Attempted just 28 free throws in 309 minutes played in the NBL
Registered an assist-to-turnover ratio of 1.6:1 for the New Zealand Breakers
Hampton recorded an eFG% of 45.9 in the 2019-20 NBL season
Draft
Highest I'd take him: 20th pick
Lowest I think he'll be available: 30th pick
Ceiling: Dante Exum
Floor: Michael Carter-Williams
You can find the rest of our draft evaluations below!