Amidst the early season shuffle of the Philadelphia 76ers' poor defensive play is the rise of third-year backup center Paul Reed. With obsessive cries for more playing time, it is becoming abundantly clear that if this group is to leap into the upper echelon of defensive teams, it will have to rely on the guy many call B-Ball Paul.
AN ELITE DEFENSIVE START TO THE NEW YEAR
It was only two seasons ago when the Sixers depended heavily on a roster loaded with All-NBA defenders on the way to the league's second-best defensive unit. With Ben Simmons, Matisse Thybulle, and Joel Embiid, Philadelphia navigated toward East domination with unrelenting defensive play.
But in Daryl Morey's quest to build a bulletproof offensive unit, the balance of power has shifted to score-minded newcomers in the likes of James Harden and Georges Niang. While Doc Rivers is yet to lean into his own defensive playmakers (what else is new), Paul Reed's play in limited minutes has stood out in near-historic fashion.
THROUGH 8 GAMES REED IS NEAR THE TOP IN MULTIPLE DISRUPTIVE METRICS, CONTRIBUTING TO A LEAGUE-BEST DEFENSIVE RATING WHEN ON THE COURT
Analyzing B-Ball Paul's impact in a vacuum only tells part of the story. According to Basketball Reference, Philadelphia is an unworldly 28 points per 100 possessions better defensively with Reed on the court. That includes teams turning the ball over on an overwhelming 23% of those possessions. A defense that has looked slow and disinterested is immediately transformed when Reed is on the court. Reed often leads the way with his youthful energy and much-needed athleticism.
But with SO much untapped potential at his coaching fingertips, why have we yet to see Rivers hand out consistent playing minutes to his budding defensive star?
MONTREZL HARRELL AND THE ART OF SELF-SABOTAGE
Following Rivers' departure in Los Angeles, reports circled that Doc's reluctancy to develop young talent had eventually run its course with club owner Steve Ballmer. One report from Jovan Buha of The Athletic in September 2020 pointed the blame arrow directly at (and this is not an April Fool's joke), "Rivers' insistence on playing backup center Montrezl Harrell over starting center Ivica Zubac."
Well, my friends, I am here to tell you that time is indeed a flat circle! With Morey's rather nonsensical acquisition of Harrell, Rivers has (once again) allocated substantial playing time to an old friend. The results?
THEY
HAVE BEEN RATHER PREDICTABLE (SURPRISE!), WITH HARRELL PROVIDING NO DEFENSIVE IMPACT WHILE ANCHORING CATASTROPHIC LINEUP PAIRINGS.
If the numbers alone do not scare you, take a look at how stiff Harrell appears when attacking close-outs in space, allowing an easy drive to the basket here.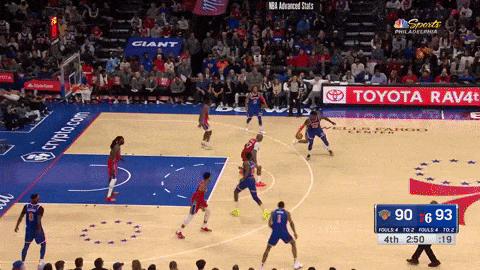 In contrast, pay close attention to how Reed attacks a similar attempt on the perimeter. His ability to stay connected and use his enormous wingspan forces Obi Toppin into a critical turnover off a three-point look.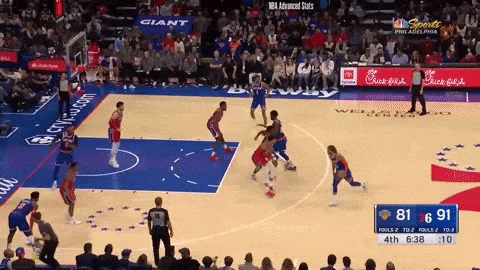 Playing alongside poor defenders in Harden and Tyrese Maxey is no easy task for a rim protector. But Harrell has looked unplayable and slow, with near no movement skills to handle the quick and dynamic pace of NBA offenses. And with Rivers' unrelenting desire to ride Harrell into the sunset, Philadelphia has allowed teams to average a near-unprecedented 71% inside the restricted circle, good for second worst in the NBA. 
So, while the Sixers coaching staff struggles to sort over even the most fundamentally obvious lineup decisions, we ask not if, but how B-Ball Paul should be deployed alongside Philadelphia's plethora of offensive options.
UNTAPPED LINEUP AND MATCHUP FLEXIBILITY
Much of the fun when envisioning Reed's potential role with the team lies in the endless possibilities for this hyper-diverse athlete. While most of his minutes have been at center, Reed's defensive versatility was put on display going back to last year, when he defended a pair of All-Star players to positive success.
IN TWO GAMES, REED ANCHORED DEFENSIVE MATCHUPS VS THE GREEK FREAK AND DEMAR DEROZAN, LIMITING BOTH PLAYERS TO RESPECTABLE OUTCOMES
Tinkering with Reed on the wing is only the tip of the iceberg for how Rivers can integrate B-Ball Paul into the rotation. Maxey's meteoric rise has been a welcomed addition to Philadelphia's unit. However, his defensive shortcomings coupled with the fit alongside Harden (and Embiid) leave many wondering if Maxey should command second-unit lineups more frequently. 
With Reed in the fold, the answer is a resounding YES. Maxey-led lineups coupled with B-Ball Paul have posted a 71.0 defensive rating (good for the 100th percentile according to Cleaning The Glass). Anchoring defenses around Maxey is a massive benefit, as the third-year guard has shown explosive offensive potential in leading secondary units. However, with Harrell in the fold, those same units fall flat on the other end, often shortening Embiid's rest while increasing his minutes as the season progresses. 
But the fun does not stop there! Reed's activity coupled with another defensive stalwart in De'Anthony Melton position the Sixers as a potentially lethal defense to offense team. Throw some P.J. Tucker gasoline into this fire and you have a lockdown trio that can switch across multiple positions while creating fastbreak opportunities off turnovers. Simply put, it alters how teams match up with Philadelphia while dictating personnel decisions to their favor. This is something we rarely see from a Doc Rivers-led team. 
SO, WHAT'S NEXT?
It is hard to envision Reed continually logging limited minutes with the mounting evidence suggesting his time is NOW. But with logic rarely at the center of Rivers' rotations, B-Ball Paul can easily disappear back into the bench as Philadelphia heads into the holiday stretch. The easy solution would be to replace Harrell's roster spot with a capable guard that can fill some of Harden's minutes as he rehabs from injury. But that will require the general manager to remove all excuses from Rivers' table, finally opening the door to one of the league's best-kept secrets.