Every draft presents an opportunity for a franchise to make or break its future. There's always a prospect who checks every box in the pre-draft process and then can't play a lick in the actual ecosystem of their professional sport. There's always a prospect who, despite being drafted very low, has a seamless transition to the next level and blossoms into a star. The key to winning the draft is to find the balance between not overvaluing that which is theoretical and not undervaluing that which is tangible. In the case of Obi Toppin, his theoretical value is, perhaps, unrivaled in this draft; his tangible value leaves numerous questions to be answered.
Overview
Obi Toppin graduated Ossining High School in New York without any Division I offers and elected to attend Mt. Zion Prep in Baltimore for a prep school year. With collegiate representatives constantly attending practices and games to observe his teammates, Toppin began capturing Division I attention. Soon, he earned offers from Georgia, Texas A&M, Minnesota, Texas Tech, and Dayton. 
After redshirting his first year at Dayton for academic reasons, Toppin burst onto the scene as a redshirt freshman. He averaged 14.4 points and 5.6 rebounds in 26.5 minutes per game. With an offseason of adding muscle mass and building off of what he had established in his freshman season, Toppin emerged as a national star as a redshirt sophomore. Averaging 20 points and 7.5 rebounds in his second campaign, the 6'9″, 220-pound forward with no Division I offers coming out of high school won the National Player of the Year award.
With his electrifying dunks headlining Dayton's national respect as a potential Final Four team, NBA scouts grew captivated by the twenty-one-year-old. Having garnered NBA attention, the question quickly went from whether Toppin could play Division I basketball to whether he was a top-10 pick in the NBA draft. 
Strengths
Excellent size to fit NBA power forward position
Identifies impending pressure quickly and finds open man
Very quick to dive to the rim out of the pick-and-roll, makes it easy for point guard to spot him rolling
Capable passer in tight windows
Ambidextrous, versatile finisher
Very good passing vision; knack for hitting teammates cutting backdoor, can make skip passes to shooters on the weak side
Creates easy finishes for teammates just by presenting alley-oop threat as a roller or by looming in the dunker spot, doesn't even necessarily have to do anything
Jumper much more consistent than previously anticipated; mechanics consistent from different distances, showed improved touch throughout season
Weaknesses
Needs to add weight
Easily pushed off his spot as low post defender, offers little resistance when offensive matchups look for their desired positions in the post
Doesn't box out consistently, sometimes gives up offensive rebounds that he could easily secure by boxing out
Can't dribble in tight space
Doesn't really hold follow-through on jumper
Lacks awareness for rest of court as off-ball defender
Hands aren't always strong with the ball, can sometimes be susceptible to getting stripped going up for dunks
Closes out with flat feet, has to learn to be disciplined when closing out; will get beat on the drive by smaller players in the NBA
Shot-blocking instinct is not consistent enough
Misses a ton of shots that aren't at the rim
Sometimes settles for threes
Film Room
Let's begin by taking a look at what will make Toppin an electrifying subject for the eyes in the NBA–athletic finishing.
Watch Your Head
Dayton is pushing in transition and VCU is desperate to stop a 15-0 second half run by the Flyers. With VCU's defense in shambles, Toppin slips a ball screen for Jalen Crutcher and dives straight to the rim. Crutcher hits his wide-open big man for a flush. Easy enough.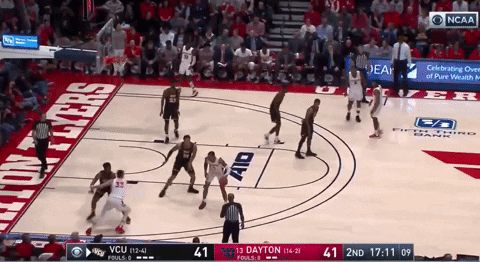 To kick off that extensive second half run against VCU, the Flyers ran a wing dribble hand-off into a side pick-and-roll with Ryan Mikesell as the ball-handler. Both the on-ball defender and Toppin's man try to cut off Mikesell, but the helper sliding over gives Toppin a lane to the basket. Mikesell lobs it for an easy finish. Notice Toppin's athleticism and focus on this play; he has to reach behind his head to catch the lob mid-air, and he's still able to finish the dunk with ease.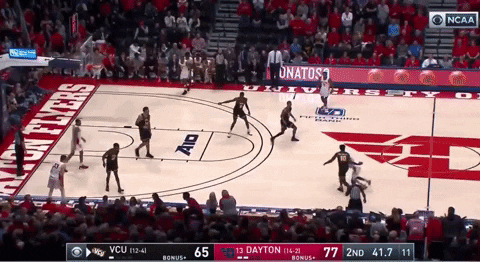 This was the capper for Dayton's win over VCU. Crutcher sees Toppin with the backdoor look from the dunker's spot, so he gets into the teeth of the interior to draw the attention of the help defense. Once VCU is all focused on stopping the ball, Crutcher lobs to Toppin for the hammer. Again, Toppin displays tremendous athleticism and focus to catch this pass mid-jump with one hand, cock back enough to create some force, and throw down a heater to close out this win for Dayton.
Low Post
Toppin's ability to convert around the basket in the half-court is sometimes affected by his being pushed off of his spot by stronger defenders. Having said that, he is very skilled and agile in his ability to finish around the rim.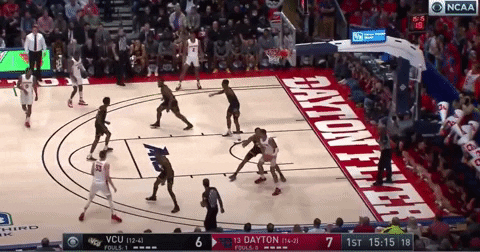 Toppin posts to his left as he powers his way to the block so that he can come back and finish with his right hand. Once het gets Corey Douglas where he wants him, he turns around to his dominant side and kisses the ball off the glass for an easy finish. Notice how Toppin protects the ball throughout this play. As he makes his move down to the block, Toppin shields the ball with his right shoulder. When he spins back to the right, the left shoulder is shielding the ball as he goes up for the finish.
Very similar play, but this time the victim is Marcus Santos-Silva. Toppin backs his way down to the left-side block and turns over to the opposite shoulder for the finish. But this finish is more impressive because he finishes with his left hand, and, perhaps, does it with as much ease as he did with his right hand. Toppin shields the ball with his right shoulder and, once he gets Santos-Silva below the block, he spins back right for the finish.
Notice here how he angles his left shoulder slightly towards the free throw line. This is done to bring Santos-Silva away from the basket a bit, effectively creating a path for an easy finish as long as Toppin turns back to his right shoulder swiftly. Once he spins back to face the basket, he has just enough time to rise up freely for the finish. Santos-Silva recovers quickly enough to contest, so Toppin has to shield the ball with his right shoulder. This play is a look into how Toppin's ambidextrous touch can make him useful on either side of the basket in an NBA offense.
Jump Shooting
There is no middle ground with Toppin's jumper, and that's why it's hard to get a feel for where that facet of his game is in its development. The outcome is either all net, or well off. Typically, his makes are coming in a rhythm created by his setting up prior to catching a pass. He's not creating his own jumper at all, yet. 
Rhythm Shooting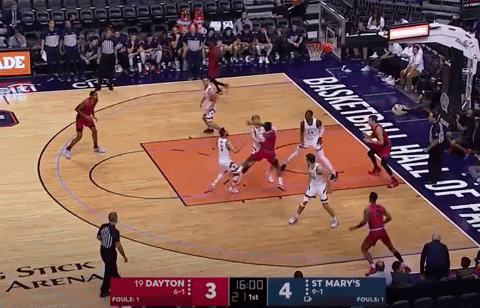 When Toppin catches the pass, he has already established his pivot foot and is set up for the shot. He uses a pass fake to draw Tommy Kuhse towards the Dayton Flyer in the strong-side corner, and then steps into the shot to create some rhythm. Toppin shows excellent balance prior to the release, and holds his follow-through after he fires. Beautiful.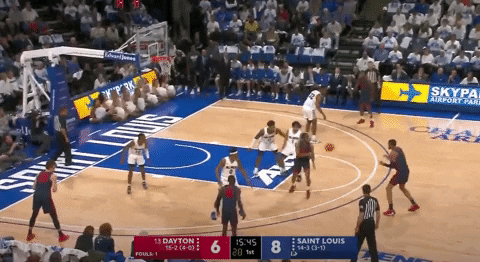 This one, not so beautiful. There's no real rhythm here. Toppin is two steps beyond the NBA three-point line when he catches the ball and immediately steps into the jumper. He has terrible balance as he rises up for the shot, as his feet are practically on top of each other as he dips into his motion. Looking at the arc the ball follows, this attempt was less of a confident shot and more of an awkward fling. The ball has too much air under it to be a natural shot, and it draws similarities to the beauties that Andre Roberson tosses towards the basket when he shoots from the perimeter. Toppin also barely holds his follow-through at all. Even though his shooting space was completely rid of Saint Louis Billikens, Toppin rushed this look. The result reflects the set-up.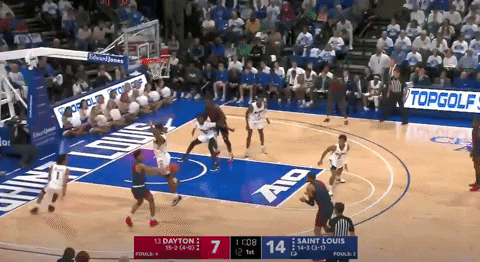 This attempt is much better. Toppin doesn't rush, he catches the ball in rhythm, and holds the follow-through just long enough to complete the shot. Judging by the gap between his knees, it also looks as though his balance is better. Lastly, the ball follows a more realistic rainbow to the basket. This is a confident shot from Toppin, and the result is three more points on the board.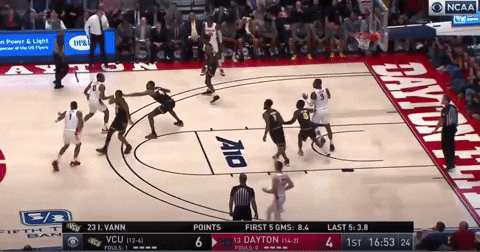 Whereas the previous jumpers were all in rhythms created from one step towards the basket, this one is a side-step prior to the catch. Toppin sets his feet upon catching. It isn't a rhythm that he is used to, and with Corey Douglas closing out, there is no time to create a normal rhythm. His balance is fine and he holds the follow-through, but Toppin's lack of rhythm makes this a long, flat miss.
Passing
Perhaps the most underrated part of Toppin's game is his court vision and his ability to make crisp passes to open teammates.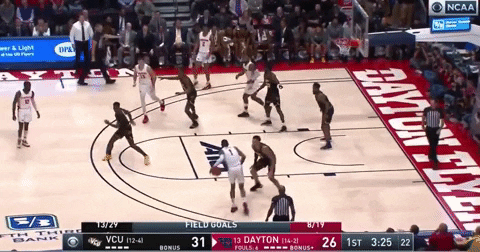 Toppin is trying to bury Marcus Santos-Silva in the low post when Jimmy Clark III comes over to try to trap. Sensing the impending pressure, Obi backs towards the baseline to draw Clark far away from Crutcher and then rifles a pass back to the perimeter to avoid the trap. Toppin's awareness and quick reaction time on this play save a potential turnover.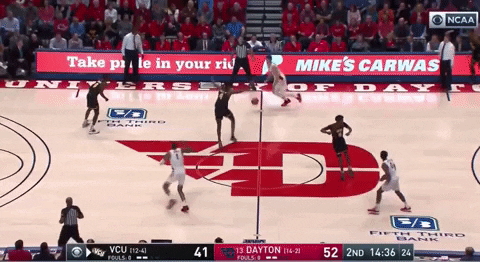 Toppin is given the open-court space to read the defense, dribble, and make a play. He pressures Vince Williams to commit to stopping the ball, and then dimes a cutting Trey Landers for a one-handed flush. A big man lacking court vision would try to poster Williams, use his agility and athleticism to get around Williams, or commit an offensive foul or turnover trying to force a look at the rim.
Defense
Now this is where scouts have to figure out how to compare what Toppin brings on offense to how big his developmental needs are on defense.
Close-Outs
Toppin has a tendency to close out with heavy, flat feet. That bad habit will get him ripped off the court in the NBA if he struggles to close out with discipline.
Toppin rushes at Demarius Jacobs in the corner on this play. Jacobs waits for Toppin's momentum to carry him past the point of being able to recover, and then attacks baseline. Closing out with flat feet, Toppin offers little resistance once Jacobs accelerates. The Billiken is able to get to the rim with ease and finishes through contact.
There's not a lot to break down here. Malik Fitts merely hesitates after catching the skip pass, and Toppin is ready to spike the ball into the tenth row of Talking Stick Resort Arena. Because of Toppin's lack of discipline on the close, Fitts is able to easily drive middle and penetrate Dayton's interior. Luckily for Toppin, his help defense steps up and cuts off Fitts' line to the basket.
Post Discipline and Strength
Toppin's lack of discipline and strength make him a liability in the post, as well.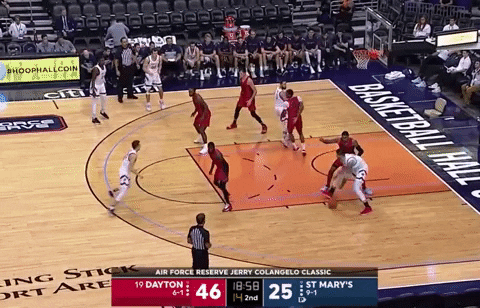 Aaron Menzies swings around to initiate his post move and uses a shoulder fake on Toppin, who takes an enormous bite out of it. With Toppin in the air, Menzies steps through to complete the up-and-under. Easy finish afforded by Toppin's lack of defensive discipline.
While nothing ever really materializes on this play, it is a concerning display of Toppin's body strength, or lack thereof. Corey Douglas, who is the exact same weight and one inch shorter than Obi, is able to easily push Toppin out of the way to clear space in the low post. Having knocked Toppin off of his defensive position in the post, Douglas is able to spring free and create space to receive a pass from Marcus Evans. At the next level, Toppin must bulk up, or he's constantly going to be bumped off of his defensive position in the interior.
Reading Screens and Rim Protection
The primary concern with Toppin's interior defense is his rim protection.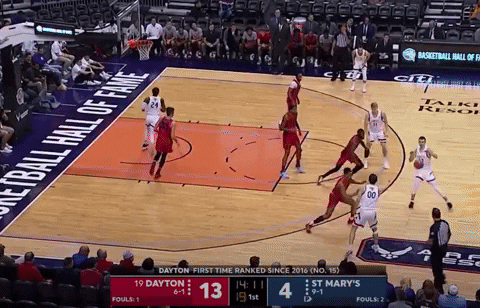 Kristers Zoriks uses a snake screen to get Toppin in front of him. Toppin, having misread the screen and essentially switching onto Zoriks, leaves Matthias Tass with a direct line to roll to the basket. Toppin's decision to come that far over to help with the ball-handler would, potentially, be the correct one if Zoriks were a prolific scorer. However, Zoriks averaged just 3.7 points this season. While he connected on 56.7% of his three-point attempts, he only attempted thirty. So, there was no reason to shift that far over to stop the ball-handler. At best, the right decision would've been to offer a soft hedge so that Zoriks was met with some resistance coming out of the screen, and then drop down to protect the basket. Instead, Matthias Tass gets an uncontested layup.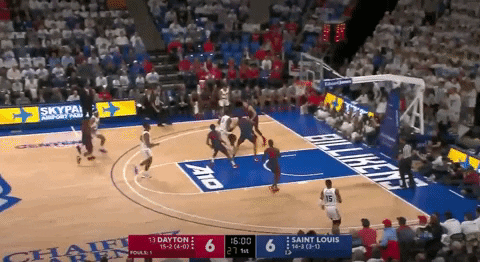 I understand that the play in this clip unfolds very quickly. I could've included more of the context prior to the shot. Nonetheless, Toppin does very little to perturb this layup, and he allows a smaller attacker to score with ease. While you don't want him to defend with his arms, he could've taken half a step forward and cut the line to the rim. Instead, it's essentially an uncontested layup.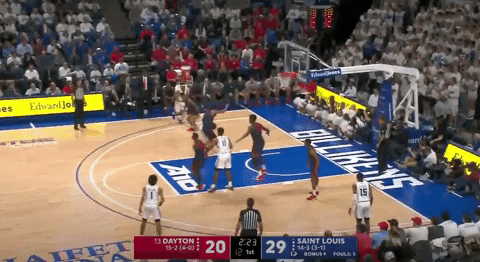 Again, my apologies for not providing more of what unfolded prior to this finish. Regardless, Toppin falls behind the ball-handler, thus giving him an open lane to the rim. All he has to do is keep his back to the basket and stay in front of the man attacking him, and it's a lot harder to get beat to the basket like this.
Help Defense
Toppin's positioning in help defense is also a major point of concern.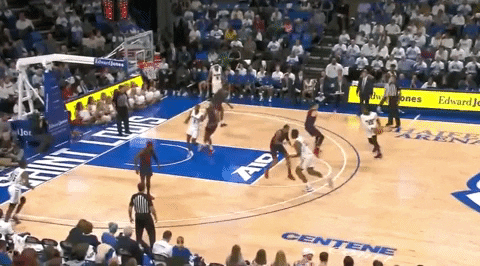 On this play, he has his back to the ball the entire time. But, you know coming into high school basketball that you never turn your back to the ball. Toppin should've been turned around with his back facing the weak-side corner and his feet on the weak-side block. That would've given him the ability to defend Jimmy Bell, Jr. the way he is above and would've given him a line of sight to the ball so that he could come help if needed. In this clip, he is in absolutely no position to even offer help, as he has no idea where the ball is or where the players are around him. His positioning here begs the question of whether Toppin understands fundamental concepts of help defense.
Best Fits
As much potential as Obi Toppin has, he is also a project on both sides of the floor. Right now, he's in the tweener stage of being good enough to completely dominate the college game, but not good enough to be a surefire star at the NBA level. Whoever drafts him must be patient, as the prize could very well be worth the wait.
New York Knicks
Toppin feels like a very Knicks-y pick. Draft him too high, sell him as a rising star, and then develop him poorly. Nonetheless, if the Knicks figure out how to run their organization, Toppin's fit next to Mitchell Robinson is very intriguing. Two young, extremely athletic big men who can jump out of the gym. Robinson is undeniably a center. Toppin is undeniably a power forward. While Robinson is well on his way to developing into an excellent young player, Toppin possesses similar potential. If Toppin develops into a legitimate defender, the Knicks would have a twin towers duo to anchor their rim protection. On offense, Toppin is already farther along in his development as a jump-shooter. So, the Knicks could experiment with him on the perimeter while leaving the paint to Robinson. Dunks, dunks for everyone.
Phoenix Suns
This could be fun. Give one of the most explosive guards in the NBA another pick-and-roll partner. Add athleticism to a front-court that already features very promising skill in Deandre Ayton. Couple it with the shooting prowesses of Cam Johnson and Mikal Bridges to provide legitimate spacing. You get one of the most dynamic, electrifying offenses in the NBA. I dare you to not be excited.
Minnesota Timberwolves
The D'Angelo Russell-Karl-Anthony Towns pairing already has the makings of one of the three best pick-and-roll tandems in the NBA. Make Toppin the franchise's first legitimate power forward since Kevin Love, and Minnesota suddenly has an extremely dynamic offense. Consider Toppin's ability to stretch the floor, and you realize that the Timberwolves could experiment with a five-out offense. Midwest madness ensues.
Stats To Know
Obi Toppin finished his career at Dayton with a school-record 190 dunks
Toppin shot above 38% from three-point range in both of his seasons at Dayton
Toppin led the A-10 in field goals made and points scored in 2019-20
Draft
Highest I'd take him: 6th pick
Lowest I think he'll be available: 16th pick
Ceiling: somewhere between Enes Kanter and Amar'e Stoudemire
Floor: Jahlil Okafor
You can find the rest of our draft evaluations below!
Make sure to follow @BlueRouteTPL, @mrcrockpot, @tscabbia, and @KrellTPL on Twitter for more Sixers and NBA draft coverage! 
Click below for our latest video breakdown on Jalen Smith!