There are two factors that dictate the ceiling for any basketball team. The first is the team's best player. Regardless of any uncontrollable limitations, the heart and talent of the best player can take a basketball team to unimagined heights. The second, and perhaps more important, is the point guard. In the case of the 2019-20 Arizona Wildcats, Nico Mannion was arguably both. And that might be why consistency was the caveat to their expectations for the season. 
Overview
Nico Mannion's name first gained popularity in Phoenix, Arizona. The 6'3″, 180-pound point guard, with his ghostly complexion, red hair, and green compression wear, was a common target for opposing teams' best players. Earning his name as a dynamic floor general, Mannion quickly rose to five-star status at ESPN. At the time of his signing with the University of Arizona, Mannion was ranked ninth overall on ESPN's top-100 list. He was considered the third best point guard in the class of 2019. Before electing to stay close to home in his lone season of college basketball, Mannion accumulated offers from Duke, Marquette, and Villanova.
Although his only season at Arizona was cut short, the Italian point guard displayed much of the promise as a brilliant passer that he had advertised at Pinnacle High School. Averaging 5.3, Mannion finished second in the Pac-12 in assists per game (Payton Pritchard averaged 5.5). Nico also compiled 14 points, 2.5 rebounds, and 1.2 steals in 32.3 minutes per game as a freshman. 
At the next level, the question is not whether his game will translate. It is whether his inconsistencies in a weak Pac-12 are cause for concern when determining if Mannion can be a lead guard on a great team. 
Strengths
Precision passer in both transition and half-court, as precise as hitting teammates in the correct hands on any given play
On-ball defense is better than advertised; can hold his own against stronger, faster guards
Demonstrates instinct to create his own shot with the intention of drawing fouls on the perimeter when guarded by bigger players
Willing to attack left with the same determination that he attacks right
Weaknesses
His desire to win is questionable at times; doesn't put his body on the line to win the little plays at the ends of games (battle for rebounds, get on the floor for loose balls)
Doesn't get involved on the defensive glass at all–can limit transition opportunities when his skillset thrives on creating more of them
Shot selection is poor when defensive pressure takes away his angles for dribble penetration; settles for off-balance, contested jumpers
Not an efficient scorer at this stage of his development; shot 39.2% from the field at Arizona
Must bulk up; he will be a target for mismatches in his first season, maybe even beyond
Film Breakdown
Nico Mannion excels in reacting to defenses when they collapse on his attack. In reading the collapsing defense, he is able to locate and lead his teammates to great scoring angles with pinpoint passes. 
Passing
Watch how Nico reacts to Baylor's collapse as he pressures the baseline.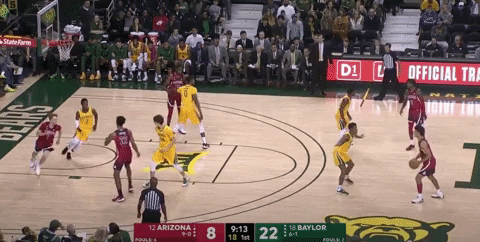 Devonte Bandoo drops down to cut off Mannion's attack. While it's easy to see that he was thinking about preventing a look at the rim once Mannion turned the corner on Matthew Mayer, Bandoo left Zeke Nnaji completely unattended. Once Mannion sees that Bandoo is committed to eliminating his angle, he serves a perfect bounce pass to Nnaji's leading (right) hand for an easy layup.
Do not gloss over that Mannion placed the pass in Nnaji's right hand. Had it gone to the left hand, the shot likely would've been blocked or the play disrupted by the diving Davion Mitchell.
 Hitting The Leading Hand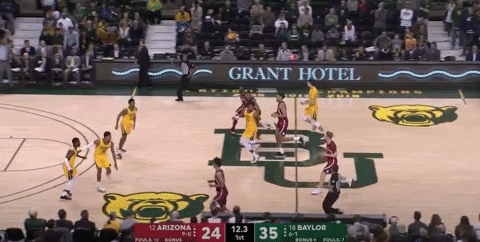 This play is a fairly simple read, but it shows Mannion understands situation and context and how to apply those two variables to his teammates on any given play. There's ten seconds left in the half, Arizona trails by eleven, and their offense is pressuring Baylor's transition defense. An easy bucket at the rim to cut the deficit to single digits would be a major boost going into halftime.
Notice how Mannion's line of sight is focused towards the middle of the floor, not the perimeter. His intention is to create a look for a teammate at the rim, not kick to the outside and allow the defense to recover. While Ira Lee is not definitively open as he leaks towards the rim, Mannion knows his teammate can push ahead if he senses his point guard creating a look for him. Nico senses Lee's line to the basket and floats a pass into his outside hand to create the opportunity.
By floating the pass precisely to the outside hand, Mannion is both making it impossible for Baylor's defense to disrupt and opening an angle for Lee to finish the play. 
Pocket Passing
This is just a true point guard taking what the defense gives him and reading it beautifully. First, Mannion jabs to trick Bandoo into selling out on the contest. Once he sees Bandoo off balance trying to recover, Mannion rips through to his left hand. He then attacks hard to exploit the lane opened by Bandoo's overly aggressive close-out. His downhill pressure causes Tristan Clark to collapse and cut off the lane, and Nico finds Zeke Nnaji for an open dunk as soon as he sees Clark commit to helping.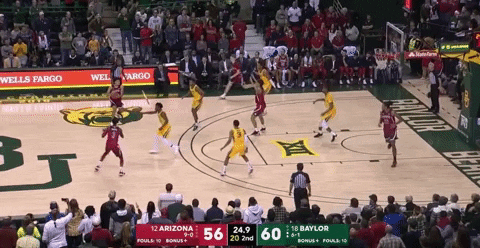 Similar play to the previous one. Mannion hesitates on the catch and then bursts left when he detects the open baseline. Flo Thamba rotates to the strong-side block to cut off Nico's line to the basket. Nico reads the help and delivers a pocket pass to Chase Jeter once the interior collapses on his baseline attack. While Jeter hesitates and  his layup is blocked, Mannion creates a perfect angle for Jeter to score despite four Baylor Bears converging on the strong side.
Finding The Shooter
Again, Mannion knows the context. His team is down six with under two minutes left, and Arizona's offense has fallen out of the rhythm it had earlier in the half. With no success shooting the ball in the half-court, transition might afford the Wildcats some good looks from the perimeter. Mannion's line of sight captures the weak-side perimeter and the middle of the floor.
Having already decided where he's passing the ball, Nico waits until he's within a whole step of the three-point line before firing a skip pass to the weak corner. This has the effect of minimizing Baylor's window to react (if he makes the pass earlier, Jemarl Baker, Jr., might have to put the ball on the floor to get within a comfortable shooting distance of the basket, allowing the defense to recover and rotate).
Notice how Mannion delivers the pass to Baker's right shoulder, and a half step back to the right of where Baker had run to fill the lane in transition. He places the ball directly into Baker's shooting pocket, minimizing the time Baker needs to get off the shot. In leading Baker  a half step back to his right, Mannion creates an in-rhythm look for his shooter. 
Scoring
Of course, Mannion's passing is so deadly because of his ability to score across three levels.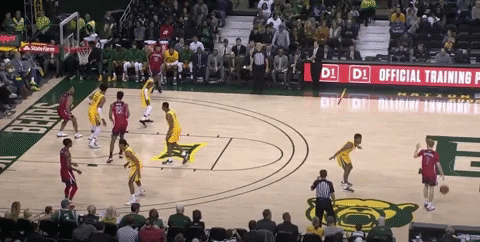 Mannion exhibits no fear against one of the top defenses in the country. He changes speeds and direction simultaneously, and Jared Butler was not prepared for the shifty attack. Mannion gets downhill with his off hand and then converts a floater right below the free throw line. The difficulty of this floater cannot be downplayed, as Nico's momentum is carrying him to his left. While maybe unimpressive to the average eye, the context of this floater indicates a point guard with a polished scoring package.
This play, while simple, is an example of how Mannion can translate into a present-day NBA offense as a jump shooter. While Nico converted less than 33% of his three-point looks in his time at Arizona, he demonstrates an ability to be successful out of a basic screen action here. In this case, it's a dribble hand-off with Christian Koloko. Mannion squares up his body up perfectly and squeezes off a clean look from the top of the arc. His motion is fluid, release is high and at the zenith of his jump, and follow-through is pointed at the basket. The one habit Mannion may want to work on breaking is that he is fading on this shot. Nico could exhibit some improved shooting numbers by working on keeping his body upright through his shot.
Shot Selection
This is one of the quirky parts of Mannion's game that falls out of line with the rest of his identity. He has built a reputation as a controlled, unbothered, and polished point guard with a natural ability to read a defense and react correctly. So, it's hard to understand Nico's shot selection at times.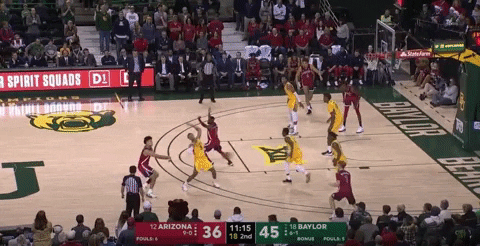 Arizona has begun to establish some sort of workable offensive strategy at this point in the game. They've been treading water, even making some progress at cutting the deficit, since the second half began. Davion Mitchell gives Mannion the baseline (in this case, he would be attacking with his strong hand). Mitchell hasn't yet completely cut him off before Mannion picks up his dribble and elects to take a fall-away jumper fading to his right and out of bounds.
Maybe the options in his line of sight left nothing for Mannion to create for those teammates. However, he could've reversed his pivot and plugged Koloko for a midrange jumper (Koloko made one earlier in the game). He could've also reversed the pivot and thrown the ball out to Max Hazzard (5) to attempt a triple, make a swing pass to another teammate for a different look, or reset the play so that Mannion can recover. Those were viable options, especially with fifteen seconds left on the shot clock.
Crunch Time Decision-Making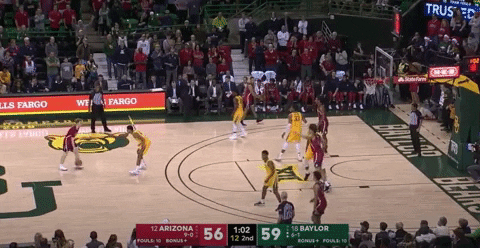 Another random, inexplicable decision from an otherwise advanced point guard. Baylor is not in a zone defense, so dribble penetration is something that they're comfortable giving up–and it has been there (and been successful) all game. There is one minute left, over ten seconds on the shot clock, and Arizona trails by three. Mannion (1-5 in the game), individually, and Arizona (2-18), as a whole, has struggled with perimeter shooting all game.
Chase Jeter offers a ball screen to help Nico attack the middle of the floor with his strong hand. Mannion opts to cross over and take a hesitation dribble before launching a triple over the outstretched arms of MaCio Teague–who has a 6'10" wingspan. 
First, it's a terrible look to resort to with ten seconds on the shot clock. Second, judging by his reaction to the slightest bit of contact on his landing, he was more focused on drawing the shooting foul than actually making the shot. So, Nico basically wasted the possession at perhaps the most critical time of the game. In a five-point loss, the outcome of that single possession changed the complexion of the last minute of the game. 
On-Ball Defense
While Mannion is perceived as a negative defender, he demonstrates proper fundamentals as an on-ball defender. Particularly notable is his motor to defend with active hands and choppy feet.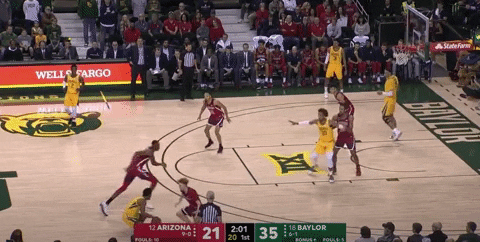 Jared Butler averaged 16 points per game as a sophomore this season. He is faster and (ten pounds) heavier than Mannion. Butler would feast against a defender with truly poor fundamentals. Yet, Mannion is able to stay in front of him, disrupt the possession, and create a turnover. His short, choppy steps help him stay in front regardless of how Butler changes directions or speeds. Mannion's discipline to keep his arms raised but active enables him to disrupt Butler and free the ball without fouling.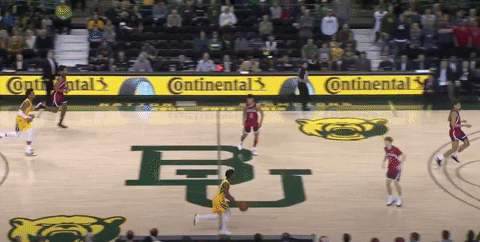 Finally, Mannion displays an ability to make quick, high IQ decisions on defense. Mitchell changes speeds and crosses over towards the middle of the floor to create an angle to the rim. Mannion senses that Mitchell may get past him unless he slides all the way over to cut off the lane. Seeing Mitchell raise his forearm to create space on the attack, Mannion tries to slow his feet as much as possible, takes the hit, and allows the natural momentum of the play carry him. Mitchell would've, at least, got a shot off if he hadn't raised the forearm. But, his lack of discipline results in an offensive foul. 
Possible Fits
Mannion's fit within an offense, right now, should interest teams picking in the middle of the first round. Teams just outside of the lottery have key fixtures in their offenses already, and are looking for young, cost-controlled talent to fill the holes elsewhere on their rosters.
Mannion provides advanced court vision that would help ease the burden on the established pieces on said teams while not commanding a ton of shots, himself. With Nico being a near-perfect piece to plug into an offense without disrupting the share of shots to go around, there are three fits that make a lot of sense in the range that I expect him to be available.
Orlando Magic
While the Magic do believe in Markelle Fultz, one has to wonder how much longer they can wait on Fultz to make marked progress. With Aaron Gordon (at least for now), Nikola Vucevic, Jonathan Isaac, Terrence Ross, and Evan Fournier all focal parts of the offense, a pass-first point guard could blend the pieces together more easily.
Fultz still, theoretically, has a higher ceiling. But, a team that features the previously mentioned players may want to expedite its building process instead of catering to the entities that are holding Fultz back. If such is the case, Mannion would be a very sensible option to lead the bench unit while the team figures out where Fultz fits in its plans.
Milwaukee Bucks
The Bucks are due to make the 18th pick in this summer's draft as a result of a previous trade with the Pacers. With Giannis Antetokounmpo due for a big payday after the '20-21 season, and Khris Middleton in the middle of a max contract, Milwaukee could look to unload Eric Bledsoe's approximately $18 million per year over the next three seasons to free up money.
Drafting a pass-first, polished point guard like Mannion who they can grow without sacrificing wins could allow the Bucks to retain their superstar without suffering any lapses in contention. The difference in cost would also allow the Bucks to add pieces to solidify their depth.
Philadelphia 76ers
There's a lot of debate as to whether or not Ben Simmons is a point guard. To me, it's quite simple–he's a dynamic, pass-first player who polices the offense as the on-court general. Jump shot or not, he's a point guard in my eyes–and a damn good one, too.
Even so, there's no denying that Philadelphia saw increased success in the half-court with Simmons screening and diving instead of facilitating on the perimeter. If the Sixers can unload Horford's monstrosity of a contract this off-season, a lineup with another natural passer running point with Simmons at power forward and Embiid at center could be interesting (it would also crowd the hell out of the paint if both Simmons and Embiid are there). Enter Nico Mannion, an innate passer who would happily defer to any of Embiid, Simmons, or Harris and willingly shoot from the perimeter. It's even more interesting when considering the different pick-and-roll combinations that would open up for the least pick-and-roll-reliant offense in the NBA.
While the fit could present some interesting opportunities, it would also create some new clunky offensive scenarios. Mannion did not shoot the ball particularly well this season, and a lineup featuring him, Harris, Simmons, and Embiid would need a high-level shooter to gel. Luckily, if they can free up the Horford money, the Sixers would be able to allocate those dollars towards one or two top-tier shooters.
Stats To Know
Mannion had a 2:1 assist-to-turnover ratio at Arizona
At 1,034, Mannion played the tenth most minutes of any player in the Pac-12
Mannion's 79.7% conversion rate at the free throw line was good for tenth best in the conference
Draft
Highest I'd take him: 15th pick
Lowest I think he'll be available: 23rd pick
Ceiling: Jeff Teague without the aimless half-court dribbling
Floor: Shabazz Napier with a higher floor and a higher ceiling
You can find the rest of our NBA draft evaluations here!
Make sure to follow @BlueRouteTPL, @mrcrockpot, @tscabbia & @KrellTPL on Twitter for more Sixers and NBA draft coverage! Click below for our latest video breakdown on Jordan Nwora and his fit with the Philadelphia 76ers!