Lucy Sable, or someone connected to that urban legend, is still haunting Nancy in the fifth episode of The CW's Nancy Drew series.
Tiffany's spirit is hitching a ride in your body
George has been possessed by the ghost of Tiffany Hudson. When she shows up in the Hudson residence it isn't really a surprise, but it is super weird. She cuts her fingers and writes the words "I Know" on the mirror in his bathroom. We see George, but the reflection in the mirror is his dead wife, Tiffany. She plays the part of a possessed woman well and is totally freaking me out.
George speaks with her Mom about the fact that she is possessed by a ghost who hates her due to the fact that she had an affair with said ghost's husband. Her Mom gets all up in arms and says that the ghost hates her enough to suck all of her life force away and permanently take over.
https://www.youtube.com/watch?v=32_XRC-Uu8o
Why is Karen lying?
Nancy is still looking into why police officer Karen lied about knowing Lucy Sable. Nancy figured this out after following clues from the ghost of Lucy Sable. She calls Karen and gets the voicemail, so she shows up at the police station.
The Claw Caters
Some dude walks into The Claw to see if they can cater his event. George says she is up to the challenge. Ace says it is ironic that the restaurant who served Tiffany Hudson her last meal is now catering to the debut of a foundation set up in her name.
Owen. His name is Owen (Miles G. Villanueva). The dude. He kind of gets flirty with Nancy, in front of Nick. Uh, Owen is a hotty. Shortly after, Nancy sees a freshly dug grave on the property and pulls on the bloody pink dress. Only then does she realize that she had been hallucinating. When she turns around, she falls into Karen.
Karen said she lied about knowing Lucy Sable because she felt guilty. She said they were best friends all throughout junior high school, but then they lost touch and a year later Lucy was killed.
The flash drive
Nick let Ace know that Laura Tandy stole something from him, the flash drive. Laura tells Nick that she isn't turning over the drive, but they could work on it together or not at all. She says they need a password because Tiffany's evidence against the Hudsons is saved on a restricted website. And then she is dancing with Ace who tells her everything about the whole possession thing.
The modern exorcism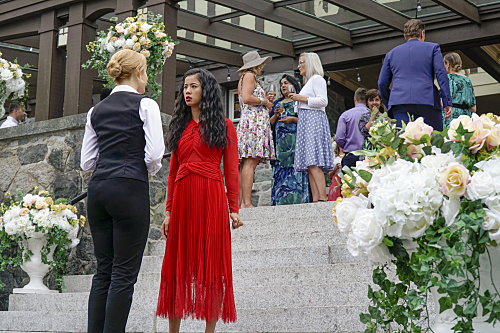 George's Mom gets all badass and tells Tiffany to leave her daughter's body. Nancy asks for more information to solve the murder. When Nick enters the room, Tiffany (in George's body) recognizes him. Laura runs in and wants to speak with Tiffany. Things are chaotic. George runs and Tiffany is coming in and out and this is incredibly hard to follow. Nick reassures Tiffany that they will find out who murdered her and then George passes out. Guess Tiffany is officially gone now.
As the show ends
Laura hands over the flash drive to Ace. Nick says that he promised Tiffany he would protect her, which means keeping her away from these things.
Nancy asks hot Owen for help and of course, Nick is watching.
"Dantes". This is the password that unlocks the restricted website. Nick figured it out when Tiffany left George's body. She said the name of the first book she let Nick borrow when he was in jail.
Nick and Ace find some evidence in these files that show Owen might have something to do with Tiffany's death.
Bess texts Lisbeth suggesting they go get dinner. She is thrilled when Lisbeth says yes.
George is clearly struggling with the fact that she has been possessed.
Back in 1999
Nancy has Owen help her dig up a time capsule from when Lucy was in high school. Greetings from 1999 (hahaha that is when I graduated high school). In the video that Nancy unearths from the time capsule, she finds footage which shows Lucy speaking with someone. Who is it?
RYAN HUDSON!
So, he didn't have anything to do with Tiffany's death.  Somehow it seems he has something to do with Lucy Sable's death!?
Holy Mackenzie, this show is ALL over the place, so stay tuned for next week!
If you're brave enough to catch the next episode, tune in on the CW next Wednesday at 9 p.m. or check back here for the recap.