This episode was all about the opening and the ending as far as I'm concerned. The middle did help us tie some plot strings together and figure out that the person who killed Lucy was not the same person who killed Tiffany. Fortunately, when this gets squared away Policewoman Karen was at The Claw to hear it all and it ended up clearing Ryan's name.
Patrice scares the heck out of Nancy and Bess by letting herself into The Claw through the back door. If you recall, Patrice is the mother of Dead Lucy, she had been living on Larkspur Lane before the asylum burnt to the ground. Now she is apparently wandering the streets of Horseshoe Bay and thinks she still works at The Claw.
https://www.youtube.com/watch?v=ix4h-PllWgs
The episode ends with a body gone missing.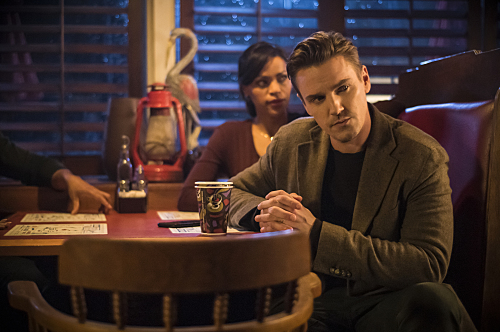 This isn't so much of a shocker, or is it? During the episode Joshua, Lucy's brother, found Nancy rummaging around in his garage, she found out that the emails sent from Lucy before she died had come from the garage. Nancy begins to piece two and two together when she realizes that Joshua had access to the emails Lucy and Ryan had exchanged. This means he knew how awful Ryan had been in his final emails before Lucy's death.  When Joshua saw Ryan at The Claw for a meeting, he took the opportunity to sneak in and poison Ryan's salad. Only he didn't know that the salad would end up going to Tiffany. The person who was meant to die that night was Ryan, not his wife. 
Joshua seems to realize that Nancy is figuring it all out and he tries to kill her with a massive wrench. During the scuffle the computer falls, leaving exposed wires to touch the wet concrete. This being a garage, there is a thick chain hanging and a hook on the chain grabs Joshua's shirt. It's all very "I Know What You Did Last
Summer" if you ask me and I wish it hadn't gone down so gruesomely given how Lucy died. I mean he ends up electrocuted, hanging in his own shop. I can't imagine how Patrice will handle all of this. She was already in a bad way.
The problem, we find out, is that Joshua's body is no longer hanging in the garage. Either he wasn't dead OR someone came in and stole the body while no one was looking. I don't know how that is possible, as there isn't anywhere for people to hide.  It's a tiny bayside community. 
The other details 
Ace and Nancy spent a good amount of time in the library. They found out that Tiffany had been using a computer in the library because it would not have been trackable. However, Ace is able to figure out that Ryan and Lucy had been in love with each other and it ended badly. During their time at the library, we meet someone who seems to rub Ace the wrong way. He and Nancy ask for help, and they want to view security footage. Dominique is the name of the woman sitting behind the counter and Ace is sure to say, "Not your help, specifically. Dominique, we need the help of a staff member generally." This makes me chuckle. I love Ace.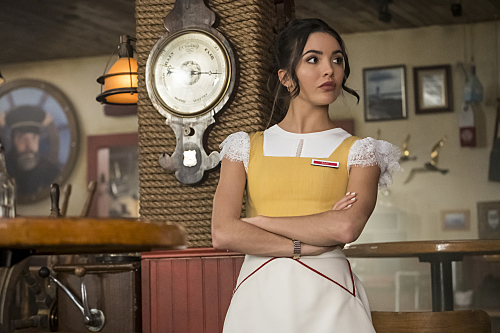 Laura comes back into the picture and is acting all new age and flighty. She asks Ace to move to Paris with her and eventually he declines. I, for one, am relieved that we won't be losing Ace because I love his character. He and Bess have the best friendship and their duo on the show definitely lightens the mood with everyone else being so dark and gloomy all the time.
Amaya, "the mentor," sends a flirty text to Bess, inviting her to some charity ball and she considers going. George yells at her about this, because she thinks that Lisbeth is a good girlfriend and that Bess shouldn't mess up a good thing. Bess steers the conversation to be about Bess and Nick. She says it is obvious that George has feelings for Nick and she encourages George to be honest about it. 
I didn't feel it
This episode, even with many Luy appearances, didn't keep me entertained.
And that's really all I have for you regarding this episode. Though I will say that I still think Ryan's Mom killed Lucy Sable. It's only a matter of time before the Drew Crew figures it all out.
To catch the next episode, tune in on the CW next Wednesday at 9 p.m. or check back here for the recap.