Adapt or die. That is the DNA of the National Basketball Association. The point guard position, once led by pass-first floor generals, had become characterized by speed and outside shooting in recent years. At the present time, the position has incorporated size mismatches into its evolution. Now, court vision, while still paramount, has taken a backseat to score-first play. In the case of LaMelo Ball, his 6'8″, 181-pound frame, multi-dimensional ball-handling skills, limitless shooting touch, and advanced court vision allude to a prospect that would make scouts salivate. But, signs of lacking athleticism on the offensive end, combined with disappointing habits on the defensive end, open a line of questioning as to whether Ball has big game, or is carried by the family fame. 
Strengths
6'8″ and fluid, great body to be a matchup problem across multiple positions
Doesn't waste time dribbling in the back-court; gets the inbound pass and looks up court to see if anyone is open–more efficient than a lot of young point guards
Consistently makes the right pass and displays outstanding court vision and precision-passing skills
Very adept at hitting targets on long passes
Shooting mechanics are consistent and fluid, albeit flawed; touch is evident
Shot selection improved during his time playing in Australia
Weaknesses
Upright in defensive stance often enough that it is a bad habit
Awareness in off-ball defense needs a lot of work; lacks understanding of how to position himself off-ball
Struggles fighting over screens; needs to bulk up
Struggles to defend without fouling
Defensive effort severely lacks at times
Hunts steals to make up for or hide lazy defense
Jump shot peaks at his nose; low peak and release will leave him vulnerable to blocks in NBA
Often jumps to make passes
Very fluid and loose, but athleticism lacks
Speed and first step are not explosive, not convinced he can beat NBA-caliber defenders off-the-dribble
Film Room
We will open this film session with a look at the primary skill that makes Ball so alluring.
Court Vision
Ball's ability to make plays that result in easy baskets for his teammates cannot be understated.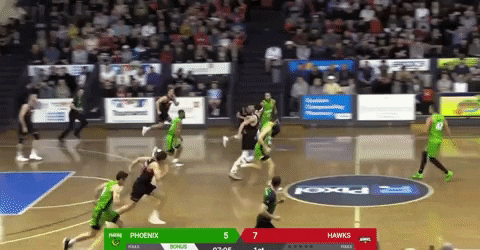 If Ball had pushed downhill in transition, the Phoenix defense would've been able to make a play on the cutting Todd Blanchfield. By changing directions and cutting South near half-court, Ball subtly makes the South East Melbourne defense shift its angle in transition, allowing Blanchfield to slip to the rim unaccounted for. Ball finishes the play with a gorgeous no-look pass.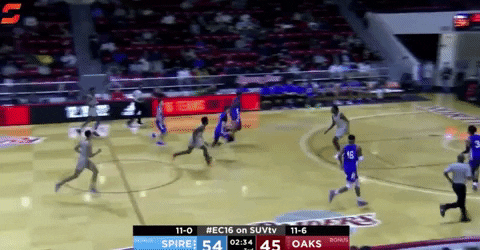 Ball is an ideal point guard for leading a transition opportunity because of how elite he is at pressuring help defenders into committing to him and then making the pass to a now-unguarded teammate. Watch how Ball waits for Marvens Petion to turn his body completely towards him before back-handing a no-look pass to Myron Gardner for a finish at the rim.
Long Passes
Perhaps most impressive about Ball's skill as a passer is his knack for hitting targets with precision on long passes down the court.
Andrew Ogilvy owes Ball dinner for setting him with this easy and-one opportunity. Ball opens a window for him to turn and finish when he leads Ogilvy towards the rim with this pass. The smaller defenders swarming him can only grab and weigh him down as he attempts to finish this layup, but Ogilvy is too strong.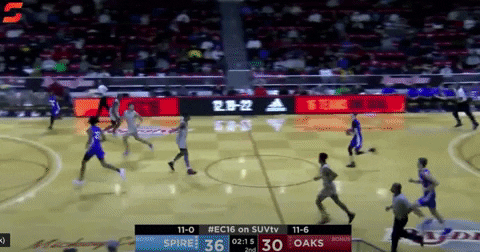 Similar play. The caveat here is that Ball puts enough muscle behind the pass to get it in the air and out of Noble Crawford's (15) reach. He hits Isaiah Jackson in stride as he steps towards the basket, and it's an easy finish. 
It cannot be overlooked how much court vision as elite as Ball's is helps an offense run more efficiently. In the NBA, where transition and pace is at the forefront of the modern game, Ball's gift is a commodity.
Shooting Mechanics and Touch
Every scout evaluates things differently, especially when it comes to the art of shooting. I look for touch and comfort, first and foremost. When I'm evaluating touch, I will look at how a player shoots floaters (if they do shoot floaters) over and over again. For Ball, his floater indicates a prospect with a strong foundation to his shooting touch.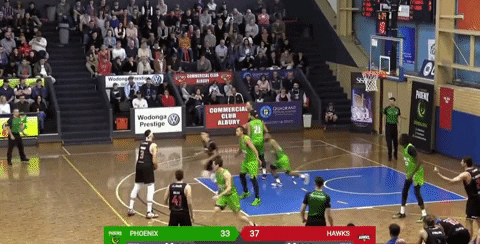 Ball shoots this ball with incredible ease. He also doesn't need excessive amounts of space to feel comfortable shooting it. Lastly, judging by his body language after the release, he was able to quickly gauge where he thought the ball would miss if it did miss. He followed the shot looking for an offensive rebound off of the back rim, and the ball landed squarely in the net.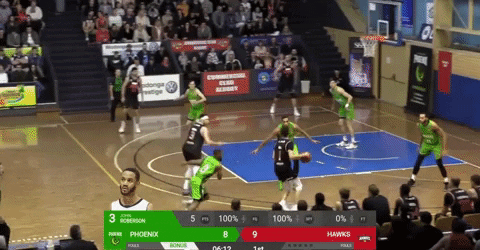 He attempts this one with the same ease and similar space. His body language following the release implies that it felt like a make as soon as he let it go.
Jump Shot
Even with his touch grading out well, it would be irresponsible of me to ignore that Ball struggled mightily to score with efficiency in Australia. Ball averaged 17 points per game in the NBL, but on lines of 37.5% FG, 25% 3FG, and 72.3% FT. Let's just call that what it is–abhorrent.
Even with valid concerns about his shooting efficiency, I believe Ball will become an efficient shooter with repetition, better shot selection, and some minor tweaks to his mechanics. 
Let's break down his jumper.
Shot Base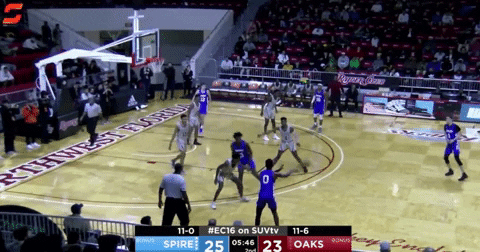 First, take a look at the balance that Ball gives himself with his shot base.
As pointed out in the markings on the image above, Ball does not have nearly enough space between his feet when he elevates for the shot. This reduces his balance and puts a ton of pressure on his upper body strength and shooting motion to compensate for the disadvantage his lower body has put him at.
Peak and Release Point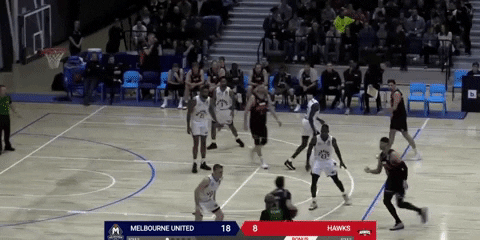 Another smooth make for Ball. Nonetheless, I will note another mechanical tweak that he should consider making. 
Look at where the ball peaks relative to his body when Ball elevates for the shot.
Apologies for the blurriness of the photo, but it is clear that, at the height of Ball's jump, the ball never reaches higher than his nose. That low peak and release point will leave him vulnerable to his jumpers being blocked by NBA-caliber defenders. I do, however, like that his shoulders seem to be squared up to the rim consistently. 
As for the shooting elbow that flares out, the lack of follow-through, the multi-dimensional nature of his shooting motion (how the upper body moves with the lower body), and the seeming fade as he lands after shooting–those things don't bother me. His touch is developed enough that his jumper can be effective with the adjustments that I prescribed above.
Here's one more to satisfy your cravings.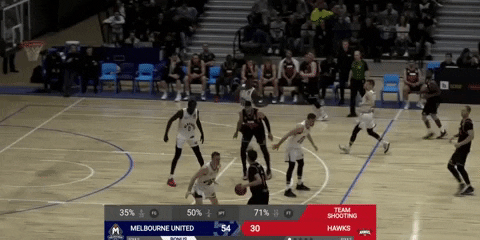 How about a quick crossover, hesitation with the shoulders, and put some air under it. Right in the eye.
Finishing at the Rim
While one of my biggest concerns for Ball's offensive game is his ability to actually get to the rim, he is a skilled finisher.
Ball's agility and footwork are on full display here. Watch how he uses his footwork to change directions and get Dane Pineau to commit to him in the middle of the lane. Ball then uses both tools previously mentioned to spin back towards the outside of the lane, rendering Pineau useless, and finishes relatively easily at the rim.
Handle and Athleticism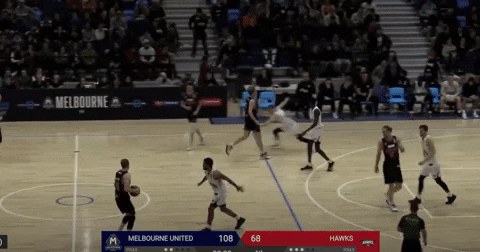 This finish displays Ball's handle in traffic and his athleticism. Watch how Ball splits this double-team out of the crossover to create his line to the rim. Once he detects that Sam Short might be sliding over to help, Ball elevates for the finish. Realizing that Short didn't come over far enough to be a factor, Ball then tries to switch back to his right to finish the play, but doesn't have the angle. So, he double-clutches while in the air and finishes with his left.
Strength and Speed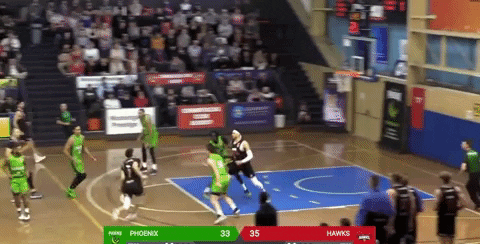 This finish is a testament to Ball's strength and speed. Ben Magden is riding Ball's hip as he attacks the basket. Ball uses speed to get the angle to drive on Magden and then uses strength to power through the drive. He then elevates and double-clutches in air to change his body's direction and bring his shoulders and the basketball within his line to the rim. That effectively turns a difficult drive into a far less complicated bank shot.
Burst and Aggression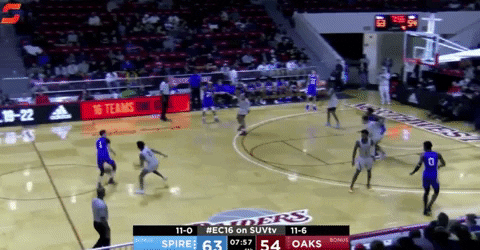 This was Ball's most aggressive drive in all of the games of his that I watched. It also happened to be his best showing of burst towards the rim with his first step. He then uses his strength to bank this tough leaning jumper off the glass through contact. It must be noted that my biggest concern for Ball is consistently showing that burst, as, if he doesn't have it, I don't know that he can get to the rim against an NBA defense. If he cannot, it's hard to see how he can maximize his game without being a sniper. 
Defensive Stance
Ball has progressed from someone who did not seem to care about any concept of defense to a player who was, at the very least, engaged as the on-ball defender. Even with that progress, he still has some bad habits. First, his defensive stance is consistently horrible.
Ball is standing upright in this clip. His feet are flat. His arms are not active. Players are taught in grade school to bend their knees and "sit in a chair", straighten their backs, and stand on the balls of their feet. It is common practice to keep one hand in the passing lane, while the other is extended towards the offensive player. By getting low and standing on the balls of the feet, the defender can apply pressure to the basketball and reduce his chances of being beaten off the dribble. If the offensive player is able to find an angle around the defender, active and light feet make it easier to cut off that angle and recover. With Ball's stance, it is very easy to get around him and very difficult for him to recover.
Getting Around Screens
This is an indictment on Ball's lack of strength at this point in his development.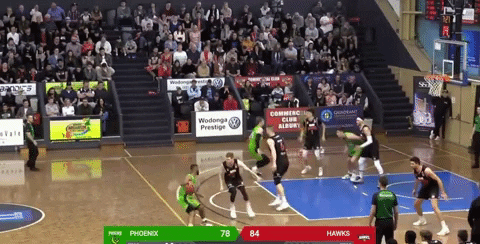 Notice how Ball is basically engulfed and then spit out by the screener on this play. Upon the catch, Kyle Adnam (4) has as much time and space as he wants to read the defense and make a play. He can curl into an open jumper, pass to his screener or skip to the weak-side corner, or attack the rim. He chooses to collapse the interior with an attack, and Ball, fashionably late to the party, commits a silly shooting foul as he trails Adnam. The screens will only be harder to get around at the next level. The playmakers will only be quicker with their decision-making and actions. The shooters will only be more accurate. Ball needs to add strength to reduce the amount of time offensive players have after the use the screen.
Committing Soft Fouls
Building off of the last clip, committing senseless, soft fouls is another jaw-clenching habit that Ball exhibits.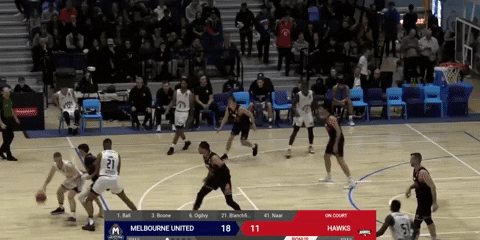 First, do not overlook the fact that the whole reason Ball fell behind Mitch McCarron on this drive is because of his defensive stance. Instead of finishing the defensive possession with his arms up so as to make McCarron uncomfortable with the pressure being exhibited on his back, Ball elects to swipe down as McCarron goes up for the layup. A lazy, unnecessary foul. This is a habit that will get Ball removed from games and taken out of a rhythm due to early foul trouble. 
Poor Effort
The amount of effort Ball exerts can be sensed by his body language and the amount of time it takes him to get back into a play.
In this instance, it takes approximately two seconds for Ball to re-enter the screen following his attempt to pick up the loose change in the back-court. He then jogs back into the play with no sense of urgency. At this point, his team is only down twenty points in the first half. Not exactly a glowing display of leadership by a prospect who is supposed to be a lead guard.
Help Awareness and Positioning
Fortunately, Ball's awareness in help and his understanding of proper help positioning can be improved by watching film with a coach and repeatedly practicing different situations. 
First, never turn your back to the basketball. Ball should pivot and move his left foot so that his back is parallel to the baseline. From there, he needs to keep his head on a swivel so that he can track his man as well as the ball. Second, Ball should slide one whole step to the left. That would have the effect of putting him in a far more mutual position in case the ball-handler attacks to his left. If Ball had good habits as a help defender and an understanding where to be, this would've been an easy steal. 
Best Fits
Despite his obvious short-comings, Ball's talent is established enough and his ceiling high enough that he is well worth consideration at the top of the lottery. Any team in need of a versatile lead guard with talent to develop would be an excellent fit for Ball.
Golden State Warriors
Ball should be on the Warriors' radar if, and only if, they do not have the first or second picks in the draft. Ball does not fit their win-now focus. He also doesn't fit the roster when you consider that they have two all-stars in their back-court. I suppose Ball could be developed into a small forward, but they have Andrew Wiggins–and it's going to be difficult to get off of his albatross of a contract. Ball does make a lot of sense, however, if Golden State decides to invest in its future. Ball could develop into a star behind Curry, while also learning how to play winning basketball. When it becomes time for Curry to accept the inevitable father time, Ball can step up and take the keys to the yellow Ferrari. 
Detroit Pistons
The Pistons haven't had a lead guard since Chauncey Billups. It's time they get one. They also need talent, and a lot of it. Putting Ball in the back-court with the sharpshooting Luke Kennard could make for a lethal pairing and something with which Detroit can begin its rebuild.
New York Knicks
RJ Barrett is a wing. Kevin Knox's existence has been, well, odd. Frank Ntilikina has not worked out. The Knicks have a surplus of power forwards. It's time to get a lead guard in New York, and a Ball-Robinson pick-and-roll combination is fun to think about. It's time for show time.
Stats To Know
Averaged nearly 17 points, 8 rebounds, and 7 assists in his lone season with the Illawarra Hawks
Averaged 1.6 steals per game with the Hawks
Had an assist to turnover ratio of 2.72:1
Draft
Highest I'd take him: 3rd pick
Lowest I think he'll be available: 6th pick
I'm going to do this comparison part a bit different than how I usually do it. You see, Ball is so unique that it's difficult to think of players to whom I can responsibly compare him. So, rather than offer a ceiling and a floor, I'm going to do a physical comparison and a skill comparison. 
Physical: Jayson Tatum
Skill: Lonzo Ball
A scout once taught me to avoid making comparisons between players with external similarities. For example, avoid comparing European prospects to European prospects, lefties to lefties, same school alumni, or relatives to relatives. But, in the case of LaMelo Ball, Lonzo Ball's skill set is extremely similar. They have the court vision to make an offense hum. Both have mechanical flaws in their jump shots, but have developed touch as shooters. The siblings offer a size advantage against opposing point guards. While I do try to follow that rule, I can't help but compare one Ball to another.
You can find the rest of our draft evaluations below!
Make sure to follow @BlueRouteTPL, @mrcrockpot, @tscabbia, and @KrellTPL on Twitter for more Sixers and NBA draft coverage! 
Click below for our latest video breakdown on Desmond Bane!