The art of building a championship-contending team does not reside in finding the star player, but rather in uncovering the diamonds hidden amongst a bunch of rocks. Jordan Nwora, a 6'7″ guard/forward out of the University of Louisville, could be one of those diamonds. 
Nwora averaged 18 points and nearly 8 rebounds per game in his junior season with the Cardinals. What's more indicative of his growth as a prospect is his jump in production from his freshman campaign to his junior campaign. Nwora averaged just 5.7 points in 12 minutes per game as a freshman. With an elevated role in 2018-19, Nwora burst onto the scene, averaging 17 points and 7.6 rebounds in just under 32 minutes per game. While Nwora's jump from his penultimate season to his ultimate season wasn't significant, he exhibited inter-season consistency that put him in a healthy position for this summer's NBA draft.
Overview
Coming out of Vermont Academy in Buffalo, New York, Nwora was a four-star recruit, ranking 56th on ESPN's top-100 list and 9th best at the power forward position. He received offers from Louisville, Berkeley, Georgia Tech, Marquette, Texas Tech, and the University of Southern California. 
At the next level, Nwora had to transition from power forward to shooting guard and small forward. Such was necessary to accommodate the reality that he did not have a power forward's body at the collegiate and professional levels. Formerly able to feast on the pick-and-pop, Nwora had to learn the nuances of off-ball movement as a wing player. Once the opportunity for an increased role presented itself at Louisville, Nwora let it fly, and he's barely missed since.
Strengths
Consistent, quick, compact shooting mechanics–same shooting motion regardless of how deep the shot is
Polished footwork off of the catch; deliberate and tight, helps him create space and rise into a natural shooting motion
While his athleticism lacks, it does sneak up on opponents; Nwora has an extra gear he can hit when he senses transition opportunities
Wingspan is 6'10.5″, average for shooting guard is 6'9″ and small forward is 6'11"; can feasibly play small forward in a small-ball lineup, but will mostly be a bigger shooting guard
Weaknesses
When the offense slows down and he is off-ball, Nwora seems unsure of where to be and often floats or watches; this creates spacing issues and, often, results in missed opportunities for open looks at other spots on the court
Body language is lethargic and almost laborious, conveys an "I don't give a shit" attitude; consistently looks like he's going through the motions
His feet are too slow to stay in front of his man on defense, not rare for him to get beat on-ball
When not engaged by a big personal scoring night, he struggles to have an impact on the game elsewhere
His positioning in help defense is more often wrong than right
Film Breakdown
Let's start off with some shooting fundamentals, shall we?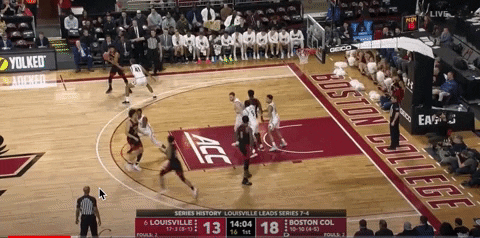 Nwora perks up a bit once he realizes the ball reversal is going to get him an open look. So, he creates a misdirection by v-cutting instead of going with a backdoor cut. The screen gives him the open look. His rapid set-up, compact motion, and quick release make it impossible for any defender to recover in time to contest.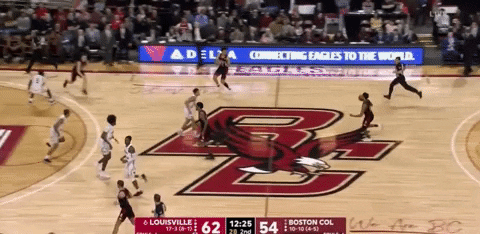 Let's step out a little farther. This look is in transition, with Nwora shuffling to a spot to set up the look he's about to get. He sets his feet while simultaneously receiving the ball. Doing so saves time and, therefore, the shot from being blocked by the Boston College defender. A minute detail, certainly, but a high-IQ decision by Nwora to set his rhythm up before even controlling the ball.
Most important is that his mechanics remain consistent and identical as he shoots from further back. Such is indicative of a strong body and a trained, polished shooter.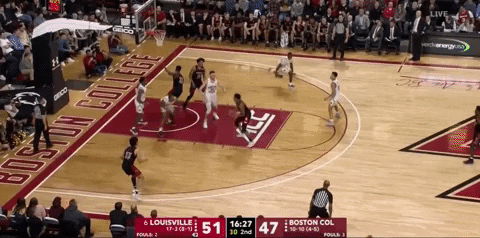 Finally, we have a textbook diagram in gif form. Nwora fades out to the corner (not shown) and shows the load-up phase of his shot. Once he recognizes the hard close-out by the BC defender, he jabs with his right foot and takes one dribble to his left. His defender flies by him on the close-out because of the subtle shot fake Nwora throws while jabbing. His deliberate and concise footwork allows him to rebalance himself in time to get the shot off. While it tours around the hoop and pops off, Nwora's polished footwork and counter to the close-out is picture perfect and evidence of a polished shooter.
Spacing and Off-Ball Movement
As good of a shooter as Nwora is, he often shows signs that he's still a novice at the wing spot. Those signs are clear in his spacing and off-ball movement.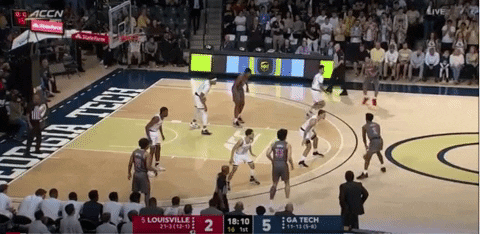 Nwora's lack of spacing here allows his man to shift over to a more mutual position to help with the Louisville ball-handler. The ball-handler might not have made the shot anyway, but the realization that there was a help defender creeping over might've caught the corner of his eye and, thus, altered the shot. 
Now, the Cardinal in the near corner could've flashed to the opposite corner and allowed Nwora to drop down to the strong-side corner. But, Nwora doesn't look to flash to the weak-side corner, himself, nor does he attempt to instruct his teammate to clear out so that he can drop to the strong corner. The result is poor spacing, and the possession suffers.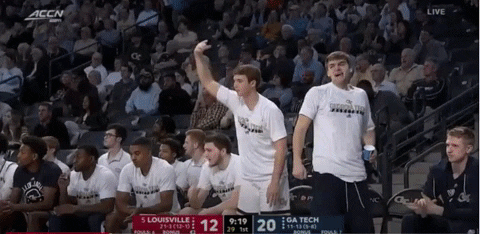 Another bad off-ball moment for Nwora. Louisville enters the ball into the post and the defense partially collapses on Malik Williams almost immediately. When Williams squares his body towards the basket, Nwora is in his direct line of sight. 
Now, take a look at Nwora's man. He has his head turned entirely towards Williams and his body is fronting Nwora. If Jordan bursts quietly, he can make it very difficult for his man to stay with him, having to first notice that Nwora is gone and then quickly turn his body to chase him. Nwora can, at least, get a look at a backdoor layup with his man trailing him and, at best, dash across the paint to the weak-side corner and clear some space. Further, Nwora could tip-toe towards the strong-side corner and be the recipient of an open catch-and-shoot look with his man recovering late. Malik Williams is able to score on the possession, but Nwora had three options to move off-ball, and he elected to stand around and stare. 
Help Defense
This is perhaps the most glaring part of Nwora's game. His positioning in help defense, and, really, his secondary help instincts, need to be the focal point of Jordan's short-term development.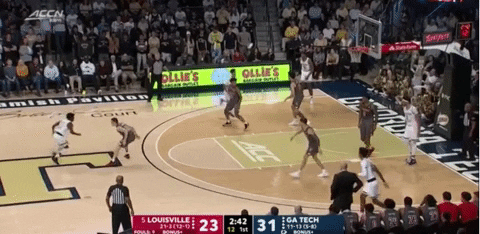 Proper help position depends largely on the scouting report. In this game, Michael Devoe was the only Yellow Jacket shooting above 35% from deep to play. Devoe is in the close corner on this play. So, Nwora must, therefore, be assigned to a non-shooting threat, as he is in the far corner. His positioning is fine if the scouting report declares his assignment as a non-shooting threat. He can play off a bit when he's in help. If the report says that the matchup is a shooter, Nwora should be one whole step closer than where he is in the clip above.
Strong-Side Help
The trouble arises when the ball-handler attacks Nwora's side of the court. Instead of dropping a bit more towards the basket to slide over in case the ball-handler turns the corner on the interior, Nwora turns his body towards the sideline. This positioning leaves him highly susceptible to being victimized by a backdoor cut from the corner (which does happen) and in no position to apply pressure on the ball-handler as a helper. 
Further, Nwora, being the only Cardinal facing the perimeter and within reasonable close-out distance of a shooter, could've at least rotated over to defend from the Yellow Jacket ball-handler kicking out to anyone presenting themselves on the strong side of the perimeter. Nwora is late to see the shooter spotting up and has to close out aggressively, and Georgia Tech gets a very good look.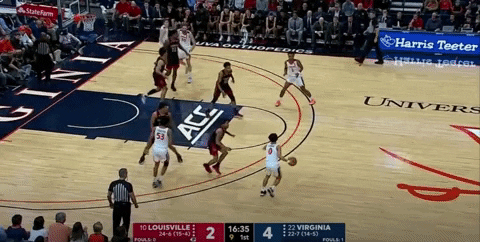 Nwora is covering Kody Stattmann on this possession. Stattman, in two seasons at UVA, is shooting below 27% from deep. So, Nwora can and should play off of him more than he does before Kihei Clark attacks anyway. Once Clark gets downhill on the far side of the lane, Nwora absolutely should slide over to the paint to cut off the attack before Clark reaches the rim. Nwora is two steps away from the block, let alone the paint, and just watches as Clark blazes by for the layup. In a three-point loss to the University of Virginia in this game, those minute details are costly. 
Possible Fits
There's no question that Jordan Nwora can fill an immediate need for a lot of teams solely with his ability to knock down long jumpers. Even if he's missing looks, his presence on the floor forces defenses to stay within a few feet of him to contest his quick jumper. Therefore, Nwora fits just by stretching defenses and eliminating collapses on the interior and aggressive help on both the strong and weak sides. 
Miami Heat
The Heat would make an interesting fit. Jimmy Butler, as good as he's been in his first season in Miami, had one of the worst shooting seasons of his career. At thirty years old and not a great shooter in his best years, it's hard to believe that this was just a bump in the road. Butler's durability has always been questionable, and the risk of his contract is that he could age terribly past thirty and morph into an albatross at any time. Adding Nwora would put another sniper on the court with Robinson and Herro, and would open up the lanes for Butler to drive. In surrounding Butler with shooters, the Heat can soften the pain of Jimmy's aging by enabling him to focus his scoring on attacking the basket and getting to the free throw line, with some mid-range jumpers sprinkled in there, as well.
Nwora going to Miami could also create some intriguing lineup opportunities. Miami could go small with a Butler, Herro, Nwora, Robinson, Leonard drive-and-kick lineup. Coach Spo could also experiment with a Butler, Nwora, Robinson, Jones, Jr., and Adebayo big lineup. Those are just two examples of numerous options that the Heat would have by adding a 6'7″ sniper. Nwora's effort and growing pains on defense might not fly with Butler, though.
Philadelphia 76ers
Nwora is certainly on my short list of best fits for the Sixers. Philly desperately needs a polished sniper, as spacing and three-point inconsistency were major problems in an ultimately underwhelming season. With his marksmanship and his defense-stretching to open the lanes for Ben Simmons and insure against collapsing on Embiid, Nwora would provide what was lost when J.J. Redick left.
I do have two concerns about this fit, however. First, each of the last two rookies has had at least one veteran on the roster to groom them at their positions. Nwora would not have a knock-down shooter on the roster to mentor him, and that could slow or even hurt his development. While a lot of teams don't have vets to match with every rookie, development hasn't been one of the Sixers' strengths in recent history.
My other concern would be that Nwora's production dissipates if he's not making shots. The Sixers are barren in their depth, and, without much cap space, need to find inexpensive, reliable depth through the draft. They cannot afford any prolonged shooting slumps from Nwora if his downfall is being unplayable when shots aren't falling. But, rookie slumps are inevitable and random. For a team that so badly needs consistency outside of Embiid and Simmons, the Sixers need players who can positively affect games on multiple fronts.
Los Angeles Lakers
This one is pretty obvious. The Lakers need as much shooting as possible to stretch the floor with LeBron and Anthony Davis running the show. Nwora would benefit tremendously from pinpoint passing from James, and kick-outs from Davis when the defense collapses on the interior. Further, Danny Green is an excellent model from which Nwora can shape his game. If the Lakers can't find a way to land Buddy Hield from Sacramento, Jordan Nwora would be an adequate (no, I'm not saying equivalent), inexpensive consolation prize that they could use in a similar role. 
Stats To Know
In his three seasons at Louisville, Nwora never shot below 37% from distance or below 44% from the field
Nwora finished third in the ACC in scoring and third in the conference in 3FG made per game this season
At 7.7 per game, Nwora finished eighth in rebounds in the ACC this season
Draft
Highest I'd take him: 35th pick
Lowest I think he'll be available: undrafted
Ceiling: Dorell Wright
Floor: 2010-11 DeShawn Stevenson without the pitbull mentality
Make sure to follow @BlueRouteTPL, @mrcrockpot, @tscabbia & @KrellTPL on Twitter for more NBA draft coverage! Check out our latest video breakdown on Patrick Williams and his potential fit with the Sixers! PLEASE be sure to subscribe to The Painted Lines YouTube Channel!