WALL'S RELENTLESS PURSUIT OF THE RIM
December 26th, 2018. That was the date on which we last saw John Wall as an active NBA participant. Since that day Wall has endured a painful journey recovering from both a heel injury and a subsequent torn Achilles. But my friends, I am here to tell you John Wall is back this year. And boy, did it look that way against the Pelicans.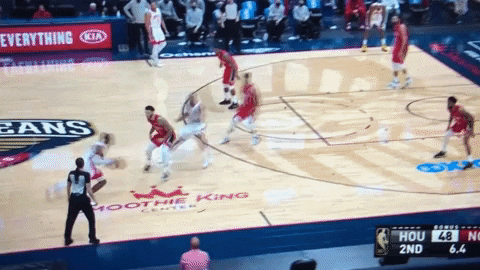 Watch your head Steve Adams! Houston's gamble on Wall looks smarter with each passing day. The Rockets flipped a rapidly declining Russell Westbrook for a player that appears to have regained much of his pre-injury explosion. Where this stands out is near the basket
HERE ARE THE ONLY LEAD GUARDS TO ATTEMPT 6 (OR MORE) FIELD GOALS INSIDE THE RESTRICTED AREA THIS SEASON
With a fresh new rocket booster, John Wall has not been shy to attack the rim. The way that he does varies from this selective group of downhill attackers. Shai Gilgeous-Alexander will get you with his subtle craftiness. RJ Barrett will pound you with his power. Wall? Well, he mixes a bit of Ben Simmons' strength with Ja Morant's explosion.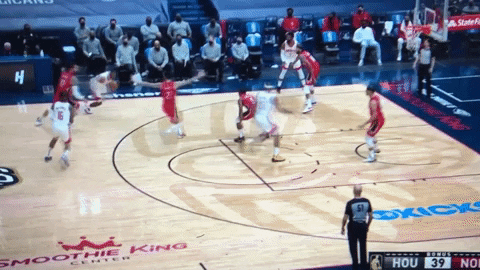 Wall's downhill approach is not suitable for consistency. The Rockets guard loves to finish over contact and float off-balanced looks. But in Houston's spaced offense he is blending aggression with production. In six February games, Wall is up to his career average of 5.5 free throw attempts per game. This, coupled with improvements from deep, has led to a notable spike in efficiency. Thru 17 games, Wall is posting the highest true shooting percentage of his 10-year career, leading to the notion that he has found the ideal basketball environment. 
At age 30 and with another two years left on his $170 million extension, Wall is no longer the sunk cost many projected after two serious leg injuries. Houston rolled the dice and is now sitting on a player eager (and capable) of transitioning the franchise past the James Harden era. Whether his future is in Houston, or somewhere else, Wall's return to the NBA has added another fun wrinkle to an entertaining first quarter of the season. And hope that Klay Thompson can follow a similar path next year.
JOEL NAVIGATING THE BEEHIVE
Stop if you have seen Embiid fumble the ball from a hard double team in his prior NBA life? I know that I have! And while the journey to greatness is rarely linear, this year the Sixers' MVP candidate has taken massive leaps forward. Whether it is as a ball-handler, or as a defensive stopper, Embiid has clearly elevated his game to new heights. Well, we can now add passing out of hard double teams to that list.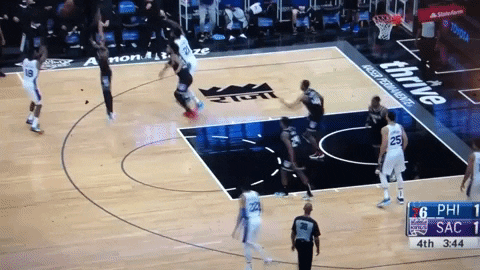 Hold the ball high to avoid the poke. Pivot out of pressure. One foot off balance. Fire a bullet cross-court pass into Tobias Harris' breadbasket. With Embiid posting a historic season these have now become standard possessions in Philadelphia's half-court offense. And on Tuesday night against Sacramento head coach Luke Walton threw literally EVERYTHING at him. Marvin Bagley, Richaun Holmes, Hassan Whiteside, two to three help defenders, and even his own personal chair. It simply did not matter. 
THIS IS HOW EMBIID COUNTERED THE PROVERBIAL 'KITCHEN-SINK' APPROACH
With the Sixers anchoring most of its offense in the post it has fallen on Embiid to make the proper reads. Joel has responded all year, navigating that equation with ferocious authority. But on a night where he struggled early, Embiid took an even more cerebral approach. Pay particular attention to how decisive he is processing this pass out of a timeout play.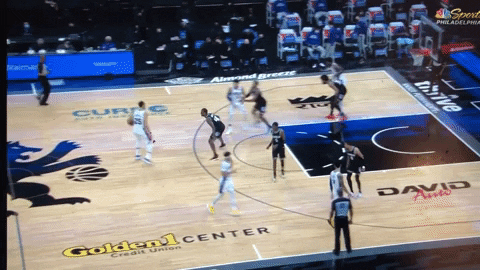 This may look like a simple pass on the surface, but Embiid has to catch and gather himself before the window closes. Utilizing Ben Simmons as a cutter has always been a tantalizing idea, but the Sixers never had a Marc Gasol-like passer to operate possessions. Embiid is not quite there yet, and quite frankly, may never get to the point where he's picking cutters all over the floor. But with defenses running out of ideas to stop him, making a precise and timely pass goes a long way to unlocking new offense. Further cementing his run as the MVP favorite. 
YOUR COLLEGE BASKETBALL PROSPECT: WING – ZIAIRE WILLIAMS
THE RESUME
12.0 points per game (14 games)
83% free throw shooter (43 total attempts)
5.5 rebounds per game
31% three-point efficiency (4.4 attempts per game)
WHAT I LIKE 
A lengthy player at 6'8″. Room to fill out the frame and develop into a real NBA body. Engaged on and off the court. A high effort player on both ends. 
Good passing feel orchestrating the pick-and-roll. Decisive and precise. A soft touch on the bounce pass and in Hi-Lo concepts.
Fluid handle. Comfortable changing directions and surveying the defense off a live dribble. 
Great off-ball awareness as a space defender. Understands when to rotate as a weakside help. Uses length to impact possessions in the perimeter. Attacks ball handlers off screens. High ceiling as a disruptive defender.
Smooth shooting release. Leverages a decent first step and strides to get into the mid-range area. Fluid from dribble to the release point. Has the athleticism to rise up over longer and bigger defenders. 
WHAT I DO NOT LIKE 
Needs time and space to get shot off. Settles in the mid-range often. Hesitant off the catch when faced with a hard hedge. An inconsistent shooter from long distance. 
Passive for long stretches. Does not assert himself in the game as a ball handler. Dribbles with little intention to get downhill. Low level of aggression from a highly recruited player.
Thin frame. Struggles to fight thru contact when navigating screens. Must get stronger to manage NBA-level power and add to defensive versatility.
Athleticism does not stand out in space. Rarely used as a cutter or someone to fill running lanes in transition. Stands in the corner as a bystander too often.
Limited impact as a primary shot creator. Will struggle to create sustainable offense and get to the rim as a ball handler. Likely suited for a complementary role as a 3&D prospect. 
PROJECTION
Ziaire Williams looks quite the part. Long with plus athleticism, this highly recruited wing from Stanford pops off the screen. There is a bit of everything with Williams. Stanford loves to involve him as a pick and roll ball handler, and he brings plus vision to deliver as a passer. We even see hints of shot-making on the ball. Williams' fluidity off the bounce is very impressive, and he uses his athleticism to rise up over bigger defenders. Defensively the Stanford star exudes high IQ and effort. NBA teams will be delighted by a player who understands the details of help defense and proper angles.
What will separate Williams from most prospects is his versatility. Right now that is a question mark. Ziaire's body is far from a finished product, and that may limit his impact as a small-forward type. Williams' ceiling is very high if all the tools come together. That is a player that can defend from guard to forward and provide secondary shot creation at that the 3. His most likely landing spot will be as a 3&D prospect with advanced shot creation. That should be enough to warrant a top-12 pick in next year's draft.