The modern NBA is forcing power forwards and centers to expand their games to the perimeter in order to develop this scientific lab creation called a "unicorn". It's an adapt-or-die league. Power forwards must become stretch-fours, and centers must be able to dribble and shoot from outside of five feet in order to have a chance of being considered elite. While the league will not devolve to the previous generation of bigs for the sake of James Wiseman, the 7'1″, 235-pound James Wiseman could push the league to a new model of "unicorn"
Overview
James Wiseman sat comfortably in the top-100 of ESPN's recruiting database throughout his high school career. He began as a 6'9″ freshman at The Ensworth School in Nashville, Tennessee. Following his sophomore season, Wiseman joined a team led by Penny Hardaway on the Nike Youth Basketball League (EYBL) circuit. In the summer of 2017, he transferred to Memphis East High School. Hardaway, the founder of the EYBL's Team Penny, was named head coach of the school's team. As a junior, Wiseman reached the top of the 2019 class, claiming the number-one ranking on ESPN's recruiting list. Wiseman averaged nearly 26 points, 15 rebounds, and 6 blocks as a senior, and was awarded Gatorade National Player of the Year. Before committing to the University of Memphis, Wiseman mulled scholarship offers from Kansas, Kentucky, and UNC, among others.  
Wiseman played in only three games in his lone season at Memphis due to the NCAA ruling him ineligible following the discovery that Hardaway (who had been named Memphis' head coach) had provided financial assistance to help the Wiseman family move to Memphis in 2017. 
Strengths
Excellent balance of weight; light for his size, but not weak
Exceptional size at center position
Ideal athleticism for wing, but in a 7'1″ body
Gets down in defensive stance on the perimeter, doesn't really rise up out of stance as his man moves
Tremendous shot-blocking instincts around the basket
Excellent defensive rebounder; establishes his position and makes it very difficult for opponents to get offensive rebounds
Both proactive and reactive in help, anticipates and comes over just to try to stop the ball if no one else is there
Elite influence in the paint, makes skilled slashers who have lanes to rim pass off instead
Very good at getting to the free throw line
Usually near the rim as an offensive rebounder when the shot goes up
Shooting stroke is consistent and repeatable
Weaknesses
Could be more aggressive in asserting his position in the post
Little bit soft attacking the basket if he has to dribble
Soft hands, liable to lose ball going up for a finish
Passing vision lacks development
Not consistent from free throw line
Needs to build confidence in his jumper
Film Room
Let's begin with what makes James Wiseman a dominant force.
Shot-Blocking Instincts
Wiseman's shot-blocking instincts help his team's half-court defense while also simultaneously creating opportunities in transition for Memphis' strong shooting depth. With more skilled players on the allied front as well as behind enemy lines at the NBA level, that instinct is pivotal.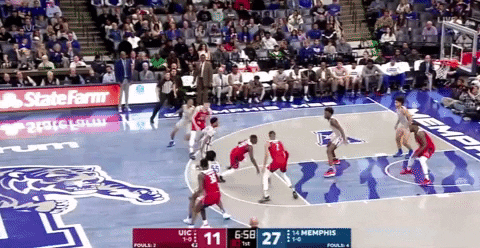 Notice how Wiseman doesn't bite Godwin Boahen's hesitation. He stays on his feet and, in turn, is able to trail and meet him at the basket. Great discipline and recovery.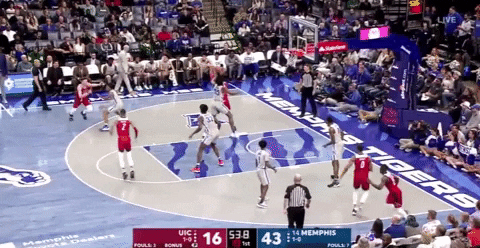 Wiseman is an entire step outside of the restricted area when Braelen Bridges turns his shoulder to the basket. Wiseman detects a threat near the basket and lunges down to be in help position. His instinct to quickly drop below the basket puts him in excellent position to be there when Bridges attempts his low-post finish. Easy work.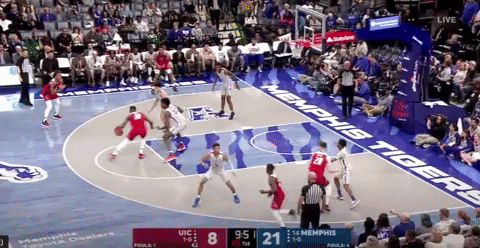 Wiseman holds his ground from the post and slides with light feet to stay with Deon Ejim. His light footwork allows him to react to Ejim's quick floater in a timely fashion, and Wiseman crushes Ejim's hopes and dreams with a volleyball spike.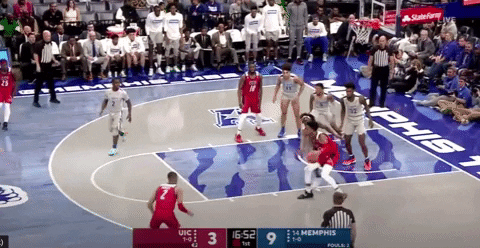 Rough outing for Braelen Bridges. This hook never had a chance. As one might hear from the microphones attached to the basket–"Gimme that shit!"
Altering Shots
With his 7'6″ wingspan, Wiseman poses an immense challenge to offenses just by raising his arms. His ability to stay on his feet, pursue offensive players on the move, and react swiftly makes the task of scoring on him nearly insurmountable for smaller matchups.
Wiseman's quick decision to drop below the rim in help cuts off the baseline path to the basket. Travell Washington is forced to stop in his tracks, spin, and throw up a prayer. Wiseman's overwhelming defense either blocks the shot entirely, or makes it impossible for Washington to locate the basket–truthfully, I can't tell which is the case. Either way, Wiseman turns a once-promising baseline attack into a hail mary. Then, he tops it off by swallowing up the defensive rebound on the miss. Exquisite defensive possession.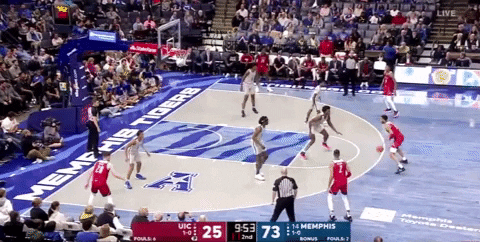 Wiseman uses his strength to bump Jacob Wiley off of his line to the rim. Wiley, having lost his angle to attack, throws up a prayer that falls short. If he attacks a lesser defender, he might have a window to scoop the ball off the glass or fight around the pressure to finish the play. Against Wiseman, however, Wiley has no chance.
Above the Rim Offense
On the offensive end, Wiseman is still a work in progress. But, don't let that fool you. Right now, he's a powerful pick-and-roll diver with a workable jumper.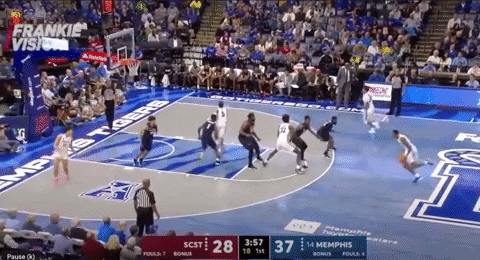 Here, you have a basic pick-and-roll play. Things get slightly complicated when DJ Jeffries sets Wiseman up with a bad lob. No fear, however, as Wiseman's athleticism saves the day. Look at the power with which Wiseman finishes this dunk after having to reach behind his head to collect the pass as he rises up in anticipation of a lob towards the rim.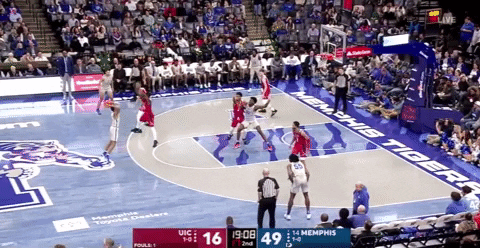 Remaining with the half-court sets, here's a look at Wiseman finishing from the post. Wiseman does a fabulous job of sealing Bridges off in the post. Once he establishes his advantage, Boogie Ellis delivers a perfect pass to Wiseman's leading hand. From there, it's just turning back to the non-pivot foot and finishing the play. Textbook.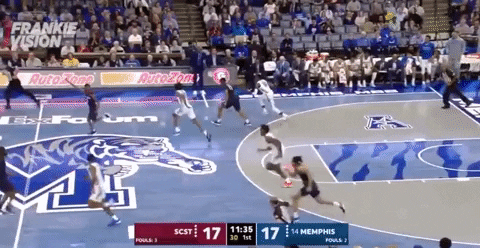 James Wiseman also understands that good things come to bigs who sprint to the rim in transition. He simply runs down the middle of the floor and, with all of the attention on the perimeter, has a clear runway to the rim. Watch your head.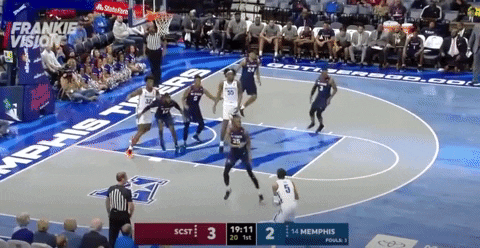 Just because you usually have favorable positioning for a defensive rebound when the shot goes up does not mean that you should check out for the play. Such is especially the case with James Wiseman looming. Here, Wiseman finds the inside advantage on Jahmari Etienne and breaks away from him when the shot goes up. He maintains a wide stance so as to hold his space when the rebound comes down. Then, he pounces once he knows the angle from which the ball is coming off of the rim. Oh, the art of boxing out.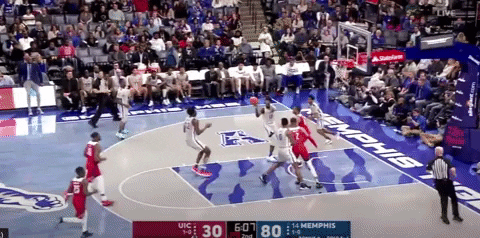 This isn't a thunderous dunk, but, damn, if it isn't a slick finish. Down fifty points, UIC's defense is in absolute shambles and the team just wants to go home. Wiseman trails the transition play and just steps through the pocket allowed by the two contesting defenders. His body control, athleticism, and focus allow Wiseman to finish this layup with ease.
Finishing Through Contact
Make no mistake, James Wiseman is not afraid of contact. He attempted nearly seven shots under the rim in three games, and he attempted nine free throws per game. He is willing to sacrifice his body to out-duel a defender in his way, as shown here: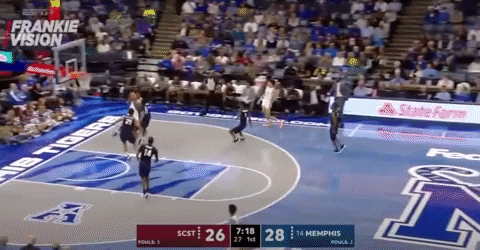 But then, he'll also have unexplainable lapses: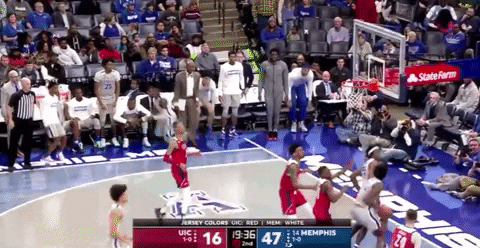 While the first clip is an excellent display of just how powerful and magnificent James Wiseman can be, the second clip happens far too often. At times, he'll attack with a lack of aggression. When his body collides with defenders, the foul is drawn, but he fails to convert what should be an easy and-one opportunity. If that doesn't happen, his occasional slippage in toughness will allow defenders to slap the ball out of his possession. The result could be a Wiseman turnover, or a shot that never quite makes it to the rim. Again, with his size, strength, and athleticism, anything at the rim should be an automatic deposit. 
Shooting Touch
I am profoundly confident that James Wiseman will be a superstar in the NBA. You can @oldtakesexposed me on that. The only question is how quickly he blossoms into one–and the only variable that could slow that growth is his jumper. 
What is perplexing is that his stroke is quite pretty.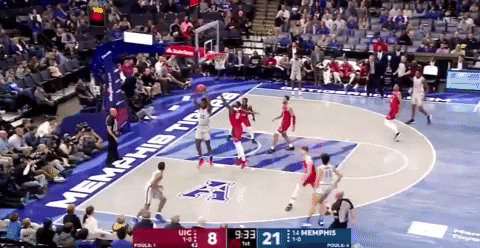 His footwork after swinging the ball through to attack right is good. His release point is above his head and his follow-through remains at least until the ball is in the air. Despite the tough angle and contest, Wiseman hits his target with precision.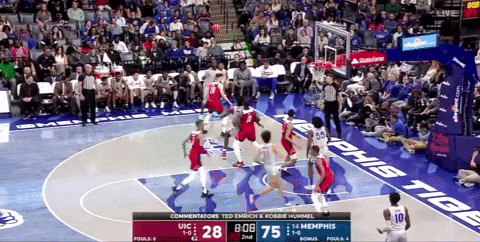 Gorgeous footwork here, as well. He has fine balance as he elevates, and his release point and follow-through are consistent with the other clip. Tough shot, as he's reverse-pivoting into a fadeaway, but Wiseman knocks it down.
Wiseman Lacks Confidence
Yet, as gorgeous as his shooting motion is, Wiseman isn't comfortable with it yet.
James Wiseman had a usage of 29.1% in 3 college games at Memphis.

He shot 20 of 26 (76.9%) from the field.

Took 6 jumpers, made 3.

So, you have a shot breakdown of…
At rim: 17/20 (85%)
Outside of 3 feet: 3/6 (50%)

His big weakness is his lack of comfort with the jumper.

— Austin Krell (@KrellTPL) May 31, 2020
Wiseman has touch and his mechanics are excellent, especially for a big man. Yet, he just doesn't use that tool enough. There are a variety of legitimate arguments to be made as to why he doesn't, too. His college career was only three games. He doesn't have to go to his jumper often because he's so dominant down low. Hardaway's offense ran Wiseman as the featured big in the post. 
All of those are conversations worth having.
But, his usage was 29.1%. He was the last Tiger to touch the ball on over a quarter of the possessions for which he was on the court. He attempted six jumpers. Six. Now, maybe he looked at his opposition and realized he could pitch a near-perfect game by going to the rim every time. However, the Tigers won two of the three games he played by more than thirty points each. He could've used those garbage-time environments to answer scouts who doubted his jumper. If not then, there were also ample opportunities to show his jumper in non-garbage-time minutes.
The reality is that he attempted six total jump shots in three games. He simply didn't do it. And, just like all humans who are unwilling to carry out basic tasks like jumping into pools or riding bicycles, especially when successfully completing those tasks would be beneficial to them, he didn't do it because he wasn't confident in his ability to succeed at it.
The NCAA Situation
Scouts are going to take different factors into account when they evaluate players. There is more than one way to do the same job. Some will penalize Wiseman for only playing three collegiate games. They'll say they didn't get an adequate sample size. Those same scouts might also penalize a prospect for the level of competition against which they played.
I will only judge a prospect on physical traits and on factors that that player can control. The NCAA's judgment that Wiseman was ineligible due to benefits he received from his future collegiate coach years earlier is not something that the teenager could control. James Wiseman cannot help that he fell victim to a flawed and constantly ridiculed system. Similarly, I will not penalize a player for performing against weak talent. You play the team in front of you, period. I will evaluate James Wiseman's performance in his curtailed collegiate career. That performance, I might add, was simply dominant.
Best Fits
Teams that struggle with rebounding, have poor interior defenses, or need to create open-court opportunities for shooters will benefit from the big's services. Teams that need talent would behoove themselves to look in his direction, as well.
Golden State Warriors
James Wiseman could be the answer to a quick rebound for the league's most dominant franchise of the last five years. With Stephen Curry and Klay Thompson returning to full health next season, transition opportunities off of blocks could be disastrous for opposing defenses. With a big who knows how to rim-run, defenses will have to pick their poison–leave the Splash Brothers open, or give up a dunk. 
Atlanta Hawks
Lloyd Pierce has experimented with John Collins at power forward since he was named head honcho. Collins' production has bordered all-star level since downsizing. Having exhibited success with Collins at forward, selecting Wiseman would be nightmare material for opposing teams. The Hawks would have the most athletic, versatile big man combination in the league. To top it off, neither player would be 23 years old yet. Think of the potential.
Charlotte Hornets
Let me begin by saying this–if Wiseman is available outside of the top five, the scouting departments of those franchises might have some hell to pay. The Hornets are projected to pick outside of the top five, but Wiseman would be perfect for Charlotte. The Hornets have discovered a promising young back-court duo with Devonte' Graham and Terry Rozier. They have two promising forwards in Miles Bridges and PJ Washington. They need a center to put at the forefront of their franchise.
Wiseman would create a brilliant pick-and-roll tandem with Graham and Rozier. He would also solidify a dynamic front-court next to Washington and Bridges. Adding James Wiseman would make the Hornets one of the most interesting young teams in the league and catapult them to the top of League Pass must-watch lists. Who knows, drafting him could solidify a young core that free agents could want to play with, too.
Stats To Know
Made 15 of his first 18 field goal attempts at Memphis
Had an assist-to-turnover ratio of .3 to 1
Committed just 5 fouls in 3 collegiate games played
Draft
Highest I'd take him: 1st pick
Lowest I think he'll be available: 3rd pick
Ceiling: Joel Embiid, but with a better body to support his frame
Floor: Rudy Gobert
You can find the rest of our draft evaluations below!
Make sure to follow @BlueRouteTPL, @mrcrockpot, @tscabbia, and @KrellTPL on Twitter for more Sixers and NBA draft coverage! 
Click below for our latest video breakdown on Anthony Edwards!