According to ESPN NBA insider Adrian Wojnarowski, the Sixers have signed guard/forward Ryan Broekhoff to a rest-of-season contract for when play resumes in Orlando next month. The 29-year-old Australia native will provide shooting depth for a team that ranked fourteenth out of thirty NBA teams in three-point field goal percentage prior to the COVID-19 shutdown. Broekhoff was waived by the Dallas Mavericks in February. The Mavericks had been in need of roster space to sign recently-waived forward Michael Kidd-Gilchrist. 
While his opportunity was limited in Dallas, Broekhoff was a 40.3% three-point shooter in 59 NBA games over the past two seasons. While some might scoff at the idea that Broekhoff could bring any sort of value given his NBA resume, the context matters. Broekhoff appeared in 42 games for a rebuilding Mavericks team in 2018-19. Dallas had young players like Luka Doncic, Justin Jackson, and Jalen Brunson to develop. It made sense that the 28-year-old rookie with an already-maximized ceiling was the one to receive limited opportunity. With the acquisition of Tim Hardaway, Jr. in the package that landed Kristaps Porzingis, the Mavericks simply had a heavy menu of depth at the wing positions. Broekhoff, who was due less than $1 million on an expiring contract, made the most sense to waive when Dallas needed space to bring in Kidd-Gilchrist. 
Spacing and Efficiency
While there is reason to believe that Broekhoff can provide value, he's obviously not the prolific shooter that Redick was. He likely won't offer the off-balance shooting off of the catch that Belinelli offered in his stint as a mercenary for the Sixers in 2018. He probably won't even offer the wild shot-making that Korkmaz sometimes provides. That is because he lacks the gravity and muscle memory that enabled Redick and Belinelli to fly into crowded spaces, shift to get a a millisecond of fresh air, square up, and hit. He doesn't have the quick, rapid rise into his shot that Korkmaz has.
What Broekhoff does provide is an understanding of how to space the floor and a reputation for efficient shooting without the prerequisite of heavy playing time. He likely isn't going to be the shooter who plays the hero role on broken plays. He is, however, the shooter who can have smaller segments of bigger play sets tailored to him to make the offense work better.
Let's take a look at how Broekhoff can be used in Orlando.
Filling Spots in Transition
I'll start off with something simple. 
Broekhoff just runs to the open spot in transition. When Brunson cracks the interior and draws all attention away from the perimeter, he steps into a wide-open look. Josh Richardson can be effective as the ball-handler who collapses the defense and sets up Broekhoff. Of course, Ben Simmons is the open-court demon. But, he could revert to the passive version of himself that played against Boston and Toronto in each of the last two second round playoff series. If such is the case, he would struggle to make this play with defenses sagging off into the paint. If Simmons continues to be the relentless attacker that he's been this season, a lineup featuring he and Broekhoff could create quick points when the shooter gets his minutes.
Perimeter Curls
This is where the Sixers have some liberty to try different things.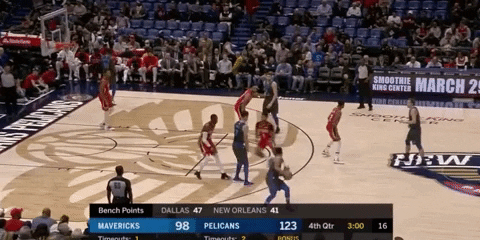 Powell is utilized as a dual screener here. The first gets Brunson open so that he can retrieve the feed from Broekhoff. The second gets Broekhoff open for a curl. He's able to create the necessary space just by sprinting.
In this scenario, Brett Brown can utilize Embiid, Horford, or both. The ball-handler can be anyone and, depending on who the screener is, the play can have a number of variations. If it's Horford, one option would be a ball reversal back to the screener for a pick-and-pop. If it's Embiid, Broekhoff could attack the rim just enough to make the help step over to prevent a line drive. At that point, Embiid dives to the rim, and Broekhoff becomes the slightest bit of a playmaker. 
This is also a play that could be conducive to the Embiid-Horford pairing. Horford could serve as the off-ball screener for Broekhoff. Embiid could serve as the screener that gets Simmons open to receive the initial pass (so, Brunson in the play above). Utilizing Horford as a pick-and-popper, the introduction of Broekhoff would remove congestion from the paint. Once the swing comes back to Horford, Embiid is flashing to the high post. It then becomes a high-low look with Horford looking in for Embiid, who is always going to have the size advantage.
Pin-Downs and Low Curls
Bringing in Broekhoff also allows the Sixers to use basic sets to get off-ball shooters open more frequently.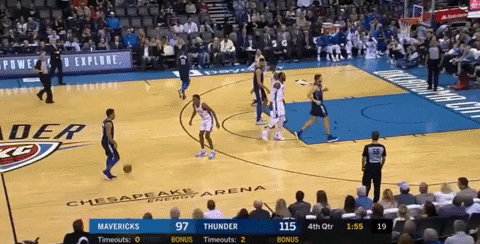 Coaches always tell shooters to start lower (in this context, "lower" means closer to the block) when setting up a play for said shooter in a half-court set. You'll often see high-IQ bigs give subtle signals to their shooters to start lower on ad-libbed plays, as well. This is done to maximize the space that a shooter has when coming off of a screen and curling into a shot. Here, Broekhoff starts low and v-cuts to the corner so that Maxi Kleber can set a pin-down screen for him. With proper footwork and a squared-up body, it's an easy make for a shooter. 
This is where the Sixers could go back to some of the plays they ran for Redick. Either of Embiid and Horford can be the screener. If Brown were to experiment with a lineup featuring Simmons at center, he can be the screener. Richardson can be the passer, and the likes of Milton or Korkmaz on the weak side of the court to create as much as spacing as possible. 
Lineups
Best Bet
This probably sounds obvious, but I would bet a significant portion of Broekhoff's usage comes with Simmons, Richardson, Harris, and Embiid or Horford.
The Horford-Embiid Experiment
For purposes of experimenting with Embiid and Horford together, potentially excluding Simmons might be worth consideration. That might consist of Richardson, Broekhoff, Harris, Horford, and Embiid. This lineup maximizes the spacing around Horford and Embiid, and would make it easier for them to utilize the high-low game.
Simmons at Center
If Brown sees an opportunity to brutalize opposing defenses with increased pace, that lineup might look like Richardson, Broekhoff, Korkmaz, Harris, and Simmons. Simmons would act as the pick-and-roller with Richardson as the ball-handler in half-court sets, and would push the ball down the defense's throat in transition.
While expecting Ryan Broekhoff to step in and fill the shoes of a Redick is irresponsible and almost certainly a setup for inevitable disappointment, his limited opportunity in Dallas has context. It is more a misfitting situation for an older, limited player than it is an indictment on what he brought to the team. Broekhoff lacks the gravity that made Redick and Belinelli such dangerous shooters, but he can still add value.