In high school English classes, teachers will always tell you to begin your painfully boring and uninspiring five-to-ten-page papers with introductions that engage the readers. I'm not quite sure which way this introduction will take you, but I feel it needs to be written.
The 2020 NBA draft class is so weird, if you hadn't already arrived at that conclusion on your own. There is a significant drop off in the star projections of prospects immediately falling outside of the top five. One of the most heavily-anticipated freshmen in the 2019-20 class might fall out of the first round. Hell, there's a player out of Dayton expected to go in the top five. That's right, the University of Dayton.
But one of the most interesting abnormalities about this upcoming draft is that there is a plethora of multi-skilled wings projected to go in the twenties. I don't mean marginal role players looking to fill ten-minute intervals. Rather, there are numerous 3-and-D players who offer positional versatility across the shooting guard and small forward positions and dynamic skillsets to experiment at other positions, as well. With so many prospects fitting that bill, there will inevitably be a spillover of talent into the second round. 
But while there likely will be touted names falling into the second round, there are still players flying under the radar–as there are in all drafts. One of those overlooked prospects is Kentucky guard Immanuel Quickley.
Overview
Quickley burst onto the scene as an explosive shooter during his sophomore season at The John Carroll School. Averaging over 17 points per game through three high school seasons and garnering five-star status in ESPN's recruiting database as the 25th best prospect in ESPN's Top 100, several of the nation's most prestigious collegiate programs took notice of Quickley's prolific scoring ability. The 6'3″, 188 pound guard had more than fifteen Division I offers; he eventually committed to the University of Kentucky from a list that included the University of Kansas, the University of Miami, and the University of Arizona.
Quickley's draft stock faltered as a product of a crowded backcourt in his freshman season at Kentucky. While he did play 18.5 minutes per game as a freshman off of Kentucky's bench, there simply weren't enough shots to go around with Keldon Johnson and Tyler Herro also on the floor. With Johnson and Herro gone after the 2018-19 season, Quickley benefitted from higher usage within John Calipari's offense. Despite often being used as Kentucky's sixth man, Quickley averaged 33 minutes per game in his sophomore campaign. Depending on how he performed relative to his teammates in the first halves of games, Quickley often started the second halves. 
With the bigger role, Quickley rose to the moment, and his increase in production was significant enough to declare for the 2020 draft. 
Strengths
Simply an unconscious shooter
Principles and activity in help defense are spectacular; keeps his matchup within appropriate distance based on scouting report and maintains awareness of the rest of the court
Doesn't get flustered by shiftiness and double moves used to create space off-ball
Highly active off-ball mover; attentive and aware of where his teammates are, even directing them where to move off-ball as an off-ball player, himself
Footwork in creating his own shot is deliberate and quick
Fights hard to box out bigger opponents; as he gains muscle, he should become a good defensive rebounder against NBA guards
Endless motor; always applying pressure on defense, always moving on offense
Choppy, quick feet in on-ball defense, hands remain active
Court vision and ability to sense open teammates is far better than his passing numbers indicate
Underrated finisher under duress; exhibits body control, focus, and strength around the rim
Saw increases of 10.9 points, 2.4 rebounds, .7 assists, and .5 steals in his second collegiate season; clearly exhibited progress in development and improved his game from his freshman campaign to sophomore campaign
Steps up down the stretch of close games, IQ to get to free throw line to stop clock and get points on the board
Elevates his play with the game on the line, doesn't panic or crumble when the pressure rises
Weaknesses
Release point on jumper varies; sometimes releases while he's elevating, not at the zenith; release is higher in the corner than elsewhere on the court
Over-dribbles at times; doesn't always make passes that progress the play
Not always aggressive in filling lanes in transition; will sometimes trail his teammates; almost as if he's conceding the play, thinking a teammate will score
Sometimes stands and stares on the perimeter when the shot goes up, not always active pursuing offensive rebounds
Tends to be less resistant when his matchup accelerates down hill; swarming on-ball defense comes when matchup isn't pushing the ball at maximum aggression
Sometimes too willing to defer to his teammates despite his immense shot-making ability
He's 6'3″, 188 pounds, but he's effective as a shooting guard; court vision isn't strong enough when the ball is in his hands to be a viable NBA point guard, often has tunnel vision for the basket; not guaranteed that that awkward match of size with skill translates to the NBA
Film Breakdown
Let's begin by breaking down Quickley's most impressive skill–knock-down shooting. His ability to provide spacing, move off-ball, and consistently use excellent footwork is proven by his 42.8% conversion rate from three-point range in his second season at Kentucky.
Off-Ball Movement
Let's take a look at how Quickley gets himself open.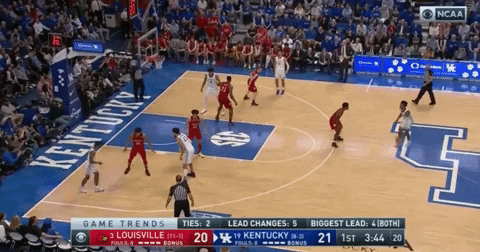 Quickley uses his agility and speed to create significant space on a double move to get from the close corner to the far corner. Dwayne Sutton, attempting to recover, assumes Quickley will curl around and goes around the screen. Quickley stops short of a curl, and Sutton gets caught on the screen. While Quickley misses the shot, he shows his ability to manufacture space as a shooting guard on this play.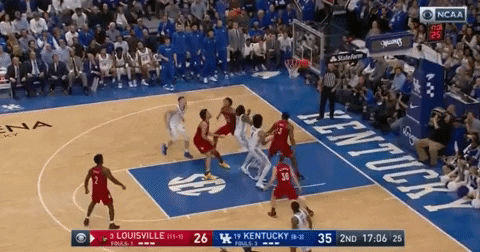 This is pure art. Louisville's entire lineup turns to the ball on the long offensive rebound. With all the eyes on the ball, Quickley senses the opportunity to stretch his space by fading to the corner. Nate Sestina spots Quickley, and it's a wide-open look.
Again, agility and speed helps Quickley create space. He V-cuts to create a misdirection as soon as Keith Oddo falls under E.J. Montgomery's screen and then sprints back out to the three-point line. Ashton Hagans hits him as he curls back, and it's cash money. Don't overlook the difficulty of this shot. Despite the space Quickley has created, Oddo is able to recover remarkably well. Quickley's space is completely gone before he can even find his normal shooting motion. Additionally, Oddo makes contact with Quickley on the close-out (you can debate whether Quickley creates it himself by sticking the leg out). Muscle memory is the only reason this shot ever even reached the basket.
Spot-Ups
A lot of Quickley's spot-ups are going to come off of excellent off-ball movement, and I showcased those plays in the previous section.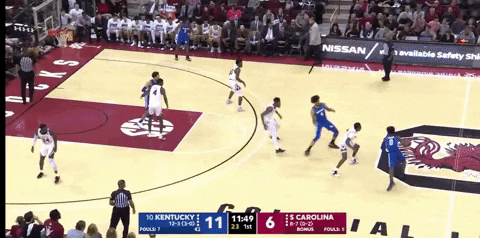 First, kudos to Quickley for knocking this one down. He catches the pass down by his right ankle and then has to rise up into his natural shooting motion, all with TJ Moss closing out hard. Second, notice his release seems to occur at shoulder-level. His release is usually near his chin. Third, the release is a bit outside his right shoulder, as opposed to out in front. Mechanically, his jumper usually has hints of CJ McCollum. This one resembles that of PJ Tucker. Finally, notice his release point. It occurs as he rises up, not as he reaches peak elevation.
Shot-Creating
His ability to create space and find his own shot is perhaps the most overlooked part of Quickley's shooting prowess.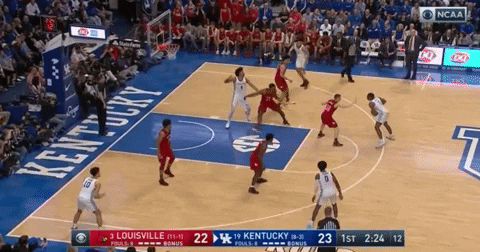 There's a lot going on in this play. But, we must not neglect the difficulty of this bucket. First, Quickley, a right-handed shooter, is falling to his left. Momentum is taking Quickley away from his strong side. His ability to score this basket is a credit to his focus and upper-body strength. Second, this is a beautiful display of touch and feel for the shot, as Quickley banks it off the glass under duress. Third, notice his footwork–Quickey takes two huge steps to get as close to the basket as possible and simultaneously gather himself into the shot. 
Mid-Range Jumpers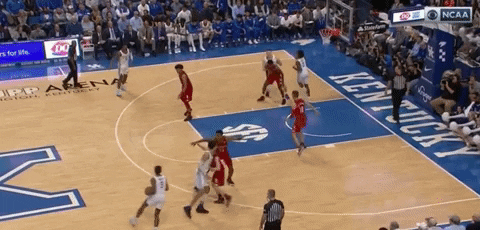 This play made me think of CJ McCollum when I first saw it. Quickley crosses over left, uses a hesitation dribble to get Ryan McMahon to scramble, and then bursts back to his right with an explosive crossover. His agility to then stop on a dime and pull back creates the requisite space for him to elevate for a pull-up jumper from the elbow. His balance and muscle memory are key factors in this shot going down. Without balance, the shot is going to be awkward and out of rhythm; almost certainly a miss. His muscle memory to calibrate the shot with such little time to adjust helps him elevate, release, and connect so purely as if it's instinctual. NBA teams crave this space-creating and shot-making ability from guards.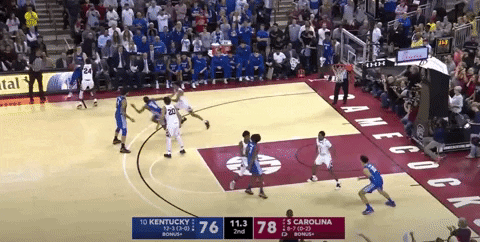 Quickley creates an angle to attack AJ Lawson to his right and get to a spot of comfort by crossing over and hesitating just beyond the arc. Once he gets to the spot he wants, he steps back with his left (correct) foot and pushes off to create space. From there, it's just muscle memory and focus to get a tough game-tying fadeaway to fall  in the closing seconds.
One Dribble Pull-Ups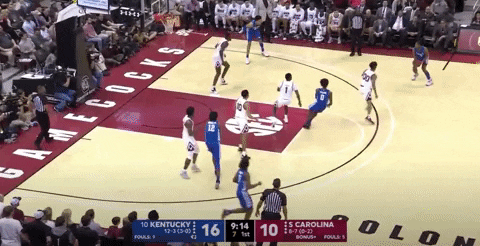 You could categorize this as a spot-up, but I'll credit it as creating a shot because Quickley uses a dribble to create space. This is a JJ Redick special. He hesitates to get AJ Lawson to think he's going to launch it, only to side-step left as Lawson contests. Now that he's created himself some space, Quickley fires a deep ball. Marksmanship.
Finishing
While the vast majority of Quickley's shots are coming from beyond the arc, his ability to convert at the rim isn't limited to easy layups.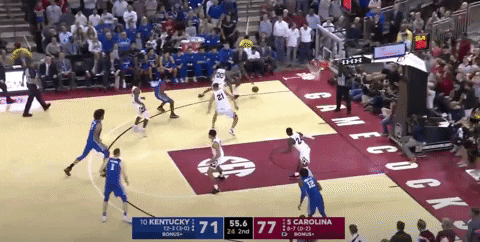 When it's a two-possession game with over fifty seconds left, I'd probably advise a quick two if the potential for a foul is there, as well. In this case, Quickley detects a small lane to attack baseline. The opportunity to maximize the play arises when Maik Kotsar slides over to help cut off the attack. Kotsar hip-checks Quickley, knocking him out of bounds. Quickley senses the contact and uses his length to get the ball as close to the basket as possible before landing. To get this shot to go, as his momentum pushes him under the basket with really no angle, is a credit to his strength, touch, and focus.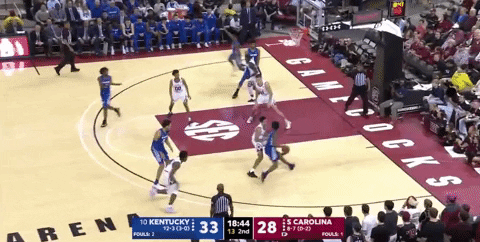 This shot was created by accident. It's a broken play resulting from a bad pass by Ashton Hagans, although, the errant pass creates Quickley's angle to attack the basket. Nonetheless, Quickley saves the ball from going out of bounds and then converts a floater from the corner despite being knocked down by Kotsar.
Collapse and Kick
While there is, really, no evidence of a polished passing game, Quickley has shown some ability to locate teammates on the fly after collapsing opposing defenses.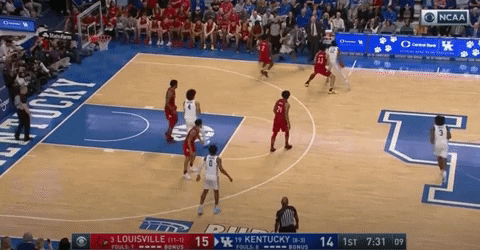 Quickley identifies an opportunity to penetrate Louisville's zone defense when Darius Perry falls down on the ball screen. The penetration forces Jordan Nwora and Dwayne Sutton to collapse to protect the lane. Sutton being dragged over to cut off the lane leaves Tyrese Maxey completely open, and Quickley floats the pass over Sutton's outstretched arms to find the shooter.
Similar play concept. Quickley attacks right and is immediately met by a double-team from DJ Carton and Andre Wesson. Quickley contorts his body mid-air and fires to Ashton Hagans, who has been left accounted for in the corner.
Off-Ball Defense
Of the three guards I've scouted thus far, Quickley is, by far, the best off-ball defender. His motor is endless, he bothers shooters trying to get open, and he understands how to guard his matchup every well.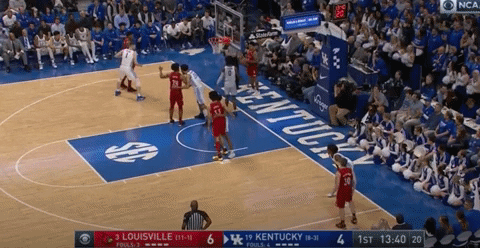 Quickley understands that Jordan Nwora is a 40% three-point shooter. So, he keeps him within an arm's length at all times. He makes Nwora uncomfortable and tries to disrupt his focus by keeping a hand on him. Quickley also stays low in a stance and light on his feet, protecting him from falling victim to double-moves off of screens and from getting stuck on a pick. The only way Nwora gets open under the basket is by shoving Quickley to the ground.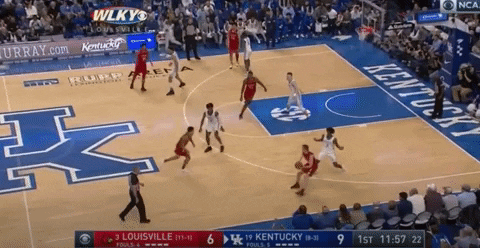 Nwora, when he sets his mind to getting open, is skilled enough of an off-ball mover to get open. While Quickley does get turned around on the V-cut off of the misdirection, his agility and speed allow him to recover in time to get a strong contest on Nwora's shot. A weaker off-ball defender would've surrendered a comfortable look to Nwora.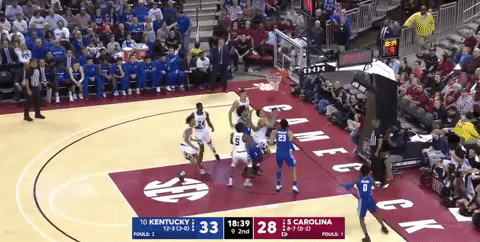 Kudos to Quickley for getting up and immediately pressuring the inbound pass after getting knocked down while attempting a floater (shown previously). His agility and motor help him stay up on Jermaine Couisnard as he protects against the inbound pass. His active hands and footwork put him in position to get a hand on the ball, and Quickley is almost able to force a turnover on the inbound play. 
The Positionless NBA
The biggest concern amongst NBA scouts is whether Quickley's skillset can translate with his size. His skill translates directly to the shooting guard position. His body is more conducive to the point guard position. At 6'3″, there is concern that he cannot be a legitimate NBA point guard, especially given his lack of consistency as a passer. So, does he slot in as an under-sized shooting guard in a modernized NBA that features shooting guards at 6'7″? Or, is his natural skill devolved and reconfigured to fit the point guard mold, with the product being a potentially less effective NBA player?
For a few years now, smart basketball minds have groomed and evolved the concept of a "positionless" NBA. As many people know, that idea promotes limitless lineup possibilities and allows every player on the court to play to their specific strengths. So, why limit Immanuel Quickley? Why does he have to fit into the mold of an archetypal player? Why does he have to conform to traditional play when there are numerous examples of guards just like him who have made it in the NBA?
If you believe in this positionless concept like I do, you have every reason to believe in Immanuel Quickley.
Possible Fits
If Quickley is allowed to play to his strengths, he could fit into an NBA offense immediately. He also could transition quite well into the highest level of play. All teams need shooting in the modern NBA, all teams crave athletes capable of contributing more than one trick. Immanuel Quickley checks both of those boxes and provides the spacing and off-ball instincts that create chaos in both the full-court and half-court game.
Philadelphia 76ers
Quickley is the perfect fit to Philadelphia's puzzle. One of the biggest reasons for Philly's inconsistencies and frustrating short-comings this season is the lack of consistent perimeter shooting. Quickley could slot into the Redick role perfectly. His shooting prowess would open the driving lanes for Ben Simmons and make it more dangerous for defenses to collapse on Joel Embiid. Even with Tobias Harris and Josh Richardson, Philly still wasn't particularly adept at creating off-the-dribble opportunities. Quickley could provide some of that shot-creating ability to soothe the offensive tension when opposing defenses tighten up. 
Los Angeles Lakers
This is very simple. Where there's LeBron James and a stretch-four, there's a need for a shooter. However, the prospect of a more dynamic scorer than a spot-up shooter would be new for James. He's accustomed to the JR Smiths, James Joneses, Mike Millers, and Kyle Korvers of the world–spot-up snipers who can't be trusted to produce anything off of more than one dribble. For the first time in quite a while, LeBron would have a sniper who can also create for himself (no, Kyrie is an all-around scorer; not a sniper). 
New Orleans Pelicans
There is a likelihood that Quickley falls into the second round (I would take him in the first, without question). If such is the case, the Pelicans would make a very intriguing fit for one of college basketball's best shooters. Quickley would have a season to learn from JJ Redick, who is just one inch taller than he is and is one of the  most prolific and highly-used shooters of this decade. Quickley would also be a tremendous option to help balance the attack with Zion Williamson. With Williamson now the face of the franchise, David Griffin and Trajan Langdon need to surround him with as much shooting as possible.
Quickley would help alleviate some of the pounding that Zion will take. Defenders won't just be able to pack the paint and wear Zion down, as a shooting threat would be looming  on the perimeter. In transition, Quickley would be a terror, especially with Lonzo Ball pushing the ball. With Ball's vision, Quickley would be a focus for the offense coming down the floor. Ultimately, the lane will be left open for Williamson when defenses go to contest Quickley, or Quickley will be left open outside when the defense packs the paint to protect from Williamson bowling down the lane. Immanuel Quickley, with his athleticism and shooting prowess, would be a very exciting piece in New Orleans' future. 
Stats To Know
Quickley shot nearly 60% from three-point range on the road in 2019-20
In over 25% of Kentucky's games in 2019-20, Quickley scored at least 20 points
Quickley connected on at least 2 three-point attempts in fourteen of Kentucky's thirty games in 2019-20
Draft
Highest I'd take him: 13th pick
Lowest I think he'll be available: 32nd pick
Ceiling: Lou Williams, but a more prolific three-point shooter
Floor: Brandon Knight
I believe in there being a difference between the best case scenario and a ceiling, a worst case scenario and a floor. The ceiling is the best case of likely outcomes, whereas the best case scenario is unlikely, but possible. For Quickley, the best case scenario is Bradley Beal. His worst case scenario is Malik Monk.
You can find the rest of our NBA draft evaluations below!
Make sure to follow @BlueRouteTPL, @mrcrockpot, @tscabbia, and @KrellTPL on Twitter for more Sixers and NBA draft coverage! Click below for our latest video breakdown on Isaiah Joe and his fit with the Philadelphia 76ers!