With trade demands circulating Ben Simmons' future in Philadelphia, Tyrese Maxey is now the name front and center in the Sixers back-court. The second-year guard is coming off an impressive rookie campaign, one that was followed by a phenomenal summer. Maxey's rapid ascension raises a critical question heading into the 2021-2022 season. That is, "How does Philadelphia's offense improve with Maxey as the team's starting point guard?"
SETTING THE TABLE OFF A HOT SUMMER LEAGUE PERFORMANCE
Philadelphia's plan to let Tyrese Maxey orchestrate the offense this summer paid massive dividends. In two brief appearances, Maxey averaged an explosive 26 points per game (good for second among all participants). But lost in the scoring volume was a high level of efficiency and court awareness that elevated his play well above the rest. Maxey's 1.11 points per possession blew away his competition. Most importantly, Tyrese displayed tremendous feel as the offensive architect, registering an impressive 2.25 assist-to-turnover ratio in what is usually a chaotic high tempo basketball environment.
Beyond the numbers, two things clearly stood out over the summer. Maxey came into camp noticeably stronger, which helped him fight through contact and finish at the rim with greater consistency.
WATCH HERE HOW EASILY HE PLAYS OFF CONTACT AGAINST A MUCH BIGGER DEFENDER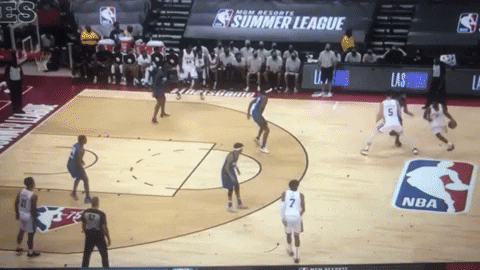 Playing above his weight should encourage him to attack with the intent to get to the line. Maxey's .289 free throw rate in summer league highlighted the same encouraging spike we saw during his brief postseason stint. Developing into a well-rounded three-level scorer lifts Tyrese's offensive ceiling to new heights. Yes, the three-point shot is far from a reliable weapon today, but Maxey looked comfortable and confident in attempting over 7 three-pointers per game in Vegas. Whether Maxey can master his long-range jumper remains to be seen, but one thing is already clear, leave a window open and he will take full advantage of it.
SO WHERE DID PHILADELPHIA'S OFFENSE BOG DOWN LAST SEASON?
A big part of Doc Rivers' arrival included transitioning the team's offense to a standard pick-and-roll one. The Sixers entered the season with Ben Simmons firmly entrenched as the team's point guard. But as the season progressed, it became painfully clear that Simmons was not suited to orchestrate Rivers' vision. Without a 'traditional' lead guard, Philadelphia handed the keys to less capable creators in Tobias Harris and Seth Curry. With Joel Embiid shouldering a massive offensive load, the offense often struggled to generate consistent scoring outside of its MVP candidate. How bad was it?
TAKE A LOOK AT HOW THE SIXERS FARED IN THE FOLLOWING GUARD-CENTRIC METRICS.
It will be difficult for Philadelphia to take an offensive leap under Rivers with the same players in similar roles. Ben Simmons has made it clear that he sees his basketball future elsewhere. Tobias Harris and Seth Curry are strong complementary ball handlers, but neither moves the needle to the level other star guards can. Enter Tyrese Maxey. While he is far from that star today, there are traits all over his game that point to a player capable of nudging Philadelphia's offense forward. What are those traits? Let's dive in!
PRESSURING DEFENSES IN THE PICK AND ROLL
A big part of Maxey's game is predicated on his explosive dribble. At Kentucky, he often struggled to strike a balance between scorer and distributor. But in Philadelphia, things are starting to change, as he has shown signs of a more well-rounded player. If we push the passing aside for a bit, what Maxey brings is the innate ability to attack the rim and collapse the defense. How great was Maxey at doing such a thing last year?
TAKE A LOOK AT THE GROUP OF PLAYERS TO SCORE ON 70% OF THEIR DRIVES.
Not bad for a 19 year old kid, huh? With Maxey on the ball, teams now have to account for his downhill speed and his willingness to shoot from range. This change in dynamic does a lot for Rivers' scheme. Defenders now have to come up to the level of the screen, opening up significant space for Embiid to dive and finish uncontested. Empty pick-and-roll possessions can now turn into viable offense, and the expectation that Philadelphia can find other crunch time alternatives.
Beyond the clear advantages as an attacker, Maxey also displayed growing maturity as a passer. Limited by sporadic playing time, the Sixers rookie still found ways to develop chemistry with his teammates. This was especially the case with Philadelphia's main star. Embiid finished the season shooting an impressive 73% on two-point shots resulting from a Maxey pass. This cohesive partnership was rarely explored last year but should be on Doc's main radar heading into 2022.
SQUEEZING (MORE) JUICE IN TRANSITION
Ben Simmons' calling card has always been his open court play. While his presence is a big reason for the Sixers' above-average pace, his own output leaves a bit to be desired. A big reason for this is Simmons' astronomically high 21% turnover rate in transition. Ben finished the year among the top 10 in transition possessions.
BUT HIS TRANSITION SCORING? WELL …
The name to focus on this list is De'Aaron Fox. The two Kentucky products have drawn similar comparisons in the past, and it is very easy to see why once you dissect Fox in open court.
Look familiar?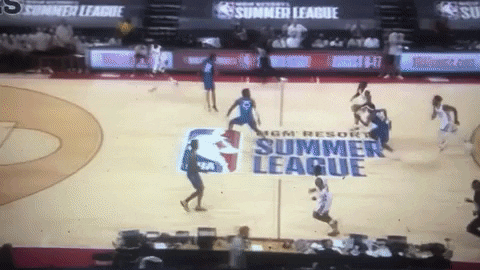 While Simmons attacks with a pass first mindset, Maxey does so with un-banished authority towards the rim. And so he should. His 4.93 average speed on offense was 12th highest among 155 guards with over 900 minutes. Both Kentucky stars bring tremendous activity and speed in space. In Sacramento, Fox led an explosive group in transition, ranked first in efficiency with an impressive 1.21 points per possession.
The Kings guard also generates significant opportunities by gambling as a defender. This is something we saw more of with Maxey during summer league. With more playing time comes sharper defensive feel and awareness. Maxey has displayed hints of a disruptive defender on the perimeter. But to get there it will require Rivers to develop a stronger trust in his defensive instincts, and that is a key developmental area for Maxey heading into the new season.
SO CAN ALL THIS WORK WITH BEN SIMMONS IN PHILADELPHIA?
The big question heading into the season is Simmons' status. There are strong indications from all sides in the desire to part ways. But Morey simply will not ship off his most valuable trade chip for meager returns. While both parties wait for the right trade partner we ponder and ask: "Can the Sixers work Maxey into the starting lineup with the same key players from last season?"
Most of the focus will (rightfully) set on Simmons' limited scoring repertoire. But the real key to this equation is Tobias Harris. The Sixers combo forward is coming off an exceptional regular season, one that saw him average 19.5 points per game with an impressive 59% true shooting. As was the case the prior year, Harris once again struggled to create for himself (and others) as the postseason progressed. To make matters more complicated, he continued a similar and confounding trend of attempting fewer threes per game (while shooting well above league average).
This set-up will get very messy if Harris is unwilling to accept a lower usage spot up role within the offense. Removing either Seth Curry or Danny Green in favor of Maxey can potentially cripple Philadelphia's spacing alongside Embiid. Yes, Harris was the Sixers most effective pick and roll ball handler last year. But the expectation is that Maxey can grow into the same role and become a more dynamic ball-handling weapon heading into the postseason. Doing so can unlock Harris' reliable long-distance shooting in higher volume. Thus setting the Sixers up for a more sustainable postseason offense come May and June.
SO WHAT NOW, DOC?
After a disappointing postseason Philadelphia heads into another pivotal year with a ton of question marks. At the top of the list is how to carve up playing time for the Sixers impressive second-year guard. In Tyrese Maxey, Doc Rivers can potentially check off one of those boxes and pivot the offense past the Ben Simmons ball handling days. A move like this may negatively impact the win column early on, as young guards rarely come in ready to drive wins.
But if the plan is to set the team up for postseason success, Rivers should take a strong critical eye at how to get there. Look no further at how the Bucks arrived at their championship last year. Early season losses included experimenting with many back-court options alongside Jrue Holiday. In the end, Milwaukee settled on a reliable group that was able to not only able to withstand Donte DiVincenzo's postseason injury, but also help Giannis bring the championship home. A similar approach may provide the right mix in Philadelphia this time.