It was a different atmosphere today at the Wells Fargo Center. I've been typing and erasing, and typing and erasing, trying to find a way to wordsmith an accurate description of the environment in South Philly today. Put simply, most nights are "just another day at the office." No one is particularly bubbly, but we're all there to accomplish one goal. Today was quite different.
As the employees stationed immediately inside the ticket gates handed out Charlie Brown-themed Sixers posters, the song "I Got A Feeling" by The Black Eyed Peas blasted over the in-arena speakers. A chill ran down my spine and I couldn't help but smile; I could feel the energy rising as my dad and I walked toward our section. There was this sense of immense excitement and a lack of fear that was making the concourse buzz.
That's not how most games are; excitement is replaced by a desire to win and there's always some sense of anxiety. In this city, the losses depress the fans more than the wins make them happy. Every loss breeds questions about the team and an irrational need to defend them against critics or concede that they just might not be that good. On most nights, a win keeps the fans content for another day. 
Today, there was a confidence exuding from the 20,000-plus taking in the affair. It wasn't a struggle to breathe from the fear of a disappointing loss. The seats were occupied by people who were going to do anything they could to put their team in a climate that was conducive to winning that game.
While the Sixers (22-10) were extremely hospitable to the significant extended family that was beaming with excitement to see them, they were quite rude to the visiting Milwaukee Bucks (27-4).
This is how the underdog Sixers stole Christmas.
Brett Brown
Following Saturday night's win against the Wizards, Brown mentioned that one of the primary adjustments he had made after his team suffered a blow-out by the visiting Mavericks the night before was restoring control of his offense. Since deciding to actively engineer the offense, the on-the-court product has improved immensely after a worrisome three-game losing streak. It has improved so much so that it's almost worth wondering if maybe Brett Brown has been misjudged this entire time. The numbers are staggering.
Since Brett Brown "took back" the offense after the DAL loss:

1) Joel Embiid has a shot attempt balance of 89% 2PT/11% 3PT; 43.3% of his points are coming in the paint, 22.73% from FT line

2) 123.667 PPG (avg is 111.4), 11 TO per game (avg is 15)

3) 50.13% FG% (avg is 45.8%)

— Austin Krell (@KrellTPL) December 26, 2019
While a three-game sample size is not remotely significant enough to draw conclusions, it is hard to believe that the disparity in the team's numbers since he decided to shorten the leash could be that large if the coach wasn't doing something dramatically different.
It starts with Joel Embiid's usage.
Joel Embiid
Brown established Embiid in the post early on Wednesday. He did this to engage his star and warm him up early.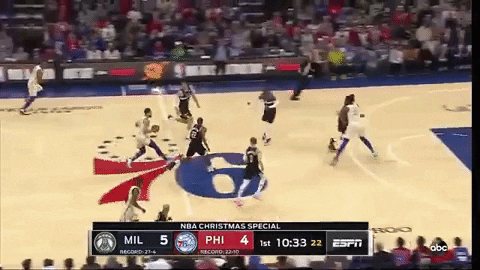 The first pass Ben usually seeks in transition would be the trailer look for a Tobias Harris deep ball. Often times, that's because Embiid has not asserted himself in the paint and established a clear advantage in the deep post. Here, Joel seals Giannis Antetokounmpo off quickly and makes it clear that he has the look, and Ben obliges. Seeing as Ben almost always looks for one of his shooters in transition, this was likely a Brown directive.
Brown emphasized featuring his franchise centerpiece in his sweet spots throughout the game. All season, and really throughout his young career, Embiid has drawn criticism for spending too much time out on the perimeter. This season, especially, Embiid has strayed away from the fifteen-foot areas around the basket. Since Brown began implementing more structure into the offense, Embiid has drawn a high volume of his scores from the paint area and fifteen-foot proximities. On Wednesday, Brown engaged Embiid by running the offense through him at his most lethal spots on the court.
Getting the ball to Embiid at the elbow or in either short corner spells death for the opposing defense, as Embiid can score any way he chooses or can back his man down and fire a pass to the open shooter or cutter if the opposition decides to send a double-team. Brown's strategy put the Bucks at Embiid's mercy all afternoon.
Deer In Headlights
Brown also elected to feed Antetokounmpo a steady diet of bigs, as opposed to giving Simmons and Harris the defensive assignments. Horford and Embiid were quite effective, making the reigning-MVP work for every shot and frustrating him into some poor shots selected.
Giannis Antetokounmpo guarded by:

Joel Embiid:

14.1 Posessions
4 Points
11.1% Field-Goal Percentage (1-9)
0.0% 3P (0-3)

——————-

Al Horford:

12.1 Posessions
6 Points
42.9% Field-Goal Percentage (3-7)
0.0% 3P (0-3)
2 Turnovers

Via @nbastats @76ersTPL

— Brock Landes (@LandesBrock) December 26, 2019
The two bigs exhausted him by out-matching his physicality in the post and cutting off all angles of attack when he isolated on the perimeter. Failing to ever find a rhythm in the contest, the Greek Freak missed a career-high 19 field goal attempts. 
Brown admitted that Al Horford's previous success against Antetokounmpo was a driving force behind their decision to unite with the big man this summer–"It was certainly on our mind," Brown said. "There were lots of other parts to that, but how do you beat Milwaukee was certainly a part of all the discussions. Tonight, those two were very good and with Al, it was a very big part of our discussion when we brought him in." The addition of Horford certainly makes Philadelphia a physically exhausting matchup for any team in a seven-game series. 
Joel Embiid attested to the importance of cutting off the Greek God of Basketball on the perimeter before he could attack. When asked about what worked defensively, Embiid said, "I was just doing my best to stay in front of him [Antetokounmpo]. He's just so gifted, he's fast and he's extremely athletic. I was just using my length as much as I could." Giannis is so deadly because his length, strength, and quickness help him beat almost anyone when he attacks. By staying in front of him, Embiid was able to slow down, frustrate, and tire the Greek Freak.
While Brown must be given due credit for the team's performance today, I believe the saying goes something like, "You can lead a camel to the water, but you can't make it drink."
Trust "The Process"
Brown ran the offense through Joel Embiid, but Embiid did the work to connect the strategy to the win. While he did attempt six threes (9 of Embiid's 31 points came from beyond the arc), the fourth-year center scored 22 from the foul line-extended locations and the block (6 free throws attempted from fouls on the block or under the basket).
Embiid kept the Milwaukee defense guessing by offering minimal predictability to his field goal attempts. But even in doing that, he was calculated with his moves. Joel utilized improved footwork to get from his point-of-attack to his most comfortable areas. With the diverse scoring methods he used, the Bucks had no answer for the Sixer offense. Embiid finished with 31 points (on 21 shots), 11 rebounds, 3 assists, and 2 blocks. Most impressive of all, Embiid committed just 1 turnover in twenty-eight minutes played against arguably the best defense in the NBA.
A Parting Message
While Brown's strategy and Embiid's dominance were the main stories of the game, all of Ben Simmons (15 points, 14 assists, 7 rebounds, 3 steals, 2 blocks, 2 turnovers), Josh Richardson (18 points, 5 rebounds), Tobias Harris (22 points, 5 made threes), Al Horford (11 points, 10 rebounds, 5 assists), and Furkan Korkmaz (16 points, 4 made threes) played significant roles in the Christmas Day beatdown. It is imperative for elite teams to strike balances in their offensive menus. It is even more important to find defensive consistency. Today, the Sixers held the entire Bucks team to 41.67% from the field through three quarters. The Bucks lead the NBA in field goal percentage, converting 48.1% of their attempts. The Sixers will get to the Finals if they can hold themselves to that level of defensive intensity on a consistent basis. Brett Brown knows as much.
I think this team is designed for the playoffs.
When asked about how his team grades out against the top teams in the Eastern Conference, Brown remarked, "I think this team is designed for the playoffs. I believe that the road that we have traveled so far has been a little bit erratic at times…I think the landing spot is exciting. Can we keep the boys in the boat, continue to develop, improve, execute and stay healthy; I can feel this. In my world, we've just ended the first third of the season…To date, I like what I've seen against the best teams."
At 23-10 and in fourth place in a surprisingly-good Eastern Conference, there is work to be done. But the Sixers' convincing Christmas Day victory against the Bucks turned heads around the NBA.