Old. Slow. Passive. Those were the words used to describe Duncan Robinson during the 2018 NBA pre-draft process. The Michigan Wolverines forward averaged less than 10 points per game in a senior year that saw him attempt the 4th most field goals … ON HIS TEAM! But, Robinson's meteoric rise has left many wondering "how?" In two years, Robinson went from undrafted question mark to one of the league's premier shooters. With Miami on the brink of title contention, Duncan Robinson now takes center stage, hoping to guide the Heat back to their glory days. 
FRAMING ROBINSON'S HISTORIC SHOOTING SEASON
What if I told you that the player with 250+ threes this season only made 10 the year prior. Would you even believe me? Well my friends, that player exists and his name is Duncan Robinson. But this is only part of Robinson's story. The Miami swing-man exploded into the scene this year. The damage? ALL from the three point line. In a league where three point shooting is king, Robinson is now the poster-child for the movement. Still don't believe me? Let's take a look:
Two things immediately stand out when we talk about the Duncan Robinson revolution. Volume and efficiency. 88% of Robinson's shots come from beyond. A historic stat line. However, what is most impressive is his efficiency. Thru August 5th, Duncan Robinson is averaging a deadly 44.6% on 252 made three point shots. No other player comes close to his marksmanship in such a high volume. But, understanding how Robinson put the league on notice this year is significant. So let's dive in!
THE DRIBBLE HAND-OFF
You are probably left wondering how a player whose single role is to shoot from deep can be so successful. Defenses know what to expect from Robinson. Yet this does not stop him from inflicting game changing damage. A big reason why is the dribble hand off. Robinson has turned into the game's supreme weapon coming off screens. Since the NBA started tracking hand off statistics in 2015, Robinson's efficiency stands on a league of its own this season.
Aware of Robinson's limitations as a shot creator, Miami loves to leverage him off screens. This creates just enough space for him to flourish. Take a look at how the Robinson-Adebayo relationship plays out here.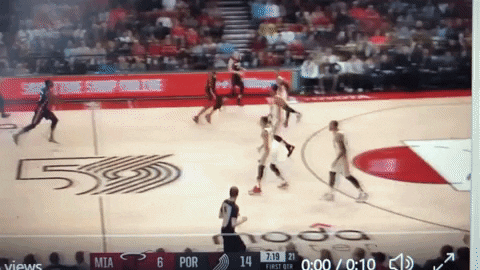 Since August 5th, 228 of Robinson's 252 three pointers have come with a release time of 0 to 2 seconds. In other words, the guy has a quick trigger and defenders simply cannot close in on time. It is a devastating combination. Especially with how head coach Erik Spoelstra deploys Robinson as a moving target. Drawing the Duncan Robinson task means you must hunt him all over the court, a supremely exhausting task. But, only part of the defensive assignment.
THE SPOT UP GAME
Miami also loves to pair him with its other All Star. In Jimmy Butler, the Heat have one of the league's premier shot creators. Butler demands particularly careful attention on the ball. This usually creates enough space for Duncan Robinson to do his damage. Take another look.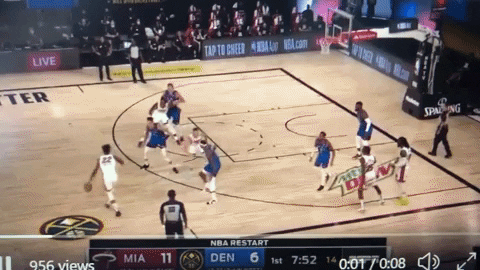 Approximately 33% of Robinson's possessions come off of spot up opportunities. With Butler (and Adebayo), the Heat play him off a variety of pick-and-roll action. Defenders have to account for the two All-Stars, leaving an open window for Robinson to relocate for the pass. The Heat have a luxury of offensive options. But in Butler and Adebayo, Miami stumbled into a seamless offensive fit. One the rest of the league should pay extreme attention to.
THE BUTLER – ADEBAYO – ROBINSON PARTNERSHIP
As the game slows down in the postseason, Miami is now built to inflict significant damage in the half court. With Robinson's shooting comes an abundance of options. Defenses flow significant attention towards Miami's main sniper. Spolestra is keenly aware and has built an arsenal of possibilities from his gravity. Pay attention to how aggressive defenders attack Robinson in the perimeter. 
Adebayo is an explosive rim runner who provides the ideal passing outlet here. This season over 40% of Robinson's passes targets the duo. His growth as a decision maker has enabled the group to become an elite offensive combination. Entering the postseason, the trio ranks at very the top in offensive output. Surpassing some of the game's main stars.
It is extremely rare for teams to find such significant offense in such short time. In just over a year, Duncan Robinson has transformed into one of the league's most feared weapons. His growth has enabled Miami's offense to take flight. The Heat are now fully entrenched in the championship conversation, possessing enough pieces in place to make the ultimate noise in Orlando.