This draft target looks at one of college basketball's most decorated players in Grant Riller. The Orlando native is no stranger to the record books. Grant Riller amassed an array of accolades at the College of Charleston, turning into one of the most productive small school prospects in recent memory. The journey now takes him into the NBA draft rin where Riller will have a chance to showcase his potential and follow the footsteps of recent Charleston teammates Joe Chealey and Jarrell Brantley.
FROM 2-STAR RECRUIT TO (SIGNIFICANT) NBA BUZZ
Grant Riller's journey to the draft can be summarized in two very distinct phases. As a two-star recruit, he joined a seasoned Cougars team ready to contend. Riller entered the lineup as primarily an off ball weapon. In his first two seasons, he carved a niche as a complimentary piece. Riller was seldom used to create for himself (and others). Nevertheless, this did not deter him from generating significant offense. By his second season and on a team loaded with talent, Riller led the Cougars in scoring while shooting a healthy 39% from long distance. This was his bold statement. His time was now.
From there, Grant Riller quickly developed into one of college basketball's main shot makers. From 2018 to 2020, Riller grew into a decisive, downhill attacker. Enabled by the Cougars heavy pick-and-roll scheme, Riller blitzed defenses as a high usage combo guard. Over his last two seasons, he became one of five players to compile over 400 free throw attempts and 250 assists. It was this type of production that raised his status among the NBA ranks. But Grant Riller is not an unanimous slam dunk selection. Teams will prod at the lower level of competition he regularly faced. For Riller however, the focus will be on proving that his game translates even when asked to do much less with the basketball. 
STRENGTHS 
Elite first step and burst off the dribble. Can explode either left or right and pressure defenders in space.
Strong handle. Comfortable changing directions and setting up defenders with a bag of moves. 
High potential as a 3-level scorer. Can create own shot from a variety of different spots on the court.
Strong athlete. Decisive in attacking downhill. Will absorb and finish thru contact near the rim.
Provides a substantial rebounding presence. Attacks the glass and pushes offense in transition. 
WEAKNESSES 
Limited vertical burst. Struggles to finish near the basket as a high volume ball handler.
Not a dynamic passer. Drives to score and makes the simple pass look difficult. 
Significantly less active off the ball. Will stay stationary and not flash as a passing outlet.
Does not consistently engage on defense. Sloppy to contest shots at the perimeter.
Draft age profile may limit developmental ceiling and overall impact at the next level. 
EXPLOSIVE DRIBBLE
Much of Grant Riller's offense can be encapsulated by his attacking nature. Riller possesses one of the quickest first steps in his draft class. For that reason, he often excels in isolation concepts. Riller scored in the 87th percentile on 90 isolation possessions this season (per Synergy). It is his ability to set up defenders with the dribble that immediately stands out when watching the Cougars star. As seen here, Riller sells a quick left move only to explode the other direction.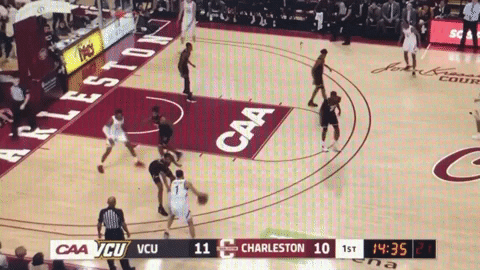 Grant Riller's combination of misdirection and quickness is his calling card. Riller is extremely difficult to contain in space, often using pick and roll concepts to pressure slower and stiffer defenders. Against Towson, the Cougars call on this look to highlight his ball handing skills. His shiftiness leaves defenders gasping at air as Riller searches for contact (and a two-shot foul).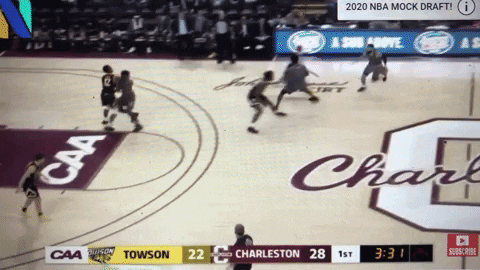 While Riller can be a pit-bull on offense, he struggles to create vertical separation at the rim. Riller averaged a sub-par 70% accuracy rate near the rim last season (42% of his total shots). Driving to set-up the pass will be one area of focus for Riller. Specially in a league where defenses put a high premium on protecting the rim.
CREATING HIS OWN PERIMETER OFFENSE
Grant Riller also banks on the dribble to set up his shooting. Per Synergy, 35% of Riller's shots come off the dribble. As a pull up shooter he amassed an impressive 1.0 points per possession (87th percentile). His supreme first step is a big reason why. Another cause for his success lies on the ability to set up defenders either left or right. Against VCU, Riller put his entire arsenal on display en route to an impressive 26 point outburst. Again, pay attention to how Riller creates by first going left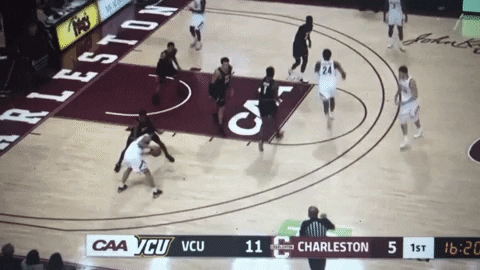 And then going right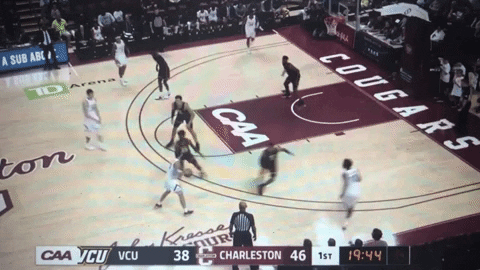 It is this type of repertoire that makes Riller a tantalizing prospect. Defenders are unable to play specific angles and cut off his shooting. That said, teams will also look at Riller to generate perimeter offense off the ball. It is in this area where he shows tremendous promise (albeit it in a very small sample size). As his responsibilities grew over the years, Riller went from taking 65 spot up threes his freshman season to 25 in his senior one. While Riller shot an impressive 44% on those 25 attempts, the catch and shoot is an area where he must grow comfortable in at the next level. Understanding how is a significant reason for his long term success.
EXPANDING THE OFFENSIVE ARSENAL 
To win consistent playing time, Grant Riller must first prove that his offense can translate into a complimentary role. Teams will be hesitant to give him full reigns of the offense. For Riller, that means becoming a more active participant when the offense flows elsewhere. Last season 71% of his catch and shoot attempts came when guarded (per Synergy). By tracking his movements it becomes clear as to why. Riller is often caught ball watching and displays limited engagement offensively. His lack of feel off the ball limits his ability to make an impact off the catch. Against Northeastern, Riller has the opportunity to alleviate pressure and spot up for a wide open look. But as you can see, he is slow to react and appear in the line of vision of his big man. Instead, the Cougars settled for a deeply contested look.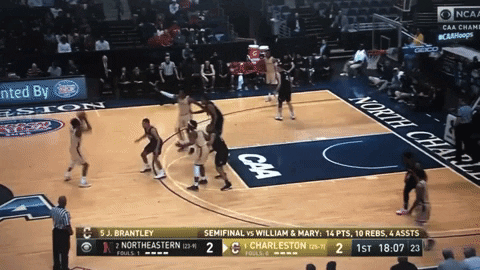 Riller's development off the ball will be one of the main talking points going into the NBA draft. While athleticism flashes in long stretches, he is rarely used in dribble hand-off concepts. It will be interesting to see if teams see the immense opportunity to expand his role. Riller has the burst to come off screens and can absorb significant contact as a shooter. Two traits that play well for shooters who can come off screens.
INCONSISTENT DEFENSIVE IMPACT
It is on the opposite end of the court where Grant Riller must also find consistency. Riller is a strong athlete and his combination of size, speed and length can play extremely well defensively. When engaged, he leverages his strength to dislodge ball handlers and generate steal opportunities (as seen here)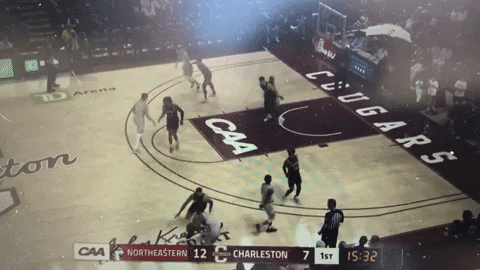 Those type of plays have earned Riller 165 career steals at Charleston. But much like his play off the ball, his level of engagement defensively can fluctuate significantly. Too many times we see him not in a position to attack shooters. Against Northeastern, what should have been a contested corner three turns into a wide open look due to Riller reaction and low hands.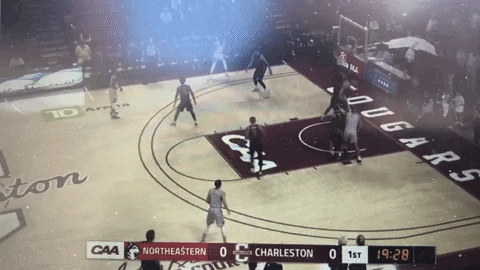 Riller features plus strength and athleticism to become a multi-positional defender at the next level. But it will take a new sense of commitment to establish his name on the defensive end. 
POSSIBLE FIT – DENVER NUGGETS 
The Denver Nuggets head into 2021 with a few interesting decisions ahead. The team is clearly established as a tier below the top Western Conference powerhouses. Denver is a tough out on a nightly basis. But long term contracts to Jamal Murray, Will Barton and Gary Harris  severely limits the team's ability to make the next chess move. The conversation gets increasingly muddled when we talk about Harris. Prior to the season's postponement, Harris shot an abysmal 33% from deep. As his game has cratered so has Denver's chances to compete for a title. We can debate the value of Murray's contract, but the fit with Jokic works and in those two the Nuggets have a productive duo. So the question we have to ask is: what is Denver's move? The Nuggets will likely have a first round pick and could look at Grant Riller as a possible fit and (much cheaper) replacement for Harris.
As for the on court fit, Riller could provide a few interesting options. One that immediately stands out is moving Murray to an off ball role. While Jokic is the head of Denver's offense, Murray occasionally takes the point guard reigns. In those moments his performance can be downright maddening. Murray rarely gets to the rim and has a high propensity in settling for contested mid range jumpers. In Riller, Denver would have more of a downhill presence in the moments Jokic is on the bench. Most importantly, bringing in a cheap contract to replaced Harris opens up a new venue for Denver to improve the team.
STAT NUGGETS
662 career free throw attempts (79% career free throw percentage).
1 of 7 guards to register over 600 points and 200 free throw attempts last season.
880 career field goal attempts (#1 all time in CAA).
30% assist rate senior season (11.3% assist rate freshman year).
Career 35% from three point range on 4.0 attempts per game.
FINAL VERDICT
Grant Riller is a hot name among many in the NBA draft community. Riller flashes significant potential as a shot creator and a guy who can spot up from deep. While those tools are very intriguing, the NBA can be an entirely different beast. Riller must show development in other phases of the game. Foul calls will be much harder at the next level, and Riller will be called to involve his teammates as well. Where he slots in the draft pecking order is an interesting question. His polished game is appetizing for contending teams at the back end of the first round. In a draft full of question marks at the top, Riller could very well find himself among the first 20 names called. A player that can absorb early minutes with limited coaching attention. 
You can find the rest of our draft evaluations below!
Make sure to follow @BlueRouteTPL, @mrcrockpot, @tscabbia, and @KrellTPL on Twitter for more Sixers and NBA draft coverage!