Mike Muscala is well traveled and is quite a fan of ground transportation. He will be taking his love of cars and basketball to the City of Brotherly love.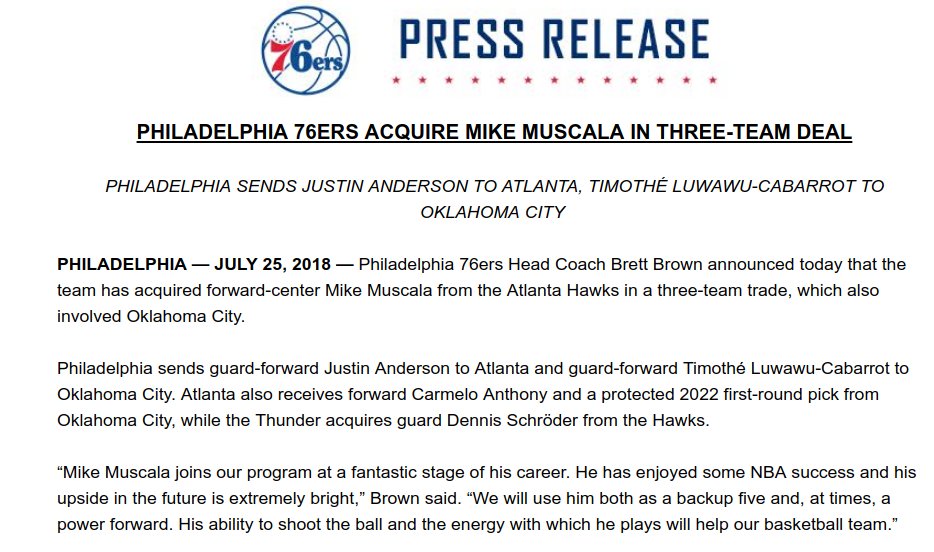 Muscala, who just turned 27, is a 6'11" center/power forward who has displayed real stretch capability in his 5 year NBA Career. The expectation is that Muscala will fill the Ersan Illyasova role in the Sixers' rotation. Let's look at how the two players compare statistically per 100 possessions. (per https://www.basketball-reference.com)
| | | | | | | | | | | |
| --- | --- | --- | --- | --- | --- | --- | --- | --- | --- | --- |
| Season | FG% | 3PA | 3P% | TS% | FT% | TRB | AST | STL | BLK | PTS |
| Ersan Ilyasova | 44% | 6.4 | 37% | 54% | 77% | 12.4 | 2.5 | 1.5 | 0.8 | 22.8 |
| Mike Muscala | 49% | 7.7 | 38% | 59% | 85% | 10.5 | 2.3 | 1.3 | 1.7 | 18.7 |
What stands out immediately is just how much more efficient Muscala is when compared to Ersan. Muscala has a true shooting percentage 5 points higher than Ilyasova with even more attempts from beyond the arc. This speaks to his shot selection and ability to play within the scheme of the offense. Even more encouraging, Muscala takes nearly 1/3rd of his 3 point attempts from the corners where he has been tremendously effective, shooting 49% on corner threes last season. His shot locations are nearly optimal for the role he is expected to have on the team.
SFO has been in contact with people close to Muscala who gave us the following release.
     This past Thursday, the Atlanta Hawks participated in an elaborate multi-team trade where (among other things) Mike and Dennis Schroeder were sent to the Oklahoma City Thunder for Carmelo Anthony. OKC then traded Mike to the Philadelphia 76ers, where he is expected to back-up Joel Embiid.

     Mike was informed of the trade while spending time at his offseason home near Cannon Falls/Randolph MN. He has returned to Atlanta to wrap things up. No word yet on when 76ers want him to report to Philadelphia.  

Just returned from NBA Summer League In Las Vegas

     Two weeks ago, Mike attended Hawks team dinners/games, workouts, and meetings with staff. There was no mention of an imminent trade – things move fast in the NBA. 

Mike got to meet up with Moncho Fernandez, his Obradoiro Coach from Spain.

MN program help on hold for now

     Mike is unsure when he will be back to MN to help Roseville Coach McKenzie and work out with/help Mitch Ohnstad at Wear Out The Net/Minnesota Select and local Pro-Am games.

Check out MuskyWhips on YouTube

     Mike's new TV series focuses on awesome cars. 

Current segments include Kent Bazemore, Dennis Schroeder, Miles Plumlee and DeWayne Dedmon and their cars.
↓
I think its safe to say Mike will be trying to get Ben Simmons onto the youtube to commiserate about their shared love of luxury cars.