Philadelphia's transition from the disastrous 2019-2020 season was never going to be easy. Daryl Morey's hire signaled confidence that the franchise could pivot from the catastrophic roster decisions made the previous summer. 
In his first month as general manager Morey operated with calculated precision. Draft day 2020 brought three significant moves. Morey swiftly cleared Al Horford's albatross contract while also turning Josh Richardson's awkward fit into Seth Curry's masterfully valuable contract. Doubling down on the scouting department that he inherited, Morey stood firm at pick #21 to select a raw but substantially talented guard in Tyrese Maxey.
Fast forward a year later and progress has reached a painful halt. Amidst the roadblocks is the team's complementary star player holding firm to trade demands. Ben Simmons' under-utilized roster spot (and cap figure) is an eyesore that holds the team hostage of any potential leap. But that is not the only thing. Philadelphia's playing style and roster construction has been an unwelcomed throwback to the rugged NBA of the mid-1990s. That is, play slow, react slower, and rely heavily on a plodding half-court offense to win games.
With Philadelphia trending closer to a play-in tournament team, it may be time for Morey to re-shuffle the deck and set a firmer direction to how the Sixers plan to win now (and in the future).
A (PAINFULLY) SLOW ROSTER LOADED WITH SLOWER DECISION-MAKERS
At the center of the Sixers operation post-Ben Simmons is an offense that now showcases the league's most dominant big man. On the surface, the decision to hand the keys to your best player makes perfect sense. Joel Embiid is coming off an MVP-type season, elevating his game to unreachable heights. But a slower-paced post-centric offense should not be a play-ground to other ball-stoppers. In Philadelphia's world, this playing field has been flooded with trudging decision-makers.
TAKE A LOOK AT HOW SLOW THE SIXERS OPERATE IN THE HALF-COURT, OFTEN MOVING THE BALL WITH SLUGGISH INTENT
Leading the way in anchoring down Doc Rivers' boorish offense are two ball handlers who struggle to pressure the rim and make timely decisions. Thru 32 games, Tobias Harris and Shake Milton are part of a dubious group of 'forwards' that average less than .270 points per touch on at least 75 minutes in time of possession. A list that includes other basketball culprits such as Julius Randle and Kevin Porter Jr.
IN THOSE TWO, POSSESSIONS OFTEN HIT A BRICK WALL, WITH BOTH PLAYERS CONFOUNDEDLY PASSING UP OPEN SHOTS (AND TEAMMATES) AS THE SHOT CLOCK DWINDLES TO 0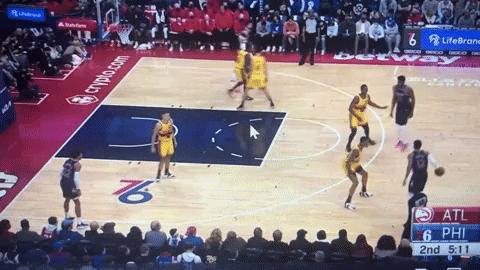 Philadelphia's perimeter offense is a complex and stale mix of hesitant players who will find 50 reasons not to fire off an open three-point look. While the addition of Georges Niang has helped some, the Sixers entered Christmas ranked a mediocre 22nd in catch and shoot three-point attempts. Mainstream opinions suggested Ben Simmons' unwillingness to shoot was the major reason why.
BUT THIS FALLACY HAS FALLEN EMPTY TO A SEA OF HOT POTATE POSSESSIONS, PERFECTLY DEPICTED IN THIS ABHORRENT ONE AGAINST THE HEAVILY UNDERMANNED HAWKS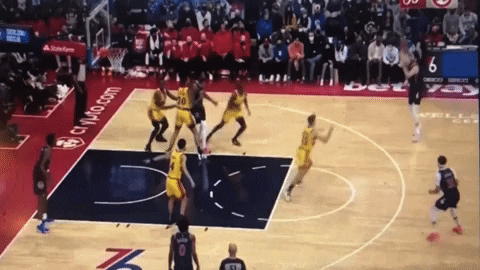 In the era where speed of play is king, the Sixers' roster exemplifies much of what has gone wrong in Morey's approach. With Ben Simmons Philadelphia played at a different tempo, often coloring outside the lines to generate quick and easy scoring opportunities. But without him, Rivers' offense has dropped to the near bottom in NBA pace. A mile-high salute to the bludgeoning New York Knicks of the mid-90s.
TYRESE MAXEY'S CONFUSING ROLE IN THIS LUMBERING OFFENSE
Maxey's rise as the team's starting 'point guard' has shed a ray of hope amidst the unsettling roster situation. Thru the first 32 games, the second-year playmaker has averaged an impressive 17 points per game in a massive effort to keep the team's offense from the abyss. Simply put, Philadelphia is a near 6 points per 100 possessions better with Maxey on the court, a flying checkmark to his growth as a scorer in only his second NBA season.
While these are obvious reasons to celebrate, his impact is often handcuffed to Rivers' isolation-centric half-court offense. Maxey's 21.5% usage rate is currently 83rd among all NBA players, slotting him behind a list of BACK-UP guards that includes Jalen Brunson, Lonnie Walker, and Anfrenee Simons. With the ball pushed in the hands of Harris, Milton, and Seth Curry, the Sixers are left with limited options to pressure the rim and attack defenses. This is particularly puzzling when you factor in Maxey's ability to do both things at a near-elite level.
HOW ELITE? MAXEY RANKS AT THE VERY TOP OF A VERY EXCLUSIVE LIST OF PLAYERS TO SCORE ON 70% OF THEIR DRIVES THIS SEASON
Beyond Rivers' inability to carve a consistent (and obvious) role for Maxey, the Sixers' muddling offense ties down the team's quickest player in different ways, as Philadelphia is currently ranked last in transition possessions per game. For a team that was once energized by a blistering Ben Simmons in open court, possessions are now highlighted by Tyrese Maxey dribbling the ball up in relative slow-motion. But should the Sixers be THIS slow?
TAKE A LOOK AT WHERE MAXEY RANKS AMONG THE FASTEST NBA GUARDS IN TRANSITION FREQUENCY
With the Sixers' exuberant buck at the mercy of perplexing coaching decisions, the team continues its tumble towards the bottom tier of NBA offenses. Some will point to the influx of COVID within the roster as the main reason why. But the numbers (and film) do not lie. Philadelphia's staff has not maximized Maxey's offensive skill set, leading many to question if Doc Rivers even sees him as a central player in this scheme.
FLIPPING THE PLAYING DYNAMIC BY INJECTING DIFFERENT COMPLIMENTARY IDEAS
Daryl Morey's effusive praise of the team's roster (and head coach Doc Rivers) has yet to waver in his time in Philadelphia. The Sixers bolstered one of the league's most devastating starting units last year, giving the team's general manager plenty of reasons to double-down on the group that came within inches of the conference finals. As the old saying goes, 'if it ain't broke, don't fix it."
But the reality of Simmons' situation paints a bleaker picture. Yes, the Sixer point-forward came with his own offensive flaws, but his ability to generate tempo, make timely decisions, and quickly engage teammates provided the backdrop to an offense more suited to today's speed of play. Throw in the fact that Simmons stood at 6'10" with blazing athleticism and the verdict is as clear as day. Philadelphia has a significant roster construction (and playstyle) problem that was often masked by its now disgruntled star.
The Ben Simmons saga (coupled with Harris' anchoring contract) gives Morey two massive boulders to build a complimentary roster around. But in his quest for financially viable contracts, the Sixers landed on an unathletic group that provides Rivers with even less incentive to inject pace and showcase his young guard. Take for instance Morey's decision to sign backup center Andre Drummond. Drummond is an ok option behind Embiid, but his presence significantly limits Maxey's potential as a spread pick and roll ball handler. Yes, Drummond is a solid interior center, but one that is incapable of spacing (and running) the floor alongside Maxey.
On the flip side, the Sixers often rely on Milton to orchestrate most of the bench offense. Shake's output as a shot creator is a problem, especially under the context of a static offense that requires his on-ball output for offensive production. Philadelphia's bench is once again at the tail end of the league in assists and three-point output, a clear thumbs down to Shake's plodding play as the lead back-up guard.
At 16-16, the Sixers are slowly creeping into the painfully mediocre world of NBA basketball. Maybe the plan all along is to wait for the Simmons trade market to shake out. But flipping one disgruntled player for another star can only solve half of the equation. Over the last year, Daryl Morey's cut and paste approach has yieldielded a flawed NBA roster, one that has enabled his head coach to make questionable coaching (and lineup) decisions.
If the time to build next to Joel Embiid is now, then now should be the time for Morey to begin tinkering with the edges, thus re-calibrating the Sixers' ever-changing franchise compass.