Today's draft target focuses on Washington State transfer Malachi Flynn. The 6'1 point guard turned San Diego State into major title contenders last year. But to survive in the NBA, Flynn must first prove that his struggles in the PAC-12 were not a function of elevated competition. He must also showcase the improvements that lifted the Aztecs program to new heights.
The Rise of Malachi Flynn
Much of Malachi Flynn's collegiate story can be told in two very distinct chapters. At Washington State, Flynn quickly turned into the Cougars' 'go-to' guy. As the main headline of a program engulfed in losing, Flynn spent much of his two seasons doing what 'go-to' guys do. That is, commanding the basketball. From 2016 to 2018 Flynn attempted 655 field goals (most for PAC-12 freshmen and sophomores). But high volume shooting on bad teams does not translate to individual (and team) success. Flynn's play rarely drove wins. His subpar 42% shooting from the field can be part of the explanation for the lack of wins. The intensely competitive PAC-12 didn't help, either. Facing an array of NBA prospects, Flynn often struggled with the speed and physicality of conference play. Perhaps weighed down by expectations, Flynn elected for a fresh start, opting for a move to a much less demanding Mountain West Conference.
With the move to San Diego complete, Malachi Flynn joined a team in a clear upswing. Two seasons following Steve Fisher's retirement, Aztecs coach Brian Dutcher already had his sights set on a conference title. With Flynn in the fold, the impact was immediate. The once directionless point guard took over, leading the entire nation in win shares for the season (7.4). Under Dutcher, Flynn transitioned from scoring guard to an all-around contributor, developing a greater understanding of team-oriented concepts. But red flags still circle Flynn today. Is he closer to the prospect that lead San Diego State to 30 wins? Or, is he the one that looked a step slow in the PAC-12? 
Flynn's STRENGTHS
Fluid shooting motion. Will rise from deep NBA range. Comfortable shooting off balance.
Crafty handle and bouncy athlete. Uses hesitation dribble and misdirection to set-up penetration.
Elite level scorer in the pick-and-roll. Will pull up off screens and attack slower defenders to the rim.
Smart and decisive passing vision. Leverages pick-and-roll and ball pressure to find cutters and open shooters.
Fast hands defensively. Gambles out of defensive assignments with a purpose.
Flynn's WEAKNESSES 
Lack of dynamic explosion off the dribble. Does not have an additional gear to elevate past quicker defenders.
Questionable lateral quickness. Can be exploited by ball-handlers.
Struggles to manage size on both ends of the court. May be maxed out as an athlete due to draft age.
Disengaged defensively for long stretches. Effort varies from possession to possession. Vulnerable to backdoor cuts. 
Limited defensive versatility due to athleticism and size profile. Will have to rely on increased engagement and defensive IQ.
ATTACKING THE PICK-AND-ROLL
Malachi Flynn immediately slotted into San Diego State's heavy pick-and-roll offense. For the season, Flynn was involved in 215 total pick-and-roll possessions (40% of the time). The production was significant. As the sneak of the Aztecs attack, he ranked in the 96th percentile while amassing an elite 1.06 points per possession. But how he turned into one of the nation's top pick-and-roll guards is not a simple answer. Flynn displayed a series of tools as a lead ball-handler, often leaving defenders guessing. Most of his productivity is a function of his ability to shoot off the dribble. Flynn has a strong handle and is extremely comfortable shooting off screens as seen here against Iowa: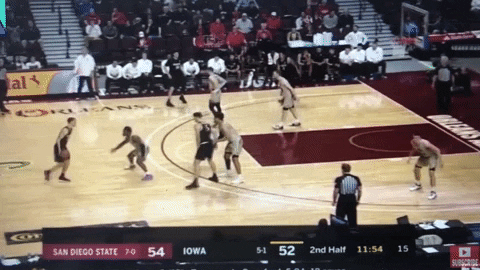 Flynn shot a healthy 47% on such looks this season. The consistency opened up other elements of his game, as well. Roll defenders often hesitate to drop and leave open shooting windows. Flynn is supremely aware of it, and goes into full attack mode when faced with slower rim protectors.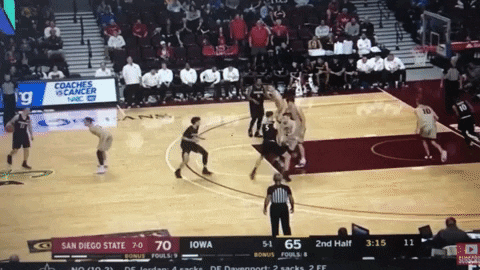 Flynn has deceptive bounce and leverages his tight handle well to attack the rim with authority. Able to take defenders either left or right, he relies on a variety of stop-and-go dribbles to leave defenders guessing. It is a savvy move by the collegiate veteran. Flynn understands his physical limitations and can play off of his high IQ to facilitate offense.
Flynn's Passing Vision
It is that same basketball feel that stands out when observing Flynn as a passer. Against Air Force, he pulls the defense with his eyes only to thread a precise bounce pass to the rolling big man. 
Flynn is an absolute maestro when it comes to manipulating defenders. Always one step ahead, he often uses the pick-and-roll to find cutters or swing the ball across the court to open shooters. Teams looking for shot creation off such offensive sets should not have to look much further than this Aztecs star.
DECIPHERING DEFENSIVE CONCERNS 
While Malachi Flynn has shown offensive promise, it is defensively where the conversation can get muddled. Immediate concerns center on his point-of-attack defense and off-ball awareness. Flynn flashes decent quickness as a point-of-attack defender. But the consistent effort and fundamentals are rarely there. Often times, he is exposed in space, as seen here against Utah State.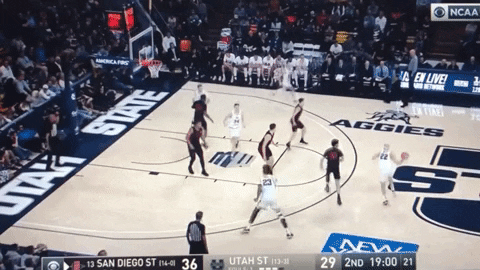 It is difficult to decipher how much of his on-ball struggles can be attributed to either subpar athleticism or effort. On occasion, Flynn will move and stick with his defender. Flynn possesses very quick hands, and, in those moments, defenders are clearly bothered by his ability to disrupt the dribble. But these moments are often fleeting, leaving us with a big question mark around his on-ball defense.
Off the ball, things are even more complicated. What he occasionally lacks in effort shows up even clearer in (lack of) awareness. Flynn is not what we would call an "engaged defender". Teams are very aware of it and continuously attack Flynn through a variety of backdoor cuts (as seen here against Utah State).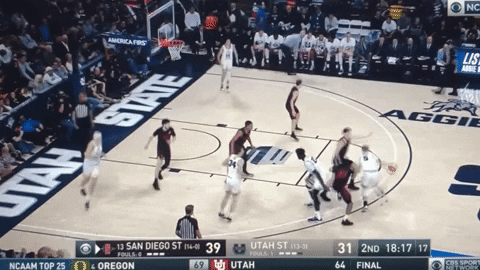 NBA teams must be able to balance the upside with the occasional defensive lapse. Perhaps Flynn may flourish defensively under the right defensive culture. But, as of now, clear concerns remain as to the effort Flynn puts on a consistent basis. Losing a defensive possession in college is one thing; consistently undermining your team's defensive structure is a clear path to the bench in the NBA. 
POSSIBLE FIT – BOSTON CELTICS
Few teams run the pick-and-roll with the same proficiency as the Celtics. In Boston, Malachi Flynn would have the ideal structure to thrive. Celtics ball handlers score an elite 0.98 points per pick-and-roll possession (96th percentile). Most of the damage is done by Boston's starters, led primarily by Kemba Walker. The same efficiency can't be found on the bench. Back-up point guards Brad Wannamaker and Carsen Edwards struggled to provide similar output. With Wannamaker's upcoming free agency, Flynn could potentially slide in as a more viable back-up option at point. His proficiency and vision off the roll could free up open looks for Jayson Tatum. This season, Tatum turned into Boston's secondary ball-handler in the pick-and-roll. Alleviating some of his on-ball usage could bring out more offense for Tatum in the form of three-point looks. 
Defensively, Boston relies heavily on a team-oriented concept to thrive. Flynn would have a plethora of plus-defenders to minimize the risk and draw tougher matchups. Boston does lack an elite rim-protector, and that could become an issue if Flynn's defense is detrimental at the next level. But, Boston sits on a treasure chest of picks in the first round. Plucking Flynn at the back end of round one could be a low-risk, high-reward move that the team has the luxury to make.
STAT NUGGETS 
Led Mountain West Conference in assists (162) and steals (56).
Scored 1.086 points per spot up possession (86th percentile).
1 of 5 collegiate players to register 200+ three attempts, 140+ free throw attempts and 50+ steals in 2019-2020.
Reduced turnover rate by 8% from freshman to junior seasons.
Led Mountain West Conference in Box Plus/Minus (6th in NCAA – 11.7).
SUMMARY
Malachi Flynn's offensive polish will likely command the attention of contending teams picking at the tail end of the first round. Flynn is a plus-ball-handler who can command the offense and set up teammates. While most of his offensive output comes in the form of pick-and-rolls, Flynn can also provide spot-up offense from multiple areas of the court. This combination could be very intriguing for teams looking for a veteran-type rookie to come in and contribute immediately. Recent draft history points to contending teams investing in smaller-but-seasoned point guards. The Celtics, for instance, have drafted five 6'1″ (and under) combo guards since 2015. While most have made limited impact, Flynn has a chance to stick in the league as a mid-rotation player–a guy who can absorb some critical minutes in a long 82 game regular season.