The last month of basketball has shown us that the Sixers' offense is wildly inconsistent and their biggest question mark when evaluating them comparatively with the other contenders in the East and the NBA. It's weird, the team's weaknesses are exactly what was expected, and, yet, it's shocking how bad things can get as the team progresses through the peaks and troughs of an 82-game season.
The Al Horford Intervention
It's time. It's a conversation that needs to be had. Horford has not been anything close to what Philly hoped he would be since the first ten games of the season. Defensively, smaller players whiz around him and finish at the rim with ease. Offensively, his shots are missing short and he is committing uncharacteristic fouls and turnovers.
With Embiid likely to miss a few more weeks and the production not justifiably worth the contract, Horford is untradeable from both a basketball needs perspective and a market perspective. Almost certainly saddled with a preposterous contract for the remainder of the 2019-20 season, it is time to move Horford to the bench. While his production (12.5 points (44.9% FG/33.3% 3FG/68.8% FT), 6.6 rebounds, 3.9 assists) as a $109 million player has been lackluster, the bench is so barren that Horford would bring some life to the second unit (28.8 points per game–tied for third fewest in the NBA). He would also be able to play within a continuous frame of backing up Embiid, so there wouldn't be the downside of adjusting to a completely different role.
So, what does a starting lineup that doesn't utilize Al Horford look like? More importantly, are there some other in-game (not just starting) lineups that can be used to unclog the offense?
Let's get weird.
The Starters
PG: Josh Richardson
SG: Matisse Thybulle
SF: Tobias Harris
PF: Ben Simmons
C: Joel Embiid (Al Horford, while Embiid is out)
More Pick-And-Roll
Josh Richardson leads the team in possessions (5.3 per game) as the pick-and-roll ball-handler. In the context that the Sixers only use 13.7 possessions per game (second fewest in the NBA) on such plays, Josh Richardson is clearly Brett Brown's creator of choice in the pick-and-roll. 
Positionless Ben Simmons
If nuanced basketball discussion wants to ponder over the idea of a "positionless NBA", then Ben Simmons can be a ball-handler in both the full-court and the half-court while also operating from an off-ball position in the post. I know, just let that sentence marinate in your head.
The last thing you want to do is take the ball away from Simmons in transition; that's where he and, thus, the team are incredibly dangerous for opposing defenses. But, time and time again, we've all seen how his unwillingness to shoot jumpers can inhibit their potency in the half-court.
The idea of allowing Ben to bring the ball up and make the first pass before dropping to the post is intriguing to me. If the first pass is there for a score, Ben is a point guard for that possession. If it isn't, he goes to the post and waits for the play to unfold. Maybe the ball ends up in his hands anyway and he hits an open cutter or shooter, or maybe he follows a miss with a put-back dunk. The play might even unfold with him being utilized as a pick-and-roll ball-handler upon receiving a pass. This play isn't exactly what I just described, but it's the same idea: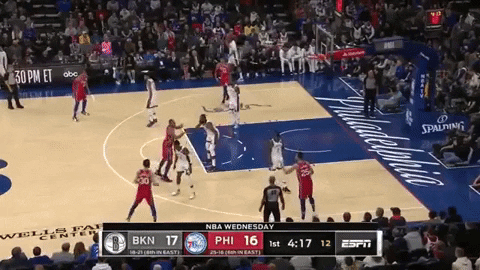 Simmons isn't beginning the play from the post, but he is initially off-ball. Horford screens towards his pass and Ben, sensing the open lane, utilizes the quick side pick-and-roll to throw down an easy one. These looks won't always be there for a non-shooter, and they certainly won't always allow for a dunk coming down a vacated lane, but there will be opportunities to run such actions from time to time.
Death Lineup
Inserting Matisse Thybulle into the starting unit has "death lineup" potential. His wingspan would give the first 5 an average wingspan greater than 7'0″ and an average height greater than 6'7″. Every player would be able to credibly switch onto at least three other positions on any given possession, and the defense would overwhelm opponents. With Thybulle's, Simmons', and Embiid's ability to block shots and ignite transition offense, this unit would be fatal for opponents in the full-court. 
Perhaps most important of all, inserting Thybulle into the lineup would provide Embiid with additional room to operate in the paint and add much-needed spacing with Thybulle's spot-up shooting ability (41.8% on three-point attempts, 43.8% on catch-and-shoot three-point attempts).
While that lineup has produced a net rating of -22, it has only been used for a total of thirteen minutes. In a much more adequate sample size, that lineup is versatile, quick, and skilled enough to be a nightmare for opposing teams on both ends of the court.
Shooters
PG: Trey Burke
SG: Josh Richardson
SF: Furkan Korkmaz
PF: Tobias Harris
C: Joel Embiid (Al Horford)
This would be a lineup that I would tinker with in the second quarter. With Thybulle and Horford on the bench, this lineup allows Brett Brown to stagger his starters with his bench, while also inserting a shot-creator. Trey Burke, Richardson, and Harris are the only players who can viably create shots off-the-dribble. On paper, Burke, Harris, and Richardson should be the team's three best shooters. Harris (35.9% on three-pointers) and Richardson (33.9% on three-pointers) actually are two of the team's best shooters, which is part of the problem. Burke (44.4% on threes) is the best shooter on the roster, but his sample size is far too small to be trustworthy.
The most interesting thing about this lineup is that three players can be used as pick-and-roll ball-handlers. That trait keeps defenses guessing, as it's not as simple as denying a spot-up shooter open looks. Furkan Korkmaz (37.6% on threes) can be used to stretch the defense as a spot-up shooter and keep the lane decongested for the shot-creating abilities of Burke, Richardson, and Harris. While none of the first three players mentioned are prolific marksmen from beyond the arc, all three are very capable pull-up jump-shooters in the mid-range area.
Feed The Big Man
Perhaps the most underrated aspect of this lineup would be that it allows Joel Embiid to be used as a pick-and-roll roller, which is something we haven't seen nearly enough of. It also gives him the space to go to work from the free-throw-line-extended areas and the block. That spacing gives Embiid the room to dominate, while also allowing the other four players to move freely to vacant locations on the court and keep the ball moving. 
For what it's worth, this lineup has never been used (according to NBA.com).
Run With Us
PG: Josh Richardson
SG: Matisse Thybulle
SF: James Ennis III
PF: Tobias Harris
C: Ben Simmons
Do you remember 'Run With Us'? That was the Sixers' slogan back in 2012. I ask because this lineup would have to do an absurd amount of running to work. In a half-court defense, Ben Simmons would be eaten alive by big men. The middle would be totally compromised. But, this lineup would, theoretically, bring out Ben Simmons' best skills and would be incredibly difficult to defend in transition. Brett Brown has always preached pace and implemented a laissez faire offense predicated on open-court play. With four of the five players in the lineup building reputations as excellent wing defenders, this lineup would create turnovers and run. Thybulle, Ennis, and Harris flock to their spots on the perimeter, and one of Richardson and Simmons (ideally, Simmons) pushes the ball.
Point Center?
In the half-court, Simmons can be used as the pick-and-roll roller–which has worked repeatedly with Richardson as the ball-handler. Utilizing Simmons at center would allow him to take slower bigs off-the-dribble and get to the basket when he has the ball in his hand, encourage him to utilize the short one-handed jumpers he has become quite good at, and operate off-ball, as well. If Simmons is posted up, he can look opposite and find the open man.
Due to the obvious weaknesses in this lineup, both at an individual and five-man level, it could not be sustained for lengthy stints. It could, however, be an interesting look to throw at opponents for five minutes per game (could be less, depending on if the opposition gets a  few easy baskets in a row). I would be tempted to use this mix late in the first quarter or early in the second. 
There's still way too much time left in the season to press the panic button on the Sixers. Re-enforcements are likely on the way, Embiid will be back, and, at 26-16, things aren't nearly as bad as they've been made out to be. However, over the last month, it has become apparent that this team's biggest concern is the unpredictable, deep funks the offense can go into. There are a few lineups I have in mind that could counter those offensive woes, but it all begins with relegating Al Horford to the sixth man role.