This week we take a in-depth look at George Hill and his potential role in Philadelphia. Also, we breakdown what makes Villanova's Jeremiah Robinson-Earl such an intriguing NBA prospect. 
SIXERS' NEW FACILITATOR AND LATE GAME OPTION
Philadelphia entered the trade deadline with a variety of interesting options. Coming into Thursday's bonanza, Daryl Morey tinkered and explored several possibilities, including that of adding Raptors star Kyle Lowry. But as the dust settled, the Sixers landed on a less flashy alternative. In George Hill, Doc Rivers gains a steady veteran who can now slot into multiple roles with the team. How that looks as a ball-handler is particularly interesting among Philadelphia's current group. 
TAKE A LOOK AT HOW GEORGE HILL COMPARES TO PHILADELPHIA'S MAIN OPTIONS
Adding Hill's on-ball influence should unlock a couple of things off the bat. The Sixers continue to struggle with turnovers this year, ranking 25th among all NBA teams in turnover rate. The Oklahoma City newcomer should have an immediate impact in optimizing possession and nudging Philadelphia towards a top-10 offensive team. But how that looks within the context of Rivers' options is very interesting. The team has gotten explosive but rather inconsistent production from Shake Milton's back-up role. When you look at the film, it is easy to see why Hill makes immediate sense. Just watch with the ease he connects with a cutting Shai Gilgeous-Alexander here.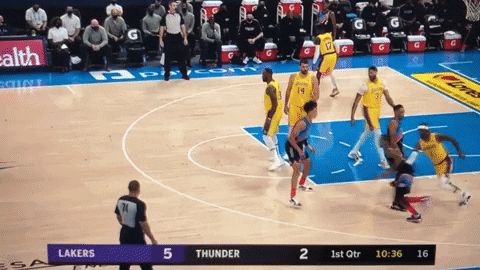 Rooted in Gregg Popovich's 'Spursian' mentality, Hill understands when and how to facilitate easier offense for teammates. At the core lies a supreme understanding of how to dribble defenders into conflict. Pay close attention in the way he attacks the heart of Brooklyn's defense into an easy two points.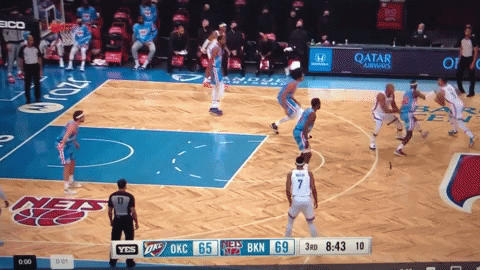 What immediately stands out from Hill's brief run with the Thunder is how players benefited from his playmaking. Over 70% of his passes went to the trio of SGA, Al Horford, and Lu Dort. Want to understand the impact?
TAKE A PEEK INTO HOW EACH PLAYER SHOT FROM THE OUTCOME OF A GEORGE HILL PASS
It is under this framework where George Hill can facilitate more efficient offense running Philadelphia's second unit. While Milton and Tobias Harris have flashed as back-up point guard options, neither player is the passer and court general that Hill has proven to be over the course of his career. Getting to a level of consistent back-up play is critical, but it also tells only part of the story. Why? Hill has long been used as a late-game option on championship contenders. Just last season he was part of a devastating closing group in Milwaukee, logging the second most 'clutch-time' minutes behind Giannis Antetokounmpo. Want to go even deeper? Take a look at Hill's superb clutch time plus/minus rating playing for recent playoff teams:
19-20 BUCKS (56 wins): +31 

17-18 CAVS (50 wins): +48 

16-17 JAZZ (51 wins): +26

13-14 PACERS (56 wins): +37 
How Hill fits into a closing lineup can vary from team to situation. But in most of those contending teams, Hill's late-game role has migrated from distributor to a high-impact defender. At age 34 he still possesses the wheels to deny driving lanes. And at 6'4″, he can easily slide into a switch-heavy defensive system, one that is critical against some of the league's most fierce one-on-one scorers. In Philadelphia's quest to build a defensive fortress there is a world where Doc Rivers closes games out with Hill rather than Seth Curry. This would give the Sixers a lineup capable of matching across multiple positions with limited defensive weaknesses in the perimeter.
The Sixers approached the trade deadline looking for a home run swing. While Morey fell short on some of the bigger names, the addition of George Hill checks off many boxes heading into the postseason. Philadelphia now has a consistent back-up point guard option and a player who can provide a winning presence in critical moments of the game. The expectation that netting a few singles may lead to the same run home. 
YOUR COLLEGE BASKETBALL PROSPECT: STRETCH BIG: JEREMIAH ROBINSON-EARL
THE RESUME
15.7 points per game (25 games)
57% from two-point range (49% last year)
10% turnover rate (18% last year)
14.8 total rebound rate (6th in Big East)
WHAT I LIKE
Soft touch and smooth release. Potential to extend range to the three-point line. Stretches the floor from the power forward / small center position.
Strong anchor as a rebounder. Hard to move from his spot. Holds his own on the glass against bigger forwards. Competitive.
Supreme defensive IQ. Highly switchable in the perimeter. Tremendous feel for defending the roll man in the pick-and-roll. Good footwork in the perimeter. Stays locked-in to smaller and quicker guards.
Great passer. Initiates transition offense off the glass. Good vision in the open court. Passing outlet from the post and off the dribble. Unselfish. Plays within a team context.
Versatile. Comfortable handling the ball. Tight handle. Used as a diver in the pick-and-roll. Cuts with intent. Shooting weapon off the catch. 
WHAT I DO NOT LIKE
6'9″ with a limited wingspan and athletic profile. A small-forward body without the small-forward explosion. 
Struggles with length at center. Does not have the wingpsan to keep bigger guys off the glass. Lacks vertical lift to provide consistent rim protection.
Poor shot selection. Not an initiator in the half-court. Settles for contested shots off the dribble. Inconsistent shooter from distance (career 30% from three).
Passive for long stretches. Underwhelms offensively as a highly recruited player. Limited offensive growth in two seasons at Villanova. 
May lack a role at the next level if shooting and defensive versatility does not translate in the NBA. 
PROJECTION 
Jeremiah Robinson-Earl is another name on a long list of recent Villanova players to circle the NBA waters. Like many of his older counterparts, Robinson-Earl's calling card lies in his high basketball IQ. That supreme basketball feel shows up on both ends, as he is tasked with big responsibilities under Jay Wright's system. From a projection perspective, his ability to expose bigger forwards off the dribble is one trait that will catch the eye of scouts. Robinson-Earl is a tremendous passer, and his versatility at 6'9″ can play well in a scheme that emphasizes space and ball movement. 
But as with most Villanova prospects, not all the boxes check off clean. The main question centers on what position he projects at the next level. Can Robinson-Earl defend NBA centers at 6'9″? Or, does he have the quickness to switch across NBA speed in the perimeter? Beyond those key points is also his inconsistency as a shooter. While the mechanics solid solid, Robinson-Earl has shown little consistency to dispel those concerns. With that in mind, I firmly expect his name to be a hot commodity at the front end of the second round, as the potential for a versatile big man is a hot commodity in the NBA.