Ben Simmons' year has been nothing short of a roller coaster ride. The Sixers All-NBA maestro shrugged off early seasons' struggles to string together a phenomenal stretch of basketball. In a wild month of February, Simmons reminded the NBA community why he is an offensive force. But as Philadelphia searched for scoring in Joel Embiid's absence, his game has taken another tumble. There is much to be said about how certain lineup combinations can help (and limit) his offensive impact. While that is true, no conversation is complete without taking full stock of Ben's scoring arsenal. Hints of a potent scorer are there, but as we are about to find out, it is going to take the realization that consistency is rooted in the finer details.  
FRAMING THE CONVERSATION AROUND BEN SIMMONS' AGGRESSIVENESS 
Much of the discourse around Simmons centers on two main points. The first is a lack of a jump shot. The next is a passive mentality on the offensive end. While there are valid points to both sides, much of Ben's scoring inconsistency points to neither. Yes, there are obvious benefits to developing a reliable outside game, as are the occasional moments when Simmons takes a backseat role in the offense. But if the conversation is to draw consistent scoring from a player who has shown flashes of a devastating scorer, then we can focus directly on the things Ben does inconsistently well. That is, aggressively attacking the basket. Still not convinced of Simmons' assertiveness? 
HERE ARE ALL NBA PLAYERS WHO ATTEMPT 250+ FIELD GOALS INSIDE THE RESTRICTED AREA AND 125+ FIELD GOALS IN THE PAINT
So if the problem is neither his intensity level nor taking unreliable jumpers, then what is? Well my friends, allow me to pinpoint a reason that circles back to Simmons' own level of (reckless) aggression. The type of approach that when blended with an unrefined offensive game has yielded the up and down results we are seeing this year. So where does this show up on the court? Let's dive in!
LOW PROBABILITY SHOTS ATTACKING DEFENDERS IN SPACE
One of Simmons' go-to offensive moves this year has been the short-range floater. While there are stretches where the shot looks dependable, it is a hard move to master without a pristine basketball touch. For a player with a limited shooting framework, this becomes a difficult equation to solve. No Ben Simmons is not Shaq at the free-throw line, but his feel for the basketball is far from some of the elite NBA shooters. So the question is, how to turn the floater into a higher probably shot? To begin and harness ideas, take a look at how Simmons attacks a defenseless Isaac Okoro in space.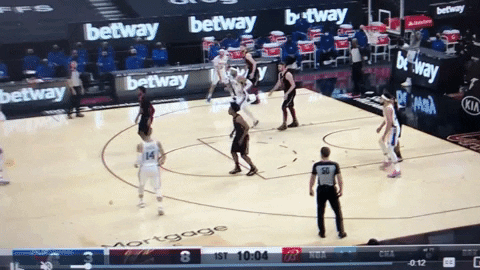 The key here is to pay attention to Okoro's stance the moment Simmons catches the basketball. At the point where Simmons gathers the ball his (reckless) mindset is in place. That is, 'I am going to catch this and go up with my floater'. But with Kevin Love's late weakside help and a defenseless Okoro shuffling his feet, Ben has other options at this disposal, including a pump fake to set up the defender in the air.
Putting defenders in conflict from a stationary position is something that we rarely see in Simmons' game, and it largely gets him in trouble with his back to the basket. Thru 42 games this season, Simmons is scoring on 45% of post-ups, placing him in the 50th percentile among all players with over 50 post-up possessions. At 6'10" Philadelphia has a sizeable advantage with Simmons matched against smaller guards. But without a consistent counter move, most of those possessions end up as misses or a simple kick-out pass. Whether it is a pump fake or refining his footwork in the post, there are plenty of options at Ben's disposal. Adding one (or two) may be the difference from an average post scorer to a top tier one.
LIMITED FEEL ORCHESTRATING IN THE HALF COURT
Who has not been in awe by Ben Simmons in the open court? Simmons is a dynamite transition player and most of his damage comes from making define and stationary reads off the break. Build a wall of defenders in front of him and he will pinpoint the next open shooter without any hesitation. But in the half-court things get muddier, and in Doc Rivers' heavy pick-and-roll scheme Simmons has displayed quite a lack of feel running the show. To get a better picture, just watch how Ben sprints to the rim with complete disregard for a rolling Howard.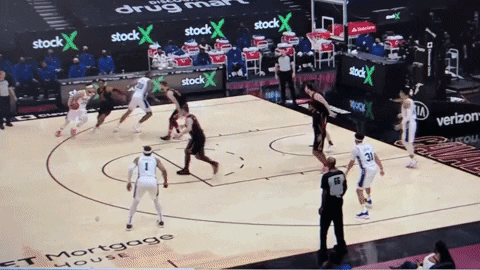 Orchestrating a pick-and-roll offense is no easy task and it requires a supreme feel for how to create passing angles. Watch Chris Paul and you will see him maneuver defenses off a live dribble, often changing directions to create space and confuse defenders. While it is unrealistic to expect Simmons to be at that level, he is far from that player today. Reads become harder when they are not as clearly defined, and in this instance, Simmons' mindset is to attack the rim for a contested runner. How Ben has fared in the pick and roll is a big source of Philadelphia's up-and-down offense
SO FAR THIS SEASON BEN RANKS WELL BELOW AVERAGE ON MOST PICK AND ROLL METRICS
Simmons' overly aggressive mindset is not only a source of misses but also of turnovers. His 26% turnover rate as a pick-and-roll ball-handler is the highest of any player with over 100 possessions. Teams have a deeper understanding of how to defend the Sixers star, and often flash additional help with complete disregard for the roller. Without the understanding of how to change angles, Ben becomes easy prey in the half-court and is left with limited alternatives when attacking the basket. By the same token, his subpar production runs opposite of the public outcry for more aggression. Slowing down can go a long way here. But to get there, it will require a wider grasp of set offenses. Whether Ben can find that in his own game or studying the film of other NBA greats remains to be seen. 
(NOT) SEEING HELP DEFENSE ON THE WAY TO THE RIM 
Ben Simmons' offensive inconsistencies are also rooted in his inability to see help defenders. As we have mentioned, the fit alongside Dwight Howard is far from ideal. But Philadelphia is clear about its intent to win games defensively, and in this world, Dwight Howard makes (part) sense. Until Simmons develops into a dependable rim protector, it is a lineup combination that he is going to have to grow used to. How that looks under the framework of a scorer relies on his capacity to expand his vision (and feel) in the paint. Take for instance this approach against Cleveland.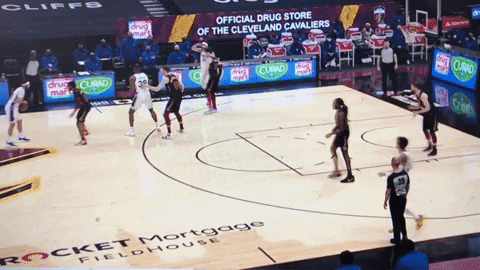 As is the case yet again, the problem is not aggression. On the contrary, Simmons is determined to get to the rim and do so at all costs. But his narrow approach also limits his court vision. Yes, ideally you would want Ben playing alongside a center who can pull the weakside help to the three-point line. This would free up space for him to bully a defenseless Cedi Osman. Nevertheless, this should not be a deterrent to Simmons making a better decision on the ball. At no point in this snapshot does Simmons even acknowledge Dean Wade's presence, choosing instead to float a wildly contested shot at the rim. With ample time in the shot clock, a simple re-set or kick-out pass to an open Danny Green are two decisions that never flash in Simmons' mind.
Developing greater spatial awareness can go a long way into a more well-rounded scorer. Simmons attacks with tremendous pace and strength, but it often comes at a price. Navigating this change in approach is tricky. It requires time, a network of players to study from, and coaching. But as we have seen, it can go a long way into growing a more consistent scorer.
SO WHAT IS NEXT? 
Amidst the areas where Ben Simmons can grow as a scorer, it is important that we do not lose sight of how he impacts winning. Simmons may never develop into a consistent 25 to 30 points per game player, and that is OK. Within the framework of how Philadelphia plans to win big, part of his role is anchoring difficult defensive assignments and generating quality looks for his teammates. So far this season Simmons checks off both boxes in style.
But within the system of a complete NBA team, it is not unrealistic to expect Ben to consistently contribute to the points column. Doing so would free him for restrictive lineup combinations and also add another dimension to the Sixers offense. How that looks moving forward remains to be seen. But one this is clear, Simmons' offensive game is far from a finished product. And to get there, it is going to take a new approach and different commitment from the Aussie star.