So often, we hear prospects defined by inflating labels such as "star" and deflating labels such as "project". In the NBA draft, especially in the commencing stages, a "project" is someone who is very raw in terms of what they can offer at the present time but has the potential to flourish into something beautiful. But, what do you call someone like Devin Vassell, the twenty-year-old wing out of Florida State University? Vassell stands at 6'7″, 194 pounds with the physical gifts to spread his arms out to 6'10". In his sophomore campaign with Florida State, he converted 41.5% of his 3.5 three-point attempts per game. So what do you call a wing with tremendous size, sneaky athleticism, but a relatively raw game outside of his capacity to bury three-point shots? That's an "investment", and Devin Vassell is one that is worth the risk.
Strengths
Defensive principles are advanced
Capacity to cut off-ball, although the instinct can be a bit inconsistent
Active enough off-ball to create space with movement, does not constantly stand around and watch the ball
Excellent defensive versatility and toughness; able to handle bigger mismatches, posting up isn't easy for opponents
Instinctive help defender, anticipates rotations and gets in position in time
Incredible awareness as an off-ball defender; adept at deflecting passes, precipitating steals, and creating transition opportunities
Excellent at denying the ball; rarely on ball because offenses have to go away from whomever he's guarding
Showed an improved willingness to create his own shots off the dribble as his sophomore season went on
Weaknesses
Outside of short bursts going North-South, very unwilling to dribble, especially if it involves going East-West; often passes when met with resistance trying to turn the corner from the perimeter
While he did show some ability to create offense for himself off the dribble, largely showed nothing to prove that he can do more than spot up on the perimeter if he's not moving without the ball
Outside of pick-and-roll reads, post entry passes, and drive-and-kicks, doesn't really have any instinct for passing the ball
Hands are a concern; constantly loses his dribble and often loses rebounds if there is pressure or activity around him
Should be a much better rebounder, given his size and athleticism and considering how often he finds himself near the basket when a shot is going up
Three-point shot has more dip than his midrange jumper does; inconsistent shooting mechanics across different distances
I question whether he can be a star because he plays off ball so much
What Excites Me
Vassell has the frame and instincts to be not just the best wing defender in this class, but one of the best in the NBA. He can switch across the shooting guard and small forward positions just with his size, and his toughness makes it feasible for him to switch onto power forwards. Vassell engulfs his man and makes it almost taboo to pass to whomever he is guarding. He isn't the guy that completely neutralizes the second best player. In fact, I think that may be understating his defensive capacity. He is the guy that gets primary responsibilities for the opponent's best player in a playoff series–and gets the job done. Add in his ability to shoot the rock and his slowly-improving off-the-dribble package, and you have yourself a real weapon.
What Concerns Me
Whichever team takes him needs to have the understanding that they must have two or three offensive options in front of him in order to maximize his game. If not that, the roster around him must consist of spacers so that he isn't caught in situations where defenses are blitzing him and betting on bad passes. With the wrong pieces on the roster, Vassell's offensive game can be minimized. In today's NBA, that may not be playable, even if his defense is as advertised.
Film Room
I have come to realize that the overwhelming majority of today's collegiate guards and wings can shoot the ball. Further, I have always publicly championed the belief that comfort matters more than mechanics, and it would be hypocritical of me to continue writing college theses on every deviation Vassell's jump shot has from the textbook. As evidenced earlier, he was a very capable three-point shooter at Florida State, so there's no reason to write an essay on something that isn't broken. Rather, let's take a look at what makes Vassell a worthwhile investment of a lottery pick. 
Vassell's Defensive Instincts and Awareness Make Him An Immediate Positive
Length and athleticism are obviously very important, but they don't serve a purpose if a player lacks a motor to be a consistently great defender or the mind to quickly anticipate ahead on that end. Anticipation is paramount for both positioning in help as well as beating a ball-handler to a spot. Watch how Vassell reads and anticipates this post pass to create the steal against Louisville: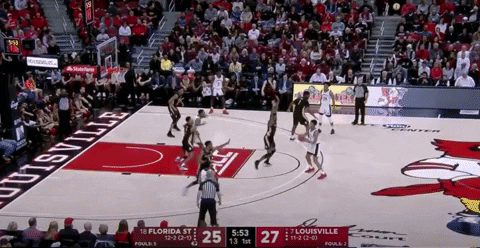 Vassell rotates over to the middle of the lane when the ball swings to the weak side of the floor. That understanding of help positioning allows him to burst over to blitz the post entry pass so as to prevent the mismatch advantage that Louisville has on this possession. That anticipation allows him to deflect the pass from the baseline side before it reaches the post, and Vassell's adeptness at anticipating the offense's next move creates a transition opportunity for Florida State.
Vassell Uses His Length To His Advantage
Part of being a heady defender is being aware of one's physical attributes and using them as a weapon on that end of the court. Vassell uses his 6'10" wingspan to pressure passing lanes and block shots with ease. Watch how Vassell's length and reflexes make opposing offenses look foolish.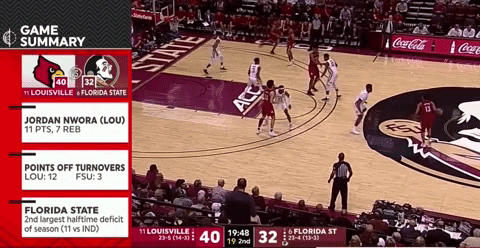 David Johnson attempts to float this lazy skip pass to the corner, but Vassell is able to punish the mistake with his length. Vassell's aggressiveness in the passing lane charges Louisville's doom as the ball travels slowly through the air, and it doesn't require much effort for him to intercept this pass. His length engulfs Dwayne Sutton, forcing the skip pass in the first place. His wingspan allows him to simply reach up and snatch the basketball.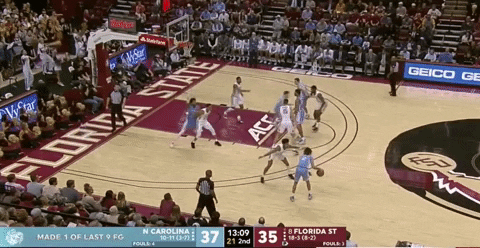 Here, Vassell's length aids him in beating the ball-handler to the rim, and he doesn't even break a sweat pinning this weak attempt off the glass. Notice how he only needs one half step to rotate from his man to rise up for the block. Yet another advantage of his length.
Vassell's Motor and Strength Enable Defensive Versatility and Limit Mismatches
Despite his wiry frame, Vassell has the physical strength and drive to clash with more than one type of offensive player. His strength makes him a viable switch candidate onto power forwards and maybe even some small-ball centers despite his 6'7″ frame. His motor affords him to make mistakes and still recover in time to save his team from punishment.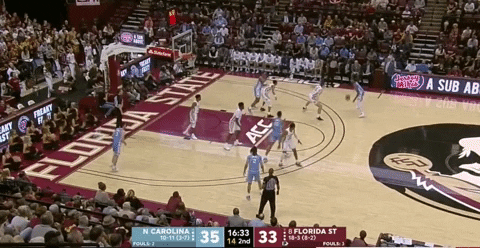 On this UNC possession, Vassell is guarding 6'10", 240-pound Armando Bacot in the post. Bacot has physical advantages across the board, and this would ordinarily be a relatively easy mismatch for UNC to feed. However, Vassell's length, strength, and motor are not ordinary. He uses his strength to front Bacot off and deny him positioning in the post, making it impossible for him to establish himself and demand the ball. The Tar Heels still score, but they are forced to settle for a contested midrange jumper off of dribble penetration–a much less desirable look compared to a post feed on a mismatch.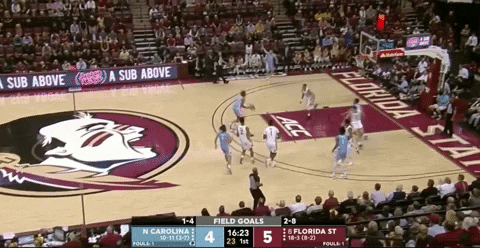 Vassell's motor is on full display on this play. He overplays the passing lane, looking to get a deflection and run in transition. He is a hair late on the passing lane, allowing the successful kick-out. Normally, this is an open triple. But, Vassell is agile enough to turn and recover off of the overplay and burst back to the shooter to contest the jumper. Notice how he only needs three steps to recover, turn, and contest the jumper. His incredibly long strides should pay dividends at the NBA level.
His Offensive Game Makes For A Risky Investment
There are some clear holes in Vassell's game on the offensive end of the court. Florida State converted 45.7% of their field goal attempts in 2019-20–above average for a Division I program–but Vassell averaged just 1.6 assists per game. Additionally, Florida State rostered three players averaging over ten points per game, and seven players averaging over five points per game. So, it isn't that he made passes and his teammates just missed shots, it's that the passes he made weren't progressing his teammates towards scoring. 
Further, it's hard to make the case that his passing was unimpressive because he was tasked with scoring the ball, as he averaged just 12.7 points per contest as a sophomore. While that led his team, he only attempted 9.8 field goals per game. Further, he averaged less than one turnover per game across both of his collegiate campaigns. That he is neither recording assists nor turning the ball over allows the belief that he is not a ball-dominant player, but rather an off-ball option in a half-court offense. While that fits beautifully in the modern NBA, it lends the question of whether he can morph into a star-caliber player. Even in a weak draft class, teams with top-5 picks are trying to search for cost-controlled stars, not 3-and-D role players.
Luckily, there are signs that his offensive game is developing, such as this self-provisioned score: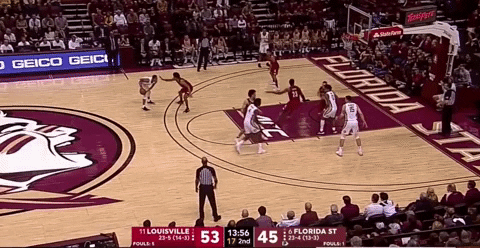 Not only does this play showcase his shooting touch and improved off-the-dribble package, it's also a glowing endorsement of Vassell's footwork. A gorgeous field goal, indeed.
Best Fits
Vassell's package is a fit across quite literally every team in the NBA. But, the lottery teams that will benefit most from his services are going to possess point guard or big depth and be in need of athletic wings to shape a defensive core on the perimeter. 
Cleveland Cavaliers
The Cavs are not in the business of drafting lead guards in this draft, as they've already picked up Collin Sexton and Darius Garland over the last two drafts. Cleveland desperately needs to add wing versatility to its progressively younger roster and perimeter spacing for its young guards. Vassell may not be the home run pick at 5th overall, but they need to make some progression at a position outside of point guard. 
Chicago Bulls
Otto Porter, Jr. could be a trade chip who could clear out Chicago's wing depth. Chandler Hutchison has not panned out thus far, and Thaddeus Young's limited outside game confines him to the power forward position. For a team that needs to add shooting to create space for Coby White and Zach LaVine to operate, as well as evolve its perimeter defense, Devin Vassell makes a lot of sense in the Windy City.
Detroit Pistons
Motor City vacillated between starting Tony Snell and Bruce Brown last season. That…well….good luck with that! Detroit is not in the business of being picky, and anything should be kosher. 
Stats To Know
Vassell ranked in the top-3 on Florida State's roster in minutes played, points, rebounds, assists, steals, blocks, and three-point percentage.
Vassell recorded at least one steal in 24 of Florida State's 31 games this season.
Draft
Highest I'd take him: 5th pick
Lowest I think he'll be available: 10th pick
Ceiling: slightly better Jeremy Lamb
Floor: better Al-Farouq Aminu
You can find the rest of our draft evaluations below!