Every draft has one, and the class of 2020 is no different. There is always a highly-regarded international prospect. There are always talking heads who are either obsessively excited or categorically concerned about said prospect. As much as scouts survey the international pool looking for the next Dončić, they must remain equally guarded in trying to avoid the next Miličić. This year, the subject of attention overseas is Deni Avdija. While Avdija was not the recipient of excessive opportunities for Maccabi Tel Aviv prior to the COVID-19 shutdown, the 6'9″ forward displayed tantalizing skills and physical gifts that identified him as one of the best prospects available in the upcoming draft. At 19 years of age, Avdija has shown the capacity to be a modern NBA forward, and he is only going to get better.
Strengths
Flawless shooting motion; quick and repeatable, balanced and fluid
Improving shooting touch, has a variety of jumpers he's getting comfortable with
Tremendous feel for the game; understands where teammates are, makes the right passes, quick with scoring moves; reads defenses and consistently makes the right play
Not a facilitator, but a very aware and capable passer
Capable finisher off the drive and in the post
Defensive motor advanced; very active and intense
Appropriately aggressive defender; doesn't back down against bigger matchups
Professional experience at his age has set him up to be advanced in his development
Weaknesses
Doesn't really move off-ball
On-ball defense is not able to adapt to quick bursts; footwork needs some discipline to quicken his reaction to change of pace, could struggle to stay in front of ball-handlers in NBA
Tendency to stand upright in help; engagement or conditioning?
No evidence of a shot-creating package
Athletic in transition, but lacks athletic burst in half-court setting
What Excites Me
Avdija, a teenager, has tremendous size for his age. He has already begun showing signs of elite skill, and his work ethic is indicative of a player who has what it takes to grow into a great player. With his physical grade, his natural feel for the game, and the foundation of his skill, he has the upside to be one of the league's best players.
What Concerns Me
A significant proportion of Avdija's touches came off of the catch. He has shown very little ability to create his own shots off of the dribble. He certainly hasn't shown any sign of being able to create space for jumpers off of the dribble or beat his man to the basket for a finish. If he never develops the speed to create his own scoring opportunities, he may never become anything more than Davis Bertans (which is still good, but not worth top-5 consideration). Further, if that foot speed doesn't develop, he will be a liability in man-to-man defense at the NBA level. If he can't stay in front of an offensive player, he won't be able to stay on the court.
Film Room
Seeing as I have seemingly developed a reputation as a shot doctor, it only makes sense that we begin with a breakdown of Avdija's jump shot. In seven games since basketball resumed play in Israel, Avdija has connected on 41% of the 39 triples he has attempted–a strong contrast to his conversion rate of below 30% prior to the suspension of play. 
Avdija's Exemplary Shooting Mechanics 
While Avdija's success from beyond the arc has not been consistent, the work he displayed in the clips he posted on social media has been validated by his marked improvement in efficiency immediately upon return. With that work ethic, and the picture-perfect mechanics he consistently displays, there is nothing preventing him from becoming a sensational shooter.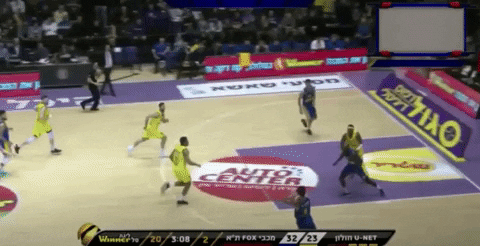 It is hard to evaluate his lower body on this attempt, but his upper body checks off every box. Release point is above his head, right elbow stays within the line from his shoulder to the basket, and the follow-through is held. He also elevates and lands in a straight line, there's no fading or extraneous lower body movement as he rises and falls.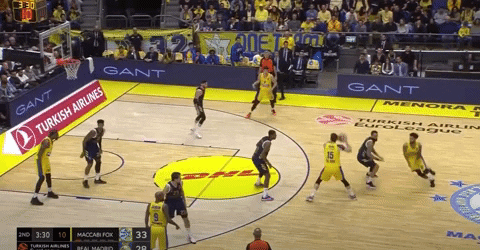 Avdija's release point and motion remain identical. His feet may come a bit too close on this attempt, which can normally alter a shot. Doesn't matter much here, as Avdija holds the follow-through and strokes this one with a hand in his face. His legs awkwardly spreading as he lands is a result of the proximity of the defender to his body–he was given no space to land.
Mechanically, Avdija's motion is identical to the previous deep ball attempt. We mustn't neglect the difficulty of this shot, though. Avdija must move away from his shooting pocket to retrieve this pass, gather the ball, get it back to the shooting pocket, and then elevate for the shot. All of that, mind you, is with a defender rapidly closing out to contest his look. Gathering himself, completely out of rhythm, Avdija converts the bucket without any space to spare. This shot serves as a strong endorsement of Avdija's muscle memory, touch, and the requisite work ethic to develop those advantages so that he can convert such difficult shots.
Inside the Three-Point Line
Avdija is more than just a floor-stretcher that offenses stick in the corner for kick-outs. His dynamic ability to score the ball from a variety of locations affords coaches the ability to utilize him with flexibility.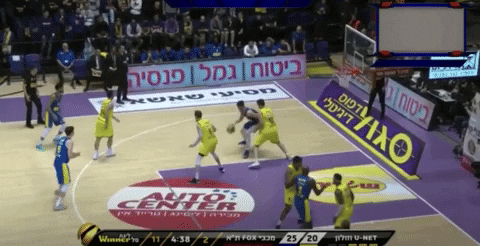 Avdija utilizes his size and strength to back his defender down to a spot where he feels comfortable, and then relies on footwork and a shoulder fake to create space so that he can unload this beautiful fade-away. 
Maccabi Tel Aviv has made it a point to use Avdija as a power forward within its offense. On a number of sets, back-screens are used to get Avdija from corners to the low post so that they can feed him close to the basket. Maccabi Tel Aviv also uses Avdija as a stretch-four. They commonly initiate their offense with him setting the first ball-screen, followed by a screen-the-screener play for the 19-year-old to flare out to the wing for a triple, if the look is there.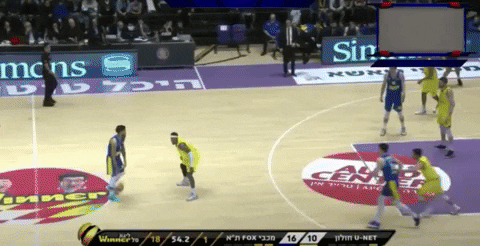 Let's take a dosage of Avdija finishing around the rim: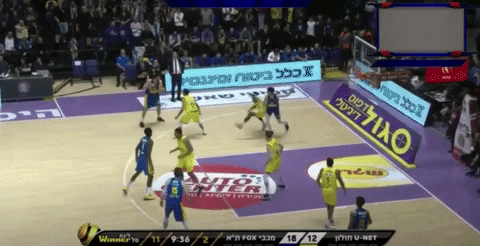 Avdija shows off impressive touch around the rim on this play. He receives the entry pass with a help defender converging. Instead of stopping and looking to pass out to the perimeter, Avdija puts the ball on the floor and clears the converging helper before kissing the rock off of the glass. His feel for the game and footwork enable him to react quickly to the impending defensive sandwich and turn a potentially troubling possession into an easy score.
Play-making
Avdija's vision for his teammates adds a new layer to an already intriguing offensive package. His feel for the game affords him the ability to slow plays down and sense where teammates are. His decisions reflect a natural propensity for reading defenses correctly and acting accordingly. 
When Avdija catches this pass, he has a few options. He could attempt a fifteen-foot jumper or attack the baseline (the closing defender gave him a wide path to the rim on the baseline angle). Instead, he notices the middle of the lane opening up. So, Avdija waits for the help to commit to him, and fires a perfect bounce pass to the cutting big. Great setup.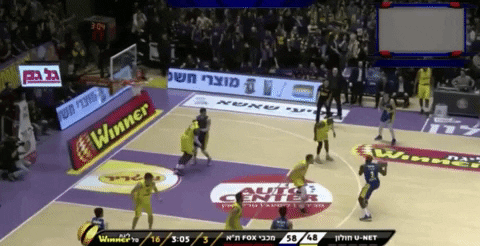 Maccabi Tel Aviv runs a more narrow version of a "Horns" set on this play. There are two bigs up top to screen the ball, and then the ball-handler has the option to shoot it, go to the popper, or hit the roller. Avdija patiently waits for the play to unfold before making his decision. He catches Quincy Acy open for a millisecond on the slip screen, and leads him towards the basket (and away from the two defenders chasing him) with a gorgeous pass.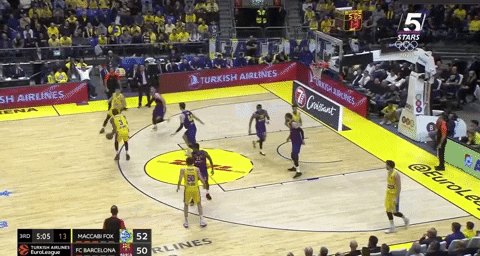 This dribble hand-off turns into a pick-and-roll with Othello Hunter. Avdija attacks the middle of the lane and forces FC Barcelona's interior protectors to commit to stopping him. With the rolling Hunter now completely unoccupied on his path to the basket, Avdija lobs it up. Deposit two, good sir.
Defensive Anticipation and Motor
What stood out to me on the defensive side of the ball was Avdija's adeptness at anticipating plays one pass ahead.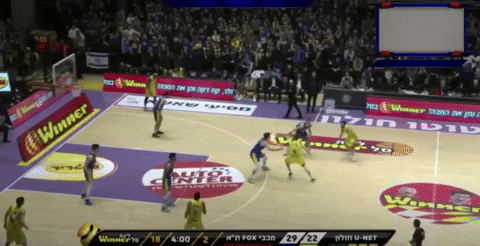 Avdija is in the weak-side corner when the ball enters the low post. Seeing as the hardest pass to make is going to be the one to the weak-side corner, it is Avdija's responsibility to supply the help. Avdija, sensing a smaller teammate switch onto the big in the low post, anticipates an easy finish opportunity and quickly rotates over to prevent the easy look. A foul is committed (and I believe this was called on Avdija), but a foul is a better outcome than an easy finish at the rim.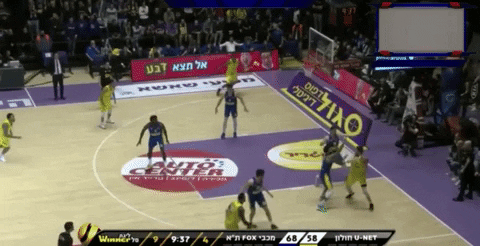 Avdija does a ton on this play. First, he remains highly active in denying the off-ball man when he attempts to cut to the basket. Second, he makes a strong contest on the deep jumper. Third, he sprints back into the play after falling during the close-out and contests the three-point attempt from the top of the arc. This play is an advertisement of Avdija's dedication on the defensive end of the court as well as his motor. 
Sneaky Strength
It's not so obvious looking at his build, but Avdija has accumulated impressive muscle mass for his age. That muscle mass allows him to hold his own against bigger offensive players. Watch how Avdija battles with Edy Tavares:
Avdija's strength to front off Tavares and deny him favorable positioning forces Rudy Fernandez to make an extra pass to a teammate on the perimeter to see if there's a better angle from where he is. Avdija's ability to fight off Tavares from establishing himself results in his never being able to set a target for receiving the ball, and Avdija is able to intercept the pass for a steal. 
Foot Speed and Awareness
One area of concern on the defensive side of the basketball are Avdija's foot speed to keep up with quicker matchups and the consistency of his awareness in help. 
His foot speed towards recovering in transition and staying in front of offensive players in the half-court leaves a lot to be desired. As a result, he's vulnerable to getting beat and giving up angles to the basket.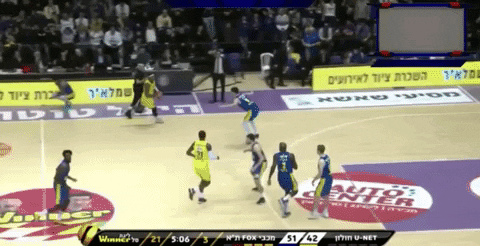 Here, the ball-handler changes speeds and directions simultaneously, and Avdija is not quick enough to adjust. As a result, he gives up an angle to the rim. Luckily, it appears that the presence of Quincy Acy at the basket perturbed the ball-handler from attempting to finish. In the NBA, that's an easy layup at best and a demoralizing dunk at worst.
Best Fits
Avdija is still a teenager and has demonstrated tremendous versatility on the basketball court. He's incredibly young and has a good foundation on which he can develop his skills. Any team looking to impart a strategy of flexibly aligning multi-dimensional offensive players capable of switching across multiple defensive positions should salivate over Deni Avdija. 
Golden State Warriors
If the Warriors end up with the fourth overall pick, Avdija would be perfect. Adding him to a core of Curry, Thompson, and Green would give Steve Kerr a tremendous opportunity to get back to the small-ball play that made the Warriors so deadly just a few seasons ago. Adding Avdija to the perimeter would also allow Golden State to run a 5-out offense, making the off-ball movement of Klay Thompson and the slippery play of Stephen Curry all the more difficult to defend. In a small-ball lineup, they could flirt with the idea of playing him at center (would not recommend), and that would give them a (healthy) floor-spacing center for the first time in their era of dominance.
Cleveland Cavaliers
The Cavaliers are not looking to draft another guard (I sincerely apologize for not linking where I learned that, but I did hear or read it somewhere). With their focus on wings and bigs, Avdija should intrigue them. Adding him to a mix that already includes some combination of Colin Sexton, Darius Garland, and Kevin Porter, Jr., at the guard spots, and Kevin Love at power forward, the Cavaliers would immediately become one of my League Pass favorites for a team that still wouldn't immediately be much better. I am very intrigued by the prospect of Avdija being mentored by Love, but I also fear that Love's mentorship could restrict his game to never being more than just a stretch-four. 
Minnesota Timberwolves
Karl-Anthony Towns was the best big in the league in terms of perimeter shooting this season. With D'Angelo Russell running point, Minnesota could utilize that Horns offense that Maccabi Tel Aviv used. But, they could implement two capable shooters as the bigs up top. By adding Avdija, the unpredictable nature of what Minnesota could do with that offense is extremely exciting. 
Stats To Know
(Before presenting any statistics, some context is necessary. Avdija has received just 12.4 minutes per game in 34 games played across two seasons with Maccabi Tel Aviv. The sample size of opportunity is not adequate.)
Assist-to-turnover ratio of 4:1 across two seasons with Maccabi Tel Aviv
Averaging 17.3 points per game since resumption of EuroLeague
Has accumulated at least 10 points and 5 rebounds in six of the seven games Maccabi Tel Aviv has played since the return to play
Draft
Highest I'd take him: 2nd pick
Lowest I think he'll be available: 8th pick
Ceiling: better Bojan Bogdanovic
Floor: better Kyle Kuzma
You can find the rest of our draft evaluations below!