This week we take a look at an entirely different DeMar DeRozan. Next, how Joel Embiid left his defensive mark in an epic performance against Utah. Finally, Isaiah Jackson living up to the hype at Kentucky.
SPURS BASKETBALL THE GREGG POPOVICH WAY
They say old habits are the hardest to break. So when the Spurs traded for the high volume shooter in DeMar DeRozan, many wondered how the fit would play out in Greg Popovich's ball movement offense. Three seasons into the final year of his contract and San Antonio has unlocked quite a different player. Call it, 'Point DeMar'.
Much of DeRozan's impact in Toronto came as a big-time shot-maker. DeMar's usage peaked in 2017 when he posted a career-high 27 points per game on the way to another All-Star campaign. But in San Antonio, the transformation has been grounded on a very basic principle. That is, spark the offense off the dribble and be the leader for a team that starts two players under 23 years of age. From that shift in identity, DeRozan has quietly turned into one of the league's most underrated distributors. I mean just watch the calmness in how he manipulates this matchup.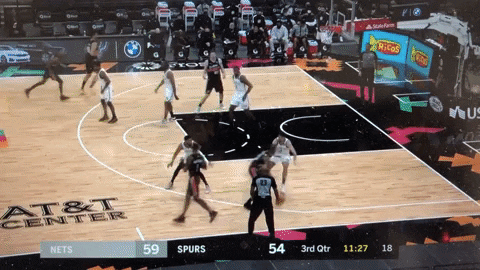 As the trend in spot-up shooting continues to rise, DeRozan has been the main source of shot creation for San Antonio. The Spurs draw a ton of their looks off the catch and rely on his basketball instincts to pinpoint shooters across the court
THIS IS HOW SAN ANTONIO'S SPOT UP SHOOTING CORRELATES WITH DEROZAN'S TIME IN THE ALAMO CITY
How this looks in practice is entirely different from the player who averaged 20 shots per game in his final season in Toronto. The old Raptors sniper was notorious for his scoring outbursts from the mid-range area. While that is still part of his game, DeRozan has replaced some of those looks with renowned patience. It is his measured approach against New York's high-pressure defense that leads to this Dejounte Murray three.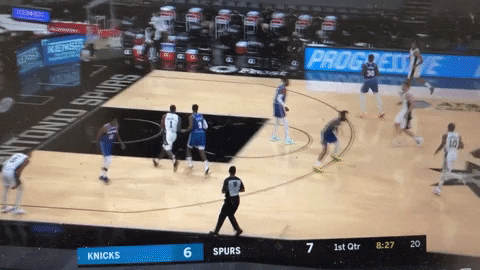 With DeRozan at the helm, San Antonio has found new ground amidst a tightly competitive Western Conference. The Spurs enter the break over-performing preseason expectations and are now in the conversation for a possible playoff berth. While that may be a bit too premature, there is no denying that his presence is elevating this mix of young players. There is hope that San Antonio has finally found a nucleus post the historic Tim Duncan era.
EMBIID FEELING HIS WAY INTO A DISRUPTIVE PICK AND ROLL DEFENDER
In Joel Embiid's dismantling of Rudy Gobert on Wednesday night all the spotlight flashed directly at this offensive dominance. Embiid was in peak MVP form, and he embraced the challenge to expose the Jazz defender VERY personally. But lost in the dominance was how he navigated Utah's heavy pick and roll offense. It was not always pretty, but it was most certainly effective.
TO FRAME THE CONVERSATION, LET'S TAKE A LOOK AT HOW UTAH PERFORMED IN THE PAINT VS PHILADELPHIA ON WEDNESDAY
With Utah's intent on screening (and rolling) its way to the basket, Joel Embiid showed why he is one of the league's most potent defenders. We previously noted how he loves to drive defensive chaos. And against the Jazz, it was a mix of everything. OUT is Brett Brown's passive drop coverage system. IN is a blend of activity and aggression.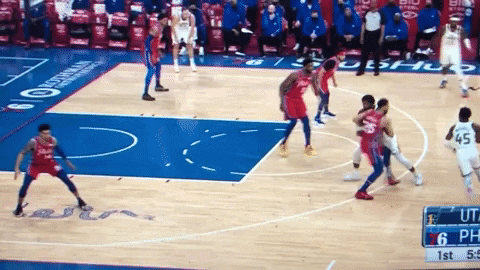 Embiid's athleticism is an advantage Doc Rivers is not shy to deploy. Most centers are a dead duck against a driving Donovan Mitchell, but Joel's ability to mirror his every step turns an easy lay-up into a heavily contested miss.
Utah had an absolute nightmare attacking Embiid off the dribble. The Sixers big altered matchups in the perimeter with the precise capacity to rotate back to the basket. But disruption often comes in different shapes and sizes. And it was Joel's feel for playing both the shooter and roller that really stood out.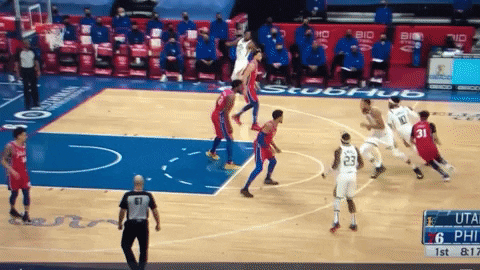 The math here is quite complicated. Embiid must present himself to Mike Conley while also obstructing Gobert. In this instance, Joel checks off both boxes, winning this matchup on supreme feel and footwork.
We often wondered what an active Embiid in the pick-and-roll would look like. Against the league's top team we got another sample of the many leaps Joel has taken this season. Perhaps none bigger than on the defensive end. 
YOUR COLLEGE BASKETBALL PROSPECT: WING – ISAIAH JACKSON 
THE RESUME
8.5 points per game (24 games)
12.9 block percentage (1st in SEC)
17.7 total rebound percentage (1st in SEC)
2 three point attempts on the year (0-2)
WHAT I LIKE
Extreme level of defensive versatility. Bouncy with a 7'0″ wingspan. Remains connected to switches and moves well on the perimeter.
Elite feel and impact as a shot blocker. Impacts defensive possessions at the rim from the weakside. Great ability to close out and time blocks at the three point line.
Productive scoring game near the basket. High catch radius. Soft touch off the glass. Solid shooting form and touch in the mid range area. 
Deliberate and quick off the short bounce. Good hands in traffic. Fast at processing the game from the catch point to the rim. No unnecessary dribbles. 
High energy off the glass. Explosive athlete. Competitive on the low block against bigger centers. Passes well off the post. Ability to identify difficult passing targets off a stationary position.
WHAT I DO NOT LIKE 
Low end of the NBA ready-ness scale. Body not built to handle physical element off the small-5 position. No semblance of an extended shooting range. 
Raw offensive player. Plays stationary often. Highly programmable. Plays with zero freedom and creativity on offense. Passive.
Gets baited into cheap fouls. Averages 5.6 fouls per 40 minutes.
Limited creator off the dribble. Very defined and restrictive role at Kentucky. Pulled from the court often in Kentucky's heavy substitution system.
Low NBA ceiling if the shot and body do not develop. Can you play him at the wing without a jump shot? Can he anchor defensively against NBA centers?
PROJECTION 
Isaiah Jackson has been on a heavy upward trajectory since his rough start of the season. The Kentucky freshman capped off a phenomenal month of February where he averaged 11.5 points per game on 61% from the field. We are finally seeing the disruptive defensive player many expected earlier in the year. Part of it is due to the increased playing time, as Kentucky continues to tinker with lineup up options that have hijacked much of his rhythm this season.
Projecting Jackson at the next level is truly a crystal ball exercise. The physical tools are all there. Jackson is a super bouncy and rangy athlete who impacts defensive possessions all over the court. Offensively, there are hints of a serviceable rim runner who can developing his shooting range over time. The question here is clearly time. Jackson is FAR from NBA ready, but is arguably one of the highest upside players in the draft. Assuming he does leave Kentucky, I see Jackson as a very worthy lottery gamble. As the NBA game continues to trend small, he fits the mold of the ideal swtichable player, and a guy to match across multiple positions. Keep an eye on this name come draft time, and for the foreseeable future as well.