As I mentioned in my most recent scouting report, one of the concepts at the forefront of winning the NBA draft is balancing one's visions of what a player could become with what that player currently is. Another crucial assessment is how much a player's inconsistency at their previous level of play detracts from their upside. In other words, is the upside real? Or, did the inconsistency they exhibited foreshadow what the player's limitations would be at the next level? Anthony Edwards has as much upside as any prospect in this draft, but his inconsistencies and inefficient shooting at the University of Georgia this past season leave plenty of questions about his translation to the NBA, as well.
Overview
Anthony Edwards popped onto the national map as a student at Therrell High School in his hometown of Atlanta, Georgia before turning sixteen years old. Edwards elected to continue his high school career at Holy Spirit Preparatory School, in an environment that would be more suitable for his learning style. The now-6'5″, 225-pound combo guard continued to blossom at his new school.
He achieved five-star status in ESPN's recruiting database, ranking fourth overall in his class and number-one at the shooting guard position. Universally regarded as one of the best prospects in his class, Edwards earned offers from the University of Georgia, Florida State, Kansas, Kentucky, and the University of North Carolina. In early February of 2019, Edwards committed to Georgia. As a high school senior, Edwards averaged 29 points, 9 rebounds, and 2 assists per game. The talent was evident, but the next task–leading the University of Georgia to an NCAA tournament appearance–would prove daunting. While Edwards averaged over 19 points, over 5 rebounds, and nearly 3 assists per game, Georgia finished the season with a 16-16 record. The Bulldogs went 5-13 in conference play, and the COVID-19 pandemic ended their season following a win in the first round of the SEC tournament. 
Strengths
Possesses legitimate athleticism; can burst to the rim and beat a defender, can elevate and block shots
Adept at creating space for his jumper; doesn't need much space to get it off, either
Very capable passer in transition; spots open teammates and mismatches, and then capitalizes on those opportunities
Consistently makes plays as a creator for teammates
Active awareness in help; keeps head on a swivel, rotates with his matchup, slides over farther/closer as the ball moves
Positioning in help is consistently correct, although will occasionally overplay
Knack for creating steals; aware of opportunities, active hands, creates deflections
Elevates his play in crunch time; less passive, doesn't force anything, just makes the open play
Weaknesses
On-ball defense and understanding of how to play certain matchups is lacking; overplays quicker ball-handlers, gets beat
Prone to poor passes when the defense puts pressure on him
Sometimes gets caught watching the ball and doesn't box out
Shot selection is erratic; sometimes wastes possessions with contested, deep pull-up jumpers
Tries to force plays too often; ends up in turnovers or bad shots
Transition finishing needs some tightening, not an automatic bucket
Not aggressive enough as a scorer
Doesn't appear to understand how to move without the basketball
Continually fails to box out on the defensive glass
Defensive intensity fluctuates and is random; sign of a lacking motor
Offensive production inconsistent, inefficient at times
Film Room
At the heart of Anthony Edwards' stardom is his ability to create and his own shot.
Pull-Up Jumpers
Let's start with this beauty: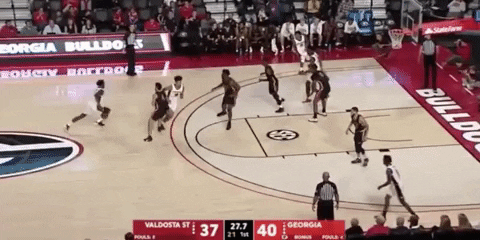 Edwards uses his agility to stop on a dime, and then creates space by subtly stepping backwards with his right foot. As he's stepping backwards, he brings the ball over to his shooting hand courtesy of a crisp behind-the-back crossover. From there, all Edwards has to do is finish the play.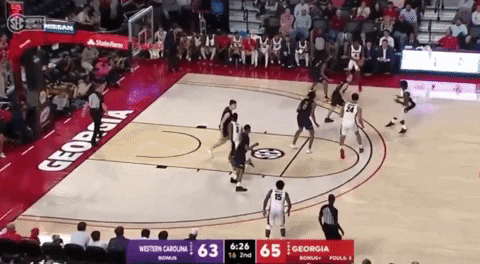 Shall we do some ice skating? Edwards uses the flair screen from Rodney Howard to create a passing lane to receive the ball from Tyree Crump. Once he firmly possesses the rock, Edwards makes his move. He fakes an attack left and pulls back with a crossover between his legs. With West Carolina's Matt Halvorsen scrambling like an ice skater to recover in time to contest, Edwards has him beat, badly. The freshman delivers a dagger ball with a few ticks under six-and-a-half minutes remaining.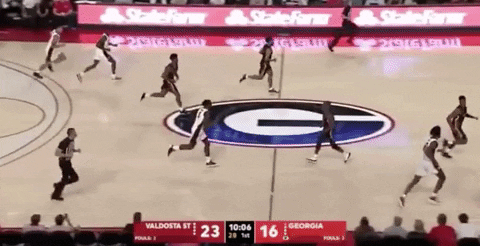 Hand down, man down. Edwards leads the Bulldogs down the court on this transition play. He uses a hesitation step to get the ball-stopper to back-pedal a step to defend the lane, and then pulls up for a triple from the top of the arc. Notice how Edwards' upper-body motion doesn't change over the last three clips. His release point is always above his right eye and he fully extends his shooting arm after the release. His landing is different, but that's because of the way momentum is carrying him in the contexts of the clips shown.
Shot Selection
Sometimes, however, that knack for converting jumpers off the dribble gets to Edwards' head, and he develops tunnel vision.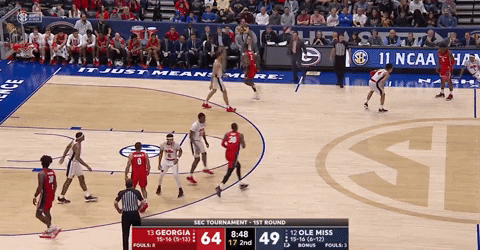 Edwards had missed five of the six three-pointers he attempted in this game before dribbling into this attempt from just below the mid-court logo. Besides jacking that shot during an ice-cold night from the field, Edwards could've passed out to Donnell Gresham, Jr., who had a great angle to the rim with Devontae Shuler stepping over to cut off Edwards' lane to the basket. If not Gresham, Edwards could've fed Hammonds, a 35% three-point shooter, in the corner, as Blake Hinson had completely dropped down to protect the rim in help. Further, there were still twelve seconds on the shot clock, so there were no time constraints on this selection.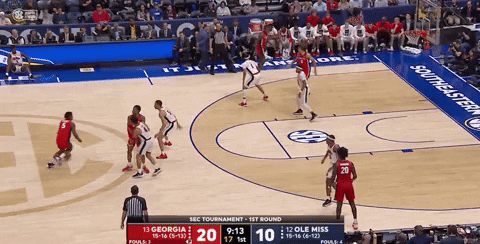 Edwards, who was 1-for-12 from three-point range in Georgia's previous game, was trying to break out of a slump early in this game against Ole Miss. When shooting specialists are slumping, the best way to break the slump is to just keep shooting. Your mindset as a shooter is to have a short memory and think with the positivity that one make will get you going again. As a dynamic scorer, you're just trying to get a feel for the ball. You're trying to get to your spots, use the dribble moves you've practiced countless times, and generate the look you want.
That's what Anthony Edwards is doing here. If he hadn't missed twelve of his previous thirteen attempts, wasn't shooting from the mid-court logo, and didn't have over ten seconds left on the shot clock, this would be a palatable attempt. But, in the context of reality, this wasn't the best shot to take in an effort to break a slump.
Spot-Up Jumpers
Because Edwards was often initiating the offense or creating his own looks, there wasn't a plethora of looks generated for him off of the catch. Nonetheless, here are some looks at his abilities as a catch-and-shoot scorer.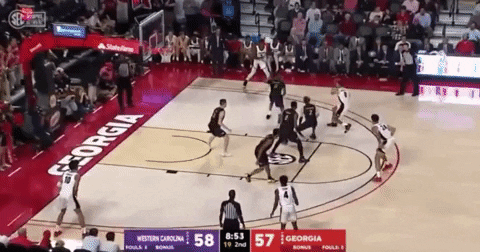 Edwards offers a slight jab with his right foot to open just a little bit of extra space between himself and the defender. As soon as he feels he has enough breathing room to rise into his natural motion, he pulls the trigger.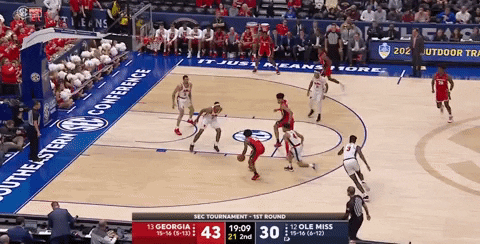 Note the high level of difficulty on this shot. Sahvir Wheeler is already in the middle of a pass to the corner as Edwards begins sliding over to the wing. To prevent the turnover, Edwards has to leap back to the corner and attempt an off-balance triple with KJ Buffen closing out. There is no time for Edwards to adjust and prepare himself for a clean look. He never stops moving on this play.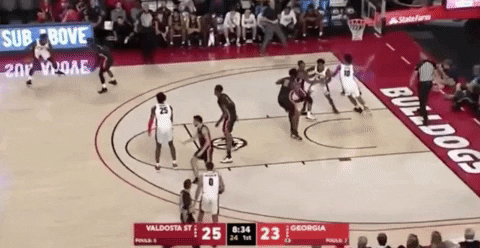 This is the only time I observed Anthony Edwards creating a look for himself with intentional off-ball movement (the above attempt was the result of an accident). Edwards uses a v-cut to free himself from his defender, and then comes back to the ball to receive the pass. The contest is copasetic, but Edwards does an excellent job of creating a lot of space with just a little bit of off-ball movement. Great score off of the catch.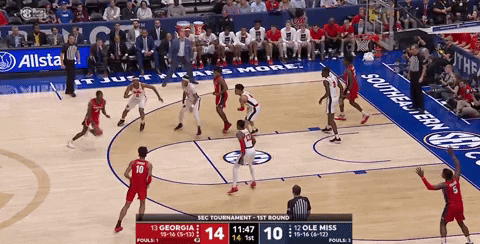 Nothing of significance to point out on this attempt. He holds his follow-through until the ball lands and his shooting motion, from this angle, is consistent with the other attempts presented. One reason for the miss might be the slight adjustment of his feet from before the catch to the release. His stance starts wide and then he reduces his balance by bringing his feet closer together. That change in balance could've disrupted his shot. Some might add that he is fading as he lands on this attempt, but I don't believe that matters when considering that his natural motion on other shots includes a fade when he's landing.
Attacking the Rim
What makes Anthony Edwards so dynamic is his IQ to use his perimeter scoring prowess to create opportunities for himself at the rim.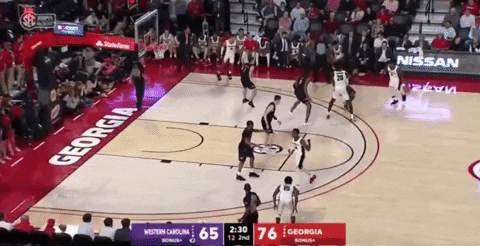 Edwards uses the ball screen from Rayshaun Hammonds to get Western Carolina into its pick-and-roll coverage. Once he gets past the screen, Edwards immediately turns the corner and attacks downhill. He then uses his strength and touch to finish the lefty layup and pick up the foul.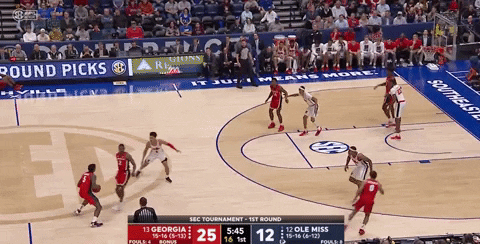 On this play, Edwards is able to quickly and smoothly change directions while maintaining excellent ball and body control to  continue progressing towards the basket. Of particular aesthetic pleasure is the way in which he crosses over and attacks with ease like a hot knife cutting through butter. Once he pressures Breein Tyree to drop down to the free throw line, Edwards employs a euro step to change directions and get the ball back to his right hand for the shot. The momentum going left helps him rise into a natural shooting motion. Edwards misses the short floating jumper. But he does an excellent job attacking the rim and creating a look for himself.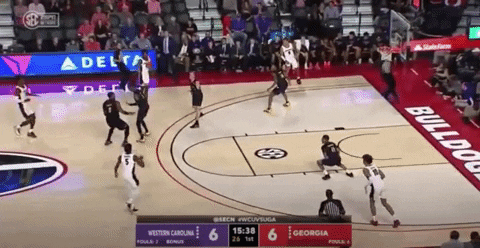 This first step and acceleration are absolutely devastating to Western Carolina's interior defense. This finish is just a glimpse into how athletic Edwards can be.
Creating For Others and Threading The Needle
What gets lost in Edwards' athletic potential and off-the-dribble scoring is his knack for creating easy scores for teammates and sensing passing lanes.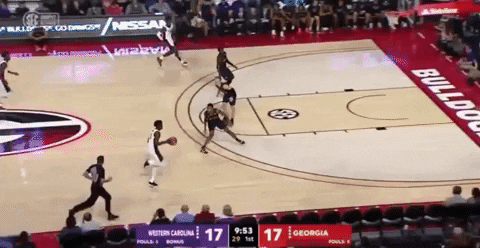 Anthony Edwards was a nightmare for defenses in transition, and, with better pieces around him at the next level, that shouldn't change. On this play, he implements a miniature euro-step to bring the ball from an attack dribble with his right hand to high above his right shoulder. This has the effect of dragging a help defender away from the lane to assist in stopping the attack. This move creates a direct window to the basket, which he uses to dump off to Rayshaun Hammonds for an easy dunk.
Similar play concept. Edwards gets downhill and shakes (pushes) off Devontae Shuler in the lane as he leaves his feet to make the pass. KJ Buffen steps up to stop the ball, leaving Toumani Camara open. From there, it's an easy dump-off for a dunk.
Almost a gorgeous play. Western Carolina appears to have strategized to play off of Georgia's off-ball players. Onno Steger is concerned more about stopping Edwards from attacking left, and his help positioning leaves the backdoor cut avenue horribly exposed. To create an angle leading Christian Brown to the rim, Edwards continues to drag the ball towards the far sideline. Once the window is there, Edwards threads the needle with a beautiful pass to his cutter, but Christian Brown mismanages the reception.
Defensive Motor
Scouts everywhere are concerned about Edwards' defensive motor. Some plays, he's locked in and excellent; on others, he's unengaged and, well, a non-factor.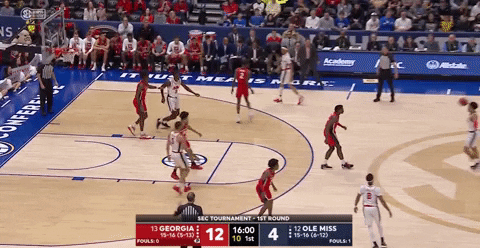 Anthony Edwards overplays the ball-handler on this screen, giving Breein Tyree an ocean of space to attack to his left. He then tries to disguise the misplay by reaching around Tyree to tip the ball instead of fighting for a strong recovery. But to the viewer, it reeks of bad effort.
Edwards' body language on this screen portrays someone who feels he's been given an arduous task to fight back to his man in time. Instead, he lucks into being the nearest man when Matt Halvorsen kicks out to Onno Steger for a triple. Edwards makes a contest, but moves with minimal urgency. With his size and athleticism, Edwards likely could've pressured Steger to put the ball on the floor and create a different look. Instead, Steger has time to load up the deep ball.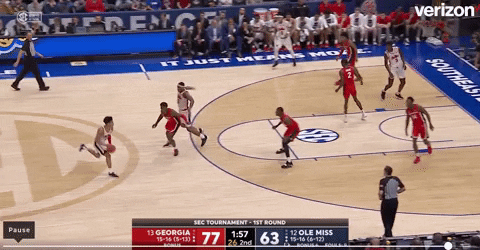 You can debate whether you believe the energy on this contest was poor. I think it was. Edwards is partially upright in his defensive stance, which makes it easy for Tyree to shake him on the crossover. Edwards then makes a lazy lunge back towards him on the contest, but it's nowhere near urgent enough to alter the shot.
But then, Edwards makes plays like these…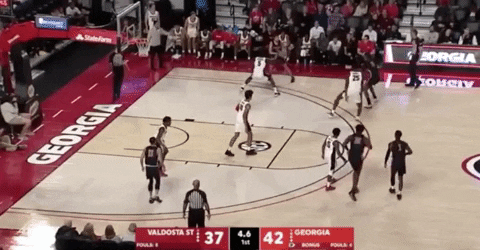 Anthony digs down into a strong defensive stance and pressures Clay Guillozet in the closing seconds of the first half. With nowhere to go, Guillozet turns back around to his right in an effort to get a look at a fade-away jumper. Edwards beats him to the spot and continues to smother Guillozet, blocking his jumper.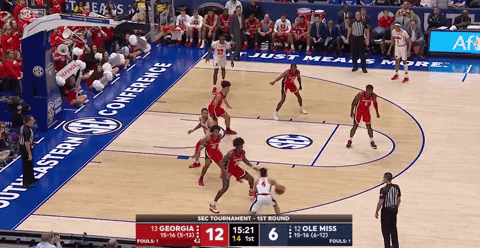 While Edwards' stance on this play isn't great, he remains disciplined in his close-out. Short, choppy steps allow him to ease his momentum towards Shuler, protecting him from getting beat if the junior guard attacks while he closes. Edwards also maintains active hands, perturbing any thought that Shuler might've had at attempting a jump shot. As a result of Edwards' disciplined, energetic contest, Shuler makes a bad pass and turns the ball over.
Athleticism
We'll wrap up this film breakdown with some hints of Edwards' elite athleticism and other physical gifts.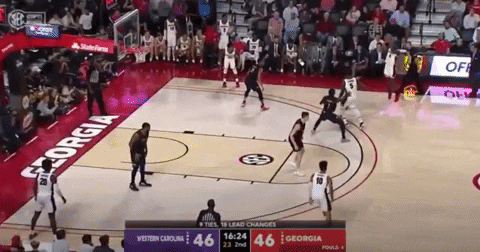 Watch how Edwards uses his strength to force his way down into the lane as this shot goes up. He then rises and extends his left arm all the way back to pluck this rebound out of the air before Western Carolina can surround it. Edwards' athleticism and length effectively prevent a transition opportunity for Western Carolina.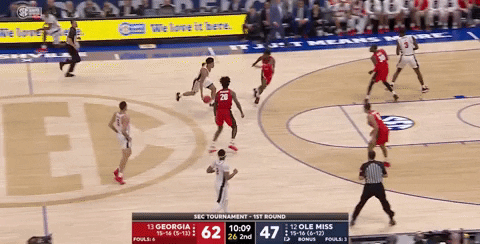 Just make sure your jaw doesn't hit the ground too hard after your eyes digest how Edwards stays with Tyree as he attacks, climbs the ladder, and extends his arm to block his layup attempt. 
Best Fits
Edwards is going to go high enough in the lottery where teams are drafting the best player available rather than fulfilling specific positional or specialty needs. Whomever most needs talent is a great fit.
Minnesota Timberwolves
Adding Edwards to an offense with Karl-Anthony Towns and D'Angelo Russell as cornerstones makes Russell's life very interesting. Russell already has an elite big man as a pick-and-pick-your-poison partner. Add a shot-creating wing like Edwards and Russell suddenly has a potent back-court mate. So, which way should Russell go? A ball-screen play with his three-level scoring big man, or with his athletic guard partner?
Atlanta Hawks
The youth movement is on in the ATL. Trae Young is well on his way to superstardom. Cam Reddish and De'Andre Hunter are going into their sophomore seasons as sub-twenty-three-year-olds learning the wing positions. Twenty-two-year-old super-athlete John Collins is just a tier below all-star and getting better. Take Anthony Edwards in the back-court with Young, and the Hawks have five players below the age of twenty-three with incredibly high potential.
Detroit Pistons
The Pistons ranked twentieth of thirty NBA teams in percentage of field goals made that were unassisted. Edwards could step right in and alleviate the offensive congestion for a team that was 20-46 prior to the suspension of the season amidst the COVID-19 pandemic.
Stats To Know
Shooting splits of 40.2%/29.4%/77.2% at Georgia
Assist-to-turnover ratio of 1:1
Third in SEC in scoring (19.1 points per game)
Draft
Highest I'd take him: 1st pick
Lowest I think he'll be available: 5th pick
Ceiling: Donovan Mitchell, Victor Oladipo
Floor: somewhere between Ben McLemore and Dion Waiters
You can find the rest of our draft evaluations below!
Make sure to follow @BlueRouteTPL, @mrcrockpot, @tscabbia, and @KrellTPL on Twitter for more Sixers and NBA draft coverage! 
Click below for our latest video breakdown on Obi Toppin!